When they tackle Shiva Boys' Hindu College at the Ato Boldon Stadium on Monday, 2016 Coca-Cola National Intercol Champions San Juan North Secondary will be bidding to become the first school in five years to cop back-to-back National Intercol titles.
St Anthony's College were the last side to achieve the feat, scoring triumphs in 2011 and 2012. And if the boys from Bourg Mulatresse do triumph over their opponents in Couva on Monday evening, they will also make themselves the first team to grab successive National Intercol titles since the inception of the Premier Division in 2014.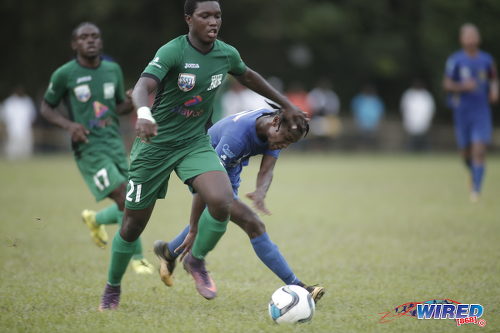 Last year, San Juan and St Augustine Secondary made great use of the National Intercol stage, defeating Presentation College (San Fernando) and Fyzabad Secondary to win the boys and girls titles respectively. On Monday, if San Juan skipper Renaldo Boyce has his way, there will be more pain and sorrow on the way for Shiva and Pleasantville Secondary, the southern representative in the Girls Intercol finale.
"I am confident that the [National] Intercol title will be residing in the East," declared Boyce, at today's Secondary Schools Football League (SSFL) media briefing at the Hasely Crawford Stadium.
Announced at the briefing was the fact that the Girls Intercol final between Bishop Anstey High School (Port-of-Spain) and Pleasantville, which kicks off at 3pm on Monday, will be broadcast live on Digicel SportsMax.

Bishop skipper Leah Dos Santos is quietly confident that her team can get the job done. Coach Brian Smith, however, went a little further and warned "P'Ville" that they should be on the lookout for fireworks since Bishop will be making their presence felt.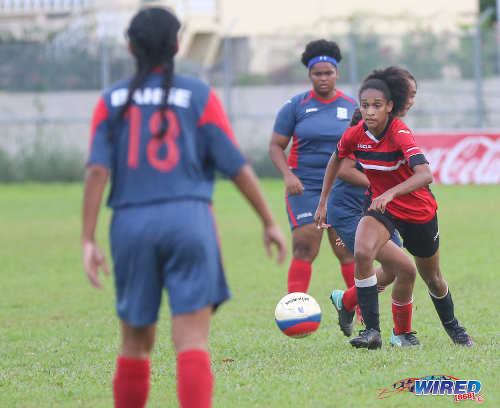 "I would like to throw the challenge out to Pleasantville," said Smith, who was thrilled that five years of hard work have now culminated with a spot in the National Intercol final. "We are coming very hard and we want to take the title back to the North."
Pleasantville are in their first national final in a decade. And although coach Joel Maloney refrained from throwing any jabs his opponents' way, attacker Aaliyah Pascall assured Bishop that the southerners are not going to back down from the challenge.
"I want to thank God for bringing us this far," Pascall said. "To Bishop's, we are coming hard; we are not coming easy at all."
Monday evening could see a magical end to the 2017 Intercol season. And Coca-Cola representative Maritza Ballack stated that spectators can look forward to an E-Gaming tournament and door prize giveaways which include an iPhone 8 and two Play Station 4 Bundles. There will also be a performance from two-time Soca Monarch champion Voice.
Boyce, who has scored in all four rounds of this year's Intercol tournament so far and yesterday netted an early second-half item to see his school past Signal Hill in Couva, will probably hear his own boast echoed in Voice's "Far from finished." However, the person who seemed more eager than any other for the finale to start was San Juan coach Jerry Moe.
"We are going to put on a good show tomorrow," Moe said.
Moe, who led a stubborn and resilient San Juan team to a 1-0 victory over the "Pres Lions" in last year's final, was full of praise for Hayden Ryan's Shiva team, conceding that they will be the favourites going into Monday's final. San Juan, however, do not mind the "underdog" tag and the gritty display their defence—ably marshalled by stand-in captain Kyle Thomas—produced against Presentation in 2016, should not go unnoticed by the Shiva coaching staff.
A solitary strike by Brandon "Sprite" Semper was enough to quench San Juan's thirst for glory last year. However, coach Moe's hunger for success remains unsatisfied.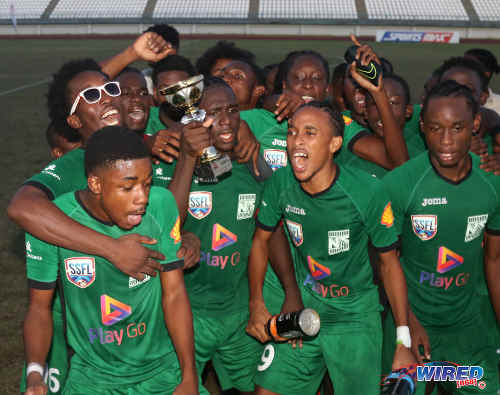 "We haven't achieved anything yet," he told Wired868. "We have been to the finals and it doesn't mean anything because we have been there and done that. That's not enough for us because now that we have gotten to the finals we want to win; […] that's the main thing right now so the boys won't feel like they have achieved anything."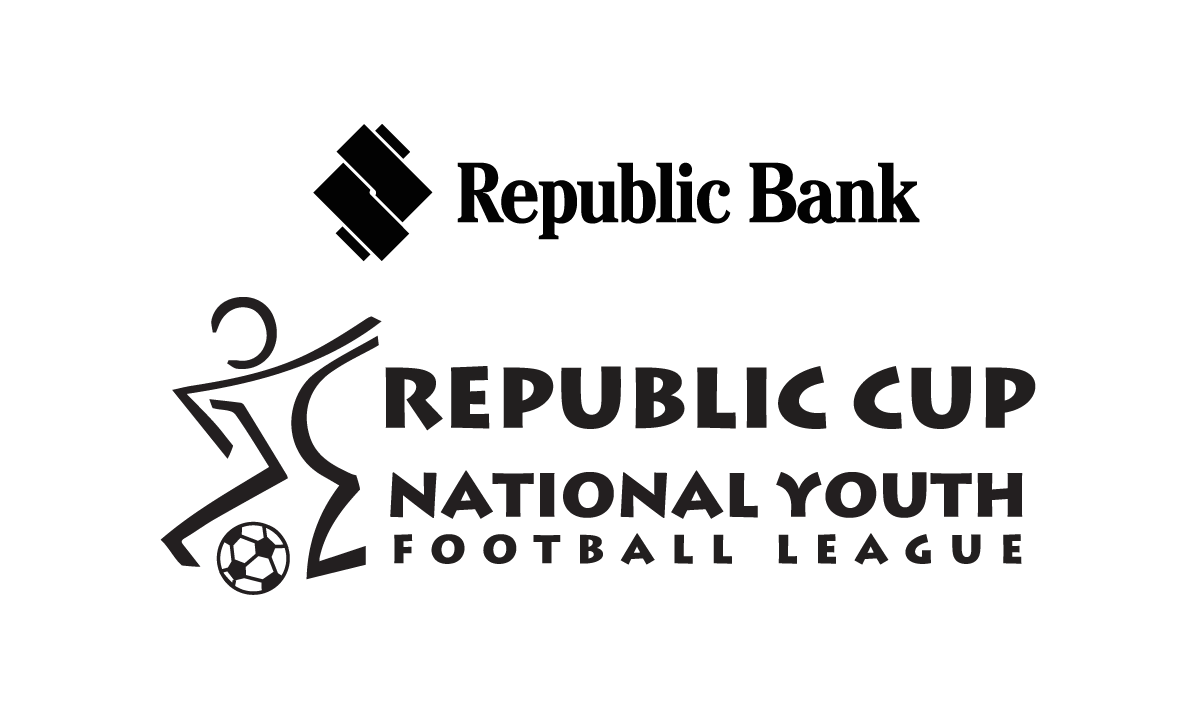 As Coach Ryan alluded to in Wired868's Chasing Goals segment earlier in the season, the Shiva contingent certainly know a thing or two about seizing the moment, having won their maiden Premier Division title with a record points tally last season. And although Ryan was not present to light a fire under his players, Shiva vice-principal Devinesh Neeranjan spoke about the importance of Monday's finale, given Shiva's numerous off-the-field problems this season.
"We want to be remembered as one of the great SSFL teams in this era," Neeranjan told Wired868. "Just like how everybody remembers the Benedict's team from the 60s, I hope Shiva Boys' Hindu College could make that kind of lasting impact on the SSFL and even at the national level."
Highlighting that Shiva had performed admirably to bounce back after being relegated from the just concluded Premier Division season owing to registration issues with former National Youth player Kierron Mason and full-back Matthew Beal, Neeranjan said: "I would really like them to come out with a title this year because it may be the last season for some of them. I don't know if they would be with us in the Championship [Division] once we play next year but I know they deserve the best."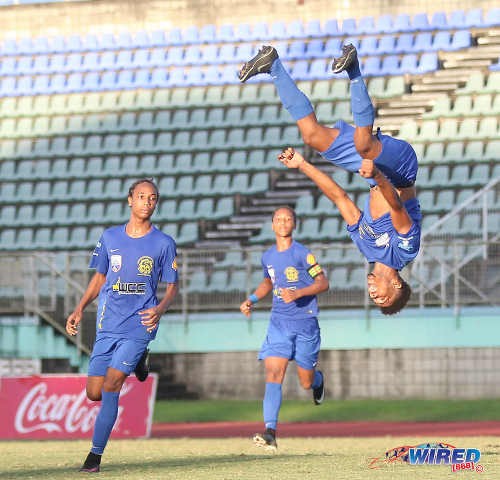 SSFL president William Wallace is hopeful that the negatives of this season will have a salutary effect on the seasons ahead.
During the course of the season, the "Westmoorings Tigers" of St Anthony's featured in gripping contests against San Juan and the southern trio of Naparima College, Presentation and Shiva. In addition, Carapichaima East Secondary and Shiva provided fans with a National Intercol semi-final for the ages while players like St Anthony's Che Benny, Shiva Boys' Yohannes Richardson and Naparima's Judah St Louis left spectators marvelling with some sublime set pieces.
But who can say for certain that those memorable aspects will live in the spectators' memories longer than the negatives of Shiva Boys' registration issues and the fraud case which eventually accounted for Fyzabad?
"There are some things we are going to be putting in place to make sure that things like these do not occur again," Wallace said. "We are working closely with the Ministry of Education and I'm certain that, based on the action that was taken, I hope that it will be a deterrent anyway for persons who might want to go down that road."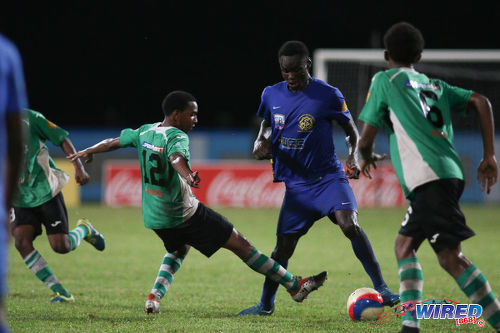 "Probably I can conclude by saying yes," Wallace continued, "I can put my head on a block and say that we will have an incident-free season next year…"
"There was one issue," Wallace contended, "but there was a ripple effect. At the end of the day, it seemed like there were a thousand things happening and we had to change standings here and there." He gave the assurance that the SSFL plans to have a functioning all-inclusive player database by the 2018 season.
"There are some things we need to bring to our general council for ratification […] and once we get those things passed and cleared by the general council, I think next year should be, as I said, incident-free."
One event which the SSFL hopes will go on without a hitch, is their All-Star weekend which is being staged in conjunction with the "Field of Dreams" TV show hosted by former national striker Steve David.
Field of Dreams will be hosting the tournament for the next three years and SSFL players from across Trinidad and Tobago will vie for the Field of Dreams Challenge Trophy when the All-Star events are held at the Mannie Ramjohn Stadium on 9 and 10 December in Marabella. There will be a skills competition on the first day and an All-Star game the following afternoon.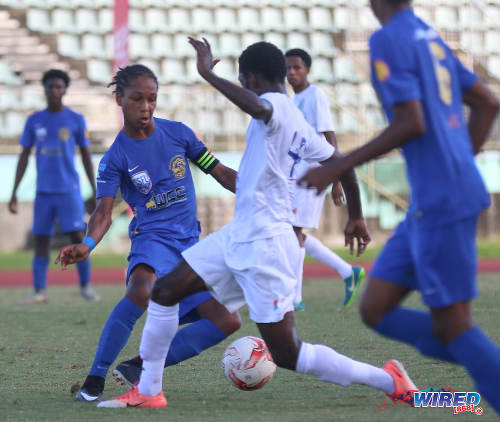 The All-Star game is being billed as a North/South classic, with the North team comprising players from the North, East and Tobago Zones and the South team being made up of players from the South and Central Zones. The squads, to be coached by Presentation's Shawn Cooper and St Anthony's Ronald Daniel, will be limited to 18 players for the 10 December encounter.
The action is set to kick off at 3pm on both days and coaches and scouts from home and abroad are expected to be on hand to see the players showcase their talents. Wallace urged the football public to come out and support a positive venture, stressing that there is no admission fee on either day.
Provisional All-Star teams
South:
Goalkeepers: Jabari Gray (Presentation College [San F'do]) Levi Fernandez, (Naparima College), Denzil Smith (Shiva Boys' Hindu College).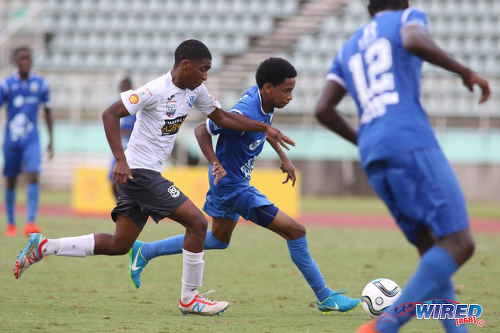 Defenders: Daquon Foster, Mickel Revello (St Benedict's College), Mylz Barrington (Presentation College [San F'do]), Tyrike Andrews, Rondell Payne (Naparima College), Jabari Graham, Yohannes Richardson (Shiva Boys' Hindu College), Symron Wiseman (Carapichaima East Secondary).
Midfielders: Darnell Hospedales, Jerrin Jackie, Ackeel Jacob, Jordan Riley (Presentation College [San F'do]), Tyrel Emmanuel, Judah Garcia, Quinn Rodney (Shiva Boys' Hindu College), Theophilus Bourne (Carapichaima East Secondary), Jeron Pantor, Judah St Louis (Naparima College).
Forwards: Josiah King (Carapichaima East Secondary) Omri Baird (Presentation College [San F'do]), Isa Bramble (Naparima College) Reuel Tyson (St Benedict's College), Junior Asson, Tyrell Baptiste (Shiva Boys' Hindu College).
Coach: Shawn Cooper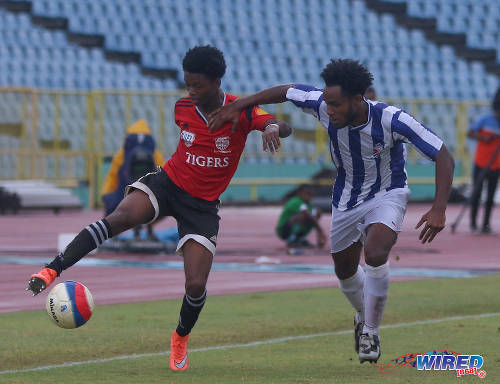 North:
Goalkeepers: Hezron D'Abreau (Valencia Secondary), Regaleo Holder (St Mary's College), Emmanuel John (Trinity College East)
Defenders: Joshua Araujo-Wilson (Fatima College), Matthaeus Granger (St Mary's College), Derron John, Jesse Williams (St Anthony's College), Giovanni Lewis (Valencia Secondary), Anfernee Stokes (QRC), Kyle Thomas (San Juan North Secondary).
Midfielders: Tyrese Bailey, Haile Beckles, Che Benny (St Anthony's College), Saleem Henry (Trinity College Moka), Gabriel Nanton, Tyrese Spicer (both St Mary's College), Nathaniel Perouse (San Juan North Secondary), Anthony Samuel (St Augustine Secondary).
Forwards: Justin Wilson-Araujo (Fatima College), Renaldo Boyce, Brandon Semper (San Juan North Secondary) Devon Charles (St Mary's College), Akil Frank (Signal Hill Secondary), Kishon Hackshaw (Trinity College East), Kerri Mc Donald (Speyside High School).
Coach: Ronald Daniel
Editor's Note: The SSFL will host a media launch of its All-Star weekend next Thursday, 7 December.