Weather permitting, Trinidad and Tobago will face off against the USA in their final 2018 World Cup qualifier from 8pm tomorrow at the Ato Boldon Stadium in Couva.
For coach Dennis Lawrence and his charges, pride is all that is on the line but, because suspension and injury respectively will force them to be without the United States-based duo of Kevin Molino and Mekeil Williams, they probably will not be able to bring their A game.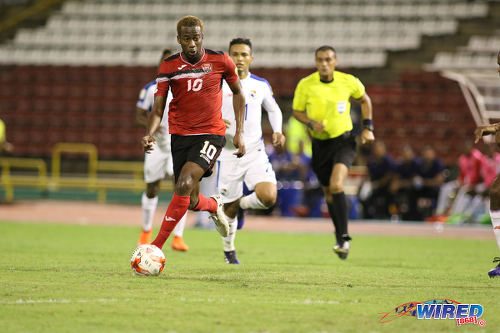 For US coach Bruce Arena and his team, however, much more than pride is at stake. Sitting in third place on the six-team table at present with 12 points, the Americans are yet to sew up a World Cup spot. Panama and Honduras, on ten points each, are hot on their heels and if both manage to score victories in their final games, defeat at the feet of the Soca Warriors would be catastrophic for the now perennial World Cup Finals qualifiers.
Victory, however, would seal another appearance on football's biggest stage.
On the eve of tomorrow's all-important match-up, therefore, Arena and his charges would have appreciated a full training session in which to could have put the finishing touches to their plan to secure the vital three points. No such luck.
Met by a flooded cycle track when they entered the Couva compound, they had to wade through ankle-high water to get to the playing field for a session which—much to the chagrin of TTFA officials—they insisted on having. The visitors, the local officials claimed, were merely doing harm to the playing surface.
Later, the United States Soccer Federation (USSF) had a field day on social media, their official Twitter account teasing about the "river" which the US players needed to cross in order to get to Russia.
Lawrence and company seemingly got the memo and their evening session was shifted to the Mannie Ramjohn Stadium in Marabella. Unfazed by the prevailing gloom—not just in the sky—Lawrence just wanted to get on with the business of football.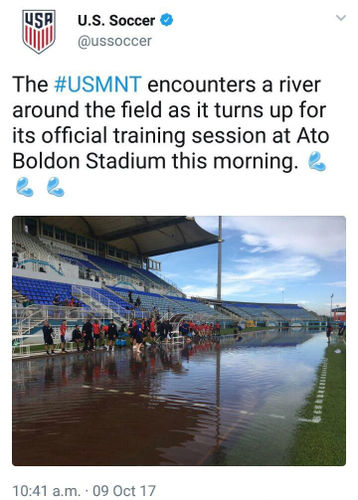 "I'm comfortable with football as long as there is grass, there is a ball and three officials who are going to be fair," the former Trinidad and Tobago Defence Force soldier told the assembled media. "I never understand people talking about the football pitches because both teams have to play on the exact same pitch. It's not like one team is playing on a different pitch from the other."
Without the giant presence of striker Kenwyne Jones, can Lawrence still be expected to take a direct approach on a potentially soggy surface?
"From my experience of playing on these type of fields," he said, "I think it's more of an attacker's dream because it's easier for them to go past defenders."
"You should also try to get the ball to your more attack-minded players to go one-v-one. We are going to have to use the conditions to the best of our advantage and it's gonna be the same for both teams so we just need to be prepared."
And when asked about the likelihood of playing at an alternative venue if inclement weather continues to dampen the Ato Boldon ground, Lawrence pointed to the recent qualifier between Costa Rica and Honduras which was pushed back by 24 hours owing to the effects of Tropical Storm Nate.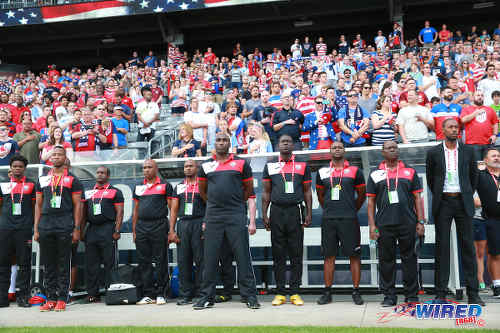 "Unfortunately, the weather is one of those things we can't control. We can only go with what happens," Lawrence noted. "If the rain falls and they decide to move the game, we'll play. If the rain doesn't fall and the game stays here, we will play the game. We are up and we are ready for the game."
With his team is in the middle of a seven-game losing streak, Lawrence declared that he and his charges were ready to give their all for the "red, white and black." And the coach suggested that those who had eyes to see would have seen evidence of that in Friday night's albeit losing battle with Mexico.
"Our motivation at the moment is for ourselves," the coach argued. "We owe it to our country to ensure that we go out and perform at a certain level […]. We have not been enjoying the results that have been taking place lately and we lost a few games so we have to try and ensure that we get a result."
He denied that it had been difficult to motivate his bunch after their decisive defeat to Panama and he claimed to have been filled with pride for the majority of the game in San Luis Potosí.
"The biggest disappointment for me in the Mexico game was getting to 79 minutes [1-0]," said Lawrence, who started the Mexico clash with attackers Joevin Jones and Molino on the bench, "and then giving away three goals in nine minutes. Obviously we need to correct that and it's the key element we need to focus on."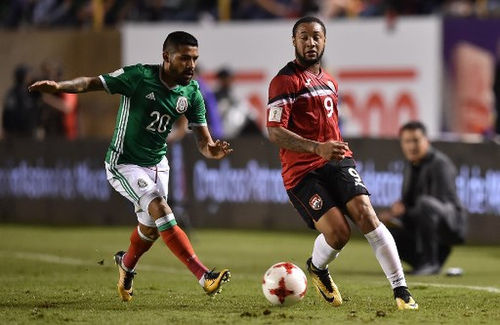 After T&T went 1-0 up through a well-taken Shahdon Winchester item, "Tallest" expected his promising attacking duo to help secure at least a point for the Warriors.
"We brought Kevin on because we were being pinned back by Mexico at the time and, in the past, Molino has been one of our best ball-handlers. […]" Lawrence explained.  "The idea when we introduced him was for him to get a hold of the ball so we could get up the pitch. Joevin came on because Levi has not been playing competitively on a regular basis and he started to tire a bit…
"I think in the last ten minutes we saw the problem where Mexico were trying to spread the pitch and use the wings and get at our fullbacks and obviously we got into situations where we didn't defend the one-v-one well. We didn't stay with the runner for the first goal in particular."
Once more, Lawrence was less than lukewarm about the idea of integrating inexperienced players into his playing squad. That may well mean that the trio of Kathon St Hillaire, Josiah Trimmingham and Duane Muckette, Molino's replacement, may have some exciting dreams tonight.
The uncapped trio are all former National Under-20 players and another teenager may well be in Lawrence's thoughts tonight. Borussia Dortmund starlet Christian Pulisic is just 19 years old tormented the Warriors in the last two meetings between the teams and notched a double back in June.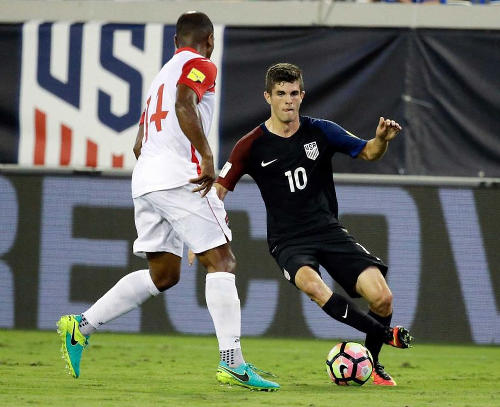 "Christian Pulisic is a very talented player," Lawrence conceded. "I think he is key to what the US are trying to do and he is obviously one you have to pay attention to […]. Pulisic is the heartbeat of the US team at the moment and we have to be well prepared for it,"
Pulisic was in fine form again on Friday against Panama as he scored the US' first goal before setting up Jozy Altidore for the second. It stands to reason that Lawrence would not mind some extra rainwater to slow the dangerously speedy teenager down.
It is worth noting that not even snow could stop the US in March 2013, when, en route to qualifying for the 2014 World Cup in Brazil, they got a Clint Dempsey goal to eke out a 1-nil victory over the visiting Costa Ricans in Colorado.
"Plows and shovels were used to clear the penalty areas, centre circle and midfield stripe as snow got heavier […] there was even a brief stoppage in the 55th minute when it was unclear whether the match commissioner would let the contest continue," a USA Today article read.
One thing is for certain though, snow, there'll be no snow tomorrow. But, come rain or shine, "Tallest" says, his men will be ready to rumble.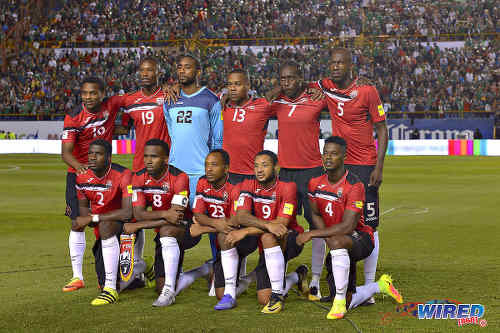 "The motivation is to try and ensure that we give the Trinidad and Tobago public a positive feeling about us because it's been a difficult period for us."
If the likes of Pulisic, Altidore and the wily veteran Dempsey do happen to get into full gear tomorrow, Lawrence may feel the need for the strong presence of a 12th man—and it's not the man in the middle!
Only some 5,000 supporters braved traffic woes to attend last month's qualifier against Honduras. So can Lawrence realistically expect a large, partisan posse in Couva tomorrow?
"Obviously, I am as disappointed as the fans," he lamented. "But what I think the fans need to understand is that the process starts again and we have to regroup as a nation."
"Definitely we need to stop conceding goals," he ended, "because if you make yourself solid and don't concede goals, you have always got an opportunity in the game.
"We are going to give it everything; we got to try and get a result."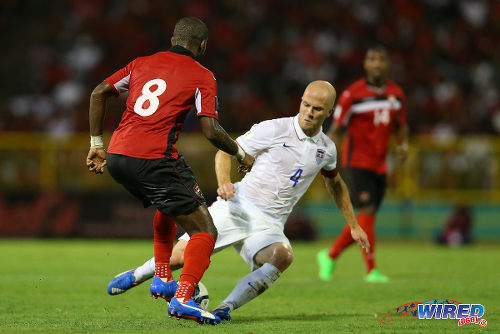 From 8pm tomorrow, the Trinidad and Tobago public will find out if Lawrence's charges can match their coach's seriousness.
Walk with swim gear just in case.
(Trinidad and Tobago team)
Goalkeepers: Adrian Foncette (Police FC), Greg Ranjitsingh (Louisville City FC—USA), Glenroy Samuel (Morvant Caledonia Utd);
Defenders: Curtis Gonzales (Defence Force), Kareem Moses (North Carolina FC—USA), Daneil Cyrus (Juticalpa FC—Honduras), Triston Hodge (W Connection), Kevon Villaroel (North East Stars), Josiah Trimmingham (Club Sando);
Midfielders: Leston Paul (CD Pasaquina—El Salvador), Khaleem Hyland (Al-Faisaly Harmah—Saudi Arabia), Kevan George (Jacksonville Armada—USA), Jared London (Club Sando), Duane Muckette (North East Stars);
Attacking midfielders: Joevin Jones (Seattle Sounders—USA), Nathan Lewis (San Juan Jabloteh), Neil Benjamin (W Connection), Kathon St Hillaire (St Ann's Rangers), Levi Garcia (AZ Alkmaar—Netherlands);
Forwards: Shahdon Winchester (Murciélagos FC—Mexico), Trevin Caesar (Sacramento Republic—USA), Akeem Roach (CD Vida—Honduras).