Interim president Keith Look Loy and vice-president Ryan Ottley will lock horns on 9 August 2017 when the Trinidad and Tobago Super League (TTSL) hosts its inaugural election at the Ato Boldon Stadium in Couva.
Look Loy, who is 64, is the FC Santa Rosa head coach, a former CONCACAF technical committee member and TTFA technical advisor and a retired school teacher. The 29-year-old Ottley is a Flying Officer in the Defence Force and manager of the Regiment's TTSL team.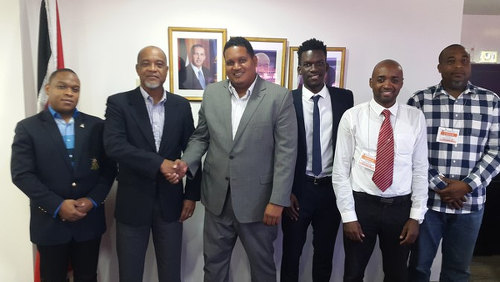 The elections will follow the one club, one vote system while the electorate consists of the 19 active and five inactive TTSL clubs from its two divisions. These are Guaya United, Defence Force FC, UTT, QPCC, FC Santa Rosa, WASA FC, Cunupia FC, Police FC, Siparia Spurs, 1976 Phoenix FC, Club Sando Moruga, Bethel United FC, Central 500 Spartans, Prisons FC, Youth Stars United, Petit Valley/Diego Martin United, Perseverance Ball Runners, Harlem Strikers, Marabella Family Crisis Centre, Matura ReUnited, Real Maracas, Petrotrin Palo Seco, Saddle Hill Hotspur and Barrackpore United.
The TTSL president will serve a four-year term and can be re-elected once.
The current interim TTSL executive comprises of Look Loy and Ottley as president and vice-president respectively along with George Joseph (Bethel United FC) and Quincy Jones (Siparia Spurs) as board members.

At stake on 9 August are six positions, which are: president, two vice-presidents and three ordinary board members.
Look Loy has announced a slate to contest all positions. He is joined by Jameson Rigues (1st Vice-President), Eddison Dean (2nd Vice-President), Joseph (Ordinary Member), Clayton Morris (Ordinary Member) and Colin Murray (Ordinary Member).
Ottley's slate includes Marvin Wilson (2nd Vice-President), Stephanie Guevara (Ordinary Member) and Michael De Four (Ordinary Member).