Embattled Caribbean Football Union (CFU) president Gordon Derrick could find himself crowbarred out of office by FIFA, after the world governing body's ethics committee today recommended a four-year ban from all football activities for the Antigua and Barbuda native.
The ethics committee, which is chaired by Dr Cornel Borbély, focused on Derrick's "alleged conflicts of interest, offering and accepting gifts and other benefits, mismanagement of funds, abuse of position and disloyalty."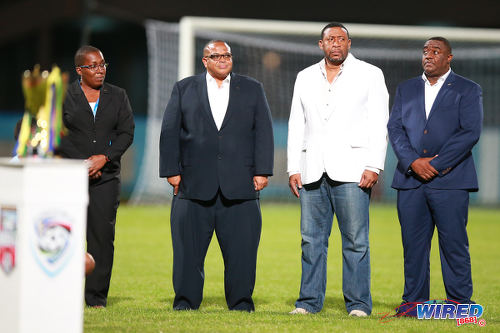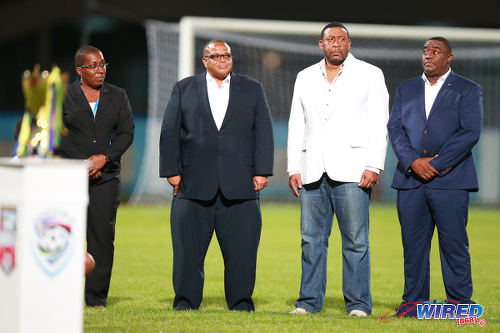 The adjudicatory chamber of the independent Ethics Committee, which is chaired by Hans-Joachim Eckert, has now opened formal proceedings against Derrick, who is also the general secretary of the Antigua and Barbuda Football Association (ABFA).
If Eckert's chamber agrees with the decision of the Borbély-led committee, it would mean that the CFU will soon need a new president. And Trinidad and Tobago Football Association (TTFA) president David John-Williams is the most likely beneficiary of Derrick's possible demise.
John-Williams challenged Derrick at the last CFU elections on 23 July 2016—on the Trinidadian's 54th birthday—but lost by 18 votes to 12 with one abstention.

Derrick declined comment on the FIFA investigations and said he will seek legal advice on the ethics committee's decision.
Unquestionably, though, the ruling by the Borbély-led body fits FIFA president Gianni Infantino's vision for a new CONCACAF. And Derrick has had a bullseye on his back for the past year.
Whatever the strength of the case against Derrick, the outline of the matter immediately raises eyebrows.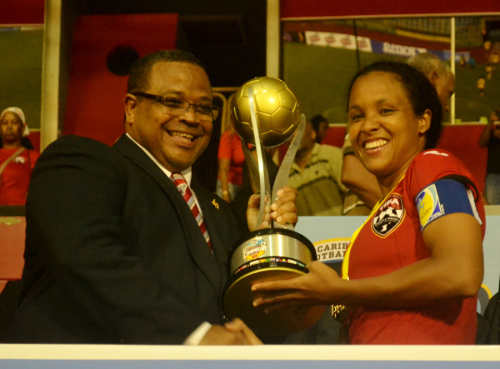 FIFA offered few details in their release. However, Wired868 understands that FIFA is investigating a claim against Derrick by disgraced former ABFA general secretary Chet Greene, which is between two and a half years to six years old depending on whom you ask.
Greene was one of former CONCACAF president Jack Warner's most trusted regional lieutenants and he once threatened to throw British investigative journalist Andrew Jennings down a flight of stairs.
In 2003, FIFA auditors found that a US$1 million GOAL grant to Antigua and Barbuda—during Greene's tenure—was unaccounted for while the ABFA general secretary pocketed US$4,500 a month despite having a full-time job at the island's Ministry of Sport at the time.
Greene was eventually ousted as ABFA general secretary in 2004 after a petition against his football body signed by several prominent Antiguan sportsmen, including West Indies cricket legends Sir Vivian Richards, Curtly Ambrose and Andy Roberts.
Ironically, Greene is now Sport Minister in Antigua and Barbuda and the most vocal supporter of controversial West Indies Cricket Board (WICB) president Dave Cameron.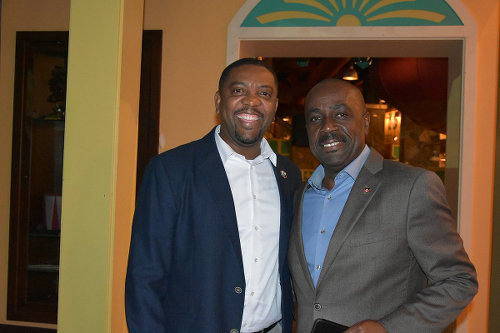 Greene never lost his thirst for football power on the island, though. Having failed to win re-election, he turned to Warner for help. And the then CONCACAF president ordered the ABFA to pay US$177,000 to Greene for "unpaid debts" or be suspended from all football within the confederation in a matter of days.
The ABFA appealed to FIFA and, since neither could not prove the existence of the debts, Warner and Greene were eventually forced to back away.
Greene popped up again in 2010 as the chief witness for former coach Robert "Pio" Baird in a High Court case against the ABFA. High Court Judge David Harris ruled in favour of the ABFA and ordered Baird to pay costs.
Three years later, Greene supported former footballer Veron Edwards Jr in his bid to unseat current ABFA president Everton Gonsalves. Again, the bid supported by him was unsuccessful.
By then, Derrick was a CFU executive member. And, a year after Warner fell in the Mohamed Bin Hammam scandal of 2011, Derrick was elected to replace him  while Cayman Islands football boss Jeffrey Webb ascended to the loftier post of CONCACAF president.
Derrick was also fingered in the Bin Hammam scandal but only for failing to pass on information about the goings-on at the controversial meeting, since FIFA investigators declared that he ought to have known what had transpired.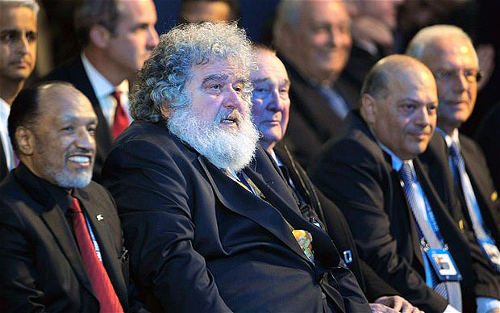 FIFA gave Derrick a reprimand and fine of 300 Swiss francs while CONCACAF executive member and Jamaican Horace Burrell was banned for six months.
Fast forward to 2016, as FIFA prepared to elect a successor to disgraced president Sepp Blatter.
Derrick and the CFU initially declared support for former Trinidad and Tobago football captain David Nakhid, whose own bid ended in farce as FIFA ruled that he did not have enough nominations.
John-Williams, who had just been elected TTFA president, gave Infantino his public blessing after their private meeting—without bothering to canvass the TTFA's board of directors or even introduce them to the then UEFA general secretary.
However, the CFU never endorsed any candidate after Nakhid while the ABFA is believed to have voted for Asian Football Confederation president Sheikh Salman bin Ebrahim al-Khalifa.
Derrick soon realised what the "new FIFA" had in store for him—and, by extension—the Caribbean when the ethics committee blocked him from running for the post of CONCACAF president in May 2016.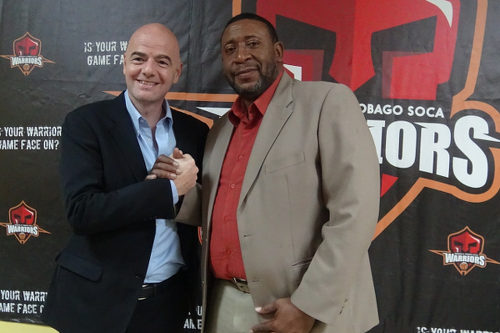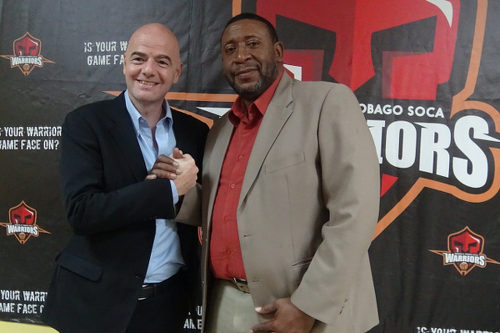 FIFA declared that Derrick was unfit for office owing to his part in the Bin Hammam scandal. It was a curious decision since Burrell retained his seat on the CONCACAF Executive while even Infantino himself had been implicated in the Panama papers after it emerged that UEFA, during his time as the body's director of legal services, had conducted offshore deals with figures indicted by the FBI.
Canadian Victor Montagliani won comfortably in Derrick's absence, making it the first time the confederation had a president from outside the Caribbean since the islands became CONCACAF's biggest electoral district in the early 1990s.
The Court of Arbitration for Sport (CAS) subsequently supported FIFA's decision to block Derrick from the CONCACAF election, just as it had ruled in favour of the global football body against Nakhid.
With the Caribbean accounting for 25 of CONCACAF's 35 member associations, Montagliani—or any other president from North or Central America—cannot rest easy with a CFU boss who is not under his thumb.
And, just a week before John-Williams officially announced his candidacy for the regional presidency, he flew the CFU electorate to Trinidad for a sales pitch. CONCACAF and UEFA promised to foot the bill.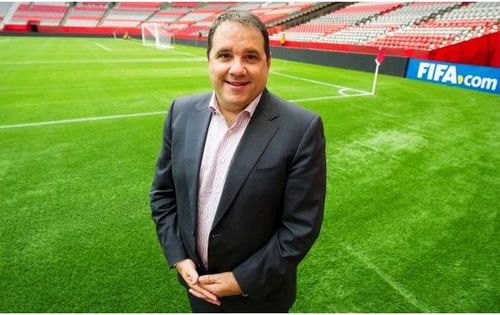 John-Williams' subsequent CFU campaign manifesto also claimed to have strategic support from UEFA for his grander promises.
Still, the CFU opted to retain Derrick as its leader. But the democratic choice of the Caribbean nations did not soften the Infantino-led FIFA's resolve.
Earlier this month, as Infantino embarked on a mini-Caribbean tour that included a Trinidad visit, Derrick was not even informed of the FIFA president's itinerary, much less be invited to join the party.
Today's announcement by FIFA's "independent" ethics committee arguably shows that the governing body is prepared to use more drastic means to be rid of the Antiguan.
Last year, FIFA's travel department head, Severin Podolak, and the chief of the general secretary's office, Christoph Schmidt, passed on documents to the ethics committee which allegedly pointed to Infantino's unauthorised use of private jets, unlawful hiring and firing, and inflation of his expenses.
FIFA general secretary Fatma Samoura sacked Podolak and Schmidt before the ethics commission even got around to giving Infantino a thumbs-up.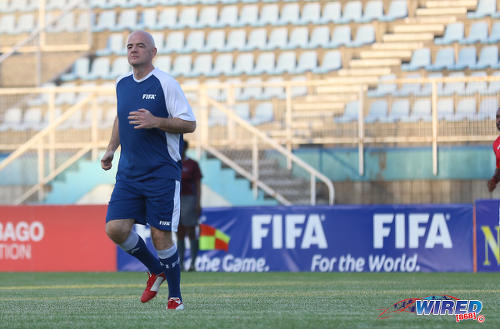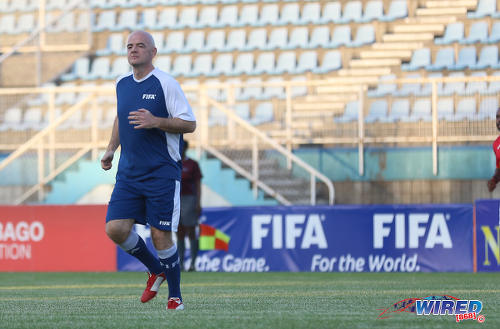 A FIFA statement on the pair's departure read: "As in any organisation requiring thorough restructuring, new positions will be created by the new leadership as part of the programme of reforms adopted by the congress and [a] few positions will be terminated as they [no] longer fit the organisation's overall restructuring process."
It did little to quell the suspicion that the FIFA ethics committee had squealed on its whistleblowers and pandered to president Infantino.
The FIFA committee has now turned its guns on Derrick. It could mean a belated 54th birthday present for John-Williams, who is anxious to sit on the Caribbean throne once held by his controversial compatriot, Warner.
It is ironic that one of Warner's closest aides, Greene, might have assisted the TTFA president's ambition with an old claim which did not appear to have particularly interested FIFA up until Derrick showed an interest in higher office.