The Trinidad and Tobago National Under-15 squad made a winning debut at the Ato Boldon Stadium in Balmain, Couva yesterday evening, as they strode to an entertaining 3-1 win against a Republic Bank Invitational XI.
But National Under-15 coach Russell Latapy's charges were pushed close in front of hundreds of supporters on Gloria Saturday, as they were forced to come from behind and often seemed on equal footing to their opponents in the affair, which marked the opening of the Republic Bank-sponsored National Youth League.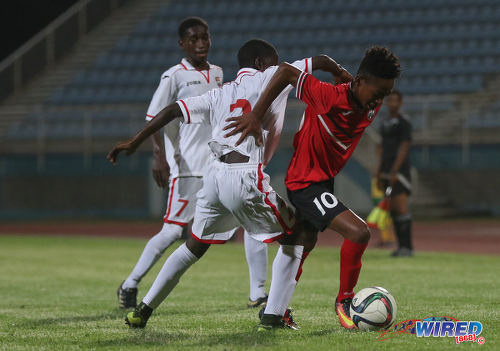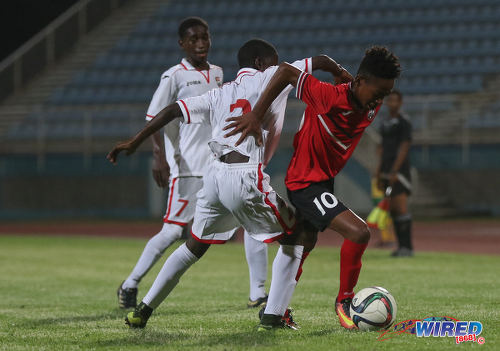 The three month long competition, which is approved by the Trinidad and Tobago Football Association (TTFA) but run by All Sports Promotion, starts next week.
Yesterday's outing might be a good harbinger of what is to follow and, occasionally, the national team—selected from nationwide screening sessions conducted months ago in Carapichaima East Secondary School—were upstaged by their opponents, who offered flashes of brilliance from Keron Manswell, Darian Bradshaw and substitute Mamade Guerra.
After the match, Guerra got a ringing endorsement from Angus Eve, official coach of the Republic Bank XI although on the night he left those duties to his assistant Keon Trim.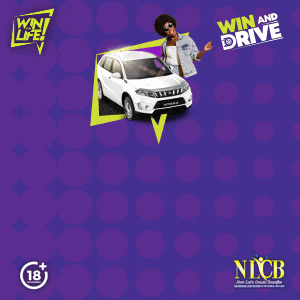 "Guerra is very similar to his uncle Ataullah," the former national player and current Club Sando coach told Wired868. "He's a really talented player. When we screened in the north, he was on the squad to go and play for the big screening (nationals). Unfortunately, the Saturday morning he had a toothache […] so he missed that whole weekend of the trials. This was an opportunity to show himself again."
From the start of the match, which kicked off some 15 minutes after the scheduled 6.30pm start time, both teams seemed eager to put on a good show for the some 600 fans who occupied the covered stands of the Stadium.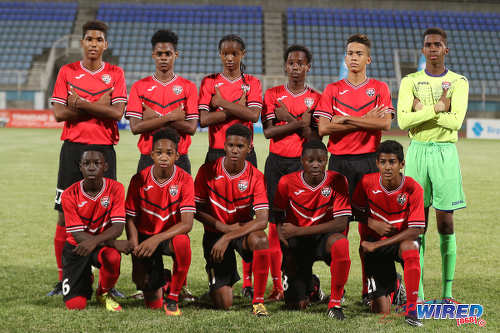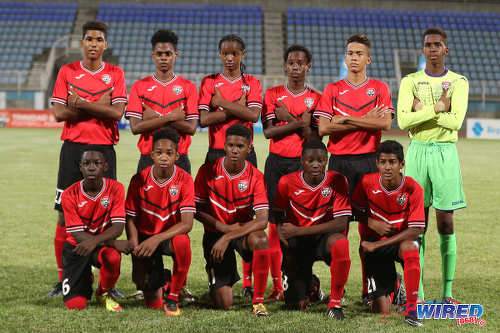 It was Bradshaw who opened the scoring with a free-kick from around 25 yards out that found the back of the net. T&T responded in kind with a quick equaliser before, 10 minutes from the end, Latapy's charges took the lead thanks to a header from Jean-Heim McFee. And a late penalty from Tyrese Pierre sealed the victory, allowing the young Soca Warriors to end the match on a high note.
The Republic Bank XI had settled quickly, making it clear that they weren't present merely to be whipping boys for their national counterparts.
In an early counterattack, Bradshaw cut inside his marker and hit a firm left-footer that would have beaten Jaheim Wickham in the T&T goal had it found the target. Instead, the effort sailed over the bar, provoking enthusiastic applause from the spectators.
Latapy's defence did not heed the warning, however. And Bradshaw soon made them pay.
Manswell, who was lively early on for Republic, was scythed down just outside the area by Wickham, who was lucky not to be sent for an early shower. Up stepped Bradshaw, whose almost nonchalant left-footed free-kick beat the wall and Wickham.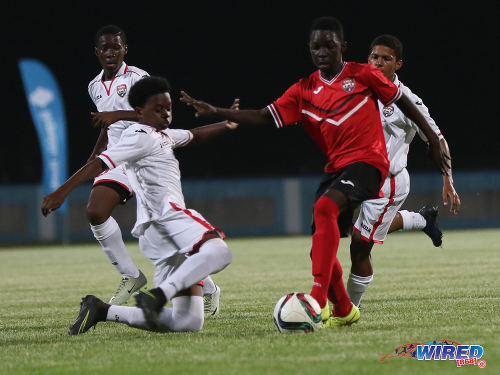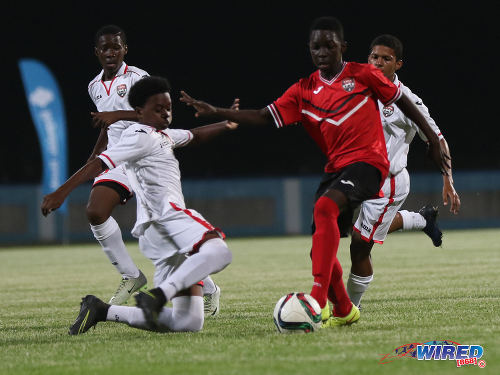 The boys in red, white and black had also fired a warning shot as early as the sixth minute when Justin Araujo tested the Invitation XI's custodian from distance. The forward, who towered over his Republic Bank XI markers, was the focal point of T&T's 4-2-3-1 formation, which utilised wingers Matthew De Souza on the right and Jamal Lewis on the left.

A minute was all it took for them to restore parity. Timing his run perfectly to beat the offside trap, nippy attacking midfielder Josiah Edwards raced on to a through-ball from midfield. Finding himself with only Jacob Castillo between the uprights to beat, he duly obliged with a simple, low side-footer into the far corner.
For the remainder of the first half, the general play went from end to end as both sides were intent on grabbing the lead. With 17 minutes on the clock, T&T's Araujo had his cheeky free-kick blocked by the Republic wall.
But the best chance of the half came on the stroke of half-time when Edwards was denied a second goal. Jared Edmond, who replaced Castillo after 31 minutes, snatched his on-target flick-on out of the air.
After the interval, T&T, who made multiple substitutions at the break, looked a transformed team, as they upped their passing game and held on to the ball for long spells.
At the other end, Republic too managed to look dangerous, with Manswell, ever the danger-man, swinging in a teaser from the left flank in the 63rd minute. Guerra, who flapped at it on the stretch, put the ball over the bar with the underside of his boot.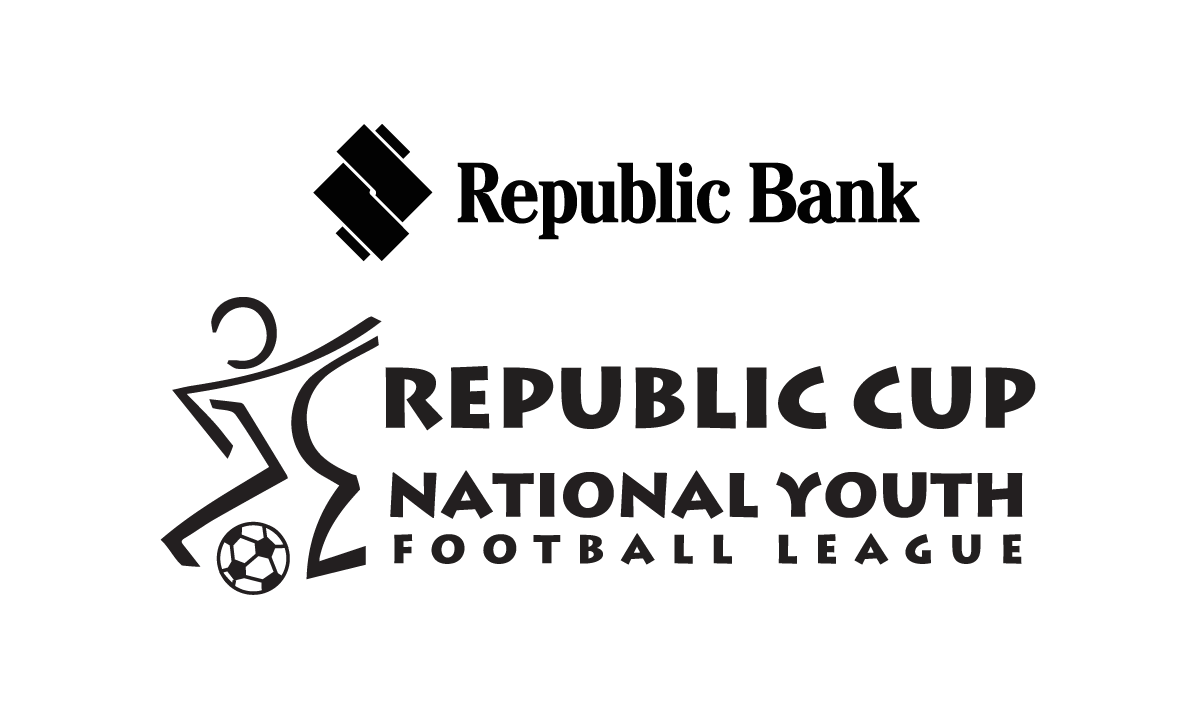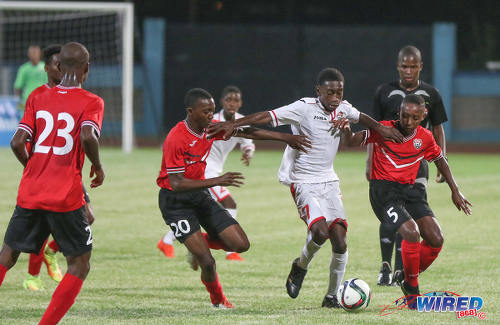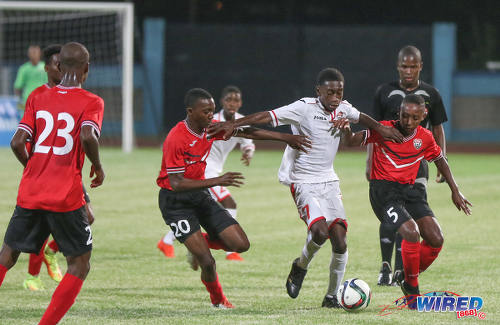 Manswell himself volleyed a gem of a cross from Menes Jahim over the bar after Pierre rattled the near upright at the other end with a measured drive from outside the penalty area in the 70th minute.
"He's very quick, very skilful. He runs at people with the ball (and is) a good crosser of the ball also," Eve commented of Manswell after the match.
But the see-saw encounter took a new twist when McFee nodded in a sailing right-wing cross from Macai Peters, who had done well to evade two markers and get his centre into a dangerous area. The goal gave the young Warriors a 2-1 lead and there would be no looking back for them after that.
A series of late substitutions broke up the rhythm of the match before a late foul in the box allowed Pierre to seal the contest with a penalty hit high to Edmond's left.
At the end of the match, it was clear to all that Latapy and his staff now have a pool of players to play with than was greater than they probably originally expected.
According to Eve, it's the continuation of an ongoing programme in the North Zone FA.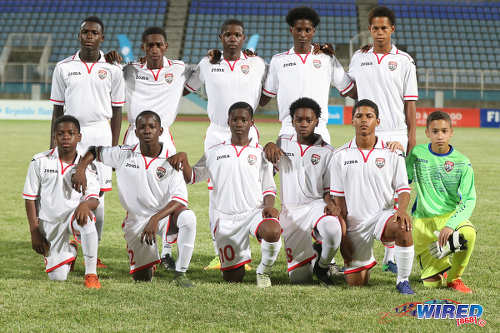 "We at the North Zone have already started our academy," he told Wired868. "These players are part of an ongoing programme. We have trips planned for them. We want to go (to) Tobago, we have a tour […] to Calgary (in Canada). We may be going over there also next season.
"So we are already starting our Elite Programme in the zone and this team is a part of that."
Eve went on to affirm his conviction that more talent will emerge from the Republic National Youth League contingent.
"To actually stand up to the national team, it says that we do have a lot of talent here and I do know when we have screening, you always miss players…
"You never really get everybody so this was a good opportunity for Russell and company to see some of the other boys in a different environment… and probably they will get another opportunity."
"The first squad was a bit stronger and we had to make changes," Eve ended. "We wanted all of the kids to have an opportunity, which is saying a lot because these boys are not on the actual national team."
(Teams)
Trinidad and Tobago U-15 (4-2-3-1): 1.Jaheim Wickham (GK) (34.Rashad Hart 63); 8.Ephraim Brown (23.Macai Peters 46), 4.Antonio Chee Ting (captain) (20.Tristan Caesar 46), 2.Tariq Mulraine (12.David Brooks 46), 16.Luke Savery; 9.Ezekiel Kesar (5.Jarique Williams 46), 6.Jabari Lee (14.Josiah Allen 46 [22.Nickel Alexander 90]); 21.Matthew De Souza (19.Saeed Pompi-Charles 46 [15.Isaiah Thompson 78]), 10.Josiah Edwards (18.Tyrese Pierre 46), 11.Jamal Lewis; 27.Justin Araujo-Wilson (7.Jaheim McFee 46).
Unused substitutes: 33.Keane Subero (GK), 30.Jumaane McNeil (GK).
Coach: Russell Latapy
Republic Bank Invitational XI (4-3-3): 1.Jacob Castillo (GK) (32.Jared Emond GK 32 [34.Alexi Toussaint GK 63]); 2.Nathan Guy, 5.N'Kosi Corbin (28.Aiden Dowden 90), 6.Daniel Lake (15.Jaheim Aguilera 90), 3.Emmanuel Thomas (26.Dorian Jeffrey 46 [13.Christian Smith]); 4.Aaron Moruf (12.Stefan Auguste 46 [27.Jean-Marc Williams 90]), 8.Randy Antoine (16.Abrahim Abu Bakr 88), 11.Darian Bradshaw (17.Mamade Guerra 46); 10.Jaheim Marshall (20.Daniel David 37 [24.Aaron Young 90]), 9.Jael Manson (22.Darius Douglas 63 [25.Brandon Alves 90]), 7.Keron Manswell (19.Kaylon Taylor 78 [14.Khalis Toussaint 90]).
Unused substitutes: 18.Trent Weekes.
Coach: Keon Trim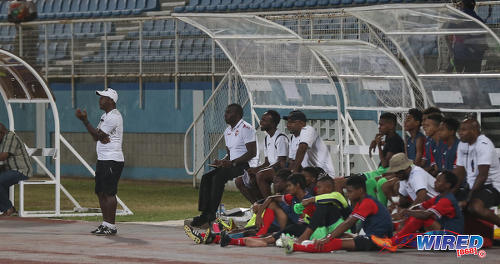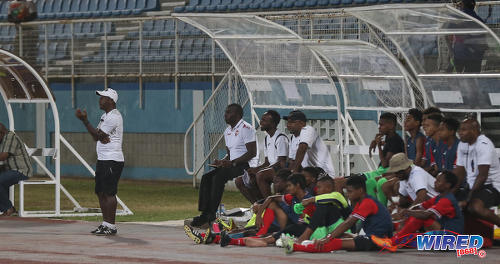 Republic Bank National Youth League exhibition match
(Saturday 15 April)
Trinidad and Tobago National Under-15s 3 (Josiah Edwards 11, Jaheim Mc Fee 80, Tyrese Pierre 90), Republic Bank XI 1 (Darian Bradshaw 10) at Ato Boldon Stadium.