On a warm, breezy afternoon in Couva, FIFA president Gianni Infantino—dressed in a tee-shirt, short pants and sneakers—was happy to give the impression that he did not take himself too seriously.
But, as any good football coach will tell you, once you kick off in a less than professional manner, it can be hard to just switch gears when conditions demand it.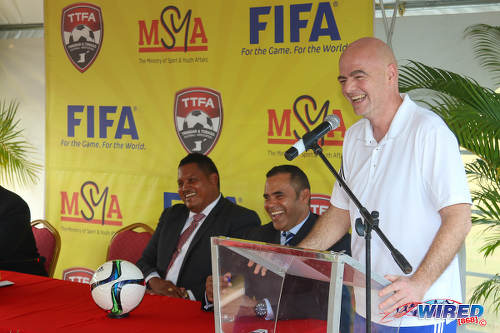 And so Infantino, questioned on his administration's decision to dissolve a FIFA Task Force against Racism and Discrimination—which met three times in three and a half years under his predecessor Sepp Blatter and not once in his term so far—gave an airy response to a volatile issue.
Infantino, the former UEFA general secretary, suggested that FIFA was having a laugh when it created the task force in the first place back in 2013.
"This committee which was created was not meeting since more than three years [before I became president]," said Infantino. "So it had been created to sell something and news for one day but then it didn't operate."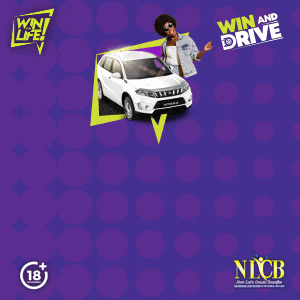 In fact, there were 14 months between the task force's last meeting and his election as FIFA president and another seven months before it was dissolved via a cursory email. Not that Infantino did not have a point on the thinking behind the FIFA committee and its usefulness in the first place. But what did he suggest as an alternative?
Well, why have just six committee members—Tokyo Sexwale (ex-South Africa cabinet minister), AIPS (International Sports Press Association) president Gianni Merlo, FIFAPro (International Federation of Professional Footballers) general secretary Theo Van Seggelen, FARE (Football Against Racism in Europe) executive director Piara Powar, Howard Webb (ex-England Premier League Referee) and Osasu Obayiuwana (Africa sport journalist)—when you can utilise the whole of FIFA?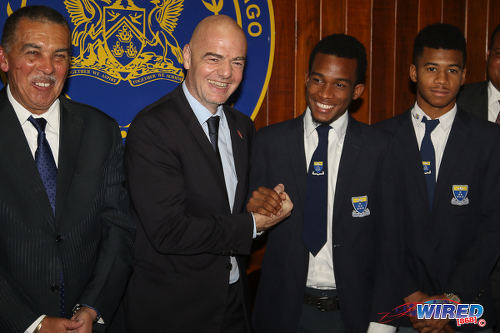 "It is not the work of the committee to fight against racism, it is the work of all of us starting from the president to the general secretary to all the committees of FIFA," said Infantino. "We all have to fight against racism. It is not one specific committee to do that."
And, as conventional wisdom tells us, when everybody is responsible, nobody is.
On cue, Master of Ceremonies Joel Villafana decided that there was no more time for questions. And Infantino, all grins and backslapping, walked outside to shovel a clump of dirt that symbolically made FIFA a partner in the Government-owned Ato Boldon Stadium.
The Trinidad and Tobago Football Association (TTFA) will soon move into the Couva venue, where it will be guaranteed preferred access for its programmes and games while its own headquarters is constructed with FIFA money on land leased from the government to the west of the stadium.
"Finally the Trinidad and Tobago Football Association has a home […] and can channel and structure this great passion that exists for football in this country," said Infantino.
Nobody had the heart to mention that the TTFA actually had two previous injections of FIFA cash for a similar project. Both went to the Joao Havelange Centre of Excellence that FIFA sportingly—well, the opposite of sportingly—allowed its former vice-president Jack Warner to keep.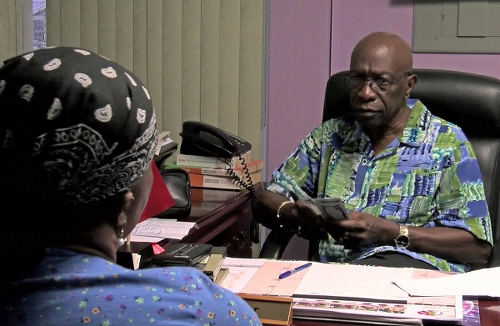 Sure FIFA says it wants the Centre of Excellence back. But it has never initiated legal action against Warner while, quite coincidentally, the former Chaguanas West MP never did get around to his tsunami of revelations about the Russia 2018 and Qatar 2022 World Cup bids.
But I digress. And it is impolite to harp on past indiscretions when things have so clearly changed in football. Why, Infantino himself said so.
"This is a new FIFA," he said repeatedly, "and it is also a new Trinidad and Tobago Football Association. Actually the new Trinidad and Tobago Football Association started a little bit before the new FIFA because it started in November 2015—also after difficult times like FIFA."
The new TTFA did indeed get going before the new FIFA, in more ways than one. At the local football election of November 2015, nearly one third of the electorate were not properly authorised to vote under the new FIFA statutes. But they did so anyway—despite the expressed concerns of FIFA head of member associations Primo Corvaro.
Infantino would know as much since, on 14 May 2016, one of the TTFA's presidential candidates, Ramesh Ramdhan, emailed him directly to request his intervention.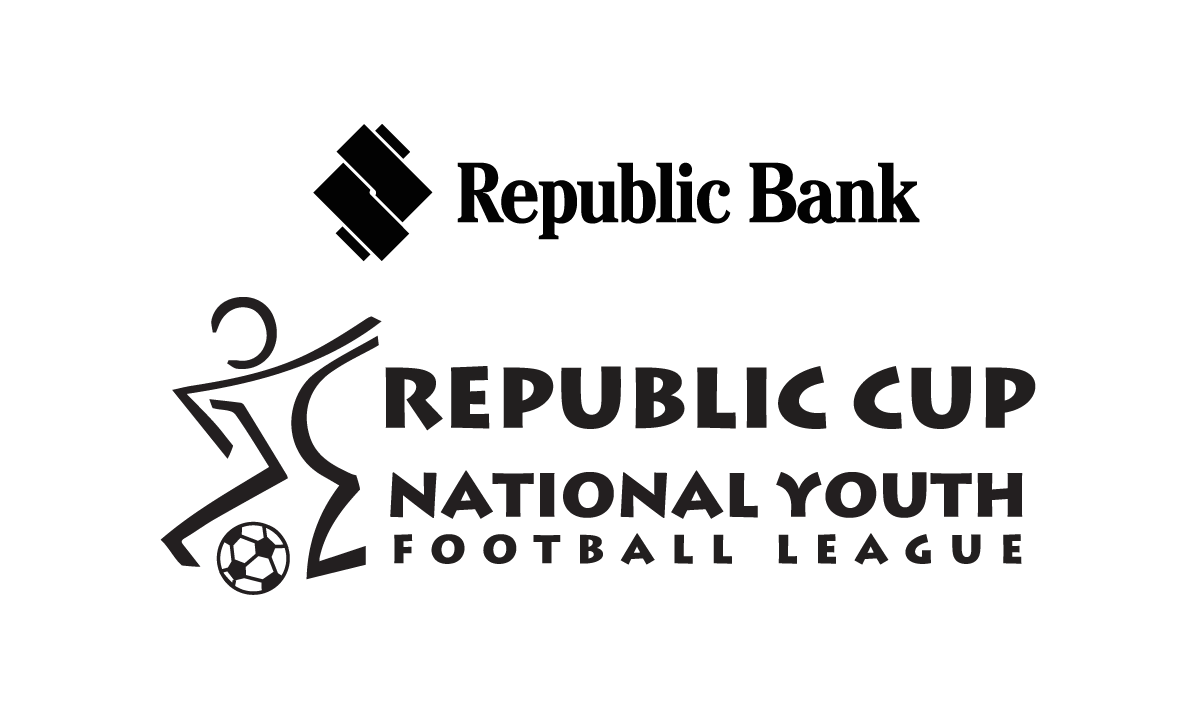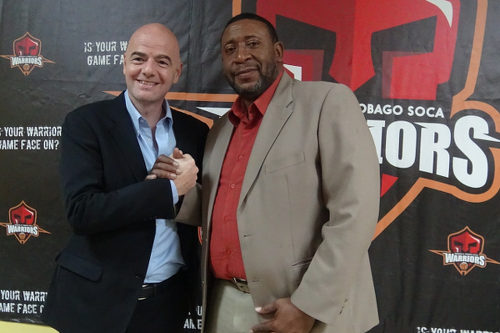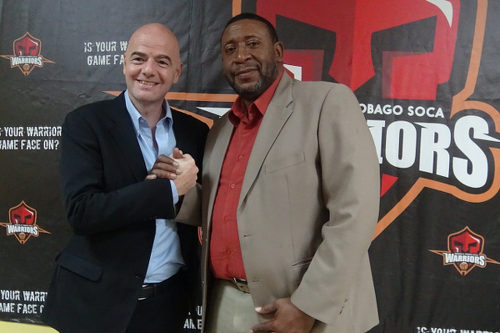 "I am seeking the intervention of FIFA in this matter," stated Ramdhan. "I am confident that the new FIFA thrust to rebuild confidence in the organisation and your own stated objectives of transparency and accountability will get the attention this situation warrants."
Infantino, who admitted that his own campaign for the FIFA presidency was supported by current TTFA president David John-Williams, did not even respond to Ramdhan. He let FIFA director of legal affairs Marco Villiger tell him to buzz off.
"After a thorough analysis of the facts reported in your correspondence, we have to inform you that this seems to be an internal matter, which does not come under the remit of FIFA," stated Villiger, on 8 July 2016. "As a consequence of the above, FIFA is not in a position to intervene in this matter."
Villiger's "thorough analysis" did not include so much as a phone call to Ramdhan or anyone charged with running the TTFA election.
On 24 June 2016, in the midst of the exchange between Ramdhan, Infantino and Villiger, FIFA appointed a normalisation committee to run the Argentina Football Association (AFA), which also had major electoral issues,  and "bring them in line with the current FIFA standard statutes."
It is anyone's guess why FIFA chose to wave the big stick in one scenario and not the other. But what is unmistakeable is the bond between the TTFA and FIFA presidents.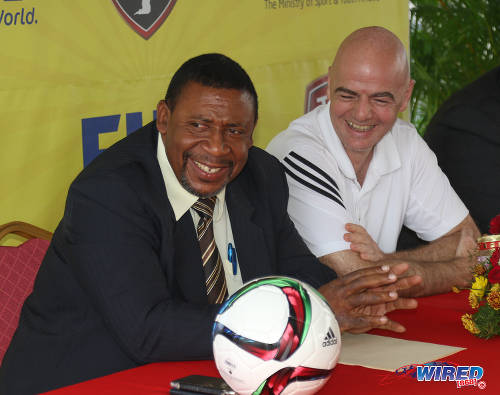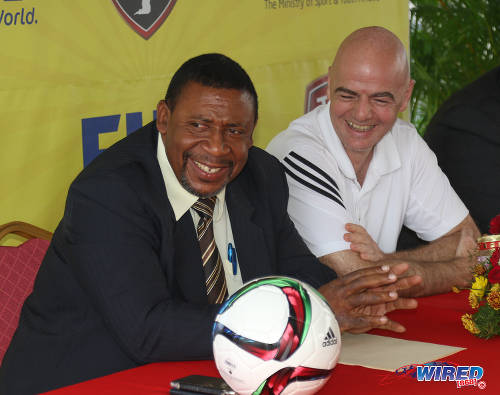 In another neat twist, Villiger's letter affirming FIFA's belief that John-Williams was a legitimate president came just a week before the Trinidad and Tobago businessman was set to challenge incumbent Gordon Derrick for the Caribbean Football Union (CFU) presidency.
And John-Williams suggested that a key tenet of his bid, a professional Caribbean league, was already agreed in principle with UEFA and had FIFA support. He received money too from CONCACAF and UEFA for a pre-campaign launch that allowed him to fly in all the regional delegates to hear his pitch.
John-Williams failed to woo the CFU. But, by the looks of it, he remains the Caribbean apple in Infantino's eye—notably, Derrick, Wired868 was informed, was not pre-advised of the FIFA president's trip to three Caribbean islands. Let alone invited.
The TTFA president addressed Infantino, in his media statement, as "Gianni." The FIFA president went a step further by referring to his counterpart as "Dear David."
From Havelange to Blatter, Trinidad and Tobago has seen this romantic flick before. And, usually, it is our football that gets screwed.
Havelange, intimidating and aloof, visited Trinidad often enough but never bothered with the media. Blatter never minded the press. He had an earthy, unassuming sort of charm—the type of man who would put his arm around you and stare straight into your eyes, as though your first meeting was actually a beautiful reunion. Behind your back, of course, he was probably signalling to your wife.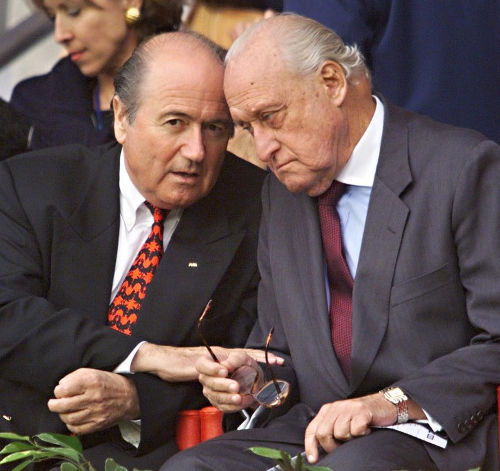 Infantino is even more touchy-feely than his predecessor—always winking and smiling with a self-deprecating humour that does not quite fit a man who insisted on a pay raise as one of his first orders of business at FIFA and got in trouble for his use of a private jet. There is more than a touch of the salesman in this bald eagle. He is the kind who laughs a little too loudly at your jokes.
"I was told I [came] here to play a football match and now they put me in front of you to make a speech," said Infantino, in mock surprise that a media conference was on his schedule. "Sorry but I prefer to play football than to make speeches even though I am a little bit better at making speeches than playing football…"
Everyone at the Ato Boldon Stadium had been warned to come in business attire and obliged. Infantino, quite deliberately, went for the fete-match- footballer look.
He was, he said, a football-first kind of guy.
"We have to put football at the top of our priorities," he said. "It's clear that when we operate and when we work, we have to work at the highest ethical standards, applying good governance principles, transparency and accountability. That goes without saying for me."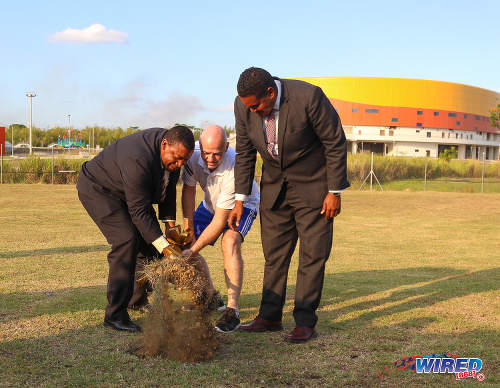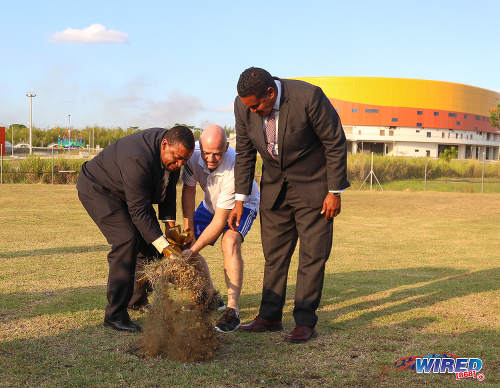 And that is reassuring coming from someone who was twice probed by the ethics committee within the first eight months of his tenure as FIFA president and was drawn into the Panama Papers scandal, after it emerged that UEFA—during his time as the body's director of legal services—conducted offshore deals with figures indicted by the FBI.
FIFA previously insisted Infantino had no dealings with any of the officials or companies under investigation. After the Panama Papers proved otherwise, Infantino, according to a UK Guardian report, said he "will not accept that my integrity is being doubted."
Who are you going to believe, he seemed to say, me or your lying eyes?
But with former Argentina World Cup playmaker Pablo Aimar and ex-Colombia international striker Juan Pablo Angel in the audience—also wearing shorts—Infantino expected a much easier time in Couva.
FIFA, he said, was much more inclusive under his presidency. There were more council members while the number of women involved, he claimed, rose from one to six. Funding for CONCACAF had trebled, a women's football department was on the way and an expanded World Cup meant more fun for everybody.
There was even the promise of video technology for referees for the Russia 2018 World Cup.
"I hope and I believe in the World Cup next year in Russia, for the first time in a World Cup," he said, "we will have officially the video assistant referee being able to help the referees [make] the right decisions."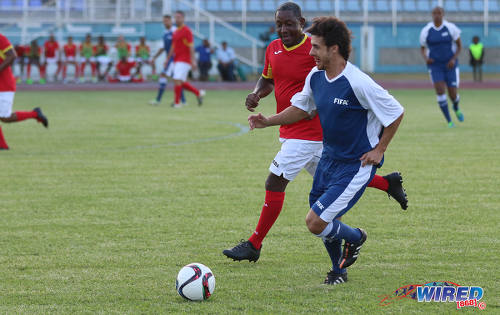 But the occasional refereeing error isn't the biggest concern for most non-white football fans who are considering attending the Russia World Cup—or even the players.
Former Cameroon international Andre Bikey carried a firearm for protection from violent racists while playing for Lokomotiv Moscow between 2005 and 2007.
"For a black person, it is very hard to live in Russia," Bikey told the UK's Daily Telegraph. "I'm a big guy and maybe you think you can fight people off, when there is one, two or three people trying to attack you. But when it is six or seven, you cannot do this. This is why I had to buy a gun.
"[…] There are things I want to forget about my time in Russia. You would go onto the pitch and as soon as the game starts, you would begin to hear the fans saying bad things. It was not easy to hear those things. The police did not protect us."
There is little evidence that the situation is improving. There were 92 logged discriminatory displays and chants by Russian fans in and around the stadium in the 2014/15 football season, which was just months before the current FIFA president took office. There had been 83 in the previous two seasons combined.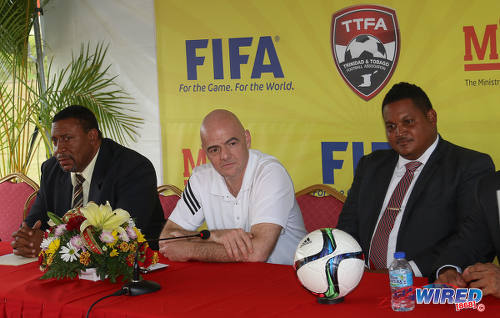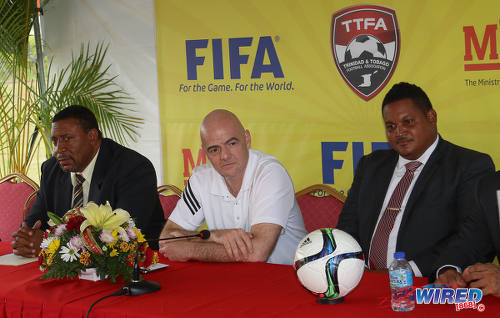 Yet Infantino, who should have been acutely aware of the problem as UEFA general secretary, gave the committee short shrift.
On 23 September 2016, FIFA's diversity and anti-discrimination manager Gerd Dembowski, emailed the task force members to say:
"The FIFA Task Force Against Racism and Discrimination was set up with your help on a temporary basis to develop recommendations for FIFA. We are therefore delighted to inform you that all of the Task Force's recommendations have been implemented…
"Given that the last meeting of the Task Force was some time ago […] and that we have recently received some enquiries about possible meetings in the future, we would like to explain to you that the task force is dissolved and no longer in operation… We thank you very much for your valuable contribution to promoting diversity and fighting discrimination in football."
Wired868 asked Infantino to explain FIFA's position that "the Task Force's recommendations have been implemented" and what it means for their fight against racism.
"Well, it means that we are fighting against racism with concrete action not with words," said Infantino. "You know that when you want to not solve a problem, you set up a working group [or] a committee. So people can talk and talk and talk and you don't do anything."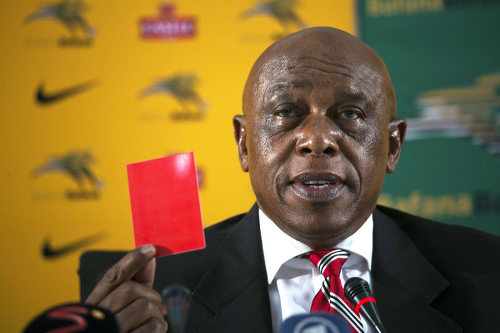 Take that, Sexwale! The South African, incidentally, once spent 13 years imprisoned at Robben Island for trying to overthrow the apartheid-supporting government. Infantino was clearly unimpressed with his credentials.
"We prefer in the new FIFA to act, to act concretely and to be inclusive," said the FIFA president. "[…] We have been acting concretely on racist incidents all over the world, which is something that did not happen before. This committee which was created was not meeting since more than three years. So it had been created to sell something and news for one day but then it didn't operate.
"So the recommendations that it did plus many other operations we are putting them in place in our every day actions [and] work. And we are very proud of how the new FIFA looks and how the new FIFA operates today in the fight against racism."
Exactly what is FIFA doing differently now in this "fight against racism?" What recommendations were put in place?
Just three months ago, Nice striker Mario Balotelli, who is Italian with Ghanaian parents, asked if racism was legal in France after a torrent of racist abuse in a Ligue 1 match against Bastia. Bastia were subsequently forced to play three matches behind closed doors.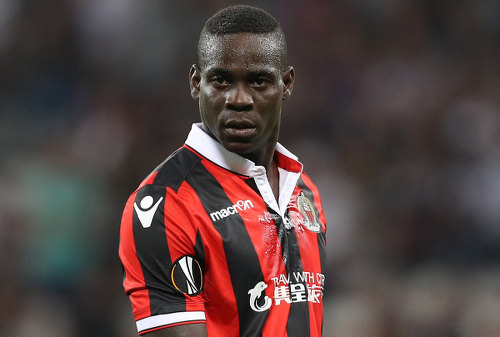 But I could not get a follow-up question in as, mysteriously, the microphone had disappeared and whoever held on to it was in no hurry to oblige me.
"So are you saying," I shouted—sans microphone, "that having no committee at all is progress?"
Remarkably, Infantino answered in the affirmative.
"Of course, because it is not the work of the committee to fight against racism," he said, "it is the work of all of us starting from the president to the general secretary to all the committees of FIFA.
"We all have to fight against racism. It is not one specific committee to do that."
And that, said Villafana, was all the time there was for questions—even without a microphone.
A two-time World Youth Cup player, 26-year-old Trinidad and Tobago defender Sheldon Bateau at present earns a living in Russia where he represents top flight club FC Krylia Sovetov, which means "Wings of the Soviets."
No doubt, he will be impressed by Infantino's deep-rooted affection for black players who journey to Europe with the hope of playing the beautiful game in a safe, non-toxic work environment. Hail the New FIFA.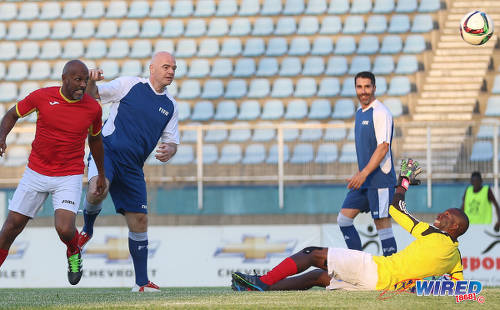 Fittingly, Infantino then strode on to the field and scored the opening goal of a 5-0 rout for the FIFA/TTFA XI with a dodgy effort that deflected off a defender and looped over the opposing goalkeeper, after a kickback—ahmm, tee up—from former Colombia international Juan Pablo Angel.
His run-out at the Ato Boldon Stadium and his brief skirmish with the media apart, Infantino spent the first half of his day in Trinidad hobnobbing with President Anthony Carmona and Prime Minister Dr Keith Rowley.
Unlike Carmona, Rowley opted to keep photographers out of his meeting with the FIFA head. Rowley, you see, was an outspoken critic of Warner and the "FIFA mafia" that protected him.
Perhaps the Trinidad and Tobago Prime Minister did not want to be photographed with a walking-scandal-in-the-making just yet.
Once bitten, twice shy and all that. It was probably a sensible approach.