The last trophy of the 2016/17 Pro League season will be contested by current league champions Central FC and reigning Pro Bowl champions Defence Force, who both booked their places into next Sunday's knockout final in contrasting styles.
In the second game of yesterday's semifinal doubleheader, the Army/Coast Guard combination floated like a butterfly and stung like a B. The 'B' in this case was mid-season acquisition, Jamille Boatswain, whose pace and finishing prowess was too much for Police FC.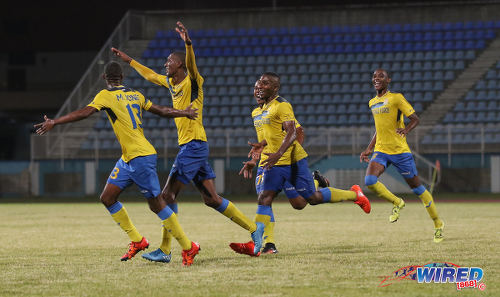 Boatswain, who started the season with table proppers Point Fortin Civic, scored three times as Defence Force spanked the "Lawmen" 4-0 to advance to their second successive Pro Bowl final.
There was less to admire in yesterday's opening affair as Central and Club Sando played to a stodgy goalless draw before a farcical shootout ensued, in which players failed to convert seven of the 16 penalty kicks until Central goalkeeper Jan-Michael Williams took one himself to eliminate Sando.
The entertainment of the shootout was in stark contrast to the 90 minutes that preceded it, as Sando barely registered one attempt of note on the Central goal.

Sando coach Angus Eve would point to the absence of star striker Akeem Roach, whose 11 league goals were exactly a third of his team's Pro League tally. But there was a tactical shift too, as Sando attempted to smother the "Couva Sharks" with what looked, at times, like a 3-6-1 formation.
At the other end, Central coach Dale Saunders alternated between the midfield diamond of a 4-4-2 to a 4-3-3 system with inverted wingers. But, regardless of the system, the Sharks could not move the ball around quickly enough to find gaps in the opposing defence for the first hour.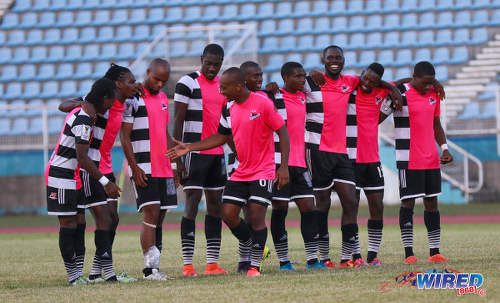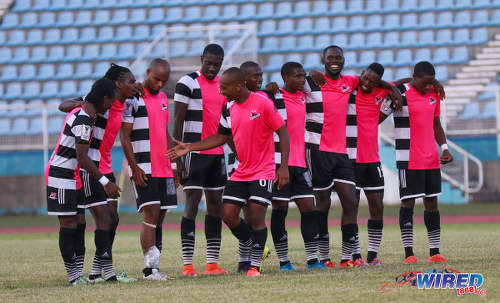 For the final 30 minutes though, the Sando backline appeared to simply lose concentration and Eve would have been relieved to see Central attacker Rundell Winchester miss a straightforward headed opportunity while Johan Peltier and Keron Cummings had good chances charged down by desperate defending from Kemuel Rivers and Leslie Russell.
Although Eve could point out that Sando custodian Kelvin Henry had just one meaningful save to make himself, which came late in the match from Winchester.
But there was no shortage of intrigue once referee Keilon Bacchus signalled kicks from the penalty mark.
Henry kept out Central's first penalty by Jason Marcano and Sando maintained their advantage until the ninth kick when defender Trevin Latapy took his mark. But, just one successful effort away from the final, Latapy hit over the bar.
Winchester sent Henry the wrong way with his next kick to tie the scores at 4-4 as the shootout went into sudden death.
But, remarkably, the next four kicks did not even require a save from either goalkeeper as the Sando pair Kevon Piper and Russell and Central players Cummings and Tyrik John all blazed wide or overbar.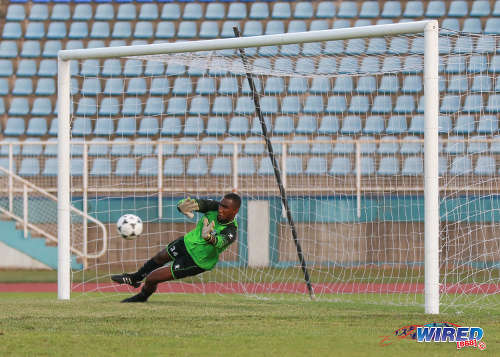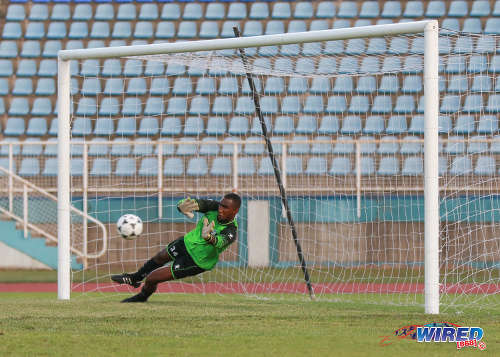 Sando substitute Shaquille Holder got his low effort on target but Williams produced a quality save to match, as he kept out the penalty with a low dive to his right.
And Williams, the Soca Warriors custodian, gave his teammates a demonstration in finishing as he calmly sent Henry the wrong way from the spot to take Central to their first cup final of the abbreviated 2016/17 season.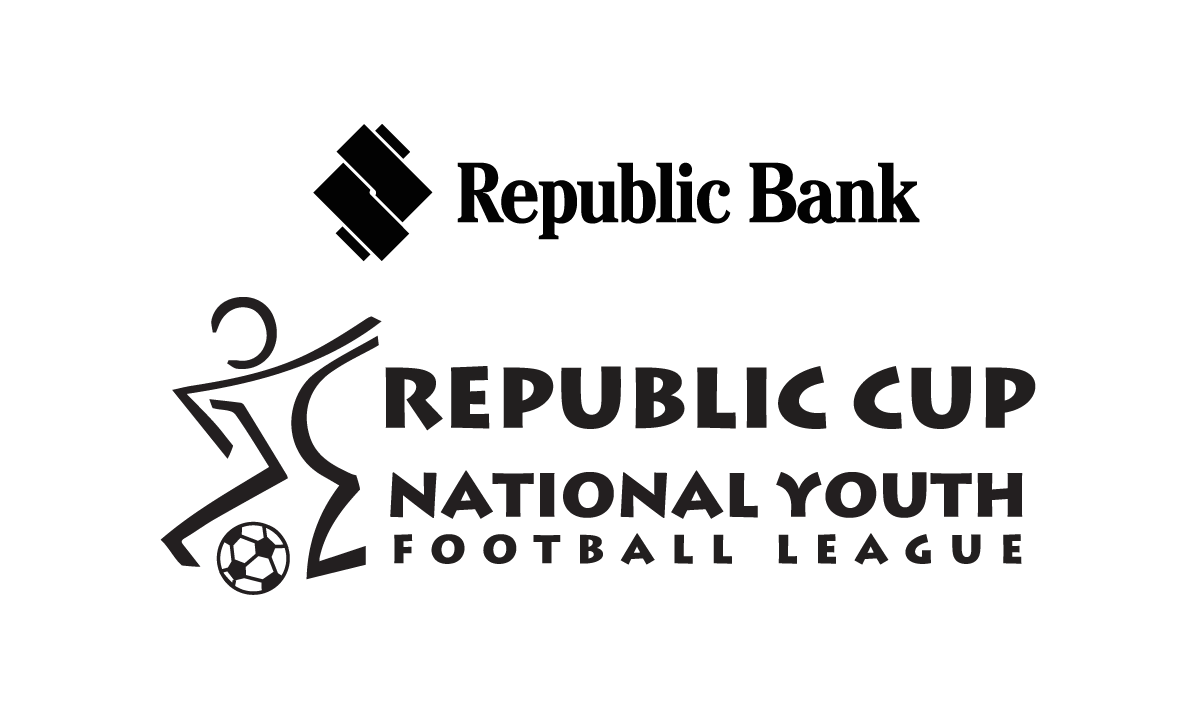 Police FC, with acting Commissioner of Police Stephen Williams looking on from the stands, started brightly and created the first major stir, as Defence Force goalkeeper Sheldon Clarke was tested by an angled Christon Thomas volley.
There was a decent tempo to this contest with Police flanker Kareem Freitas and Defence Force playmaker Hashim Arcia bubbling with intent. But it was not until the 53rd minute that either team managed to pierce the opposing defence again.
Defence Force winger Marvin Jones whipped in a corner kick and captain Jerwyn Balthazar headed it down for left back Akile Edwards. Somehow, Police custodian Adrian Foncette managed to twice deny Edwards from point blank range.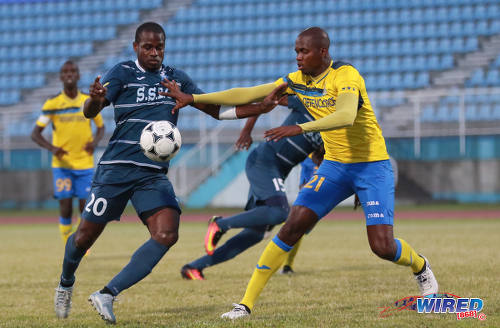 But Foncette was helpless, seven minutes later, as Jones dribbled inside Police left back Nequan Caruth and crossed for Boatswain to head into an empty net from inside the six yard box.
Defence Force were on the ascendancy by now, as the Police frontline could not keep the ball to relieve pressure. And Foncette was forced into another sharp save, as he used his legs to keep out Arcia in the 63rd minute.
Arcia, who might be the Pro League's form player at the moment, would not be denied though and he doubled Defence Force's advantage with a clever free kick in the 67th minute. The lanky Trinidad and Tobago international drove his low shot straight at the feet of the Police wall, which jumped in anticipation of a lofted effort.
Foncette, again, did not have a prayer.
Police coach Richard Hood tried to regain some momentum, as midfielder Kadeem Riley and winger Micah Lewis replaced Thomas and forward Jameel Perry respectively. But that horse had bolted.
Foncette made a flying save to his left to keep out Defence Force flanker Kerry Joseph in the 71st minute, after an Arcia-led counter attack. But the Police goalkeeper was beaten again in the 78th minute, as Boatswain cut in from the left flank and belted a tremendous right foot effort into the far corner.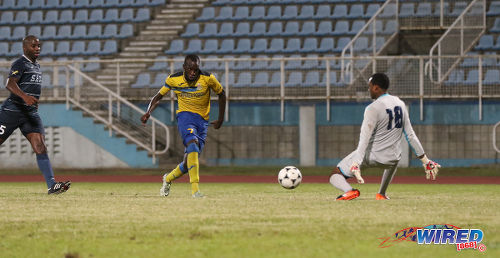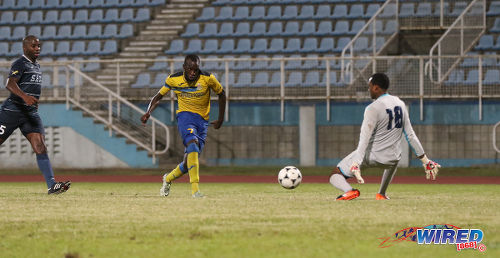 It was Boatswain's third goal since moving to Defence Force and his 11th in all competitions for the season. And the lively striker got his twelfth item in the 83rd minute, as he ran on to a perfectly weighted feed by Chris Durity and beat Foncette with a tidy, precise finish.
Defence Force striker Devorn Jorsling, who is the Pro League's all-time record scorer at just 33, gave Boatswain a clap and a hug as he replaced him for the closing minutes.
Jorsling is just returning from injury but should be fully fit by kick off on Sunday, which leaves coach Marvin Gordon with no shortage of options.
The top three scorers in all competitions this season are all members of the regiment. Jorsling has 16 goals while Arcia and Boatswain have 12 each. Central's highest scorer, captain Darren Mitchell, has nine goals in all competitions.
Collectively, the Sharks were miles more consistent with 47 points from 18 matches compared to 20 points by Defence Force.
It should be an intriguing contest.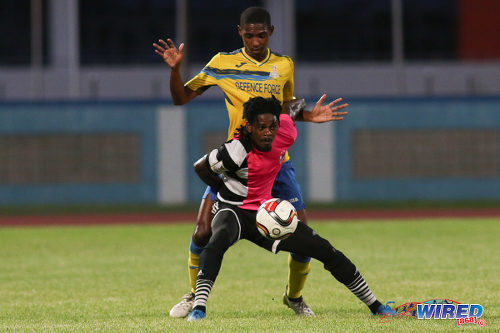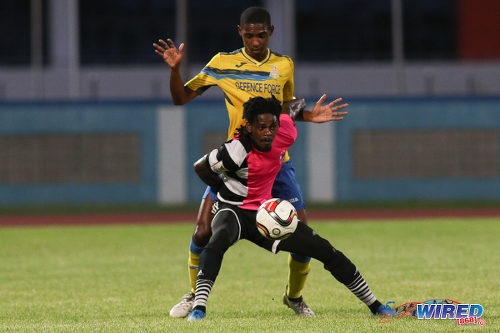 (Teams)
Police FC (4-2-3-1): 18.Adrian Foncette (GK); 6.Jibri McDavid, 5.Anton Hutchinson, 17.Dexter Alleyne, 38.Nequan Caruth, 21.Todd Ryan (captain), 25.Kenaz Williams (24.Keeron Benito 71), 10.Kareem Freitas, 20.Elijah Belgrave, 19.Christon Thomas (12.Kadeem Riley 67), 15.Jameel Perry (23.Micah Lewis 67),
Unused substitutes: 22.Theon Browne (GK), 3.Ryan O'Neil, 7.Kareem Perry, 13.Dillon Kirton,
Coach: Richard Hood
Defence Force (4-1-4-1): 25.Sheldon Clarke (GK); 6.Rodell Elcock, 3.Jamali Garcia, 17.Curtis Gonzales, 21.Akile Edwards, 8.Christopher Durity, 13.Marvin Jones (32.Jameel Cooper 85), 99.Jerwyn Balthazar, 10.Hashim Arcia (20.Levi Serries 82), 23.Kerry Joseph, 7.Jamille Boatswain (9.Devorn Jorsling 85)
Unused substitutes: 19.Thurlani George, 22.Anthony Charles, 35.Tirek George, 94.Keron Fox.
Coach: Marvin Gordon
Referee: Cecile Hinds
Wired868 Man of the Match: Jamille Boatswain (Defence Force)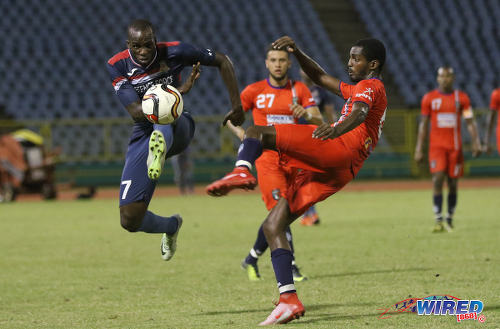 Digicel Pro Bowl Semifinal round
(Sunday 12 February)
Central FC 0, Club Sando 0 at Ato Boldon Stadium;
*—Central won 5-4 via kicks from the penalty mark
Defence Force 4 (Jamille Boatswain 60, 78, 83, Hashim Arcia 67), Police FC 0 at Ato Boldon Stadium;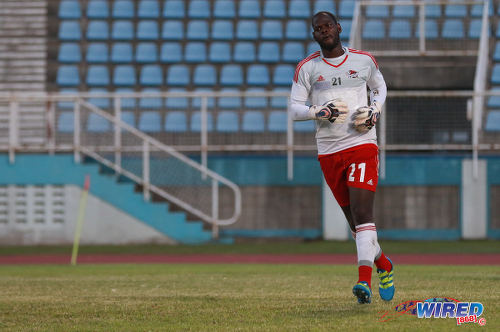 Digicel Pro Bowl Final round
(Sunday 19 February)
Central FC vs Defence Force, 6pm, Ato Boldon Stadium, Couva.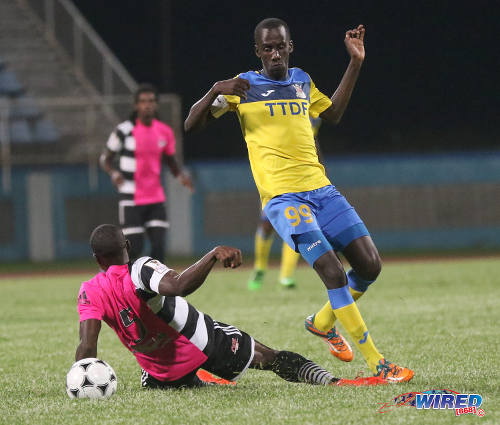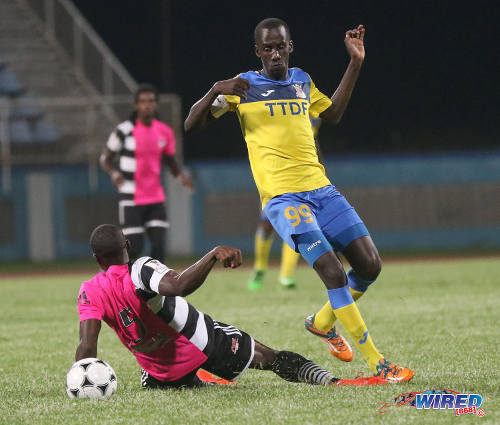 2017 Digicel Pro Bowl Scorers
4—Johan Peltier (Central),
3—Hashim Arcia, Jamille Boatswain (Defence Force), Elijah Belgrave (Police FC),
2—Rundell Winchester (Central FC), Kareem Perry (Police FC),
1—Sean De Silva [pen], Keron Cummings (Central FC), Kevon Piper, Akeem Humphrey (Club Sando), Christon Thomas, Kadeem Riley, Dexter Alleyne, Micah Lewis, Jameel Perry (Police FC), Adrian Reid [pen] (San Juan Jabloteh), Hughtun Hector (W Connection).