Central FC are in a league of their own at the moment, in more ways than one.
Last night, the Couva Sharks maintained their four-point gap at the top of the Pro League standings with a 2-0 win over second from bottom Morvant Caledonia United at the Ato Boldon Stadium.
Central are unbeaten in the league this season, as they chase the honour of becoming the first club in Trinidad and Tobago's professional era to win three successive titles.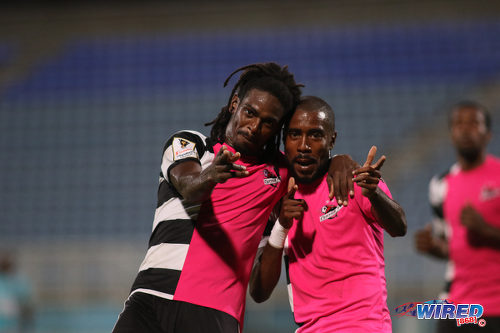 Towards that end, goalkeeper Jan-Michael Williams and midfielder Nathaniel "Spanish" Garcia played 90 minutes for Central last night, at the expense of their immediate international prospects.
Current Trinidad and Tobago National Senior Team coach Tom Saintfiet selected the Central pair—along with midfielder Sean De Silva who was injured in national training—on his squad to play away to Nicaragua in friendlies on 27 and 31 December. But it would have meant that they enter camp last night and skip all club duties for the remainder of the year.
Central managing director Brent Sancho, a former World Cup 2006 defender, and operations director Kevin Harrison refused to hand them over and insisted that they were under no obligation to do so, according to FIFA and Pro League rules.
But they stood alone on Tuesday night, as the remaining Pro League clubs sacrificed for what they considered to be a greater good: the Trinidad and Tobago team, the potential ripple effect for the Pro League—once the Soca Warriors do well—and the players themselves.
San Juan Jabloteh and Club Sando were, arguably, affected more than most as Saintfiet selected three players from within their ranks—as a means of offsetting absences—less than 48 hours before their Tuesday fixtures.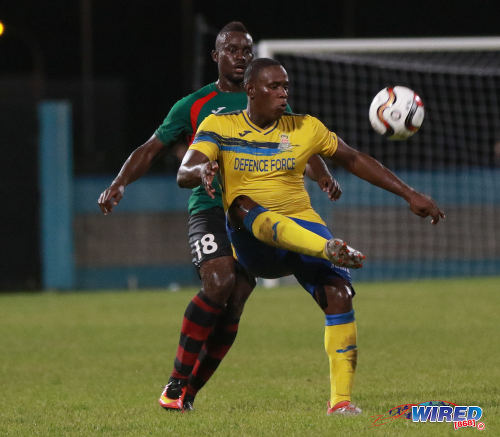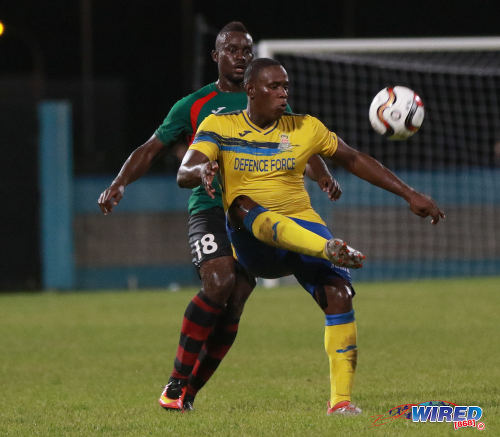 Suddenly, Jabloteh lost both wingers in one fell swoop as Nathan Lewis and Tyrone Charles were both late call-ups to enter the Warriors camp.
Last night, Jabloteh drew 1-1 with Ma Pau Stars at the Hasely Crawford Stadium. They are still third but—12 points behind Central and with six games left—their title chase is essentially over.
"From a full roster of 21, I only had 13 players [in my first squad last night]," Jabloteh coach Keith Jeffrey told Wired868. "And going into the game on Friday, I just have a bare 11 because of two more injuries. I now have to register [Trinidad and Tobago National Under-17 midfielder] Jodel Brown and 17 year old Jabari Mayers, just to have numbers…
"Long time, clubs would have a 25 or 26 man roster, so you wouldn't have this problem. But because the [government] subvention is not coming and the private sector is not buying in, it allows you to only have a roster of 21.
"And with injuries or [national] call ups, you can easily end up with 13 or 14 players."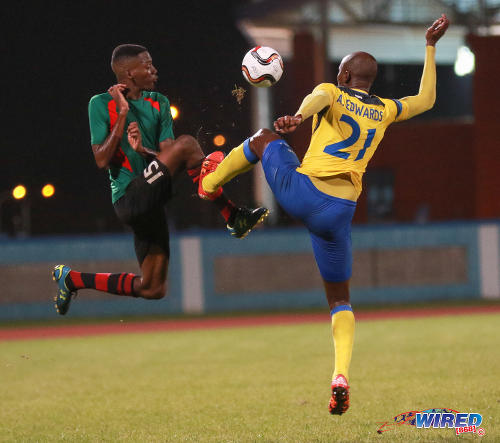 Jabloteh trailed to a Jerrel Britto item at half time yesterday. But, ironically, their equaliser came from a player who should have been in camp: Willis Plaza.
Plaza was forced to withdraw from the Warriors team to pursue a professional deal in the Far East over the Christmas period. And, although it ruled him out of the upcoming friendlies, the talented striker was able to represent Jabloteh yesterday and will be in the squad again on Friday.
"It would have been worse if Plaza didn't pull out [of the National Team]," said Jeffrey. "But I would have done the same thing, even if we had to lose all three of them. These boys deserve their call-up and I want to help them.
"We will play two under-17s on Friday and we stand by that."
Club Sando lost just one player to national duty, Akeem Roach, but the effect might be just as emphatic. The speedy attacker scored seven of his team's 19 league goals so far this season and is integral to the way his club plays.
Worse, Sando coach Angus Eve only found out that Saintfiet wanted his player on the eve of Tuesday's fixture. Sando, who held Central 1-1 in their previous outing, lost 2-0 to Defence Force last night.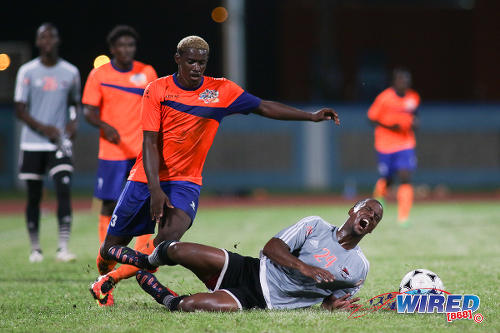 Still, Eve, who is Trinidad and Tobago's all-time most capped player, mirrored Jeffrey's thinking.
"We have to help the players—that is our first goal," said Eve. "I am trying to help Akeem get out of the country and being on the National Team will help his resume. The timing [of his call-up] wasn't great [for our match day preparation]. But I understand the importance of the National Team to this Pro League. So it is a balancing act."
St Ann's Rangers coach Anthony "Prowler" Streete probably had special dispensation to pout on Tuesday night.
Rangers released 21-year-old winger Jomoul Francois for Warriors duty, as he was named in Saintfiet's initial 29-man squad. The Belgian coach promised to select his final 23 players for camp by Monday afternoon. But that did not happen.
So, on Monday, Streete selected his 18 players to face Police FC. On Tuesday morning, though, Francois relayed word that Saintfiet had not picked him.
"[On Monday, the Trinidad and Tobago technical squad] were still not sure of their final squad, so I assumed Jomoul would be occupied on Tuesday," said Streete. "Then, he called me on Tuesday morning when I had already named my squad… So, I told him to take the game [off against Police]."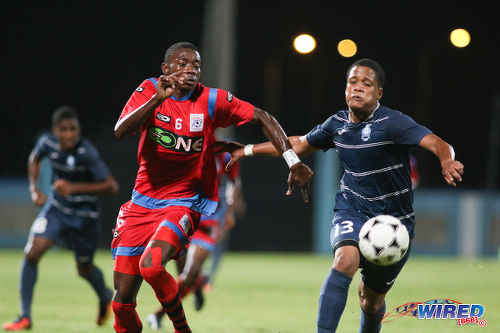 Rangers played four teenagers last night: Josh Toussaint, Rushawn Murphy, Kathon St Hillaire and Micah Lansiquot. The quartet all represented the Trinidad and Tobago National Under-20 Team, earlier this year.
The St Ann's-based team lacks the financial clout to hang on to their young talent and most players usually move on before they become senior internationals. So, Streete was proud to send a player to the National Senior Team, even if it did not work out for player or club in the end.
"Rangers are not a team to get a [National Team] call-up usually, so I am happy to give the player an opportunity to market himself," Streete told Wired868. "I was a national player myself and you feel a pride in that. I would want them to experience that and feel that way too."
In the end, at least Streete's young brigade had an outing to cherish last night, as they held Police 1-1 to snap a three game losing streak.
The "Lawmen" were gifted their opening goal in the 25th minute, as Rangers' 20-year-old custodian Christopher Biggette sent a goal kick straight at opposing striker Jameel Perry, who held off a retreating defender before blasting home.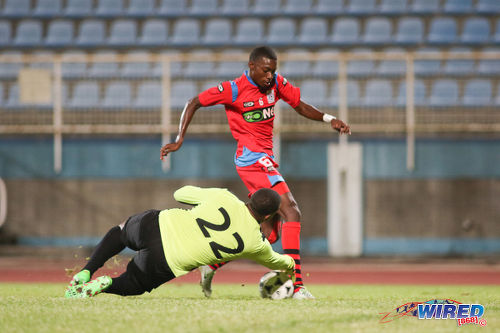 But Streete's fresh-faced outfit came charging back and should have equalised in the 34th minute, as striker Dylon King ran on to a clever threaded pass from midfielder Sedale McLean but failed to round Police custodian Theon Browne.
Browne, incidentally, was filling in for first choice goalkeeper Adrian Foncette, who was also in Saintfiet's camp. And the rotund shot-stopper was intent on making the most of his chance last night.
Midway through the second half, Browne stole the spotlight again as he denied Rangers defender Shakiyl Phillip from the penalty spot, after referee Joel Cox penalised a handled ball from Police defender Anton Hutchinson. And there were vital saves from King and St Hillaire to boot.
Two minutes into second half stoppage time, the pressure finally told though.
The Police defence failed to clear a left side cross from the lively Lansiquot—an East Mucurapo Secondary schoolboy—and Rangers right back Lester Durham became the unlikely hero, as his sweetly struck half volley arrowed through a crowd and into the far corner to rescue a point.
Lansiquot apart, Murphy was probably the pick of the fresh faces in Streete's squad in an orthodox holding midfield role.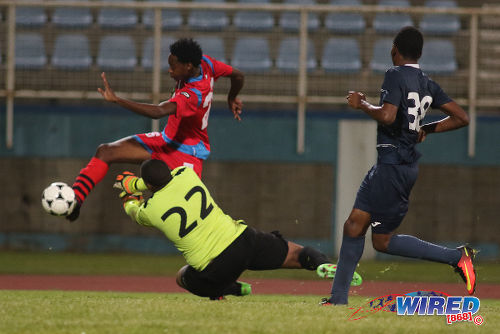 Murphy failed to spark as a winger in the Under-20 Caribbean Football Union (CFU) qualifiers and was omitted for the CFU finals. But perhaps Trinidad and Tobago National Under-20 Team coach Brian Williams should take a look at him in his new position
Streete is ensuring that his schoolboys—who also include St Anthony's Che Benny and East Mucurapo's Kazim Donald and Jesse Williams—improve their football education during their Christmas holidays.
"I think it is a pride to coach them but they are still missing that professionalism," said Streete. "They are sometimes over-holding [the ball] and looking for the glamour instead of playing a bit simpler. Sometimes they have the pass [available] and still want to run with the ball…"
Central had St Anthony's captain Jules Lee in their squad last night. But the Sharks had enough professional players available to ensure that he remained as an unused substitute.
Morvant Caledonia, who won just two of their previous 11 league matches, just were not good enough—a determined performance from winger Jameel Neptune notwithstanding—and the final 2-0 scoreline flattered the losers.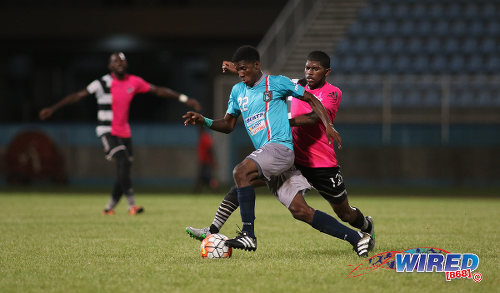 Veteran attacker Jason Marcano slammed an effort off the upright in the 13th minute while National Under-20 striker Nicholas Dillon and Marcano somehow conspired to miss from six yards, just seconds before the interval.
Substitute Johan Peltier finally broke the deadlock in the 64th minute, as he chased a ball over the top to convert his first goal of the season. And, two minutes from time, Marcano prodded home from close range—and possibly an offside position—to double their advantage.
Caledonia, incidentally, were playing without their first choice goalkeeper, Marvin Phillip, who was also released to the Warriors.
For Jeffrey, Central had followed the letter of the law, which said Pro League clubs would not postpone games because their players were on international duty but did not specify that they were bound to release them in the first place. But they had violated the spirit of that Pro League agreement between the 10 member clubs.
"We had come to an agreement in a Pro League board meeting that, whether is in the [FIFA international] match window or not, we would let our players go to the National Team," Jeffrey told Wired868. "I understand Central's position; that is their call. But, for us, the players have to go because this is bigger than the club.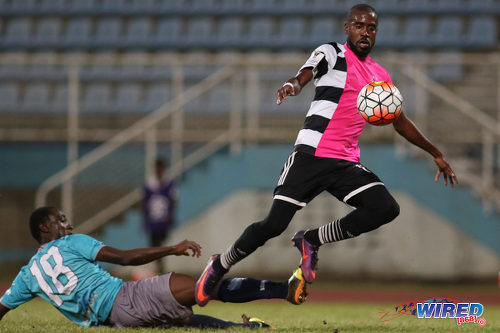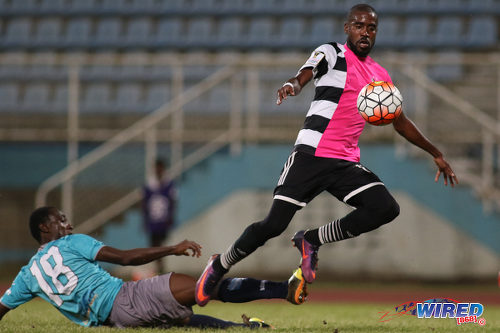 "Yes, it wasn't said in that way in the board meeting. But we understood it to mean that, at all costs, the National Team comes first."
Eve pointed to recent arrests to former Pro League and National Under-20 defender Damani Richards and Jabloteh utility player Noel Williams, as examples of the role that sport can play in rescuing at-risk youths. And, closer to home, robbery charges were dropped against Sando defender Kemuel Rivers last week.
"I am prepared to bend somewhat to help the National Team in order to help the Pro League because there is a bigger picture," said Eve. "[Wired868 has] done articles on some of these boys who have gotten involved in crime and, if they are not [playing football], there are plenty boys [in the league] who don't have the education to do anything else. So we need this League.
"I am looking at the bigger picture. So even if we lose a few games, I am thinking about helping my players who are from Cocorite, Morvant, Laventille and so on."
W Connection, who have the largest squad in the league, dusted off the absence of their national call-ups to maintain momentum last night with a 4-0 win over table proppers, Point Fortin Civic.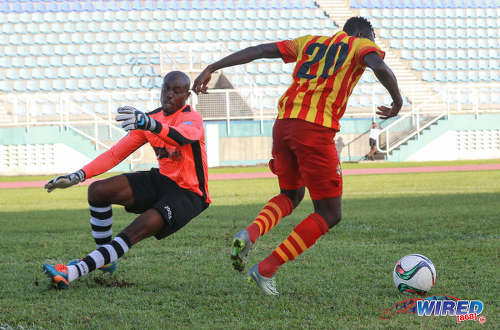 Only Connection can feasibly catch Central now and, even then, they would need a surprise slump by the Sharks to get close.
Sancho and Harrison are taking no chances, as Williams and Garcia can testify—having lost the opportunity to make an early impression on the new Warriors coach.
As Central pull away from their rivals on the league table, they might be similarly alienating themselves from their colleagues off the field too.
(Teams)
Central FC (4-4-2): 21.Jan-Michael Williams (GK); 5.Keston George, 3.Keion Goodridge, 24.Kevon Villaroel, 26.Jem Gordon; 14.Nicholas Dillon (17.Johan Peltier 53), 11.Darren Mitchell, 19.Nathaniel Garcia, 12.Kishun Seecharan; 7.Jason Marcano, 99.Marcus Joseph (18.Rhondel Gibson 89).
Unused substitutes: 30.Akel Clarke (GK), 4.Andre Ettienne, 10.Keron Cummings, 28.Jules Lee, 29.Jabari Casaquero.
Coach: Dale Saunders
Morvant Caledonia United (4-2-3-1): 30.Stephon Seepersad (GK), 12.Kareem Joseph (captain), 4.Ordell Flemming, 5.Seon Thomas, 6.Taje Commissiong; 14.Keron Bethelmy (13.Jordan Devonish 83), 18.Maestro Mensah; 23.Lester Joseph (7.Kordell Samuel 61), 8.Anthony Charles (11.Dominic Douglas 64), 22.Jameel Neptune; 10.Sheldon Holder.
Unused substitutes: 2.Kevin Layne, 15.Otev Lawrence, 16.Amos Ramsay.
Coach: Rajesh Latchoo
Referee: Nicholai Nyron
Wired868 Man of the Match: Jason Marcano (Central FC)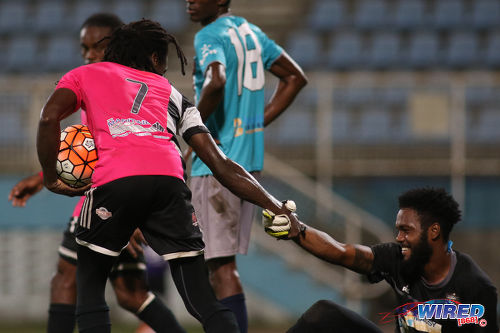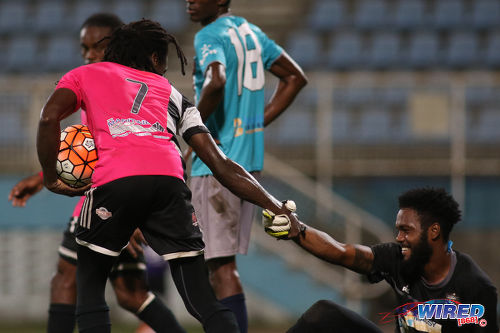 Pro League results
(Tuesday 20 December)
Defence Force 2 (Devorn Jorsling 32, 86), Club Sando 0 at Hasely Crawford Stadium;
Ma Pau Stars 1 (Jerrel Britto 35), San Juan Jabloteh 1 (Willis Plaza 55) at Hasely Crawford Stadium;
Point Fortin Civic 0, W Connection 4 (Daniel Diaz 18, Shackiel Henry 20, 22, Dimitrie Apai 80) at Mahaica Oval;
Morvant Caledonia Utd 0, Central FC 2 (Johan Peltier 64, Jason Marcano 88) at Ato Boldon Stadium;
Police FC 1 (Jameel Perry 25), St Ann's Rangers 1 (Lester Durham 92) at Ato Boldon Stadium.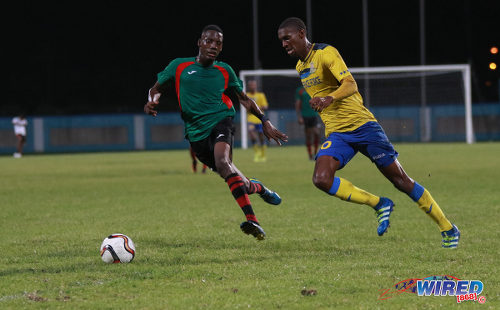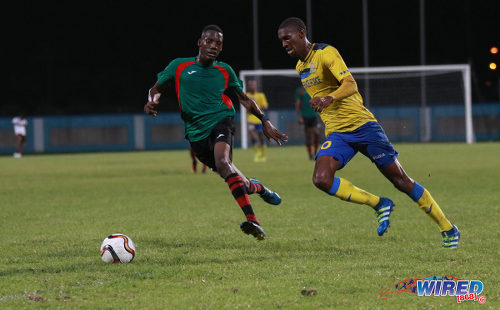 Standings (Tabulated as Won-Drawn-Lost-Goals For-Goals Against-Points)
Central FC           12-10-2-0-26-11-32
W Connection    12-9-1-2-36–11-28
S/Juan Jabloteh 12-6-2-4-21-16-20
Defence Force    12-6-1-5-20-18-19
Ma Pau Stars      12-5-3-4-22-20-18
Club Sando         12-4-2-6-19-22-14
Police FC              12-3-4-5-24-23-13
S/A Rangers       12-3-3-6-14-20-12
M'vt Caledonia  12-2-4-6-17-23-10
Point Fortin       12-0-2-10-10–45-2