Ahh, Trinidad and Tobago footballers just love the drama.
A sweetly-taken stoppage time item by striker Jaydon Prowell sent the Ato Boldon Stadium into raptures last night as the young Soca Warriors were able to complete a dramatic 3-2 comeback victory over Bermuda and keep their 2017 FIFA Men's Under-17 World Cup hopes alive.
It was scintillating, it was nerve-wracking and it was also near-disastrous for coach Russell Latapy's Under-17 charges; such was the rollercoaster nature of the exciting contest in Couva last night.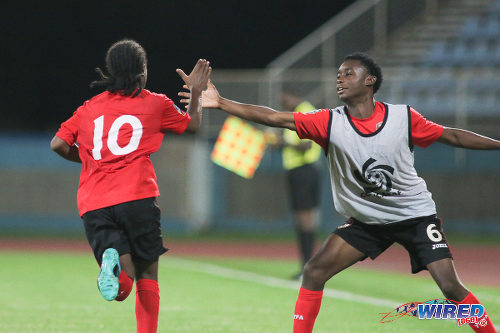 "[We are] delighted to get the first three points," said Latapy, at the post-game conference. "We knew that after we lost the first game that we had to get three points to keep us in the competition. And it was a game that we made very difficult for ourselves."
Having already succumbed to a 2-nil defeat against Haiti on Friday, the boys in "Red, White and Black" presented the Bermudians with a head start in the pivotal contest. as they gifted attacker Tokiya Russell with two goals inside the first half hour.

First, in the 11th minute, Russell slammed into a vacant net after Trinidad and Tobago goalkeeper Emmanuel John spilled a routine right side cross from Brandon Jones.
And then in the 26th minute, the striker found the back of the net for the fourth time in two outings—Russell scored a second half item against Jamaica on Friday before scoring past his own goalkeeper as well—as he capitalised on a dreadful misjudgment by centre-back Tyrike Andrews to give the visitors a shock 2-nil advantage and momentarily quiet the home fans.
"We have a talented bunch but we keep making simple defensive errors and offensive errors as well," said Latapy. "And we just need time to get their minds right."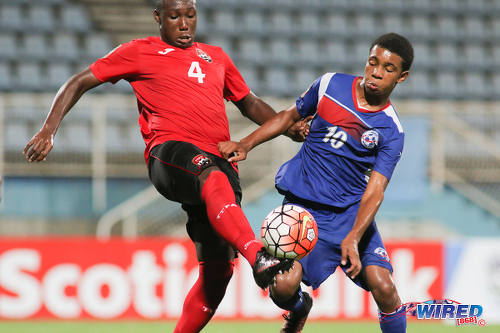 Shell-shocked, Latapy made his first change after just 29 minutes as the diminutive Che Benny went on to replace right winger Tyrese Bailey, which result in a shuffle of positions as Prowell went from the attacking central midfield role to on top while Kishon Hackshaw went from centre forward to the right flank.
The nifty Benny went on to justify his coach's decision with a second half display of incisive passing and general clever link-up play. But why did Latapy chose to relegate his skipper, John-Paul Rochford, to the bench and leave him there until the 83rd minute?
"My thinking behind whatever changes were made is [that it is] for the betterment of the team and to win football games […] I said to them at halftime that I've got more years of professional football than they have life.
"So I said to them if they trust in my pick they'll go on to win the game. Because a lot of the times we asked them to do things and soon as they go over the white line they just get back into their old habits and do whatever they feel like […]
"If we lost this game then football would have been finished for them at this level. And I'm happy that they trusted in me and I'm happy that we got the victory…"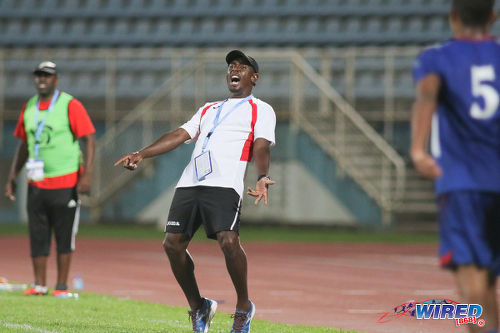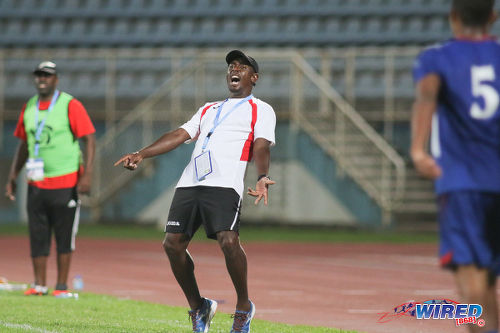 The young Warriors definitely made Latapy and the approximately 2,000-strong Ato Boldon crowd sweat, as they missed a host of chances in the second half with Bermuda hanging on for dear life.
Bermuda coach Raymond Jones indicated that his team were trying to consolidate their advantage. But in truth, they looked to be praying for referee Ricangel De Leca's final whistle.
Trinidad and Tobago were relentless as Hackshaw, Nickel Orr, Prowell and Benny turned up the heat, while the energy tanks of the guests seemed to be on 'E' for the majority of the second period.
Benny, a St Ann's Rangers and St Anthony's playmaker, opened the game up with his vision, as he dropped deep to orchestrate plays, or scheme his way into the box with some neat movement.
Benny, Hackshaw and Prowell all missed presentable chances, as the game passed the hour mark. But patience is a virtue and the fully-engaged home crowd sensed something special was possible.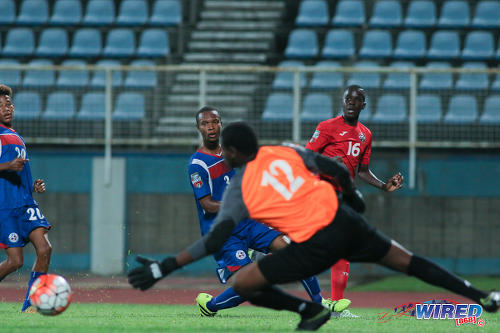 In the 70th minute, the decibel levels went up a notch in Couva as the St Anthony's pair of Benny and Prowell combined smartly for the hosts' first item. The lanky Prowell was tripped in the build-up play but stayed on his feet to squeeze a pass to Benny. And, with some work to do still, the number ten pinged a left-footer into the far corner.
The duo was not done there. Three minutes later, Benny turned provider with an incisive pass, which Prowell finished off nicely.
The celebrations which followed were fitting for a World Cup berth or perhaps a Caribbean Cup triumph. Benny raced to the corner flag and praised the heavens, while Prowell was absolutely flattened by the majority of his teammates near Trinidad and Tobago's technical area.
With roughly 10 minutes to go and the teams locked at 2-2, Latapy inserted Rochford for the ineffective Isaiah Hudson—who apparently felt ill during the day—and speedy attacker Nion Lammy for Orr.
And Lammy had an immediate impact on the left, as he carved out two beautiful crosses, the second of which was volleyed wide by Prowell.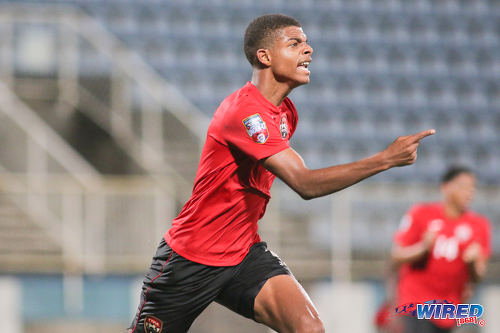 Could Bermuda respond to the Trini onslaught?
Well, the visitors, whose senior team is ranked 184 by FIFA, should have hushed the home fans in the second minute of stoppage time, as Bermuda skipper and midfield shield Zuhri Burgess found himself free in the six-yard box after escaping the attention of centre-back Jesse Williams.
Somehow, the captain skied a Kane Crichlow cut back over the bar when it seemed easier to score.
The distraught Bermudian captain had not yet returned to his midfield post when Prowell rifled a left-footed shot into the top corner after a Hackshaw pass.
It was sheer pandemonium in the Warriors dugout as Prowell's goal kept their World Cup dreams alive while, at the other end, Burgess was inconsolable.
The Bermuda football community does not plan to stay in the shadows of Caribbean powerhouses like Trinidad and Tobago, Haiti and Jamaica, as coach Raymond Jones explained that his association has forged an alliance with the Scottish FA, which has led to the certification of several coaches on the island and a more professional approach in general.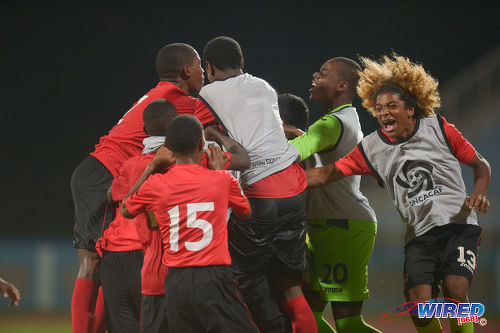 Their India 2017 World Cup dream is over, though.
Trinidad and Tobago still needs a favourable result against Jamaica on Tuesday to ensure that they do not join them through the exit. Latapy hopes the confidence gained from last night's victory carries over into their final group contest.
"They know their young football lives are at stake and we are also hoping that they enjoy the taste of victory… In some respects we were a bit better but it was a really strange game because in the first half I didn't think that Bermuda created much.
"I think the two goals that we lost were two defensive errors on our part that conditioned the game really. And in the second half we just had to throw everything forward to try and win the game."
In the earlier outing, Haiti finished with 10 players on the field but were still good enough for a goalless draw against Jamaica. Haiti skipper Steeve Saint-Duc turned in another impressive performance, as he led the forward line with pace and strength.
Thankfully, the Warriors will not have to deal with Saint-Duc again. But the likes of Jamaica's winger Kaheem Parris and forward Raewin Senior will look to torture the unsettled Warriors defence from 7:30pm tomorrow in Couva. Bermuda and Haiti will square off in the first encounter from 5pm at the same venue.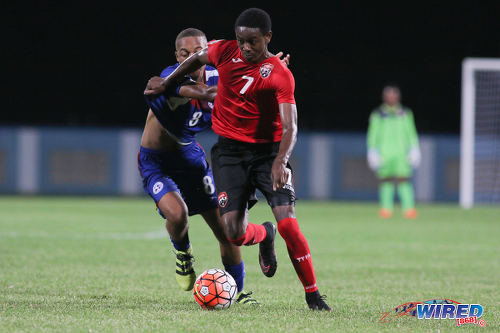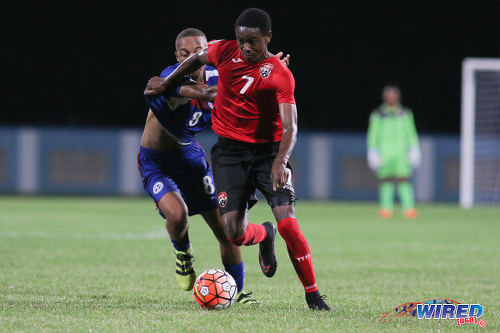 The "Reggae Boyz" will be without suspended central defender Jamol Topey for the crucial clash. Trinidad and Tobago need every advantage they can get.
(Teams)
Trinidad and Tobago (4-2-3-1): 1.Emmanuel John (GK); 12.Jerrin Jackie, 4.Tyrike Andrews, 5.Jesse Williams, 2.Kerdell Sween; 8.Jodel Brown, 7.Isaiah Hudson (19.Nion Lammy 87); 11.Tyrese Bailey (10.Che Benny 39), 14.Kishon Hackshaw, 16.Nickel Orr (15.John-Paul Rochford 83); 9.Jaydon Prowell.
Unused Substitutes: 20.Elijah Shade (GK), 3.Keon Boney, 6.Brandon Semper, 13.Luke Singh, 17.Omar Da Naia, 18.Jonathan Goddette.
Coach: Russell Latapy
Bermuda (4-2-3-1): Quinaceo Hunt (GK); 20.Richard Jones (14.Moziah Selassie 75), 4.Brandon Jones, 3.Link Smith Jr, 5.Keishon Bean; 19.Diego Richardson, 8.Zuhri Burgess (captain); 11.Rahzir Smith-Jones (16.T'ai Williams 67), 10.Kane Crichlow, 13.Blaize Hall (7.Jaquiri Paynter 62); 9.Tokiya Russell.
Unused Substitutes: 1.Lejaun Matthews (GK), 2.Robert Edwards, 6.Mateo Isaac, 15.Mical Hardtman, 18.Simeon Burrows.
Coach: Raymond Jones
Referee: Ricangel De Leca (Aruba)
Man of the Match: Che Benny (Trinidad and Tobago)
CFU Men's Under-17 Group Results
(Friday September 16)
Bermuda 2 (Rahzir Smith-Jones 30, Tokiya Russell 81), Jamaica 6 (Raewin Senior 5, Kaheem Parris 17, 72, Kendall Edwards 36, Nicque Daley 42, Tokiya Russell 90+1 [OG]), Group A, Ato Boldon Stadium;
Trinidad and Tobago 0, Haiti 2 (Nael Elysee 22, Steeve Saint-Duc 68), Group A, Ato Boldon Stadium;
(Saturday September 17)
Guadeloupe 0, Suriname 2 (Archero Heover 21, 52), Group B, Hasely Crawford Stadium;
Cuba 2 (Yandri Romero 37, Ribaldo Roldan 78), Curacao 1 (Shurendic Fransinet 57), Group B, Hasely Crawford Stadium;
(Sunday September 18)
Jamaica 0, Haiti 0, Group A, Ato Boldon Stadium;
Trinidad and Tobago 3 (Che Benny 70, Jaydon Prowell 73, 90+2), Bermuda 2 (Tokia Russell 11, 26), Group A, Ato Boldon Stadium;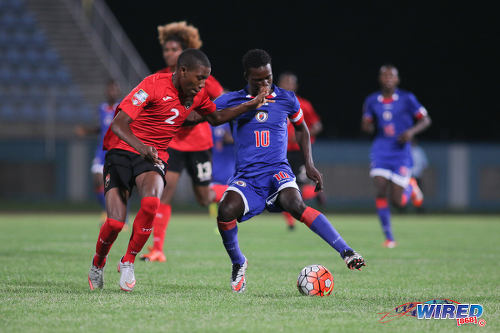 Upcoming CFU fixtures
(Monday 19 September)
Guadeloupe vs Cuba, Group B, 5pm, Hasely Crawford Stadium;
Suriname vs Curacao, Group B, 7:30pm, Hasely Crawford Stadium;
(Tuesday 20 September)
Haiti vs Bermuda, Group A, 5pm, Ato Boldon Stadium;
Trinidad and Tobago vs Jamaica, Group A, 7:30pm, Ato Boldon Stadium;
(Wednesday 21 September)
Curacao vs Guadeloupe, Group B, 5pm, Hasely Crawford Stadium;
Cuba vs Suriname, Group B, 7:30pm, Hasely Crawford Stadium.