"There's an old saying, if it's not broken don't try to fix it."
This was Soca Warriors skipper Kenwyne Jones' response when asked about possible changes to certain aspects of the team's performances after they booked a spot into the CONCACAF hex last night. The Warriors battled to a nervy 2-2 draw with Guatemala at the Hasely Crawford Stadium, and will now travel to Jacksonville to take on an American team which has one foot in the hex themselves, having spanked St Vincent and the Grenadines 6-0 yesterday.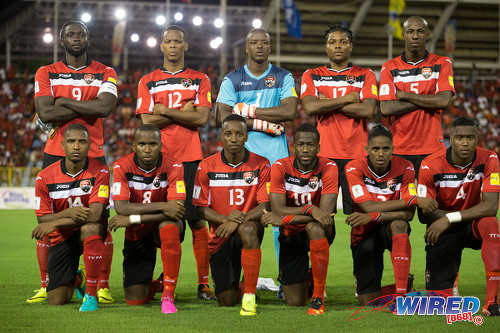 Costa Rica, Panama and Central American powerhouse Mexico have also booked their spots to CONCACAF's last stage of World Cup qualifying, but for stretches of the game in Port of Spain last night, it appeared that coach Stephen Hart's "Red Army" would not rise to the occasion.
"It was a bittersweet moment," said Trinidad and Tobago coach Stephen Hart. "Overall, I thought we played with a lot of nerves (…) I thought we were sloppy, it's almost like we didn't want the ball and we didn't move it effectively.
Although the Warriors seemed to surrender possession for much of the first period, they were out of the blocks like a tracer bullet and should have probably scored inside the first two minutes.

"I thought the way we opened the game was extremely positive, we moved the ball very well," said Hart. "We got into two very good positions and we sort of failed to take the opportunity.
"After that point the game was fairly evenly balanced and then Guatemala scored a goal on the back post which I was a little bit disappointed in. Because most of what we worked on as a team was the sort of runs they made coming in on the back post and us being aware of it."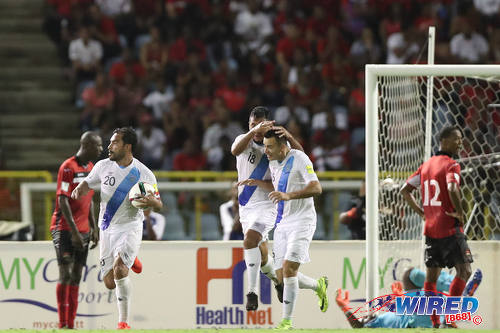 Right-back Christian Jimenez and Guatemala's all-time leading goal scorer Carlos Ruiz combined for the visitors' opening goal, as Mekeil Williams was culpable of being sucked into the penalty area, while Carlyle Mitchell, who was playing his first international game since the Copa America Centenario play-off match against Haiti in January, allowed the wily Ruiz to slip off his left shoulder and tap home.
Hart tried to ensure that the defensive lapse would not occur again.
"We talked about the wide players not doing their defensive duties and the two central midfielders getting stretched," said Hart, "and because of that, Guatemala was getting space between the lines. We talked about utilising the counter attack knowing they had to come forward.
"The biggest discussion we had was really to address the lack of urgency. We lacked that sort of impetus and urgency at times."
Seattle Sounders utility player Joevin Jones then provided some impetus with a delicious left-footed just after the hour mark and Hart possibly thought that his team were in the clear.
"I tried to pin back Guatemala by bringing on two attacking players," said Hart. "Young Levi Garcia, he sort of upset the tone and we should have killed off the game, we had some chances to kill off the game. Of course we failed to do that and it became a game of panic after that."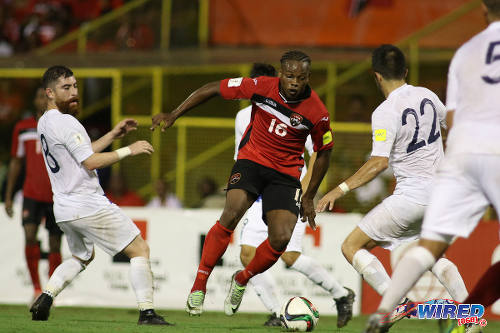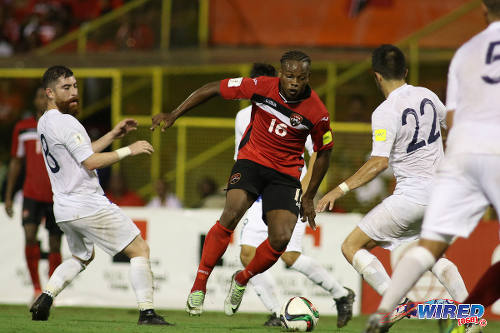 Instead, TT goalkeeper Marvin Phillip had to be wide awake as he pulled off two remarkable reflex saves in the space of a minute. And despite going a man down in the dying moments, Guatemala levelled the game at two apiece as Ruiz scored the perfect poacher's goal after Phillip parried a shot into his path.
Hart stated that he opted for the centre-back pairing of Bateau and Mitchell due to their quickness and probability of curtailing Guatemala's combination play, but the 36-year old Ruiz showed that he was sharper than his younger opponents in two critical moments of the game.
Did complacency cause the lack of impetus and urgency shown by the Warriors?
"No I don't think it was complacency," Hart said. "I just think we started the game well; we did this before in the US game. No team dominates the entire game so in their period of domination what we needed to do was get the ball and make them run a little bit because I was not worried if Guatemala could get behind us, unless it was some sort of combination or mistake made."
Jones (K) also pointed to the lack of decisive play from his team, and admitted dissatisfaction with his own performance. But the 2006 World Cup player was ready to see the bigger picture.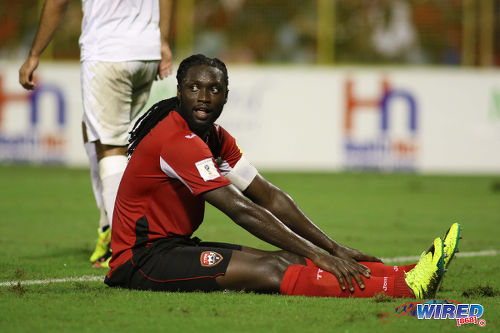 "I didn't score so I'm not going to be satisfied." Jones (K) said. "At the end of the day I'm satisfied that we got into the hex. The most important thing about tonight was getting that result and going to the next stage."
The former Sunderland and Stoke City striker, who is set to link up with Major League Soccer (MLS) expansion franchise Atlanta United in the new year, gave his reasoning for his team's hot and cold showing.
"It's a combination of things that I think we need to deal with in-house," Jones (K) said. "Also, I think the equation, it's pretty tough. It's like having a one-nil or a two-nil lead in a game. It's the most dangerous lead that you could ever have; the most vulnerable point for you.
"I think coming up to the occasion knowing that we needed a point maybe played a part in our minds that we needed to do just enough. It's not something that we should make a habit of really."
If the Warriors finish in top spot in Group C they would entertain Mexico on November 7. Hart's charges drew 4-4 and 3-3 with "El Tri" in respective Gold Cup and friendly matches last year, and the skipper does not see the need to shake things up tactically just yet.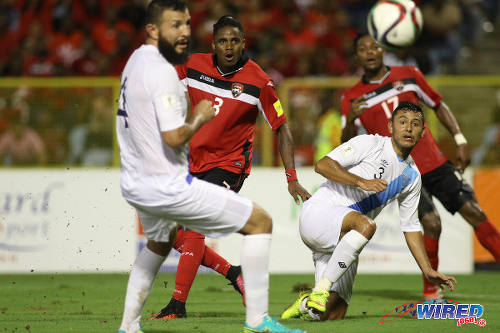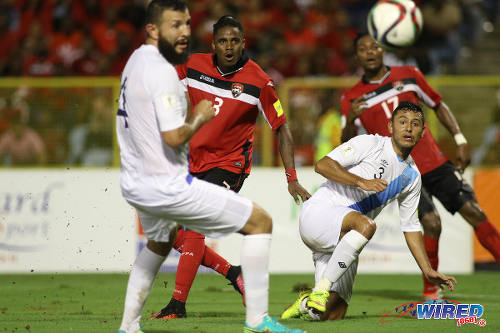 "There's an old saying, if it's not broken don't try to fix it," Jones said. "The team itself, I don't want to say we are set up to play a certain way, but we play a certain type of football. And I don't think that trying to change certain things going forward is going to make a massive difference…
"Being able to be at the top of that focal point to bring my other teammates in is fantastic to me. At the end of the day, every game I'm playing I will be the main focus because of my profile and I have no problem with that because it frees up other people in the team to be able to express themselves and get the job done."
Jones (K), who is currently on loan with two-time TT Pro League champions Central FC, reiterated his team's desire for an "advantage" when they play on home soil. On Tuesday, Trinidad and Tobago saw their scrimmage match shifted from the Hasely Crawford Stadium to the Larry Gomes Stadium in Malabar as the stadium staff tried to keep the playing surface in top condition.
"When we went to Guatemala they stuck us in the back of a field where we had to walk through a trace (…) we went through a town where one morning there was a murder, and they trained somewhere good," said the Warriors skipper. "Anytime we play here in Trinidad and Tobago, for some reason they always take something away from us. There's always something that is giving us less of an advantage every time.
"So that's not for us to sort out that's for the people behind the scenes to deal with. However they decide to at least help us out a little bit would be really nice."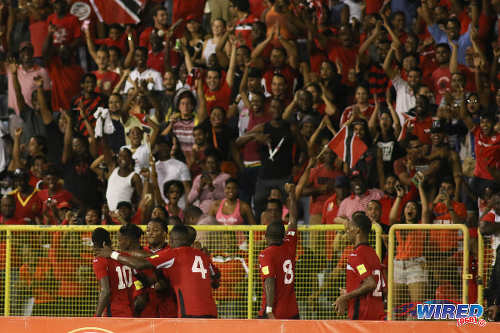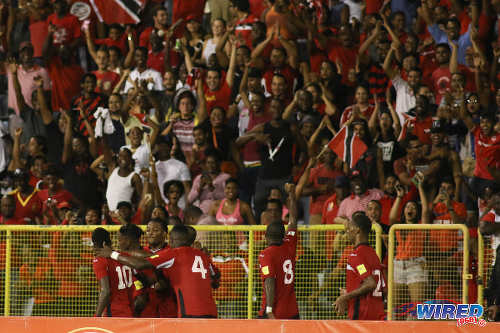 The Warriors have qualified for the final round of 2018 World Cup qualifying undefeated, and with a game to spare. Now their towering on-field leader is pleading for that extra competitive edge going into the hex.