Defence Force and Japs North East Stars stole three points each yesterday in hard-fought triumphs over St Ann's Rangers and Club Sando respectively at the Ato Boldon Stadium in Couva. Arguably, the results paled in comparison to the uncertainty regarding the future of the Pro League itself.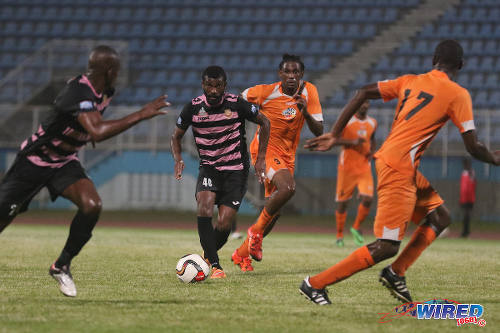 A 40 percent deduction in the Government's subvention to Pro League clubs from TT$83,000 and TT$50,000—and even the reduced figure has not been paid out in 2016—plus the prospective of less attractive kick off times and a failure to deliver promised community grounds, have left local top flight clubs limping.
Rangers showed up yesterday with just 14 players to face second placed Defence Force. Perhaps predictably, the St Ann's outfit lost to a late goal as they succumbed 2-1 to remain six points adrift at the bottom of the standings.
Club chairman Richard Fakoory explained that Rangers have just 19 contracted players on board. So, two injuries, two internal suspensions and a player with a sick aunt, meant there were more technical staff members than players on their substitutes bench yesterday.
"We are going to have problems paying, with the subvention cut, because we were not advised this was going to happen," Fakoory told Wired868. "We are not thinking about coming out of the league. We just have to budget and play with what we have…

"But for the next season, we have to sit down and see if the TT$50,000 is going to be there or not. And then we will decide from there."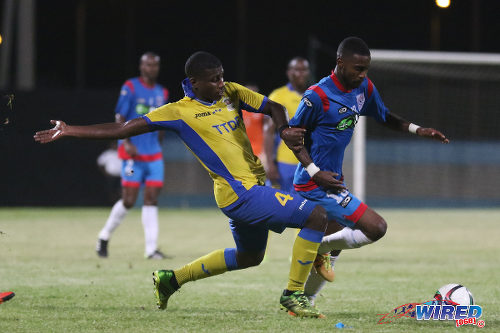 There was no solace for Fakoory from the final result yesterday although, not for the first time, Rangers' performance itself was encouraging.
Kellon Serrette's close range header, off a Ross Russell header, separated the teams at the halftime interval.
But, from the balance of play, Rangers gave as good as they got and, arguably, left winger Kadeem Hutchinson was the most outstanding player up to that point.
Hutchinson was involved when the Pro League's bottom placed team drew level, albeit inadvertently. As he charged at the opposing defence, 'Army' right back Marvin Jones stripped him of the ball, only for it roll to opposing midfielder, Jameel Antoine.
And Antoine reacted quickly and decisively to place the ball into Defence Force custodian Sheldon Clarke's top left hand corner.
Five minutes later, Rangers might have gone ahead as Hutchinson threaded an intelligent ball into the path of captain Johan Peltier, who did well to create a good shooting opportunity but could not beat Clarke.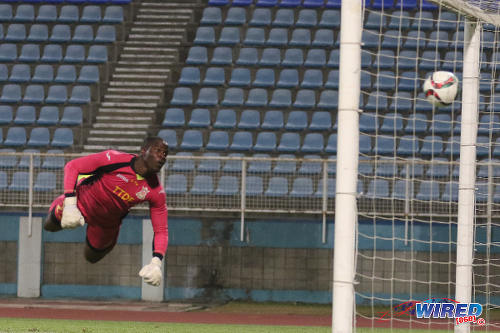 There might have even been a Rangers penalty, as Hutchinson went down over a challenge from Defence Force captain Curtis Gonzales, only for referee Dennis Changiah to, somewhat harshly, book the attacking player for simulation.
Rangers were growing increasingly hungry for three points when the ended up with none at all.
Defence Force playmaker Hashim Arcia slipped a ball through for Devorn Jorsling and he is not the kind of striker to waste gifts.
"We are playing good (football) but we are not getting the results we want," said Fakoory. "But we are in every game…"
It was a similar story in the second game of the double header, as sixth placed North East Stars faced seventh placed Club Sando.
Remarkably, seven of Stars' first XI plus coach Ross Russell were not at the club at the start of the 2015/16 season. But their bustling approach to the February transfer window only partially hid an insecurity beneath the surface.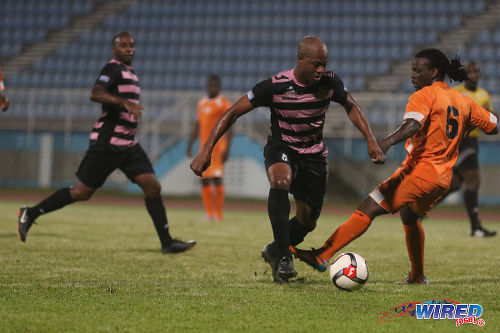 Stars owner and Japs Chicken magnate, Darryl Mahabir, is considering pulling out of the Pro League at the end of this season.
Stars manager Maurice Eligon explained that the Government's failure to upgrade the Ojoe Road Recreation Ground—as promised by previous Sport Minister and Central FC chairman Brent Sancho—plus the cut in subventions and other Pro League changes prompted Mahabir into a rethink.
Eligon said the Ministry of Sport has also advised clubs that they must play during the day or be forced to pay for lights, which will see an end to Friday night fixtures and more weekend afternoon games instead.
"Yes, we are looking to sell," Eligon told Wired868. "The pressures that are being applied to the TT Pro League in terms of the subvention and mandate that we cannot play night games and so on make it very difficult for us. If you don't have a sponsor or your own ground, then the combination of these things is really threatening.
"The biggest challenge over the next few months is we budgeted for a certain amount (from the Government) but find ourselves in a position where (Mahabir) has to increase his subsidy to the club by TT$33,000 (every month).
"We are in March and we have not received a cheque since December. It is becoming quite challenging."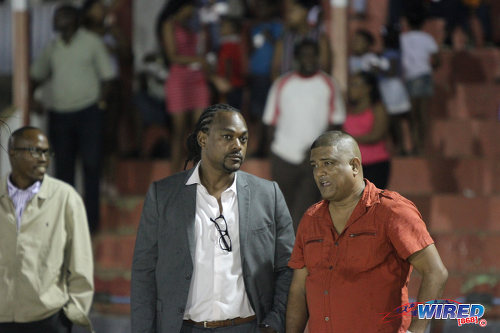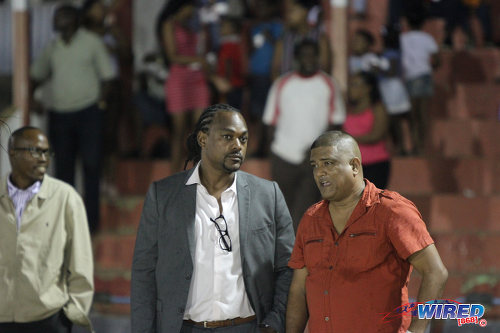 Eligon still hopes that something changes between now and the start of the 2016/17 season, which will keep Stars in the local top flight.
There was at least plenty of fight and swag from the North East boys on the field, as they cruised to an early lead and served up some sumptuous football in the opening 20 minutes.
Returning attacker Anthony Wolfe, a World Cup 2006 player who spent last season in India, put Stars ahead as he ran on to a through ball and rounded the opposing goalkeeper to slot home.
And, with the Stars constellation of Ryan "Fry" Stewart, Neil Mitchell and Kerry Baptiste dominating their opposing trio, it looked like a mismatch.
Slowly, though, the lack of match fitness within the Stars' ranks became evident, as Sando began to play themselves back into the game.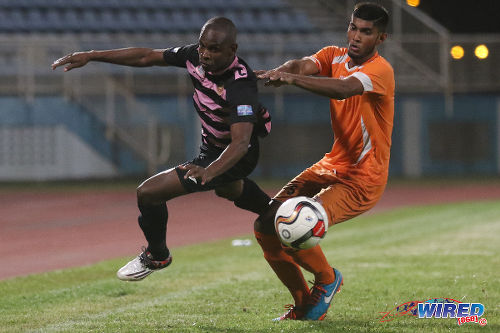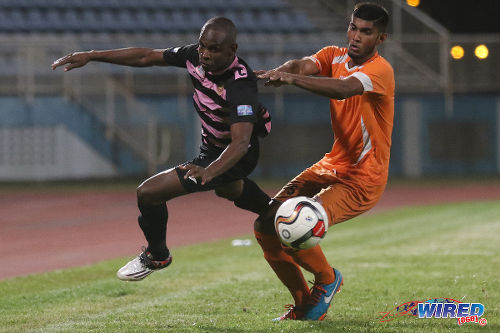 And after some tactical tinkering by Sando coach Anthony Streete—which saw tigerish former national youth midfielder Akeem Humphrey switch from right wing back to central midfield—a comeback always seemed on the cards.
Streete explained his decision to start Humphrey at right back and another promising central midfielder, Jared London, in defence.
"Because of the amount of goals we were receiving early in the season, I wanted to stabilise the team," said Streete. "Jared is one of the most composed players we have. I also feel he can be slow in the midfield but is better when he can see the whole field in front of him.
"And with Humphrey, (regular right back Kern) Cupid missed some sessions… Sometimes on the training park, some crucial decisions have to be made."
In the 63rd minute, Streete introduced Cupid from off the bench and shuffled Humphrey to central midfield. And, with 10 minutes remaining, the pressure told as Jesse Downing hit home the equaliser after Stars custodian Glenroy Samuel parried an effort from Sando substitute Rickson Phillip.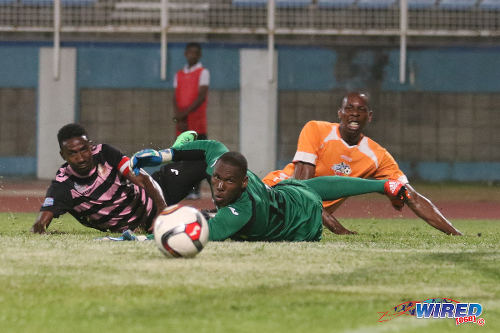 The equaliser was well deserved. But Sando had no intention of stopping there.
Humphrey almost struck again, in the 83rd minute, as he ran on to a pass from Kemuel Rivers and smashed an angled drive that came off Samuel's fingertips and clipped the bar before going for a corner kick.
Yet, just like Rangers, Sando discovered why discretion is often the better part of valour. As they poured forward in search of a winner, Stars substitute Anthony Guppy found space on the break and released Baptiste, whose low angled drive squirmed under Sando goalkeeper Jason Belfon to flatten the plucky underdogs.
Stars should have stretched their advantage too after some more erratic goalkeeping from Belfon but Chike Sullivan hit the post from distance with the goalmouth beckoning.
"We left the dressing room knowing (Stars) beat us twice in the first round and second round," said Streete. "And we knew a win would put us on top of them. So we were too offensive minded and too open at the back."
And how was the newly promoted team coping with the Pro League's financial pitfalls?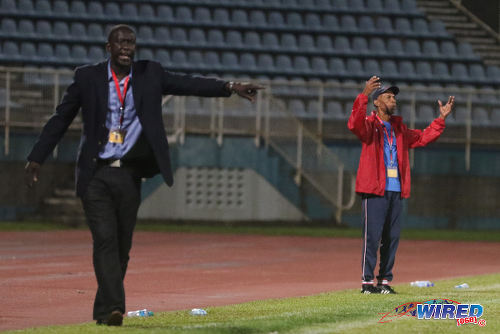 "When I went to (Pro League CEO) Dexter Skeene to apply for a spot in the Pro League, I had to show where I can sustain Club Sando," said Sando owner Eddison Dean. "So I want to support the other clubs but how can I tell Dexter I can and then say I cannot?
"It is difficult with the drop in the subvention but I will try my best."
Dean, who is the owner of Dean's Coating and Lining Limited, is proud to be in the top flight and is eager to do his part to help Trinidad and Tobago's football. He suggested that the Pro League set-up was about more than the senior teams but also had a huge impact on the youth game.
Dean said it was too important to fail.
"There are about 100 youths per club in the junior teams," said Deane. "So when you add up for the ten clubs, that is 1,000 youths overall. We have young players who come from as far as Moruga and Mayaro to train with our youth teams and we have to help them with transport and food. The subvention helps there too.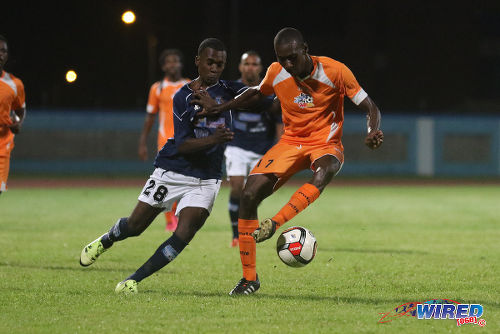 "When we see that the youths want to get involved (in something positive), we have to do what we can to keep them involved and off the streets. We even help some players to get into better schools, so they can be recognised and have a chance for scholarships.
"I will not say that I will drop out of Pro League. That is not the answer."
Mahabir has been in the game for much longer and spent a lot more, though.
Eligon said he noted a suggestion by Bethel United assistant coach Terry Johnson, who felt clubs should play in their zones and run the National Super League (NSL) in a Champions League format for the top performers.
"You will play in your zone and then (in between) you play in the Super League," Johnson told Wired868, last month. "With the recession and the lack of funds, there will be less games and less pressure on the clubs… I think it will be a restructure that will benefit Trinidad and Tobago's football."
Johnson's idea has been shut down twice by fellow NSL clubs. But Eligon thinks there is something in it.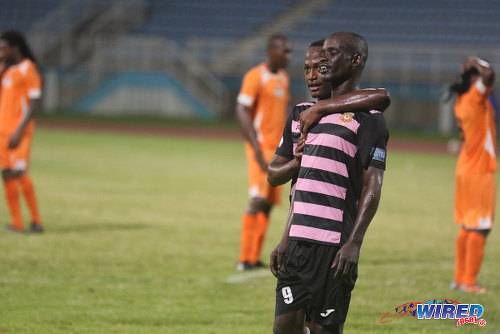 "That is an excellent idea and I have already raised it with the Eastern Counties FA," said Eligon, who balked at the idea of transport costs to Tobago if Stars entered the NSL. "It might need a little tinkering but that is definitely better for football. That might see football returning to some normality.
"Sometimes it is me, you and a photographer in the stands. How long can we go on like this?"
It is a nervy time for the Sangre Grande club, which won the Pro League in 2004 with  Jerren Nixon leading the squad.
"Right now, we hope to get a sponsor to decrease the pressure (on the Japs owner) but, looking at the economic environment, it is hard to see where we can find it," said Eligon. "This is not an easy decision for my president to make after 18 years and it isn't cast in stone as yet. Maybe some more good performances will change his mind."
For whatever it is worth, Stars took three points last night. It is a start.
(Teams)
North East Stars (4-2-3-1): 32.Glenroy Samuel (GK); 3.Kion Joseph, 19.Glenton Wolffe, 25.Keryn Navarro (captain), 29.Hakim Baird; 5.Ryan Stewart (14.Chike Sullivan 81), 21.Neil Mitchell; 7.Kerry Daniel (8.Anthony Guppy 67), 40.Kerry Baptiste, 2.Reon Moore; 26.Anthony Wolfe (9.Gorean Highley 76).
Unused substitutes: 22.Cleon John (GK), 4.Jesus Perez, 6.Jean-Luc Rochford, 24.Adrian Noel.
Coach: Ross Russell
Club Sando (5-3-2): 1.Jason Belfon (GK); 7.Akeem Humphrey, 15.Amritt Gildharry, 22.Coneal Thomas, 17.Jared London, 6.Kemuel Rivers; 4.Moron Phillip (13.Kern Cupid 63), 3.Shannon Phillip, 9.Jesse Downing (captain); 16.Kevon Woodley (20.Rickson Phillip 72), 24.Devon Modeste (35.Bradley Nestor 58).
Unused substitutes: 34.Kelvin Henry (GK), 12.Jack Weedon, 19.Ryan Frederick, 26.Shaquille Holder.
Coach: Anthony Streete
Referee: Keilon Bacchus
Man of the Match: Akeem Humphrey (Club Sando)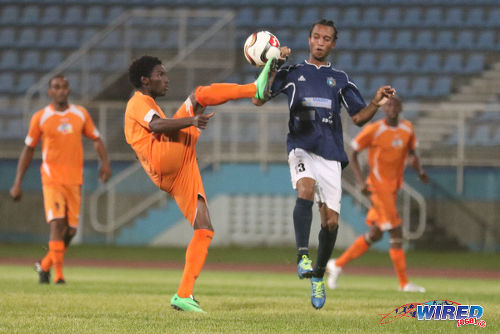 TT Pro League results
(Tuesday March 1)
St Ann's Rangers 1 (Jameel Antoine 55), Defence Force 2 (Kellon Serrette 38, Devorn Jorsling 78) at Ato Boldon Stadium;
Club Sando 1 (Jesse Downing 80), North East Stars 2 (Anthony Wolfe 10, Kerry Baptiste 88) at Ato Boldon Stadium;
Point Fortin Civic 1 (Glenn Sutton 90+5), Central FC 3 (Marcus Joseph 16, 54, Kevon Villaroel 90+3) at Mahaica Oval.
[standings league_id=2 template=compact logo=true]