The Trinidad and Tobago Women's National Senior Team's Rio 2016 Olympic chase ended, predictably, at the CONCACAF semifinal stage last night, as they were crushed 5-0 by hosts and FIFA World Cup champions, the United States, at the BBVA Compass Stadium in Houston.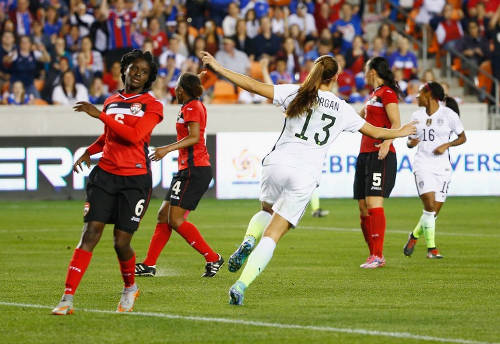 The result meant that CONCACAF's two women's superpowers, the United States and Canada, both scooped up the Olympic spots at stake and will compete in Sunday's final at the same venue.
For the "Women Soca Warriors", it was an anticlimactic but not unexpected end to their Olympic campaign.
"Obviously it was a very difficult game for us playing against the world champions," said Trinidad and Tobago head coach Richard Hood, in the post-game press conference. "They are a fantastic team. They are very physical, good movement off the ball and we were not able to cope with it as (well) as we would have liked."
Their humbling 6-0 loss to Canada in the group stages suggested that the Women Warriors still have a long way to go before they can face CONCACAF's top North American nations with any confidence of getting a result.

And they could not prevent a similar hiding last night against the world's best female team.
"The US (are) the number one team in the world for a reason," captain Maylee Attin-Johnson told the TTFA Media. "We have a long way to actually go to be able to compete at this level on a consistent basis."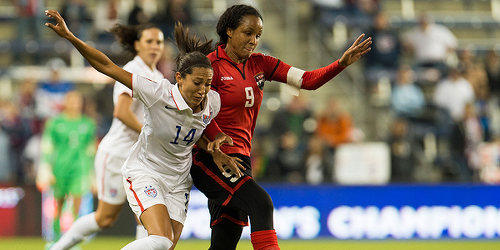 Like against Canada, Hood opted for a more conservative line-up, as Victoria Swift and Danielle Blair were recalled as midfield anchor and right back respectively with utility player Khadidra Debesette switching from full back to central midfield.
Tasha St Louis, primarily an attacking midfielder, was used as the lone forward.
But the tactical adjustments barely troubled the hosts, who bossed the game throughout and were able to create numerous opportunities from wide and central areas.
At the end of the first half, the United States had a whopping 74 percent possession to 26, eight shots to zero and led by three goals to none.
The pressure never really eased up and, by the final whistle, the United States only dipped slightly to 71 percent ball possession while there were 27 attempted shots to two.
Trinidad and Tobago did not manage a single shot on target.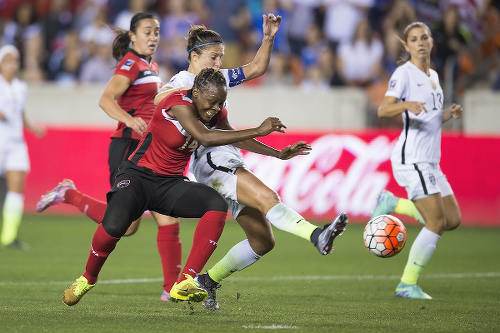 A year and a half ago, the Women Warriors frustrated the US in the opening CONCACAF Championship match before succumbing to a narrow 1-0 loss, although they spent most of the 90 minutes in their own half.
Since then, the US have become World Cup champions while the Women Warriors had five different coaches, Randy Waldrum, Ross Russell, Anthony Creece, Kendall Walkes and Hood, and entered the tournament unfit, without international match practice and just two days training with their full squad.
Trinidad and Tobago Football Association (TTFA) president David John Williams said, soon after assuming office last month, that the Women Warriors were his first priority.
Apart from an immediate and chaotic tour to Brazil, there has been sign of the calculated planning necessary to improve the team so far. Although it was never going to be enough against as formidable an opponent as the United States in such a relatively short space of time.
Attin-Johnson pointed out that, as a result, they were not as organised on the field as at their last CONCACAF competition. Even though, once more, it was enough for a top four finish.
Hood said the Women Warriors are heading in the right direction.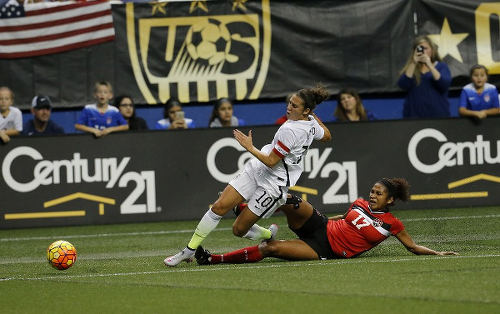 "I believe that they have improved in all aspects of play with the possible exception of possession," Hood told Wired868. "We have done a lot of work on organising team shape in build up and defence (particularly with regards to) how and where to press the ball. But we have struggled with mobility and speed of play."
The hosts wasted little time in drawing first blood as Tobin Heath put them ahead in the 12th minute, after a left side cross from Mallory Pugh found the Trinidad and Tobago backline in disarray.
Carli Lloyd, the FIFA World Player of the Year and US captain, headed an effort against the post from a corner kick in the 22nd minute before Pugh created the second, as she cushioned a Kelley O Hara cross into the path of Alex Morgan for a close range finish.
Trinidad and Tobago goalkeeper Kimika Forbes, who made a flurry of fine saves in the first half, will not like to remember the third goal, as she failed to gather a Lloyd header off another corner kick, which went straight through her legs.
The Women Warriors just could not keep the ball and they mustered just 85 completed passes whole night compared to 341 from the US.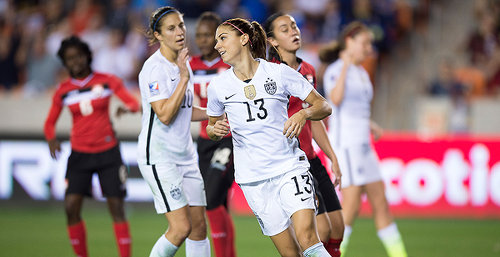 "We do everything too slowly with the ball and against quality opposition we will be found wanting," said Hood. "On defence, we are reactive. We have issues reading the intent of the opponent.
"And, against a top opponent such as the USA, you are going to struggle with such deficiencies."
Morgan completed her treble in the second half with two more close range finishes to close off the score summary at 5-0.
The overworked Forbes said the Trinidad and Tobago team gave it their all.
"This is my best performance for the tournament," said Forbes. "I came out mentally ready for it. It was unfortunate with the third goal. The field was wet and my technique was off so the ball passed through my legs.
"I am impressed with my team, the hard work and effort. We've always had that determination to fight but unfortunately it didn't go in our favour tonight."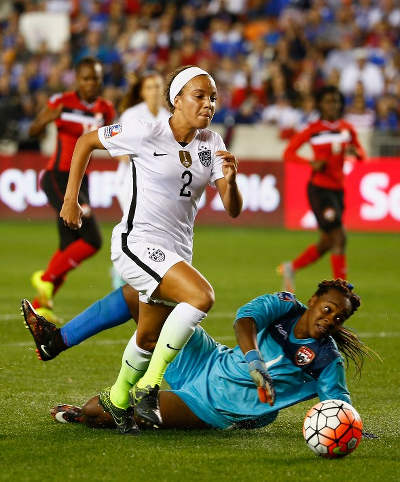 Attin-Johnson also credited the team's application although she conceded that they let in some soft goals and the officials might have been lenient to the hosts on at least two items, where there was a hint of offside.
"It's never easy playing the number one team in the world but I am very proud of the girls as we gave it our all," said the National Team captain. "For us, we went out on to the field with full confidence. We did well for twenty-something minutes but then we allowed a couple easy goals.
"We stayed compact and organised for the most part but to compete against the US is a tall order. We didn't get the result we wanted but most importantly, we left everything out there on the field."
The Trinidad and Tobago team return to Port of Spain at 8.30 pm tonight on United Airlines.
Hood hopes that the TTFA immediately turn their attention towards rebuilding for the 2019 World Cup while he thinks the Women Warriors' semifinal finish should be enough to lure sponsors.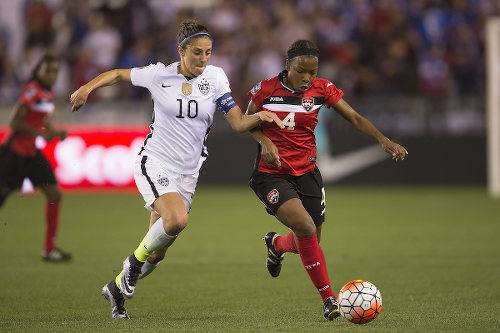 "We should be looking at targeting qualification for the next World Cup," said Hood. "I am optimistic. I think these girls have done us proud. They have worked hard and they showed their capabilities at this level, particularly given the lack of preparation.
"I am hoping that with this performance, we can get the kind of support and funding to propel women's football."
(Teams)
Trinidad and Tobago (4-1-4-1): 1.Kimika Forbes (GK); 4.Danielle Blair, 14.Karyn Forbes, 5.Arin King, 2.Jenelle Cunningham; 8.Victoria Swift (11.Janine Francois 68); 12.Ahkeela Mollon, 6.Khadidra Debesette, 9.Maylee Attin-Johnson (captain), 19.Kennya Cordner; 10.Tasha St Louis (3.Mariah Shade 72).
Unused substitutes: 18.Shalette Alexander (GK), 20.Saundra Baron (GK), 7.Kayla Taylor, 13.Naomi Guerra, 15.Liana Hinds, 16.Jo Marie Lewis, 17.Anastasia Prescott.
Coach: Richard Hood
United States: 1.Hope Solo (GK); 5.Kelley O'Hara, 8.Julie Johnston, 4.Becky Sauerbrunn, 7.Meghan Klingenberg; 14.Morgan Brian, 9.Lindsey Horan (3.Samantha Mewis, 60'), 17.Tobin Heath, 10.Carli Lloyd (captain) (16.Crystal Dunn 66), 2.Mallory Pugh (12.Christen Press 59); 13.Alex Morgan.
Unused substitutes: 18.Ashlyn Harris (GK), 20.Alyssa Naeher (GK), 6.Emily Sonnett, 11.Ali Krieger, 15.Stephanie McCaffrey, 19.Jaelene Hinkle.
Coach: Jill Ellis
Referee: Tatiana Guzman (Nicaragua)