Draws were the order of the day at the Hasely Crawford Stadium last night as match day two of the TT Pro League turned out to be quite evenly contested.
St Ann's Rangers and Club Sando battled to a 2-2 draw in the first match of yesterday's double header while DIRECTV W Connection and Morvant Caledonia United played to a 1-1 draw in the second encounter.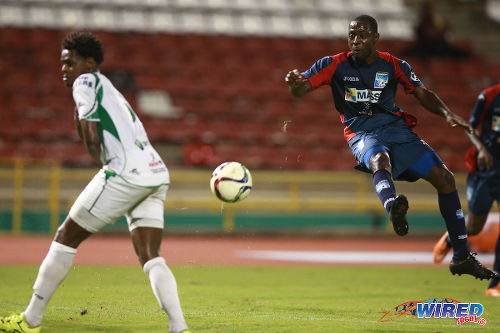 A 96th minute penalty by Club Sando skipper Anthony Parris robbed St Ann's Rangers and coach Angus Eve of a deserved victory in a keenly contested match. And they would have gotten all three points if it was not for the intervention of their new found nemesis, Sando striker Kevon "Showtime" Woodley.
Woodley single-handedly bumped Rangers out of the First Citizens Cup with a hattrick on Saturday and yesterday he proved to be a thorn in their side again.
With Rangers mere seconds away from their first league win of the season—a feat they managed just once in the 2014/15 campaign—Woodley baited centre back Shaquille Moses into a horrible tackle just inside the box after running on to a hopeful punt from the back.

Parris duly dispatched the penalty to notch his second equalizer of the night; both goals incidentally cancelled out earlier efforts by St Ann's defender Jelani "Brain" Peters.
The contest was dubbed as a revenge match for Rangers following the 3-1 humbling they received at Mahaica Oval at the weekend. And Eve's charges definitely showed that they had the bits between their teeth.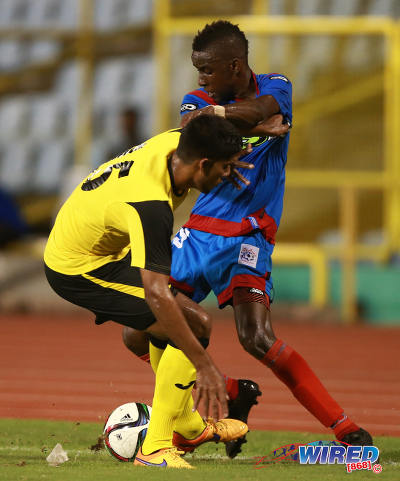 Trinidad and Tobago's teenaged 2015 CONCACAF Gold Cup squad player Kadeem Corbin was a constant threat to Club Sando's rear guard with his off the ball running and cheeky dribbles, and he stirred up quite a battle with former National Under-20 Teammate Akeem Humphrey, who operated at right back for Sando.
Corbin started off at the centre of Rangers' attack but showed his versatility as he also teased defenders down either flank.
Corbin had a few sniffs at goal in the first half but the plethora of the early chances fell to the veteran Sando attacker Teba McKnight. Thankfully for Rangers, McKnight appeared to show up without his finishing touch yesterday.
McKnight was presented with two glorious headed opportunities inside the first 20 minutes but was unable to get the ball past St Ann's Rangers goalkeeper Stefan Berkeley. He headed a Kemuel Rivers corner horribly wide in the sixth minute before nodding straight at Berkeley, 11 minutes later, off another set piece.
Sando's high pressing in the first half could not be replicated after the interval as their midfield 'hard man' Jeromie "Butters" Williams faded badly and Corbin and fellow attackers Samuel Delice and Sayid Freitas started to work the ball around confidently in the final third.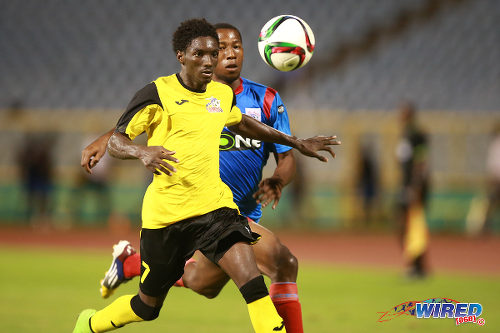 Delice woke up Sando stopper Kelvin Henry with a pair of vicious long range shots in the early stages of the second half, as Rangers tried to get into the ascendancy.
Rangers substitute Keron Cornwall also alarmed Henry in the 60th minute but blazed a golden opportunity well over.
The pressure was telling, though, and Rangers finally broke the deadlock as "Brain" used his head to good effect to expertly steer in a 62nd minute Corbin corner.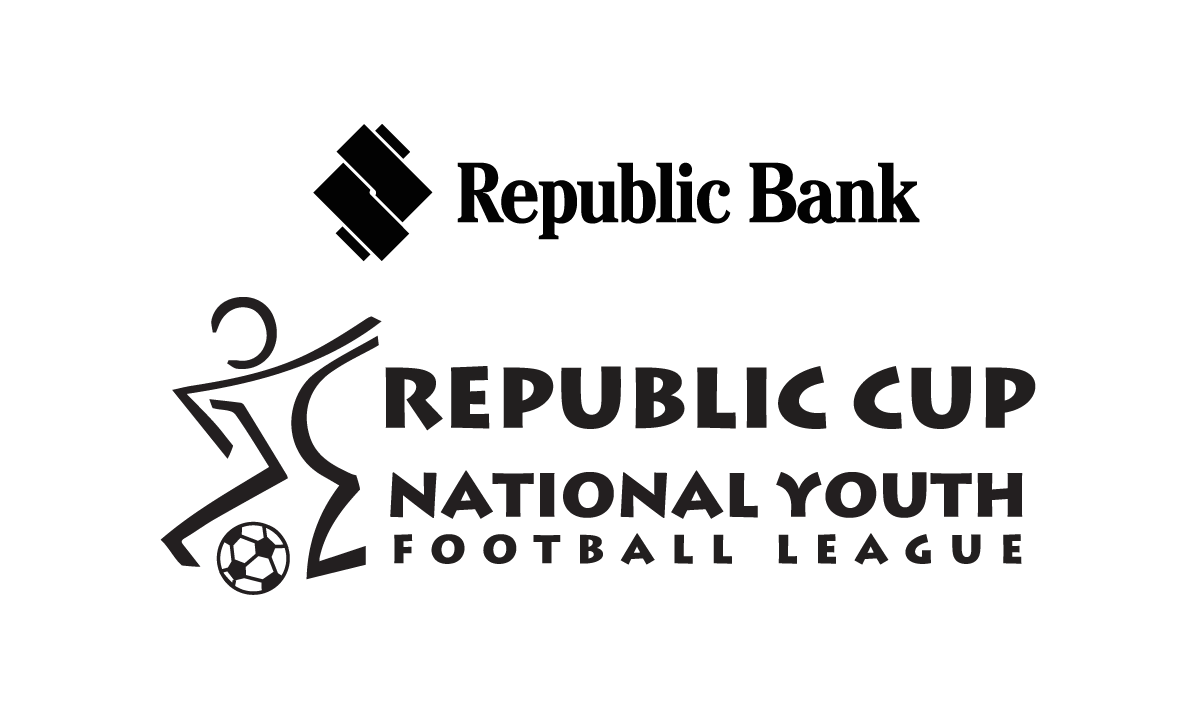 Corbin then had a chance to double the lead, as he cleverly escaped his marker down the right flank in the 78th minute but his forceful shot went straight at Henry.
By now, Woodley was strutting around the park and the Beach Soccer Warrior's presence was immediately felt in the box, as Berkeley and his defence came under severe pressure from set pieces.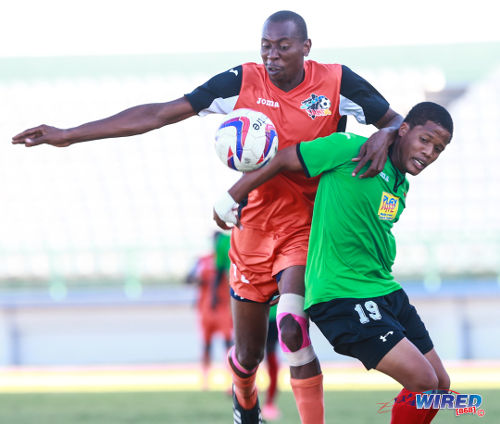 Berkeley's gutsy command of his box came to an end in the 80th minute as Parris bundled in a loose ball, after Sando peppered the Rangers goalmouth with a barrage of shots.
Rangers' response was swift though as Corbin and Peters linked up from a corner once more. This time, the former Rangers skipper showed that he was not too shabby with his feet either as he rifled a right-footed volley above the defender on the goal line and into the top corner.
Rangers celebrated as though they snatched the winner but, unfortunately, Club Sando had other ideas.
Central defender, Moses, who had a solid game for Rangers up to that point, allowed Woodley to beat him in a foot race before chopping the lanky attacker to bits.
Referee Keilon Bacchus promptly pointed to the spot, despite furious complaints led by Rangers skipper Miguel Romeo.
And Romeo looked on in disgust as his opposing skipper, Parris, stepped up to the spot and snatched three points right out of his grasp.
The second contest of the double header between Caledonia and Connection did not quite live up to the promising and attractive start, as both teams struggled to get their final passes right consistently.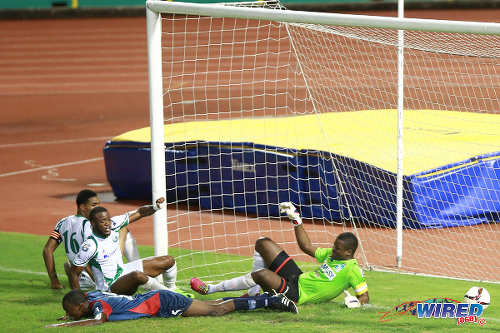 And, when they did, Connection's Jomal Williams and Shahdon Winchester were guilty of not converting on multiple occasions.
Williams did manage to get on the scoresheet in the 60th minute but his scuffed item was sniped down by Jameel "Shooter" Neptune's scrumptious 84th minute goal.
Rangers, Club Sando, Caledonia and Connection will have to go in search of their first 2015/16 Digicel Pro League wins on another match day.
(Teams)
St Ann's Rangers: (4-2-3-1): 1.Stefan Berkeley (GK); 16.Richard Williams, 6.Shaquille Moses, 2.Shakiyl Phillip, 4.Jelani Peters; 7.Sedale McLean, 5.Miguel Romeo (captain); 8.Kevon Piper (9.Keron Cornwall 21), 23.Sayid Freitas, 10.Samuel Delice (19.Rasheed Simon 73); 45.Kadeem Corbin (14.Jemel Berot 89).
Unused Substitutes: 22.Christopher Biggette (GK), 17.Kadeem Hutchinson, 21.Keon Peters, 29.Jameel Antoine.
Coach: Angus Eve
Club Sando: (4-1-4-1): 34.Kelvin Henry (GK); 7.Akeem Humphrey, 15.Amritt Gildharry, 22.Corneal Thomas, 6.Kemuel Rivers; 8.Jeromie Williams (10.Kevon Neaves 69); 9.Jesse Downing, 11.Teba McKnight, 4.Anthony Parris (captain), 14.Anthony De La Rosa (24.Devon Modeste 67); 21.Kerron Mitchell (16.Kevon Woodley 67).
Coach: Anthony Streete
Referee: Keilon Bacchus
Man of the Match: Jelani Peters (St Ann's Rangers)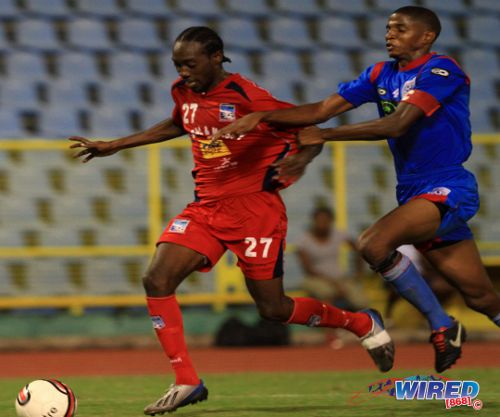 Pro League results
(Tuesday October 20)
North East Stars 4 (Keron Cummings 22, Brendon Figuera 28, Duane Muckette 58, Dillon Jaggassar 84), Police FC 4 (Jameel Perry 34, Kareem Freitas 81, 90, Anton Hutchinson 90) at Larry Gomes Stadium;
Point Fortin Civic 2 (Shackiel Henry 50, Jamille Boatswain 84), San Juan Jabloteh 0 at Mahaica;
Central FC 2 (Marcus Joseph 20, Willis Plaza 64), Defence Force 2 (Kellon Serrette 22, Jerwyn Balthazar 25) at Ato Boldon;
St Ann's Rangers 2 (Jelani Peters 62, 89), Club Sando 2 (Anthony Parris 80, 90 pen) at Hasely Crawford;
Morvant Caledonia Utd 1 (Jameel Neptune 84), W Connection 1 (Jomal Williams 60) at Hasely Crawford.