We need to qualify for the World Cup. As a country I think it will do so much good for us after having qualified before and then being put in a place of discomfort in the situation with Mr Jack Warner and the TTFA. For us to qualify now, it would help the country move forward so much in terms of sports and football itself.
Jan-Michael Williams is determined to represent the "Red, White and Black" at the Russia 2018 World Cup.
Hailing from Couva, the Trinidad and Tobago National Senior Team goalkeeper was introduced to winning ways while playing for St Anthony's College at the Secondary Schools Football League (SSFL) level.
He considered that opportunity a blessing, as, under coach Nigel Grosvenor, he played alongside the likes of 2006 World Cup forward Kenwyne Jones and fellow 2001 Under-17 World Youth Cup player Julius James in one of the best teams in the "Westmoorings Tigers" history.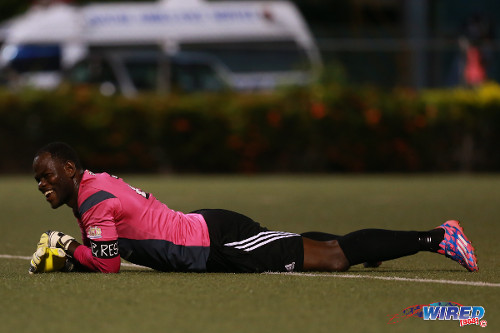 Now thirty, Williams is more grounded and focused and he has a four year old daughter, Nevaeh, who is one of his greatest motivators.
"She is a blessing," he said.
But it has been no walk in the park for Williams. Three years ago, his then girlfriend and the mother of his daughter, Candice Worrell, was the victim of a violent robbery outside of her workplace in central Trinidad and was in a coma for months. Worrell has made great strides in her recovery since and secured a new job.
His time with the "Soca Warriors" has had its ups and downs too, due to financial issues surrounding the sport, but Williams believes that Trinidad and Tobago National Senior Team coach Stephen Hart's professionalism and knowledge will give the squad the edge in their World Cup qualifying bid.
Williams is pleased with Central FC's performance as his club edged out rivals W Connection to win the Pro League last year and he credited his team's 'never say die' mantra.
And, although he says his teammates will be a bit more cautious in their pursuit of the title this season, he is still confident they can maintain their winning ways.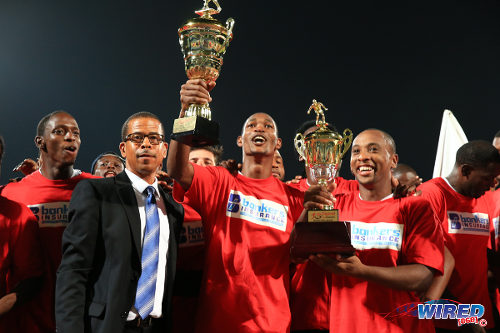 Williams has played professionally in Hungary and Belgium and hopes to get a deal in Europe again before he retires.
Wired868 caught up with Williams during a training session for a one on one:
Name: Jan-Michael Williams
Current team: Central FC
Position: Goalkeeper
Date of birth: 26 October, 1984
Home town: Mary St, Couva
What school did you attend?
St Anthony's College. We were one of the teams to go unbeaten in the Secondary Schools Football League (SSFL) for the entire season with the likes of myself, Kenwyne Jones, Julius James and Yohance Marshall.
What's your favorite team?
If I had to go with a club team, obviously it would be Juventus, The "Old Lady" of Italian football. I think they have a really good structure there in Italy. I love the Italian national team as well.
I am very keen on the defensive side of the game because obviously I am a goal keeper, I don't like to concede and I like the way the Italians are defending and approach the concept of defending.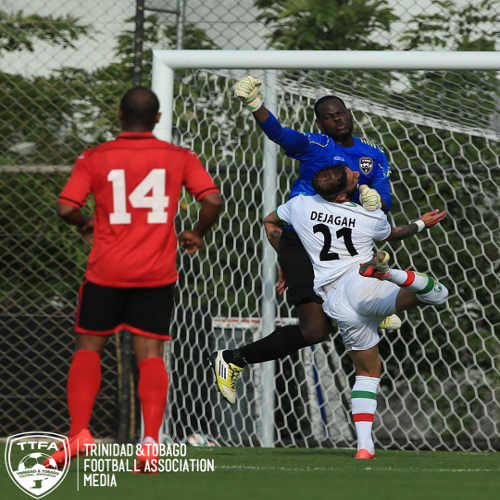 Who is your favorite player?
Definitely Gianluigi Buffon. I think he is one of, if not the most decorated  goalkeeper on the planet. He has won almost everything in the game and he continues to grow. I have seen him play recently as well and he has continued as the captain of the national team and Juventus and he is a very good role model.
How would you describe yourself as a person?
I would say very disciplined. I tend to stay closer to the discipline side (of things) but, once you get to know me, I am a very funny character. I like to have a lot of laughs and be involved in a lot of jokes. I am a very easy going and fun loving person.
What pushes you to succeed?
Primarily it was because of my mom, she is a very determined woman. She raised four boys; I am the youngest of four siblings. Now things have changed. I have a daughter now, Nevaeh, she is four years old. Also because I'm looking at the leagues in England, Germany, France and Spain and so on, and at the top level goal keepers. (Their example) also helps push me to succeed.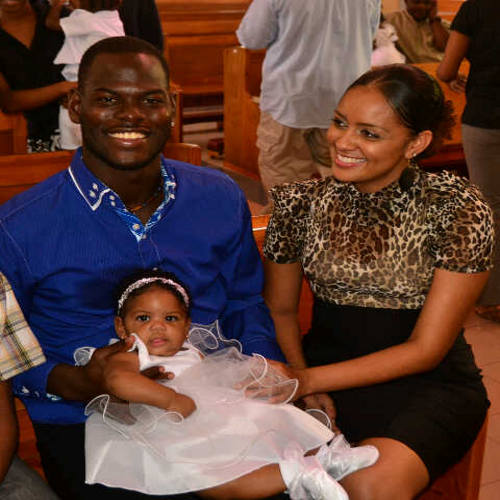 How did you start playing football?
I used to look at my older brother Keith Williams and I used to try to emulate him in every aspect. We started off with a small team in town, Flamingo FC, coached by John La Veau.  From there I went on to St Anthony's where I started playing in form one. After, one of the goal keepers from the Under-14 team got a suspension and I took off from there.
What is your earliest football memory?
I can remember the first game I played for St Anthony's College. That was (for) the Under-14 team. We went to QRC ground and I could remember the horns and the trumpets in the background. I think we won that game 2-1 and I had a pretty decent game my first time out.
I can also remember playing in a big Couva Derby between Flamingo FC and a club by the name of 'Craddle Robbers.' I saved a penalty in that game from one of my closest friends Shaka Bethel. It was a very good memory for me.
Who was you most important and influential coach?
To not mention any of them would be very bad. Initially, it was Nigel Grovesnor at St Anthony's and John La Veau of Flamingo FC; they helped me to start at a very young age. (Later) on I spent a lot of time at W Connection and Stuart Charles-Fevrier is a very intelligent coach in terms of knowing the game and being able to implement what he knows to the younger players.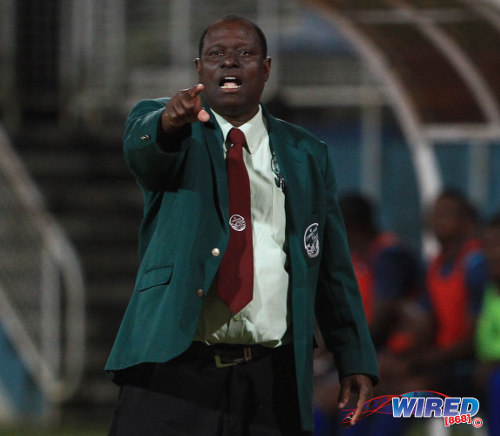 I can't go without talking about Stephen Hart, I think he is very professional and he is a perfectionist. He likes to get things done in the right way. They have all had major influence on my life and my career.
What makes you stand out as a player?
Some people say I have good leadership skills. I just try to get things done in the right way. As a player I like to consider myself to be very consistent. I try to continue to work hard and excel. I think consistency and hard worker (are) words that would be used to describe me in that aspect.
What is your ambition in the game?
Well at age thirty now I know it's difficult but I have the ambition to go back outside and play. I've spent years in Hungary and Belgium playing in the domestic leagues across there. I have continued working hard and I think by God's Grace I (will) get the opportunity to go back outside (to) maybe England or (mainland) Europe and play at the highest level again.
What is your most memorable moment in football?
(Recently it) would be representing the country and helping us do well at the CONCACAF Gold Cup for the third time for me. Every time I put on the national shirt it is a big occasion because it's an opportunity to show the level of football in the country, how well we have been and how well we are doing.
Also I would like to talk about Central FC and us winning the first Caribbean Cup title in the club's history. It was a very good moment for me as well.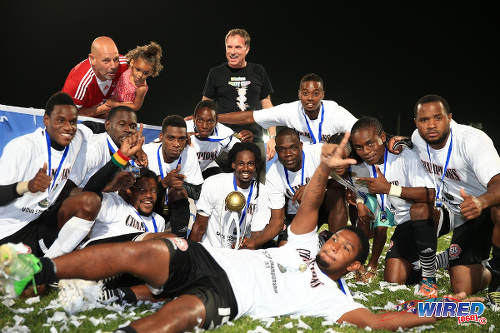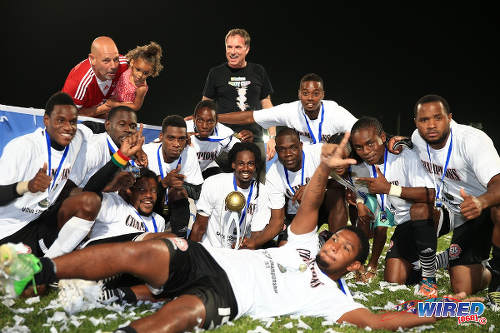 What positives is the team taking from last year's victory?
Last year what we did well was (we had) that "never say die" spirit. We were very determined to win having lost out the year before to W Connection by a couple points. We are a team that is destined for greatness. The players understand the concept that we have to continue to work hard, we have to play and train outside of our comfort zone to achieve this goal.
Eventually we want to be one of, if not the best team that ever played in the domestic league. This season I think we will approach it a bit more cautiously. We have lost some key players and gained some key players.
What we need to do first is to try to incorporate the new coach and players into the team. But we have to also maintain that "never say die" approach and get important results. I think we will do well this season (and) our aim is to do better than last season, having won seven of the major titles.
What do you think of Central FC performance so far in the Champions League?
The 5-1 drubbing against LA Galaxy was a bit tough but I think approaching the competition realistically you have to understand it's our first time playing at this level. First time for the club and a lot of the players.
It's a learning curve for us and I think we (improved as each game went by).
How do you feel when you play against W Connection?
Initially it was for me a bit of a grudge match and I think some of the better games in the early part of last season you would have seen that. Now it's water under the bridge, for me it's just another game.
W Connection is the most successful team in the Caribbean, and to beat a top team is always a good feeling. That's all it is for me; an opportunity to face a top team and get a result.
Now at this stage I wish them all the best. They have a quality team and are doing well with the youths and obviously a lot of the youths have progressed from W Connection to the national team with the likes of Joevin Jones and Mekeil Williams.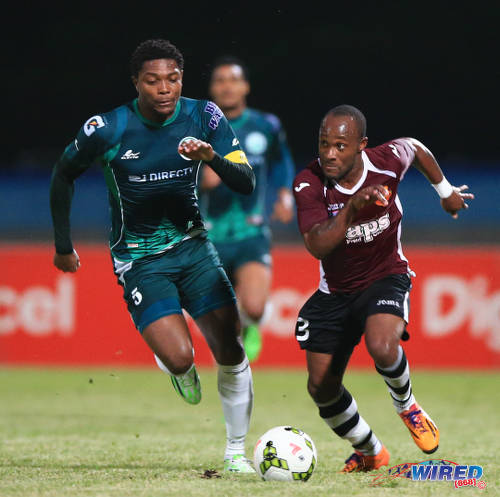 What teams do you enjoy playing against?
For me it's one and the same to be honest. All the teams have quality even St Ann's Rangers almost beat us last year; they were up 2-0. It's about playing your best in every game, using every opportunity to play to the best of your ability.
Having said that we have our Couva derby, which is W Connection versus Central FC and there is Club Sando which is another south-based team that is about to join the (Pro League) ranks. I think the three of us will serve up some mouth-watering clashes this season.
What are your expectations for the lead up to World Cup qualifiers?
I hope the government can help support the national team program and help us to sort ourselves out financially. I think once that is done, we can do well with the work of the coaches and the technical staff and the likes of Kenwyne Jones, Radanfah Abu Bakr and the other players who are so determined to qualify for another World Cup.
The young ones like Joevin Jones and Cordell Cato are really pushing to do the same (and) I think we will do pretty well, I think the chance of qualifying for Russia 2018 is very high. We need to continue working hard as a team and it (will be) very possible for us.
What do you think contributed to the team's performance at the Gold Cup?
Well (at) the Gold Cup in 2013, we got to the same position which was the quarterfinal (round) and that was when Stephen Hart joined the team. I continue to say he is a very good coach and a very good human being.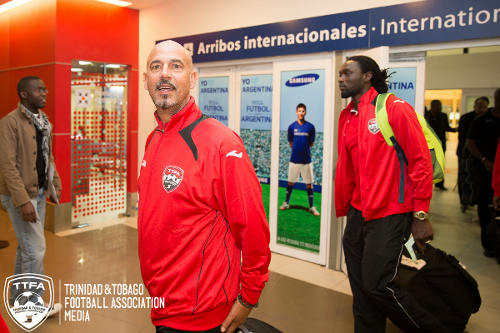 He understands the mentality of the Trinidad and Tobago player as a national himself who spent a lot of time outside with a lot of teams including the Canadian national team.
His professionalism is second to none. I think he has really helped us to understand ourselves and our abilities as players. I believe that's one of the reasons why we transitioned from where we were as a team.
How did you cope with the downtime due to injury?
It was a sad time for me. But with the likes of Marvin Phillip and Adrian Foncette, the other goal keepers, I wasn't worried at all. If you look at the two games subsequent to my injury Marvin Phillip was excellent and because he is an excellent goal keeper, he continues to push me to excel. And I can tell you my spot isn't even secure because he has been doing so well.
It was a tough moment for me but now I am back playing with the help of Dr Terrence Babwah and also my physical training.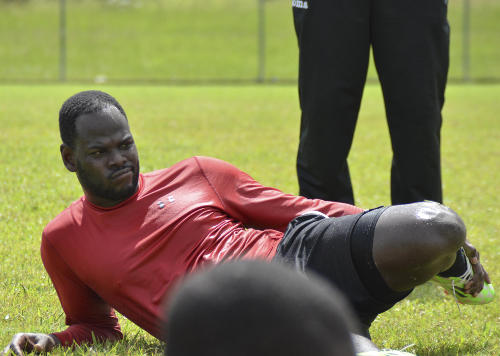 How is Candice Worrell progressing since the violent robbery in 2012?
She is doing pretty well, back to 100% to be honest. She just has to work a little bit more on the mobility. She is walking but can't do the running and so on. She started back working; she has a new job now.
She has been doing extremely well. From the situation of not being able to talk or move around properly to where she is now, it's been a revelation. We thank God a lot for what he has done for her. God is good.
What is the status of the criminal case against her attacker?
Well the guy was re-arrested recently and more charges were laid against him. We will see how things go as time goes by.
How has it been for you since the attack?
It's been rough; it's tough to say that we have not gotten back to the place where we were. We still maintain a good relationship for our daughter. (It's) a blessing just being around her.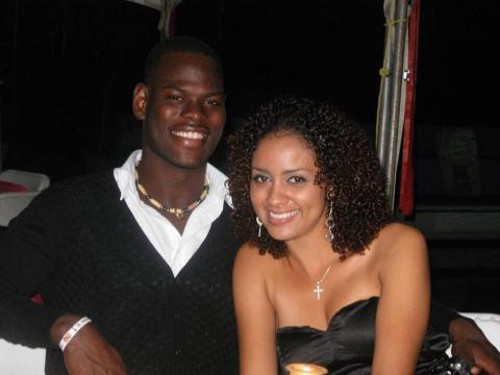 What are your aspirations for the national team?
The national team is so straight forward it's not even funny. We need to qualify for the World Cup. As a country I think it will do so much good for us after having qualified before and then being put in a place of discomfort in the situation with Mr Jack Warner and the TTFA.
For us to qualify now, it would help the country move forward so much in terms of sports and football itself. For me I would love to play in a World Cup and have to opportunity to play against the likes of Italy, Spain, France and Brazil.