San Juan Jabloteh started the final day of the 2015 Republic Bank National Youth Cup contending in all three age groups but, in the end, managed to come away with just the one title yesterday at the Larry Gomes Stadium, Malabar.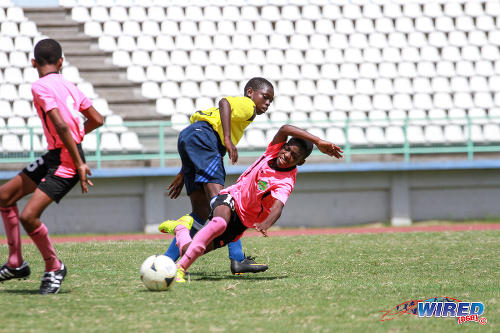 The "San Juan Kings" edged WASA FC 2-1 in the Under-15 final to round off the day's action in perfect fashion following their earlier disappointments.
Uprising Youths outkicked Jabloteh from the penalty spot in the Under-11 final while, in the the Under-13 division, Jabloteh settled for a third place finish, after being turned back by St Ann's Rangers in the semi-finals.
The seemingly indestructible SKHY FC romped to victory in the Under-13 category with some aplomb, conceding no goals on the day while scoring six.
The final day of the Republic Bank National Youth Cup was ushered in with a brief but heavy downpour as the Under-11 and Under-13 semi-finalists took to the field at the Larry Gomes Stadium in Malabar. The games were played simultaneously in the two halves of the field while all the Under-15 games, save for the final, were played on the stadium's training ground.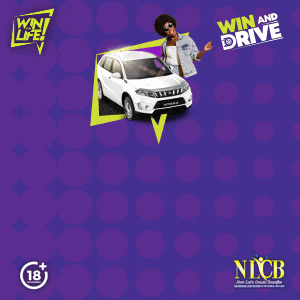 Prior to the day's proceedings, all Under-13 defenders should have been warned about free-scoring SKHY forward Justin Araujo-Wilson. Even if they had not heard of him, Araujo-Wilson's giant frame speaks for itself.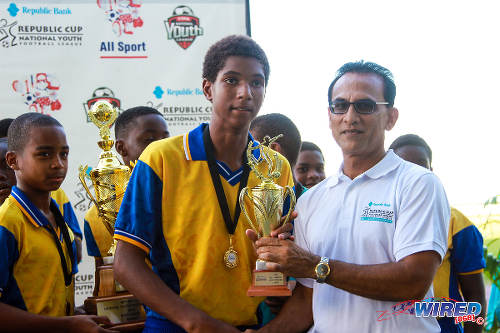 The towering youngster, who might draw some comparisons with Belgian midfielder Marouane Fellaini, opened the scoring on the day in the seventh minute of his match as he headed home from close range off a corner.
So much for that warning huh?
In truth, the La Brea-based WEZ Pro team had very little answer for Araujo-Wilson and the Under-13 MVP manoeuvred in and around the box at will. SKHY's defence was rarely troubled and its attackers looked as though they could run up a tennis score.
In the end, they fell just short of a massacre but still managed a handy 4-nil rout. Araujo-Wilson fittingly helped himself to the fourth and final item.
The atmosphere at the Larry Gomes Stadium was not as intense or as hostile as the Queen's Park Savannah or Constantine Park venues where spectators marshalled the touchlines. But the passion was still undoubtedly there, as parents and coaches remained as belligerent as ever on the touchlines and the players on the substitutes benches were not far behind.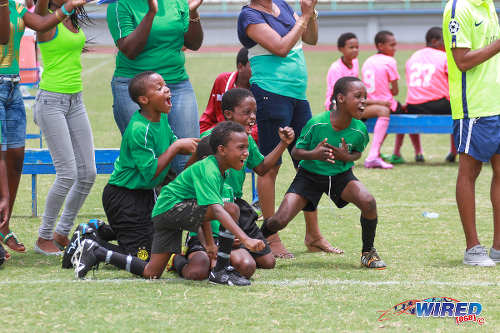 SKHY's semifinal affair was a breeze but the pair of Under-11 semis produced tenser affairs.
Cap Off Youths and treble-chasing Jabloteh played to an interesting goalless match. Interesting because Jabloteh somehow managed to come out of the match without conceding a goal.
Cap Off played all over and around their San Juan opponents but failed to get that crucial goal. And the Central Zone team's fate was sealed from the penalty spot as they were edged by Jabloteh.
"We play all the football," said a Cap Off coach, as he slammed his water bottle into the ground, "we're not supposed to be going through this. Jah boy!"
Trendsetter Hawks coach Anthony "Dada" Wickham was busy preparing his team at the time and warned them about suffering a similar end.
"Allyuh see what went on with that side," said Dada, "they played all the football in the game and still lost. So don't play any games out there."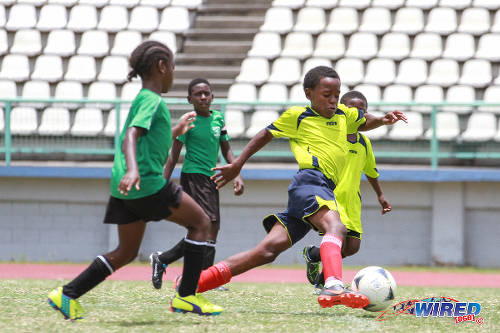 But Dada's youths could not act on his warning, as they struggled to break down a feisty and combative Uprising outfit.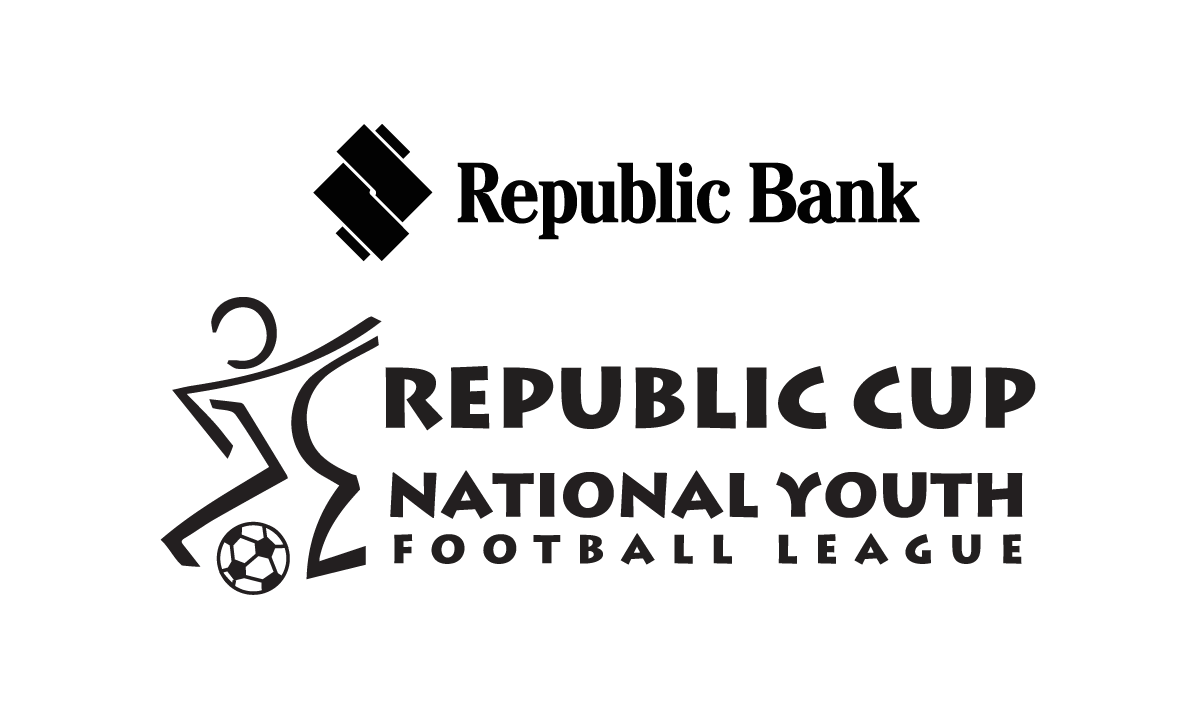 There could be no better reflection of a coach on his charges than at Uprising Youths. Coach Sheldon Mitchell, the father of Trinidad and Tobago national youth team playmaker Jabari Mitchell, wears his heart on his sleeve and appears to kick every ball from the sideline.
His team was no less passionate and committed as they quietened a Trendsetter attack that boasted the likes of Luke Williams, Quddoos Hypolite and Josiah Wilson.
Mitchell referred to the Uprising skipper, Luke Phillip, as a "little devil" in the back and Dada's men could not exorcise the talented defender.
"(Phillip) is a serious hard-working guy," said Mitchell. "He is very impressive."
Phillip definitely had a no-nonsense mood about him as well as the confidence to play his way out of the back if necessary. And he was instrumental in Uprising's success as he helped the South Zone team stifle back-to-back opponents.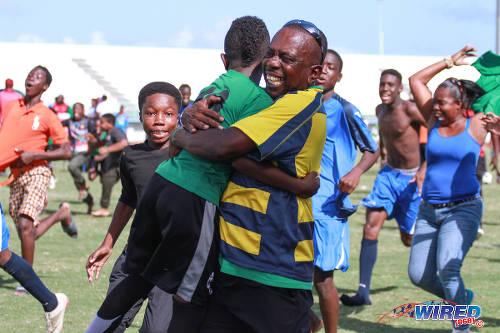 Uprising defeated the much fancied Hawks 5-4 on penalties following a goalless encounter before defeating Jabloteh in the final via the same route.
Mitchell was lucky to still have his voice after the final whistle. He gave Wired868 some insight into his coaching philosophy.
"My thing is not football alone with these youths," said Mitchell. "I'm very serious about their education. I check their (school) reports so they have to fix that before they can play…
"I address the youths in a manner where I want to protect them from making mistakes in life. I want to prevent them from making mistakes that I made.
"I could've gotten away with it back then but now it's either the hospital, jail or cemetery."
The SKHY FC contingent must have been wondering what the fuss was all about in the other age groups, as they just strolled through without the need for penalties.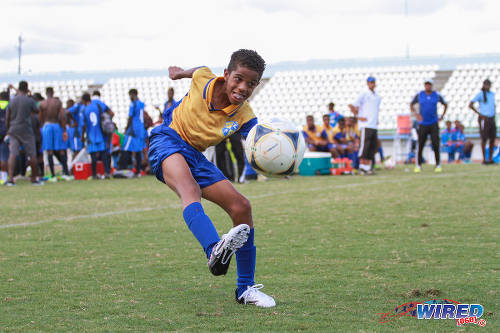 SKHY's main man, Araujo-Wilson, once again dominated the final.
In the first half, he won a penalty which was successfully converted by teammate Marc Wharfe. Then, in the second half, Araujo-Wilson beat the Rangers custodian to a loose ball to tap home after some stellar by his teammate down the right flank.
The big boys in the Under-15 category, WASA FC and San Juan Jabloteh, brought the curtain down on the competition.
Both WASA and Jabloteh used 4-3-3 formations and showed good imagination and trickery down the flanks.
But Jabloteh captain Keseon St Rose was the star as he lived up to his name and duly rose to the occasion with a double in his team's 2-1 win.
St Rose's first goal was smartly taken, as he showed off his finishing technique with an arrowed shot into the corner from a narrow angle while his second item was a simple tap in from close range.
St Rose was rewarded with the Under-15 MVP accolade as Jabloteh finally picked up a title.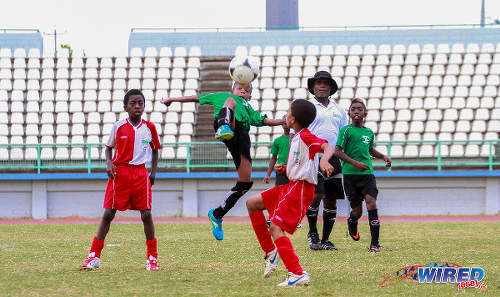 All Sport Promotion marketing director Anthony Harford, whose company has run the Republic Bank-sponsored tournament for its entire 20 years, was pleased with the standard of play this year.
"There are some kids there who look like they have what it takes," said Harford. "If we have a consistent Under-13 and Under-15 program, then it gives national coaches more opportunity to see and harness talent."
Harford suggested that the youth competition has gone a long way in discovering and developing talent.
"This Republic Bank Youth Cup is the ideal platform from which to build," he said. "A succession of young men started playing football in the communities in what you would call pick-up sides and now some of these youngsters have gone on to play for the national teams at various levels."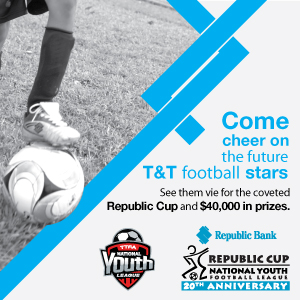 2015 Republic Bank National Youth Cup
Champion teams
Under-11: Uprising Youths
Under-13: SKHY FC
Under-15: San Juan Jabloteh
Most Valuable Players
Under-11: Luke Phillip (Uprising Youths)
Under-13: Justin Araujo-Wilson (SKHY)
Under-15: Keseon St Rose (San Juan Jabloteh)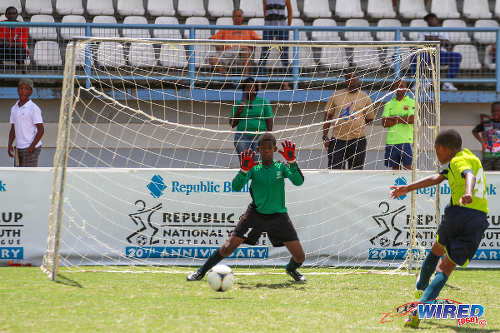 Semifinal and Final Results
(Under-11)
San Juan Jabloteh 0, Cap Off Youths 0, Semifinal;
*—Jabloteh won 5-4 via kicks from the penalty mark
Trendsetter Hawks 0, Uprising Youths 0, Semifinal;
Uprising Youths won 6-5 via kicks from the penalty mark
Cap Off Youths 0, Trendsetter Hawks 0, Third place play off;
Trendsetter Hawks won 4-2 via kicks from the penalty mark
Uprising Youths 1 (Luke Phillip 28), San Juan Jabloteh 1 (Larry Noel 13 pen), Final;
Uprising Youths won 3-2 via kicks from the penalty mark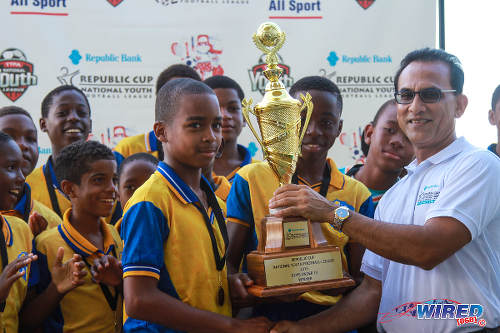 (Under-13)
SKHY FC 4 (Justin Araujo-Wilson 8, 35, Naim Pompey 11, Marc Wharfe 21), WEZ Pro 0, Semifinal;
St Ann's Rangers 2 (Jean-Heim McFee 9, 39), San Juan Jabloteh 1 (Daniel Davis 25), Semifinal;
San Juan Jabloteh 4 (Dorian Sampson 15, Real Gill 20, Tafari Haynes 32, Daniel David 45), WEZ Pro 1 (Isaiah Neptune 6), Third place play off;
SKHY FC 2 (Marc Wharfe 13, Justin Araujo-Wilson 49), St Ann's Rangers 0, Final;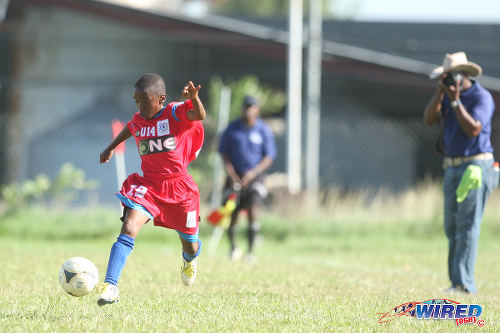 (Under-15)
WASA FC 3 (Emmanuel Cumberbatch 30, Brandon Semper 50, Tevis Byron 53), Cap Off Youths 3 (Cephas Cedeno 11, Mark Ramdeen 31, Jevaughn Humphrey 35), Semifinal;
WASA won 5-4 via kicks from the penalty mark
San Juan Jabloteh 2 (Miles Oliver 9, Raheim Jawahir 39), Uprising Youths 1 (Jameel Pierre 48), Semifinal;
Uprising Youths 2 (Zyon Bristol 37, Adrian Henry 50), Cap Off Youths 1 (Tyrique Muhammad 60), Third place play off;
San Juan Jabloteh 2 (Keseon St Rose 14, 40), WASA FC 1 (Tevis Byron 32), Final, 3.30 pm.