A brilliant angled strike by Trinidad and Tobago National Football Team striker Willis Plaza ensured that Central FC ended the 2014/15 domestic season last night with a thoroughly comfortable assignment, as the "Couva Sharks" whipped Caledonia AIA 4-1 in the Digicel Pro Bowl final.
At the final whistle, Plaza was declared MVP and Central had another trophy to add to their Caribbean Club Championship, Digicel Pro League and First Citizen Cup gongs.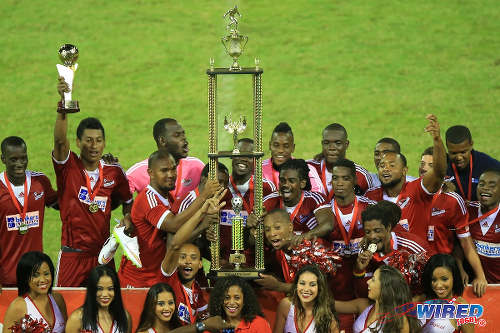 "It has been a tremendous season for the club (and it is great for the players to finish the season on a high note by winning the Pro Bowl)," said Central coach Terry Fenwick, who won all 10 games since he replaced predecessor Zoran Vranes in April.
Fenwick was not on the bench last night, as he served a one-match suspension for dissent to match referee Rodphin Harris in a heated semifinal affair.
Intriguingly, Harris was assigned to officiate in last night's final too and awarded a debatable penalty to Caledonia. But such was the gulf between the two teams that Harris did not even get a passing mention from the Central coach.
"I thought we didn't play well individually or collectively," Caledonia coach Jerry Moe told Wired868, "and when you play like that at this level, you will always get killed.
"Credit to Central. They were the better team on the night and they deserve to be champions."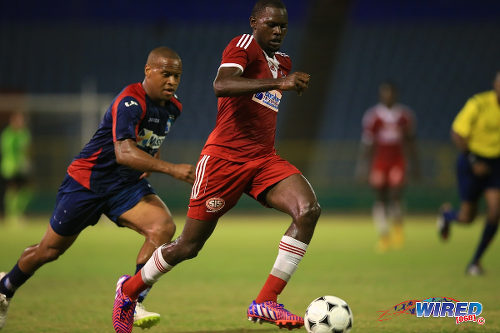 After selecting a team in the Caribbean Club Championship final to frustrate rather than outplay W Connection in the traditional sense, Fenwick was happy to be more adventurous against a Caledonia team that—due to injuries and disciplinary issues—did not even have a full 18-man squad for a cup final.
The Sharks essentially deployed a 3-6-1 formation that saw a midfield quartet of Leston Paul, Marvin Oliver, Jason Marcano and Ataulla Guerra served by wing-backs Kaydion Gabriel and Uriah Bentick.
While Central battered Connection with defenders Keion Goodridge and Jamal Jack in midfield and upfront respectively, the plan appeared to be to suffocate Caledonia with silk.
After just seven minutes, Central went ahead through a fine volley from Guerra, a former Caledonia employee, off a Bentick cross.
Moe is no mug, though. And the "Eastern Stallions" fought back admirably.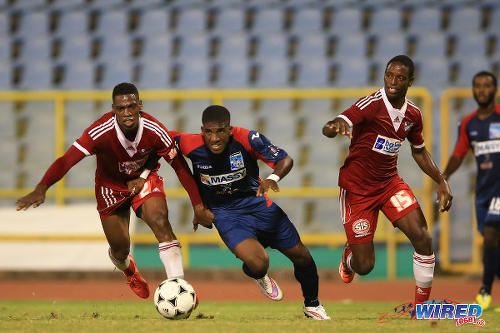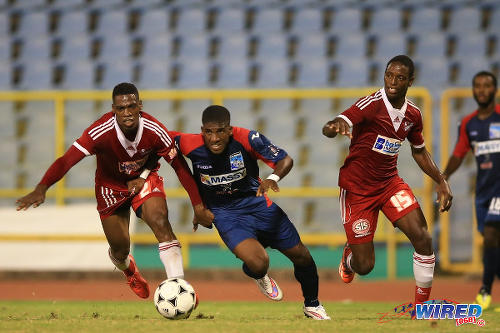 Tactically, veteran Caledonia attacker Conrad Smith dropped into midfield to offer passing options for Keyon Edwards and Nicholas Marcano while full backs Jameel Neptune and Kareem "Tiny" Joseph both pressed to squeeze space for their opponents when possible.
In the 32nd minute, Caledonia might have equalise as Edwards found Pernell Schultz in the area, only for the Guyanese hitman to splice the half-chance wide.
Seven minutes later, the Stallions deservedly level on the balance of play. But Harris did play a part.
Smith neatly executed what South American football pundits call "la pausa"—a slight delay in possession until the perfect passing option presents itself—before threading the ball through the legs of a defender and into the path of streaking winger Nathan Lewis.
Bentick tried desperately to regain lost ground but bumped into Lewis. It did not look like enough to knock him over; but down he went. And Harris pointed to the spot.
Central goalkeeper Jan-Michael Williams chuckled sarcastically. But Joseph had the last laugh with a flawless penalty kick, delivered after a stuttering run-up, that deceived the Trinidad and Tobago goalkeeper.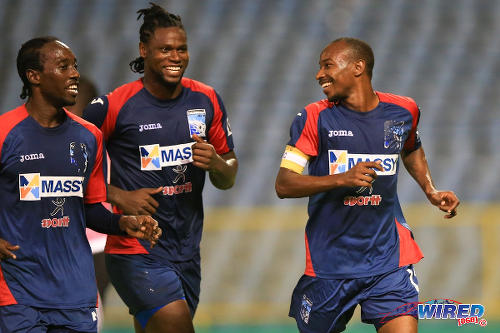 The Stallions could not hold that scoreline until the halftime interval. Plaza made sure of that with a busy run down the right flank and a strike from such a sharp angle it seemed to come from the dressing room.
Caledonia goalkeeper Shemel Louison, a Grenada international, was left grasping at air.
"I think when they scored the second goal right after we had tied up the game, the players level dropped a little bit," said Moe.
Fenwick was a bit worried though and shuffled his pack at halftime.
"I thought (Caledonia) were excellent (in the) first half and they caused us a lot of trouble," said Fenwick. "I think we were fortunate to go in 2-1 at halftime."
Fenwick withdrew on of his three central defenders, Akeem Benjamin, and reverted to a back four while winger Darren Mitchell was introduced. Central was now spreading the game and playing to their real strength, which is penetrative wing play.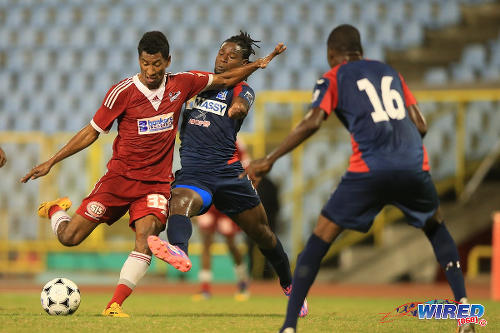 Caledonia had a sharp chance to equalise in their 50th minute as a Joseph cross flew beyond Smith, unmarked at the far post, before he could react.
But there was little surprise when the Sharks stretched their advantage in the 51st minute. Both wingers combined well as Mitchell cut in off the left flank and delivered a deep cross that Marcano headed home.
"I just think we had more quality in more areas," said Fenwick. "We changed it around tactically, just after the half, and the third goal really was the one that broke the monkey's back."
Jack replaced the injured Guerra in the 52nd minute and, 15 minutes later, wrapped up the score summary with a well taken item from a quick, perceptive Marcano free kick.
Caledonia had no answer within their anaemic match day squad.
"We were just down to a skeleton team by the end of the season and we lacked depth," said Moe. "When you don't have that quality on the bench to bring on to replace what you have on the field, the game will be a little more difficult…
"At the end of the day, we just were not good enough on the night."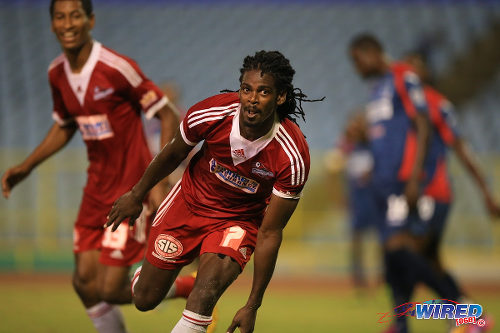 A red card for dissent to Edwards did not help Caledonia's cause and they were fortunate not to concede more as Plaza and Mitchell both wasted good scoring opportunities.
Seven minutes from time, Central showed their confidence by introducing teenaged goalkeeper Javon Sample for a sweat.
"That was the boys rather than me making the point of getting him on the field," said Fenwick.
Three years ago, Caledonia were the Caribbean champions. Moe assured supporters that the Stallions had every intention of being competitive once more and returning to the CONCACAF Champions League.
"It is back to the drawing board," said Moe. "We have to see what we can get in the (transfer) market and if we can keep the players want to…
"We definitely want to be in the CFU and CONCACAF (competitions). This wasn't good enough this season."
But, ominously for the rest of the league, Central aims to improve too.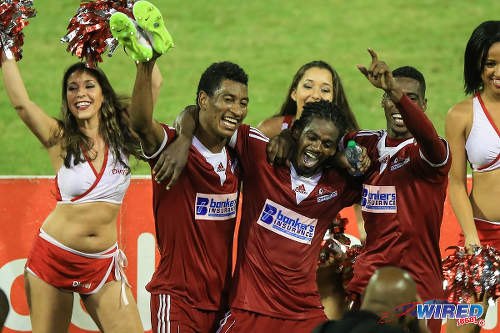 "There are good players in the Pro League I am keeping an eye on," said Fenwick. "We would like to expand the size of the club because of the CONCACAF club competition. So there (are) a lot of things that have to go on behind the scenes.
"We have 13 players out of contract and the technical staff are out of contract. So it is an important two weeks for the club."
Now, it is time for Central's operations director Kevin Harrison to do his part to ensure more silverware for the Couva-based upstarts.
(Teams)
Central FC (3-4-2-1): 21.Jan-Michael Williams (1.Javon Sample 82) (GK); 2.Elton John, 5.Akeem Benjamin (11.Darren Mitchell 46), 3.Keion Goodridge, 15.Kaydion Gabriel, 6.Leston Paul, 10.Marvin Oliver, 4.Uriah Bentick, 7.Jason Marcano, 45.Ataulla Guerra (12.Jamal Jack 52), 33.Willis Plaza,
Unused substitutes: 8.Sean De Silva, 14.Jean-Luc Rochford, 17.Marcelle Francois, 19.Nathaniel Garcia.
Coach: Dale Saunders
Caledonia AIA (4-2-3-1): 1.Shemel Louison (GK); 12.Kareem Joseph (captain), 16.Pierre Hitner, 23.Jamil Joseph, 22.Jameel Neptune, 26.Nicholas Marcano, 9.Keyon Edwards, 27.Nathan Lewis (25.Anthony Charles 82), 4.Conrad Smith (30.Domini Garnett 60), 18.Trayon Bobb, 28.Pernell Schultz,
Unused substitutes: 34.D'Eandre Villaroel (GK), 2.Kyle Mack, 29.Mickaeel Gordon,
Coach: Jerry Moe
Referee: Rodphin Harris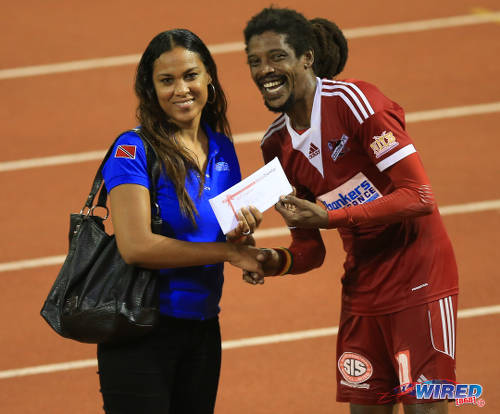 Digicel Pro Bowl final
(Fri May 29)
Central FC 4 (Ataulla Guerra 7, Willis Plaza 43, Jason Marcano 51, Jamal Jack 67), Caledonia AIA 1 (Kareem Joseph 40 pen) at Hasely Crawford Stadium.