Central FC's coronation as Trinidad and Tobago Pro League champions was, in retrospect, written in the Stars.
Last night, at approximately 9.52 pm, the noisy upstarts had wrestled power of the local top flight after a 2-1 win over North East Stars at the Ato Boldon Stadium ensured that the "Couva Sharks" could not be caught by bitter cross-town rivals, DIRECTV W Connection.
"… Q-R-S-T-U-V," sang the 'Central choir', "W Connection can't beat we!"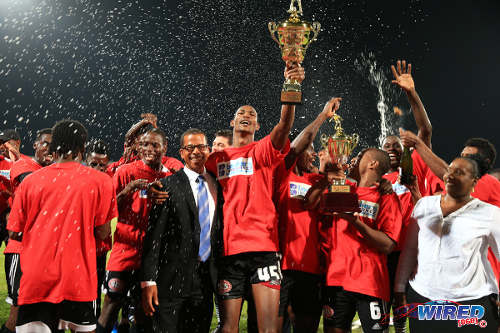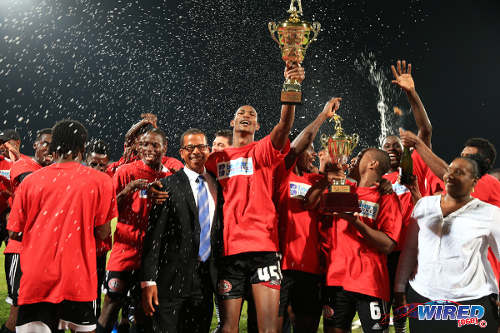 Earlier yesterday evening, Connection laboured to a 2-1 win over Police FC, courtesy a Hashim Arcia double, that was never going to be enough to pressure the leaders. There is one round of Pro League matches remaining and Central, who will be on a bye, were three points clear with a 15-goal better differential before kick off last night.
Connection might not remember when they too were the ambitious outsiders who were treated with suspicion and disdain by the establishment. The "Savonetta Boys" joined the then PFL in 1999 with their business-like air that included shirt, tie and slacks for players on match day.
Opponents muttered that at least they would win the prize for best dressed. By Connection's second season, they were champions.
Central took three years but, as they pressed W Connection to the finish line in the 2013/14 season, it always seemed a matter of when not if the "Sharks"—the brainchild of current Sport Minister Brent Sancho and his advisor Kevin Harrison—would eventually have their day in the sun.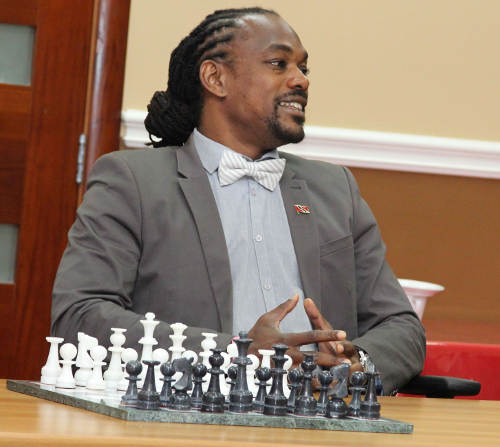 Last season, Central fell from the skies at the business end of the season after a Trevin Caesar double led Stars to a 2-1 triumph over the Sharks. And the Sangre Grande-based team threatened to be spoilers again this term.
Central coach Terry Fenwick once employed Stars coach Angus Eve as a player and then assistant coach at San Juan Jabloteh and, although there is no love lost between the pair, their contests are always intriguing, passive-aggressive tactical contests played out at pace.
Central used seven players from their Jabloteh team last night. Stars played five.
Eve's troops, lined up in his traditional 4-5-1 shape, would try to dictate the flow of the match without the ball by shutting down space for opponents and picking their pockets as they tried to squeeze through narrow alleys.
Fenwick tried to counter his former student's plans from kick off by using an unusual 3-6-1 formation which overloaded the midfield with four central players and two wingbacks while three defenders stood guard over lone Stars defender-cum-striker Kennedy Hinkson.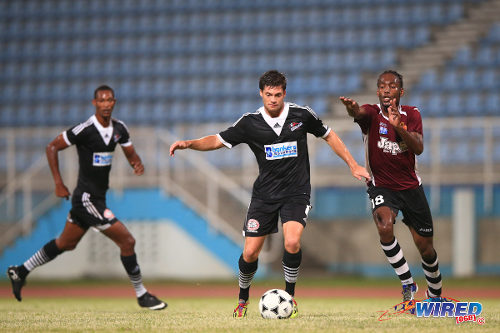 Within four minutes, Eve was chuckling as Stars went ahead in trademark fashion.
The "Boys from Ojoe Road" won possession midway in their own half of the field and immediately counted as 19-year-old midfielder Neveal Hackshaw hared up the right flank to collect behind Central defender Keion Goodridge.
Goodridge, who is rarely shy to apply brute force, lowered his shoulder into the teenaged "Soca Warrior" and bounced off. And Central and Trinidad and Tobago international goalkeeper Jan-Michael Williams was just as powerless and red-faced as Hackshaw produced a precise finish at his near post.
It was only Hackshaw's second league goal of the season.
Stars goalkeeper Cleon John made two fine saves from Jamal Jack and Central captain Leston Paul to preserve the advantage at half time. But, by the hour mark, the difference in approach by the coaches was unmistakable.
Fenwick, an ex-England World Cup defender, is at his best when his team is driving at an opponent. Eve, Trinidad and Tobago's most capped outfield player and a fine attacker in his hey-day, is more reactionary.
But, without former quality strikers like Cornell Glen and Caesar, Eve simply did not have the arsenal to play to his preferred mode. And, unlike Fenwick, he could not find a Plan B.
It is true that Stars do not have the budget and depth of Central. But their tally of 24 goals this season is testimony to Eve's problems this season. Only St Ann's Rangers have scored less times this term.
By the 63rd minute, Fenwick was on his second reshuffle with a back four and a diamond-shaped midfield with Willis Plaza introduced upfront and Ataulla Guerra given the freedom of the park. Eve replaced his lone front-man, Hinkson, with defender Dwane James who was used in the 'number 10' role to press evergreen Central substitute and central midfielder Marvin Oliver.
But there was no stopping the tide.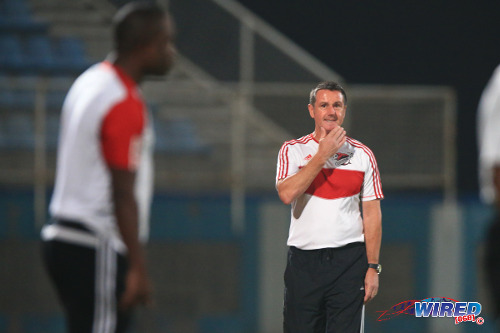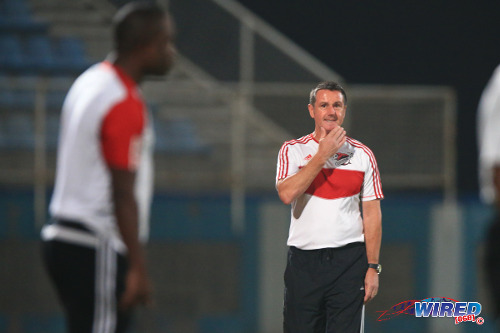 In the 68th minute, Central drew level as Plaza teed up Guerra who casually waited for the opening before stroking his shot past defender Keryn Navarro and beyond opposing custodian, John.
Eve responded, two minutes later, by replacing Hackshaw with another midfield hardman, Jeromie "Butters" Williams in an attempt to stem the flow rather than seek out Central's vulnerabilities.
And, in the 87th minute, the Sharks completed the turnaround in fine style as Plaza spun away from Navarro and glided inside the penalty area before beating John with a thumping left footed finish into the corner.
It was a fitting exclamation mark for Central whose 63 goals were 12 more than Connection managed last season and the most by a Pro League winner since Connection scored 69 times in 23 league games back in 2005. The Pro League record, incidentally, remains 113 goals from 36 games by Ricky Hill's Jabloteh in 2003/04.
The Central Choir was in full flight by then and Fenwick spent the closing minutes trying to stage-manage a tribute to his predecessor Zoran Vranes, who led the Sharks for much of the season before being bizarrely replaced by the Englishman.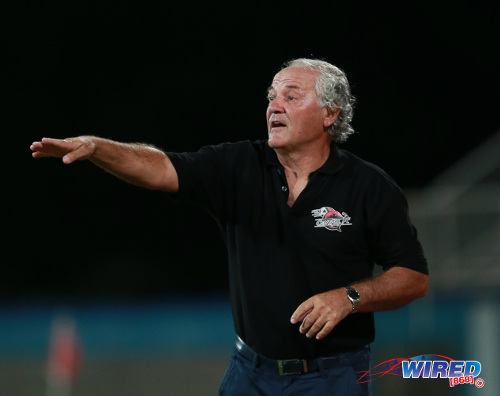 Ever the gentleman, Vranes, a former Yugoslavia National Under-23 Team player, joined Fenwick at the touchline and the two linked arms and strode to the edge of the technical area as Central stroked the ball around.
Fourth official Cecile Hinds was in no mood for their love connection and spoiled the party by pointedly reminding Fenwick that only one person was allowed to stand in the technical area at any given time.
The noble but clumsy gesture arguably fit a team that irked opponents with its aggressive marketing and self-promotion in the way Connection once grated rivals with ties and cut-price Brazilians.
The Savonetta Boys proved there was much more to them than that and, no doubt, Central hope to do the same.
Paul, who joined Central from Super League outfit Guaya United in January 2014, was beaming after the final whistle.
"First, I must thank God (because) without God nothing is possible," said Paul, who was appointed team captain by Vranes. "I am overwhelmed… We dug deep. It was a tough, long season but we stuck together and got the results we wanted and won the trophy."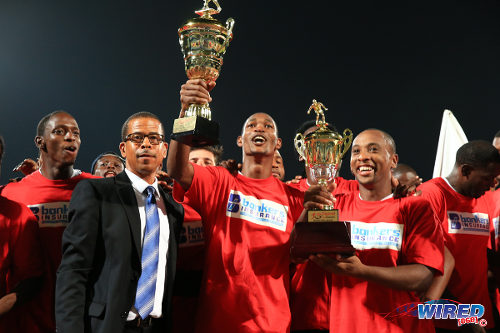 The 39-year-old Oliver is a former Pro League champion with Jabloteh but was on Central's first team list, three years ago. When the Sharks trailed Stars, Fenwick presumably accepted that the lanky playmaker should have been on the field and promptly inserted him.
"I think this is the most complete team I've been on and the feeling is just so sweet," Oliver told Wired868. "With all the dramas and everything that happened, it just feels good to be here now… I've seen the guys like Ataulla and (Plaza and the rest) when they were teenagers and they are grown men now.
"I saw the steps they took towards maturity and you saw that tonight with their finish and ball movement and so on. I am really proud of them."
Central's first place prize is $1 million although Connection are still waiting on their cheque from last season. These two teams would probably fight to the death over a dinner mint though.
With the Pro League title wrapped up, Central are now turning attention to the 2014 Caribbean Club Championship. On May 22, the Sharks will face Connection in the Caribbean semifinals at the same Couva venue.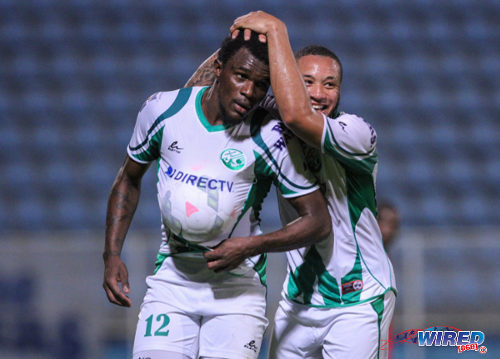 "It will be an honour to be champions of the Caribbean," said Oliver. "Just the other day, I saw we were ranked 182 in CONCACAF and Connection (were) 160. Before I finish playing, I would like to see us reach the top 100 in CONCACAF."
The 'Couva Clasico' is about to go regional.
(Teams)
Central FC (3-4-2-1): 21.Jan-Michael Williams (GK); 12.Jamal Jack, 5.Akeem Benjamin, 3.Keion Goodridge; 15.Kaydion Gabriel (7.Jason Marcano 72), 2.Elton John, 6.Leston Paul (captain), 11.Darren Mitchell (10.Marvin Oliver 46); 45.Ataulla Guerra, 8.Sean De Silva; 99.Dwight Quintero (33.Willis Plaza 46).
Unused substitutes: 1.Javon Sample (GK), 4.Uriah Bentick, 17.Marcelle Francois, 19.Nathaniel Garcia.
Coach: Terry Fenwick
North East Stars (4-2-3-1): 22.Cleon John (GK); 25.Keryn Navarro (captain), 5.Aquil Selby, 15.Glenton Wolfe, 38.Jesus Perez; 44.Keon Joseph, 12.Jayson Joseph; 18.Kaashif Thomas (9.Xae Pierre De Four 89), 41.Neveal Hackshaw (6.Jeromie Williams 70), 10.Keron Cummings; 23.Kennedy Hinkson (14.Dwane James 63).
Unused substitutes: 1.Stefan Berkeley (GK), 26.Zavion Navarro, 35.Jordan Devonish, 50.Shaquille Thomas,
Coach: Angus Eve
Referee: Dave Daniel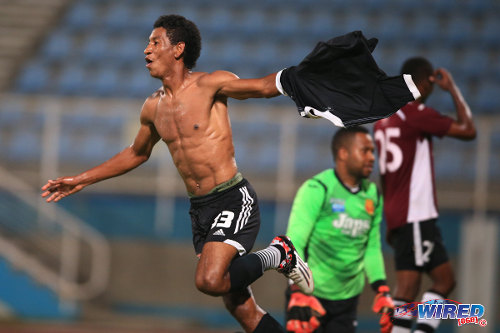 Pro League results
(Apr 28)
W Connection 2 (Hashim Arcia 44, 88), Police FC 1 (Makesi Lewis 7) at Couva;
Central FC 2 (Ataulla Guerra 68, Willis Plaza 87), North East Stars 1 (Neveal Hackshaw 4) at Couva.