Trinidad and Tobago national women's senior team coach Randy Waldrum selected a 22-woman squad to face Ecuador on December 2 in the decisive FIFA Women's World Cup Play Off second leg in Port of Spain.
The "Women Soca Warriors" drew the first leg 0-0 in Quito and need a win to qualify for the Canada 2015 Women's World Cup. Another goalless draw would mean extra time and possible penalties while Ecuador would advance on a draw with goals.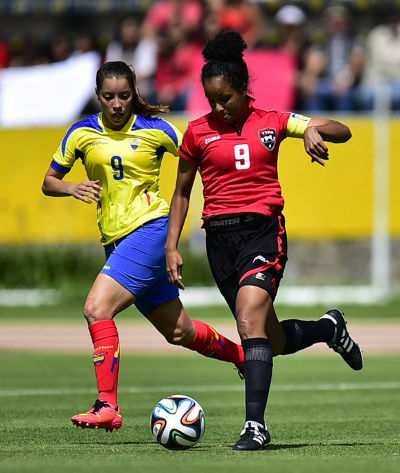 No Caribbean team has ever qualified for a FIFA women's competition.
The Warriors started their World Cup adventure with a camp at dorms in Dallas. This time, captain Maylee Attin-Johnson and company will be booked at the swanky Hyatt Regency Hotel.
Almost certainly, the women will have the Government to thank for their accommodation as the Trinidad and Tobago Football Association (TTFA) has outstanding debts at almost every hotel in the country. The men's senior team was turned out of the Carlton Savannah Hotel on the first day of its pre-Caribbean Cup camp before the squad was able to broker a deal there through a third party.

Waldrum hopes to be able concentrate on football over the next two weeks.
"We'll have all the players together this week and we hope to have them all fit and healthy and mentally ready for the match on Tuesday," Waldrum told the TTFA Media. "We've had some of the players with the exception of some of them from the US, in training over the past few days with the focus being on strength and conditioning and that went quite well for us.
"It's going to be a big week ahead and I think everyone is ready for it. I know the girls and the staff are all eager and focused and the people who have to get things ready off the field of play at the TTFA and the other personnel are all doing what they have to."
Two new additions to Waldrum's squad are US-based sisters Nia and Amira Walcott who are both midfielders. They are among five payers to force their way into the squad since the CONCACAF Women's Championships along with goalkeeper Sandra Baron and attacker Jasmine Sullivan while teenaged St Ann's Rangers goalkeeper Tenesha Palmer failed to regain her place in the squad.
However, the major omission is University of Connecticut full back Liana Hinds who was a standout in the CONCACAF tournament but also missed the FIFA Play Off first leg in Quito due to NCAA commitments.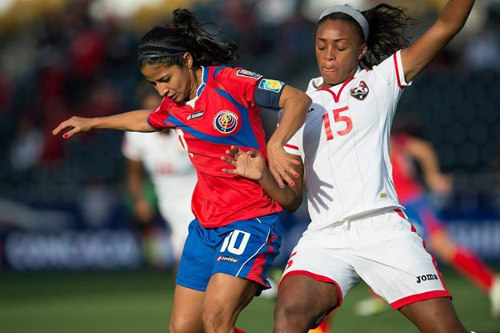 Trinidad and Tobago's Swedish-based attacker, Ahkeela Mollon, said the team is in good spirits and excited but also focused on the task ahead.
"We've been training really hard for the past week and the sessions have been quite good," said Mollon. "The mood is really good at the moment and we're looking forward to this week with all the players assembling in camp.
"We're all really excited about the 12th Warrior and the fans coming out and giving us that support. We're at home but the key for us is to stay focus and humbled and go out there and play as we know we can and get the result."
Versatile attacker, Dernelle Mascall, echoed Mollon's sentiments and said the Women Warriors would be ready.
"We've been having two sessions a day so it's really intense but it's all down to ensuring we're physically ready for the match," said Mascall. "Hopefully by mid next week we'll be a bit more settled and focusing on game specific preparations.
"I think we're all really excited about playing before a large home crowd. We want that 12th warrior behind us. We would have liked to have qualified out of the CONCACAF stage but this opportunity to do it at home is really a great opportunity for us."
Last Friday, the TTFA launched its official supporter tee-shirts for the women's team, which are available in men's, ladies cut and children sizes at Fan Club Outlets in MovieTowne, Port of Spain, Trincity and Gulf City Mall as well as in Heritage Sport in Scarborough. The tee-shirts cost $150 (adults) and $120 (children).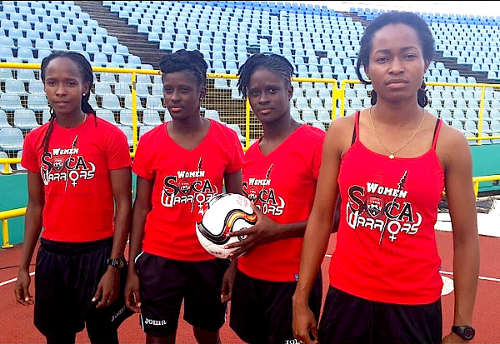 Tickets for the match cost $200 (covered) and $100 (uncovered) with children under-12 free in the uncovered section and are available at: all Kenny's Sports Centre outlets, The Fan Club (Movietowne, Port of Spain), Ramsingh's Sporting Goods (Chaguanas), All Out (Queen's Park Oval), Econo Supermarket (Sangre Grande), Skinner Park (San Fernando) and Heritage Sport (Scarborough).
The match kicks off at 6 pm and gates open at 3 pm. The Ministry of Sport and the SPORTT Company of T&T are partnering with the TTFA to support all activities relating to the December 2 match.
(Trinidad and Tobago team)
Goalkeepers: Kimika Forbes, Sandra Baron;
Defenders: Rhea Belgrave, Ayanna Russell, Patrice Superville, Arin King, Khadisha Debessette, Khadidra Debessette, Lauryn Hutchinson, Brianna Ryce;
Midfielders: Maylee Attin-Johnson, Janine Francois, Karyn Forbes, Nia Walcott, Amira Walcott, Dernelle Mascall;
Forwards: Kennya Cordner, Ahkeela Mollon, Mariah Shade, Tasha St Louis, Anique Walker, Jasmine Sampson.