The Trinidad and Tobago national senior men's football team booked its place in the 2015 CONCACAF Gold Cup after just two Caribbean Cup group matches in Jamaica. But it was anything but an easy ride.
The "Soca Warriors" struggled to hold on to a three-goal lead this evening against French Guiana and, in the end, were grateful for a stoppage time Ataulla Guerra free kick, which added gloss to their eventual 4-2 triumph over a 10-man Guiana team.
Their nervy triumph, added to a 3-2 win over Curaçao on Tuesday, would concern fans who remember when Trinidad and Tobago might easily approach double figures against such minnows.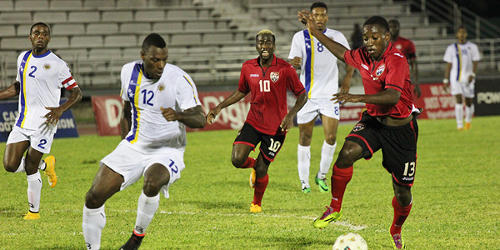 But there is a new wind blowing in the Caribbean.
Trinidad and Tobago had only two local-based players in its starting team today. But so did French Guiana.

Seven members of the Guiana team play in the lower tiers of France's football leagues while team captain Marvin Torvic plays in Germany's fourth division with 1860 Rosenheim and attacker Roy Contout plays in the Belgium top flight with Royal Mouscron-Péruwelz.
The entire French starting team was also under the age of 30 and several were in their early twenties.
The new Caribbean Cup schedule makes it easier for Europe-based players to participate and some of the less heralded nations have taken full advantage.
Curaçao used five Netherlands-based professionals against the Warriors on Monday. Yesterday, Martinique, with 15 Europe-based players including top flight players from France, Scotland, Greece and Bulgaria, drew 1-1 with Jamaica.
Martinique's goal scorer, Yoann Arquin, plays in the Scottish Premier League with Ross County.
If the traditional superpowers falter and if islands like Curaçao and Antigua and Barbuda can raise the funds to prepare their teams, Caribbean football could face revolution.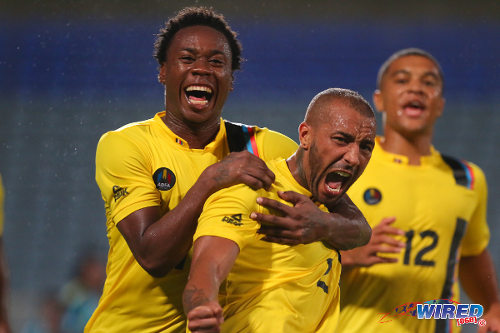 For now, the Warriors stayed ahead of the curve with their second successive triumph which leaves the two island republic as the only nation with a 100 percent record at the Caribbean Cup finals.
It looked fairly comfortable at one point. Kevin Molino, who played upfront in place of captain Kenwyne Jones, put the Warriors ahead with an accurate drive off the far post in the 17th minute before doubling Trinidad and Tobago's advantage with a flicked header into the corner off a Guerra cross in the 58th minute.
The latter item was Molino's seventh goal in his last four games.
The Orlando City attacker might have had a hattrick too as he was felled in the box in the 60th minute for a penalty kick but he passed the opportunity to his friend and teammate Lester Peltier who made it 3-0 from the spot.
Torvic was ejected for his trip on Molino too as the Warriors enjoyed a three-goal lead against ten players.
So far so good for Trinidad and Tobago coach Stephen Hart who had made six changes to his starting team in an effort to stay onside FIFA's medical rule regarding the number of games permitted for players within an international window.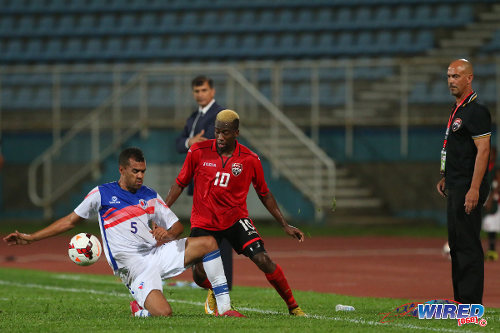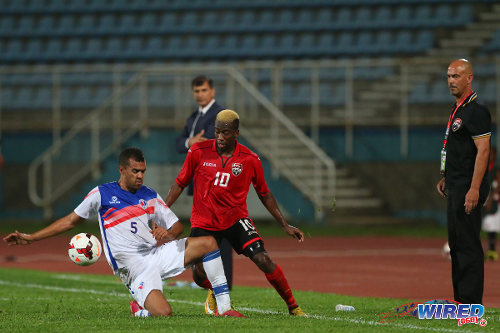 But Brian Saint-Clair, one of two home-based players in the French Guiana squad, pulled a goal back in the 63rd minute after the Warriors midfield allowed him a free shot from just inside the 18-yard box.
And a fabulous curling free kick in the 84th minute from left back Jean David Legrand, a fifth tier French league player with Trelissac, reduced the scores to 3-2 in the dying stages after Peltier missed two golden opportunities for the Warriors on the break.
It could have been worse as France-based substitute Niki Adipi hit the bar with a looping header while French Guiana also rapped Phillip's right post.
But Guerra, one of three Central FC players in the present T&T squad, gave the Warriors an insurance item with a blistering free kick that flew into the top right hand corner.
The saying that "there are no easy international games" is one of sport's oldest clichés. But, for once, it might be true of the Caribbean Cup.
(Team)
Trinidad and Tobago: 1.Marvin Phillip (GK); 2.Justin Hoyte, 6.Daneil Cyrus, 12.Radanfah Abu Bakr, 26.Aubrey David, 14.Andre Boucaud (15.Jamal Gay 65), 8.Khaleem Hyland (captain) (5.Kevan George 53); 23.Lester Peltier (13.Cordell Cato 84), 11.Ataulla Guerra, 7.Hughtun Hector, 10.Kevin Molino
Unused substitutes: 21.Jan Michael Williams (GK), 3.Joevin Jones, 18.Yohance Marshall, 19.Carlyle Mitchell, 17.Leston Paul; 9.Kenwyne Jones, 27.Jonathan Glenn, 16.Shahdon Winchester, 24.Adrian Foncette.
Coach: Stephen Hart
2014 Caribbean Cup
Group A
(Thu Nov 13)
Trinidad and Tobago 4 (Kevin Molino 17, 58, Lester Peltier 60 pen, Ataulla Guerra 90+4), French Guiana 2 (Brian Saint-Clair 64, Jean David Legrand 83) at the Montego Bay Sport Complex
Cuba 3 (Jorge Luis Corrales 15, Yasmany Lopez 51, Orisbel Leiza 90+5), Curaçao 2 (Prince Rajcomar 45, Gevaro Nepomuceno 69) at the Montego Bay Sport Complex
(Tue Nov 11)
Trinidad and Tobago 3 (Kenwyne Jones 25 pen, 38, Kevin Molino 50), Curaçao 2 (Rihario Meulens 18, Gianluca Maria 48) at the Montego Bay Sport Complex
French Guiana 1 (Mickael Solvi 90), Cuba 1 (Ariel Martinez 57) at the Montego Bay Sport Complex
Group B
(Wed Nov 12)
Haiti 2 (Jean Sony Alcenat 23, Kervens Belfort 36), Antigua and Barbuda 2 (Myles Weston 58, Peter Byers 60) at the Montego Bay Sport Complex
Jamaica 1 (Darren Mattocks 13), Martinique 1 (Yoann Arquin 29) at the Montego Bay Sport Complex
Upcoming fixtures
Group B
(14 November)
Martinique v Haiti, 6.30 pm (TT time), Montego Bay Sport Complex, Jamaica,
Jamaica v Antigua and Barbuda, 9 pm (TT time), Montego Bay Sport Complex, Jamaica;
Group A
(15 November)
French Guiana v Curaçao, 6.30 pm (TT time), Montego Bay Sport Complex, Jamaica;
Cuba v Trinidad and Tobago, 9 pm (TT time), Montego Bay Sport Complex, Jamaica.