The Trinidad and Tobago national senior team's route to the Canada 2015 Women's World Cup will be a little trickier now.
It took 120 minutes and six penalty kicks to separate the "Women Soca Warriors" from an excellent Costa Rica outfit in the 2014 CONCACAF Women's Championship semifinals this evening at the PPL Park in Chester, Pennsylvania.
But, when the final whistle sounded, it was the Central Americans who celebrated while exhausted Trinidad and Tobago players slumped to the ground.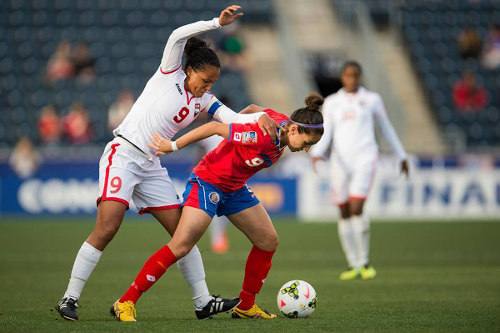 Penalty shoot outs are often referred to as lotteries; but it did not look as if Costa Rica left much to chance today.
Costa Rica custodian Dinnia Diaz, who will now have iconic status in her country's women's programme, saved all three efforts from Trinidad and Tobago captain Maylee Attin-Johnson and substitutes Lauryn Hutchinson and Mariah Shade while the Spanish-speaking nation converted its own attempts for a decisive 3-0 shoot out triumph.

Costa Rica's win means that, for the first time, a Central American team will participate in a senior Women's World Cup competition. The "Ticos" will also play in the CONCACAF final at the same venue on Sunday.
For Trinidad and Tobago, Sunday represents the last chance this month to book a direct ticket to the Canada World Cup. The Warriors will play the loser of the second CONCACAF semi-final match, Mexico.
The top three CONCACAF nations will go to the Canada World Cup while the fourth placed team faces a two-legged Play Off against Ecuador next month.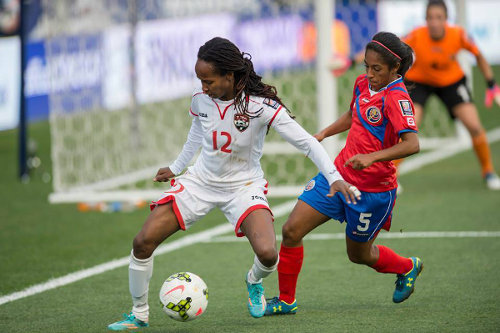 Mexico is unlikely to be a noticeably easier proposition than Costa Rica. The good news, though, is that Trinidad and Tobago's ladies can and should be better by then; once they get tonight's disappointment out of their system.
"We didn't execute our game plan in the first half for whatever reason but, in the second half, we went back to what worked for us up to this point," said Attin-Johnson, "which was playing with more intensity, grit, passion and heart."
The official nickname for the representatives from the two island republic is the "Soca Princesses" but Attin-Johnson asked Wired868 to give that name a rest even before the tournament began.
"We are not Princesses," said Attin-Johnson, during the pre-tournament camp. "We are Warriors. End of story."
There can be no denying that the ladies lived up that sobriquet.
The Costa Rica team, mobile and inventive, was the better side this evening. But, until the shoot out, the Ticos just could not shake off a Trinidad and Tobago outfit that refused to lie down.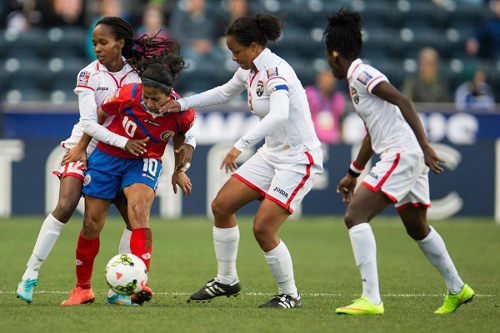 Costa Rica looked to be swaggering on to the guest list of the Canada World Cup after the first 45 minutes.
Trinidad and Tobago trailed after just 18 minutes as opposing winger Wendy Acosta motored past right back Brianna Ryce and crossed for Costa Rica forward Carolina Venegas to divert home from close range. Warriors central defender Arin King, utterly dependable for much of the tournament, failed to track Venegas' movement.
Acosta, Venegas and, most of all, playmaker and captain Shirley Cruz were peerless in the first half. But even more worryingly for Trinidad and Tobago coach Randy Waldrum was the sluggish performances of his midfield anchor Karyn "Baby" Forbes and veteran attacker Tasha St Louis.
Both were key players when the Warriors won the Caribbean Cup in August but have barely featured in the CONCACAF competition due to hamstring injuries.
Waldrum gambled that they would be fit enough to provide additional quality in this evening's vital encounter. They did not; and both were replaced at halftime.
There was a change at right back too as Hutchinson was introduced to try and nullify Acosta while Ryce was pushed into midfield.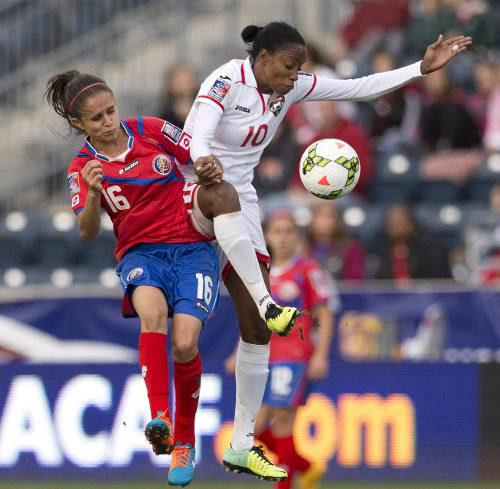 But Hutchinson fared little better defensively as Acosta continued to run riot on the flank while the Warriors seemed constantly on the back foot.
Venegas should have doubled Costa Rica's advantage in the 48th minute but missed an open goal after her teammate Raquel "Rocky" Rodriguez peeled off of King's defensive partner, Rhea Belgrave, to tee her up.
Trinidad and Tobago goalkeeper Kimika Forbes, who was in outstanding form once more, denied Costa a minute later before making vital saves from Venegas and Daphnne Herrera in the the 51st and 57th minutes respectively.
But a second Costa Rican goal seemed a matter of when not if.
Coach Garabet Avedissian then decided to take a gamble of his own. And, in the 63rd minute, he replaced Venegas, the competition's top scorer up until then, with Christin Granados.
Venegas has not been fully fit this tournament and the Costa Rica coach may have been looking forward to Sunday's CONCACAF final when he took her off.
On cue, Costa Rica went down a gear and Trinidad and Tobago took full advantage of the reprieve.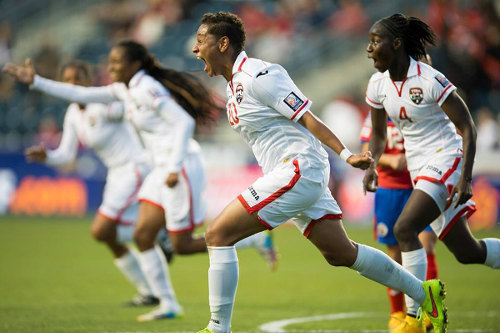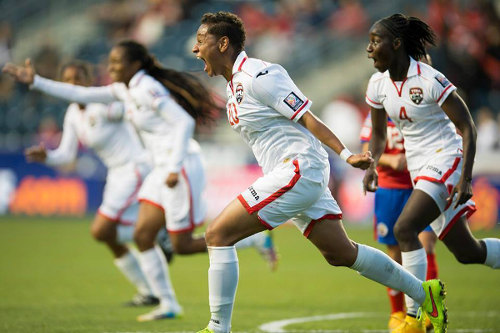 It was poetic justice when King, who had been tormented by Venegas, stepped up to create Trinidad and Tobago's equaliser with a lofted free kick into the opposing penalty area in the 73rd minute.
Hutchinson went for the ball; as did Costa Rican players Rodriguez and Daniela Cruz. But Hutchinson wanted it more and she beat them both as well as the opposing goalkeeper, Diaz, with a speculative backward header.
It was a shot out of the blue for the team in white. Maybe God was a Trinbagonian after all.
"They had some good players and we allowed them to get in their possession rhythm in the first half, which was what we wanted to prevent," said Attin-Johnson. "That put us under pressure. But we played and fought for each other in the second half and we were able to put pressure on them."
Apart from some skillful flashes from winger Ahkeela Mollon, the Warriors rarely looked like adding to that goal though and Forbes twice made impressive saves to keep the scores level. While Acosta was unlucky to have an effort ruled offside after a Cruz (S) free kick deflected off T&T's defensive wall.
Penalties, it seemed, would be Trinidad and Tobago's best shot at getting to the World Cup this evening and there was genuine hope when the Warriors made it to the end of extra time. By then, Waldrum had just 10 players on the field as Belgrave was ejected for her second yellow card, which rules her out for Sunday's fixture.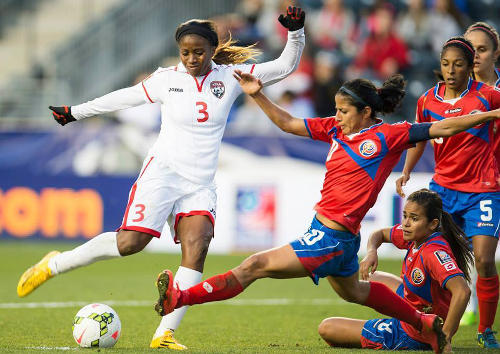 And the Warriors did not cater for Diaz's heroics. Over 120 minutes, the Ticos goalkeeper was never really tested apart from Hutchinson's header. She was ready when the challenge came, though.
Katherine Alvarado converted the first penalty before Attin-Johnson stepped up for Trinidad and Tobago. The Warrior captain went to her right, just as she did against Guatemala. Diaz was waiting for her and made the block.
Diaz then went to her right to deny Hutchinson before returning to her left side to keep out Mariah Shade. And Costa Rica's own efforts from the spot were flawless.
It meant that the Trinidad and Tobago women would have to wait until Sunday to, hopefully, qualify for their first World Cup tournament.
"I told my players we can still be the architect of our own destiny," said Attin-Johnson. "Most importantly, the dream is still alive.
"We have to put this loss behind us and prepare our minds for Mexico (in the third place play off)."
(Teams)
Trinidad and Tobago (4-2-3-1): 1.Kimika Forbes (GK); 16.Brianna Ryce, 4.Rhea Belgrave [Red card], 5.Arin King, 15.Liana Hinds; 14.Karyn Forbes (20.Lauryn Hutchinson 46), 9.Maylee Attin-Johnson (captain); 12.Ahkeela Mollon, 7.Dernelle Mascall (6.Khadidra Debessette 75), 19.Kennya Cordner; 10.Tasha St Louis (3.Mariah Shade 46).
Unused substitutes: 21.Tenesha Palmer (GK), 2.Ayanna Russell, 8.Patrice Superville, 11.Janine Francois, 13.Anique Walker, 18.Khadisha Debessette.
Coach: Randy Waldrum
Costa Rica (4-3-3): 1.Dinnia Diaz (GK); 5.Diana Saenz, 6.Carol Sanchez, 8.Daniela Cruz, 12.Lixy Rodriguez, 16.Katherine Alvarado, 10.Shirley Cruz (captain), 11.Raquel "Rocky" Rodriguez, 17.Daphnne Herrera (2.Gabriela Guillen 99), 9.Carolina Venegas (15.Christin Granados 63), 20.Wendy Acosta.
Unused substitutes: 18.Yirliana Arroyo (GK), 3.Mariane Ugalde, 4.Mariana Benavidez, 7.Gloriana Villalobos, 13.Noelia Bermudez, 14.Yesmi Rodriguez, 19.Fabiola Sanchez.
Coach: Garabet Avedissian
CONCACAF Women's Championship
Semifinal round
(Fri Oct 24)
Costa Rica 1 (Carolina Venegas 18), Trinidad and Tobago 1 (Lauryn Hutchinson 73) at PPL Park, Chester;
*–Costa Rica won 3-0 on penalties;
United States 3 (Carli Lloyd 6, 30, Christen Press 56), Mexico 0 at PPL Park, Chester;
Upcoming fixtures
(Sun Oct 26)
Third Place Play Off: Trinidad and Tobago v Mexico, 3 pm, PPL Park, Chester;
CONCACAF Final: Costa Rica v United States, 6 pm, PPL Park, Chester;