The Trinidad and Tobago Football Association (TTFA) general secretary Sheldon Phillips said that he expects to receive a full breakdown of costs from Native Spirit for the production of "I Support Akeem" tee-shirts by Monday.
Both organisations came in for criticism on the social media since Wired868 and I95.5 FM revealed, on Thursday night, that just $25 from every $100 shirt purchase would go to assist 22-year-old footballer Akeem Adams, who is fighting for his life in Hungary after suffering a massive heart attack in late September.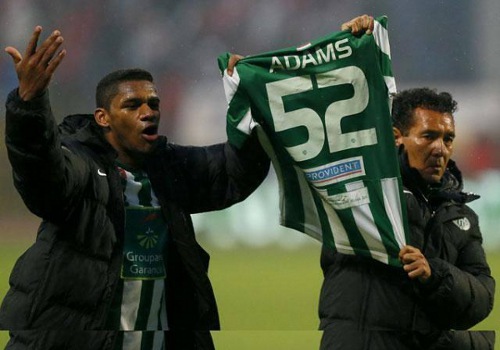 However, Phillips sought to assure the public that the TTFA did not pocket a cent from the sale of tee-shirts.
"The cost to produce the shirt is what we are waiting on now," Phillips told Wired868. "If it turns out that cost is not bonafide and more could have been sent Akeem's way, that is something Native Spirit will have to answer to.
"But it is important to reserve judgment until we see those figures."

He insisted that the local football body operated throughout with Adams' best interests at heart.
"We did what we could to contribute and help the player," said Phillips. "That is something that should be recognised and we should be getting some credit for. To hear people calling into question our motives is definitely unfortunate."
"All the funds went directly to Native Spirit and at the end of the day all we got was a cheque for $50,000… We are not in the tee-shirt business; this was a Native Spirit initiative…
"People may see that as making excuses but that is the reality."
Thus far, there is no suggestion of illegal behaviour from the TTFA or Native Spirit.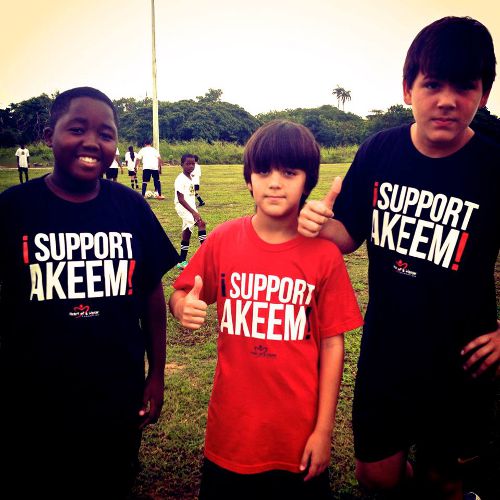 Crucially, it was the TTFA and not Native Spirit who told the public that all proceeds would go to the Ferencvarosi defender and former two-time Trinidad and Tobago World Youth Cup player, Adams.
This turned out to be untrue although the TTFA is yet to make an unqualified apology for its misinformation.
Phillips preferred to focus on Native Spirit's role in the controversy.
He told Wired868 that Native Spirit managing director Bruce Kaufman offered the TTFA a cost breakdown when production started early last month, which was accepted by the football body. Among those expenses, according to the general secretary, were unspecified administrative costs.
He admitted that the TTFA only requested more details after the Wired868 report on Friday.
"As soon as the story broke, I called them and said we really need a very detailed cost breakdown," said Phillips. "We asked them to include VAT and we will see if we can get a VAT refund. If we do, every penny from that will go to the fund as well."
Kaufman, who spoke to Wired868 on Friday, could not be reached for comment today.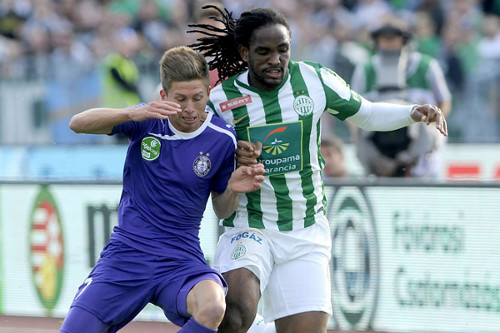 Phillips was non-committal when asked if the TTFA should have insisted on a complete cost breakdown before it committed to the project.
"We were in the middle of ramping up for the (New Zealand) game and we felt we would address the issue after the match and analyse it in more detail then," said Phillips. "Hindsight is 20/20… When we initially discussed the idea, no one knew how many shirts would be printed up and how much the costs were going to be. And we had the added strain of getting a game on within 10 days.
"If we had a bit more time to plan, I think things would have been done differently. But this is the context of the environment in which we were working (at the time)."
He reiterated, though, that any suggestion of dishonesty was unfair and urged members of the public to reserve judgment until Native Spirit provided a cost breakdown.
"If it turns out that the cost breakdown doesn't stand up with the figures that they showed us before, that is something they will have to answer to," said Phillips. "We are not in the tee-shirt business. This was a Native Spirit initiative…
"People may see that as making excuses but that is the reality… It is very, very important to convey that there is no sort of skullduggery in our approach.
"No one is trying to make a buck off Akeem; that would be unconscionable."
The TTFA raised $72,230 for Adams with $50,000 from the "I Support Akeem" tee-shirts and $22,230 from the "Akeem Adams section" for Trinidad and Tobago's international friendly against New Zealand on October 15.
However, Native Spirit claimed to sell 2,000 shirts, which meant that it collected $200,000 from well-wishers; while the TTFA said that 446 persons purchased tickets for the "Akeem Adams section", which suggested total revenue of $55,750. It means that Adams will receive $72,300 from $255,750 raised in his name by the TTFA and Native Spirit.
TTFA president Raymond Tim Kee, who is set to be unveiled as the new Port of Spain mayor, referred to the $72,300 figure as "a substantial contribution" last Thursday.
But, yesterday, "Soca Warriors" manager David Muhammad referred to the sum as "disrespectful to the Adams family."
"It is a shame that so much public love, concern, support and best wishes poured out from the public in the form of the sales of maybe 1000s of T-shirts at $100 each," stated Muhammad, on his Facebook page, "and all that could have been given to the family was under TT$73,000. It is also disrespectful to the Adams family for so much money to be raised in their son's name and for capitalist greed to take priority over sincere generosity…
"If I had known that only $25 per jersey was going to Akeem I would have never bought as many T-shirts as I did."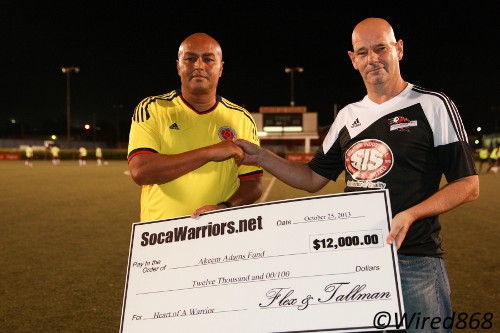 Thus far, the player's family has received an unspecified donation from his former school, Presentation College (San Fernando) while, on Friday, the Soca Warriors Online football fans' site handed over a $12,000 cheque for the "Soca Warrior" to Adams' local manager, Dion Sosa.
Local Pro League team DIRECTV W Connection also offered its Digicel Charity Shield winnings of $10,000 to Adams although the Pro League has not yet transferred the money.
Well-wishers who want to donate money directly to the player can do so by walking into any RBC branch and depositing money for Ancilla Dick at account number #100085172658914.
Editor's Note: The Trinidad and Tobago Football Association (TTFA) has advised that it did receive a full financial breakdown from Native Spirit with regards to the "I Support Akeem" venture and the football body will make a statement shortly.