"It was a good game for the fans and most importantly a great advert for the Trinidad and Tobago Pro League," said North East Stars coach Angus Eve, last night.
Eve's Sangre Grande-based team succumbed to DIRECTV W Connection 4-3 on penalties in last night's Digicel Pro Bowl final at the Hasely Crawford Stadium, Port of Spain. His sentiments should resonate well with "Soca Warriors" co-head coach Hutson "Barber" Charles who observed proceedings at the final game of the 2012/13 season and is preparing the national team for this July's CONCACAF Gold cup.
The "Savonetta Boys" failed to defend their  2011/12 Digicel Pro League title but recovered superbly in the final months of this season to win the Pro Bowl and Lucozade Sport Goal Shield crowns and clinch qualification for this year's CONCACAF Champions League.
Connection coach Stuart Charles-Fevrier, who was named the "Coach of the Pro Bowl", was pleased to win the tournament but has already turned his attention to Champions League preparation.
"After such a long season, before the game I simply encouraged players to have confidence and faith in themselves and we would come out on top and we did just that," said Fevrier.
"Our finishing was not as it should have been today. We had to my count at least six clear goal-scoring chances throughout the 90 minutes but unfortunately we were unable to capitalize. But sometimes that happens in football.
"The players have been working very hard and very long and sometimes this happens. But we still showed the nerve and character to come back to win on penalties. This shows the players had a good mental attitude and concentration for this final."
Fevrier, who led W Connection to three Caribbean Club Championships, six First Citizens Cup titles, three FA Trophies, four Pro League crowns and Pro Bowl titles, two Toyota Classic trophies and a Lucozade Goal Shield during his time at the helm, told Wired868 that boosting his squad for the Champions League is high on the agenda.
"We definitely have to strengthen our squad in all departments before the Champions League," said Fevrier. "We lost at least 14 players throughout the course of the season… Plus we have players who could be going out (on trials or loan deals) like Shahdon Winchester (because) we are a professional club that is looking for opportunities for our players overseas and to keep club financially viable."
The 41-year old Eve, who is the most capped Soca Warrior in history with 117 international appearances, was pleased with his team's efforts and his debut season as a head coach.
"Firstly, congratulations to Connection," said Eve. "The game swung both ways throughout; Connection, as we know, tends to possess the ball more than us and we play a little more direct. So the contrasting styles made for a good game.
"Unfortunately neither team scored in regulation time. I thought Cleon John was fantastic for us tonight, which brings me to the point (as to) why is he not on the national senior team every time. It just baffles me really."
Eve denied any suggestion that North East had set out to frustrate Connection and play for penalties.
"If you looked at us playing this season, we are a counter-attacking team," said Eve. "We play on the break and, as you saw, it almost worked for us a couple times. That's the way we play, we sit in (and) allow the team onto us. So what you say (last night) was no different to what you saw this season from us really.
"(We play like this) because we do not have strikers besides Cornell Glen in our roster. We are looking to boost that (department) for next season."
Eve declared that he was happy with his first season as a head coach as Stars lifted one Cup title, twice finished as beaten finalists and was a respectable fourth in the League.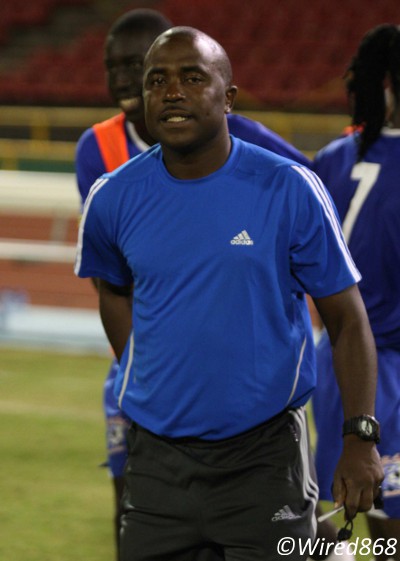 "I would think my first season as coach has been a success," he said.  "We have the best defensive record, so as I said, we just need more strikers to build on that defensive base.
"Other coaches who have been in the league for a while now (and) who I definitely respect did not (achieve) this. So it's good for me on a personal level."