Former Chaguanas West MP Jack Warner continues to scoff at the findings of a CONCACAF Integrity Report but, in the world of football, the Ethics Committee's investigative work has brought a premature end to the administrative career of his former colleague, Chuck Blazer.
FIFA Ethics Committee chairman Hans-Joachim Eckert announced today that Blazer, the former CONCACAF general secretary who helped Warner's surge to the post of Confederation president in 1990, has been banned "from taking part in any kind of football-related activity at national and international level for a maximum period of 90 days."
Blazer, according to the Ethics Committee, appeared to have committed "various breaches of the FIFA Code of Ethics."
The American was due to step down from his FIFA executive job on 30 May 2013 when he will be replaced by compatriot and United States Soccer Federation (USSF) President Sunil Gulati. However, the ban effectively means Blazer will vacate his post about a month early and in humiliating circumstances.
Warner is spared from further sanction by FIFA since he quit all his football posts, two years ago, while being investigated for his role in a bribery scandal that tainted the 2011 FIFA presidential elections. CONCACAF is understood to be actively considering legal action against the Trinidadian politician over his ownership of the Joao Havelange Centre of Excellence.
"The investigatory chamber of the Ethics Committee previously opened investigation proceedings against Chuck Blazer in response to the final report of the CONCACAF Integrity Committee," stated a FIFA release. "The CONCACAF General Secretary, Enrique Sanz, asked FIFA to assume jurisdiction in "view of the serious alleged misconduct" and the implications for FIFA."
Warner credited Blazer for his rise in CONCACAF in the immediate wake of Trinidad and Tobago's World Cup qualifying loss to the United States on 19 November 1989. The American also wrote the foreword in Warner's second biography "From Zero To Hero."
However, the pair fell out spectacularly in early 2011 when Blazer relayed photographs, video evidence and affidavits to FIFA which suggested that Warner facilitated bribes from presidential candidate Mohamed Bin Hammam to influence the upcoming election.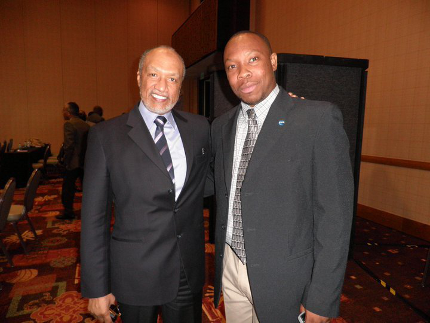 Warner struck back, within weeks, by leaking documents that showed secret payments from the Caribbean Football Union (CFU) to Blazer, which led to the latter's resignation from CONCACAF although he kept his FIFA post.
Last month's CONCACAF Integrity Report that cost Warner his jobs as Minister of National Security, United National Congress chairman and, at least temporarily, Chaguanas West MP has now affected Blazer as well.
A Reuters report, published earlier this year, alleged that the FBI is investigating both men.