Trinidad and Tobago's recent football upheavals started—or perhaps ended—at the hands of Caribbean colleagues, Guyana. But at least, Guyana had the good grace to give something back. More on that later.
The "Soca Warriors" managed their first home victory under interim coach Hutson "Barber" Charles last night with a 3-0 win over Suriname in the second outing of their 2012 Caribbean Cup semifinal group competition at Bacolet, Tobago.

A six goal triumph would have put Trinidad and Tobago ahead of Cuba on goal difference and left the Warriors only needing one point on Sunday against President Raúl Castro's men to be guaranteed a place in next month's regional finals in Antigua and Barbuda. Instead, Cuba would have a slender advantage when both teams meet tomorrow from 6 pm.
Trinidad and Tobago and Cuba have four points each while St Vincent and the Grenadines can get to five points with a win over Suriname from 4 pm at the same venue.
So the Warriors' win yesterday was encouraging without quite being satisfying. A bit like getting a saucer-sized serving of your favourite meal.

And yet something about Trinidad and Tobago's third goal, scored by Guyana-born defender Aubrey David, felt like a good omen.
David's finish was composed and precise. But that wasn't the point. What mattered is that he cared enough to be here to score in the first place and then celebrated like it meant something.
"First to begin, I want to thank God for the opportunity to play today," said David. "It is a great feeling to play for my national team and to get a goal on my (full) debut was great for me."
Trinidad and Tobago has fielded players with two passports before with Chris Birchall being the most famous and successful example—if one omitted Shaka Hislop from the list on the grounds that he never seemed foreign. But which one of them ever rejected their home country for our sake?
After Guyana eliminated Trinidad and Tobago from the 2014 World Cup qualifying campaign, the "Golden Jaguars" sent an invitation for David to rejoin the land of his birth and he spent the last few months jetting to revered football grounds in venues likes Mexico and Colombia as he readied himself for senior international action.
And then, like the prodigal son, David returned to the "red, white and black."
"It was the toughest decision of my life so far," said David, who represented Trinidad and Tobago at two World Youth Cups, "to choose whether to represent the country of my birth or the country I grew up in… I am very grateful for Guyana for my time with (its) national team and the chance to see all those places."
Surely, David could not have gone through this much trouble to represent Trinidad and Tobago only to be eliminated at this stage. Who would sanction such a script?
Not that David's was the only feel-good story on the night.
World Cup 2006 midfielder Densill Theobald, given sole playmaking duties in the absence of Clyde Leon, responded with a responsible and incisive display of passing that helped the hosts regain belief after Wednesday's scrappy 1-1 tie with St Vincent and the Grenadines.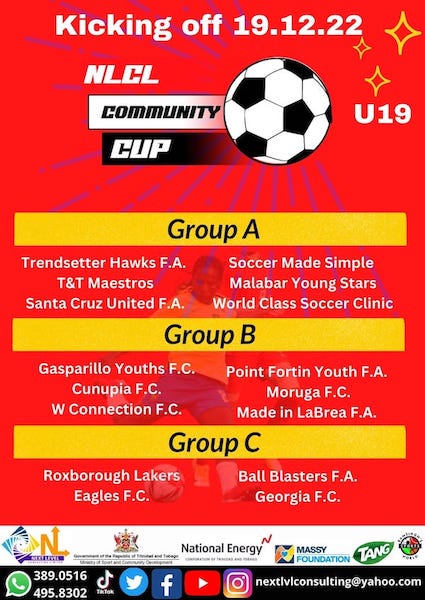 Team captain Jan-Michael Williams was flawless too at the back as he helped the Warriors past the odd ambush towards an ultimately comfortable result while striker Richard Roy got his first goal in his fifth international appearance and Seon Power also got just reward for his tenacious displays.
And spare a thought for Charles too who showed that he had balls the size of basketballs with his team selection.
"We felt we needed to freshen up the team," he said.
Charles does understatement well. To describe axing half your team as "freshening up" is like describing the relationship between Opposition Leader Keith Rowley and National Security Minister Jack Warner as "a bit awkward."
Charles applauded his back four defenders after Wednesday's game and then changed half of them. He gave Neal & Massy Caledonia AIA attacker Keyon Edwards his first international start, at a ripe age of 28, and played rookie striker Hashim Arcia on the wing.
And out came Devorn Jorsling, Trinidad and Tobago's ninth-highest scorer of all time, from the first team to be replaced by Roy who had never scored at this level before.
For a decisive fixture, Charles' line-up was either a signal of extreme confidence in his own analysis of players. Or it was a suicide note.
But from Power's opening goal in the 35th minute, which came with a glancing header off a Hughtun Hector free kick, Trinidad and Tobago always seemed in control.
Suriname defender Joel Baja and hulking midfielder Romano Stekkel tested Williams late in the first half and early in the second half respectively but from distances that favoured the talented custodian.
And when his opposite number, Ronny Aloema, treated a Hector drive as though he had inadvertently lifted a hot pot, Roy was on hand to benefit from his spill with a simple finish for Trinidad and Tobago's insurance item in the 50th minute. The Warriors never looked back after that.
Suriname had begun to lose shape by then and there was the expectation that Charles would pull his guns out by introducing Jorsling and either Ataullah Guerra or Kevon Carter. Or perhaps all three.
Instead, he replaced central defender Carlyle Mitchell, who was booked and is now suspended for Sunday's clash, with another defender, Kareem Moses, and put on midfielder Clyde Leon to smother the game rather than tear it apart. Guerra did go on although, perhaps chastened after a slightly wayward display against St Vincent, he was selfless almost to a fault and passed the ball at every opportunity.
The wisdom of Charles' closing tactics would only become evident on Sunday. But it was heartening for fans to see passes ping from red shirt to red shirt for a change.
And then came David's lagniappe.
As steady as rent, the man who can play anywhere in the back four and for two separate countries gave further evidence of his commitment to the Warriors by adding offensive duties to his job description as well.
As Edwards got entangled with a Surinamese defender following a Guerra pass, David picked up the loose ball and deftly stroked into the far corner for arguably the pick of the night's goals.
"The way we played, there was a lot of room to go forward," said the former Vessigny Secondary student, "I made the most of it."
Guyanese fans would be harsh to begrudge David his success. After all, the Jaguars did borrow the services of former Trinidad and Tobago women's coach Jamaal Shabazz for its record breaking 2014 World Cup qualifying run.
David's goal would count for little if the Warriors do not finish the job against Cuba on Sunday though.
"It is going to take a whole-hearted performance," said Theobald. "We know it's not going to be easy."
The good news is that there were more than a few hearts on sleeves in red, white and black on Friday night.
(Teams)
Trinidad and Tobago (4-2-3-1): 1.Jan-Michael Williams (capt); 4.Kern Cupid, 19.Carlyle Mitchell (6.Kareem Moses 60), 20.Seon Power, 8.Aubrey David; 18.Densill Theobald, 3.Joevin Jones; 14.Hashim Arcia (10.Ataullah Guerra 72), 16.Keyon Edwards, 7.Hughtun Hector; 13.Richard Roy (2.Clyde Leon 77).
Unused subs: 21.Marvin Phillip, 9.Devorn Jorsling, 11.Kevon Carter, 12.Curtis Gonzales,
Coach: Hutson Charles
Suriname (4-2-3-1): 1.Ronny Aloema (capt); 15.Naldo Kwasie, 8.Giovanni Alleyne, 13.Joel Baja, 5.Guno Kwasie; 6.Stefan Baneti (2.Jurmen Vallei 62), 16.Romano Stekkel; 17. Wilfried Galimo (12.Iwaan Pinas 80), 10.Emilio Limon, 7.Giovanni Waal (11.Giovanni Drenthe 66); 9.Stefano Rijssel.
Unused subs: 22.Obrendo Huiswoud, 3.Furgill Ong A Fat, 4.Jetro Fer, 14.Evani Esperance.
Coach: Eugene Verwey
2012 Caribbean Cup Semifinal phase
Friday November 16
Cuba 1 (Roberto Linares 49), St Vincent and the Grenadines 1 (Cornelius Stewart 7) in Bacolet
Trinidad and Tobago 3 (Seon Power 35, Richard Roy 50, Aubrey David 88), Suriname 0 in Bacolet
Final Caribbean Cup Fixture
Sunday November 18
St Vincent and the Grenadines v Suriname, 4 pm
Trinidad and Tobago v Cuba, 6 pm
[standings league_id=6 template=extend logo=true]
Editor's Note: Wired868's 2012 Caribbean Cup semi-final coverage is sponsored by DirecTV