Prisons FC left the University of Trinidad and Tobago's O'Meara campus tonight with their unbeaten record intact.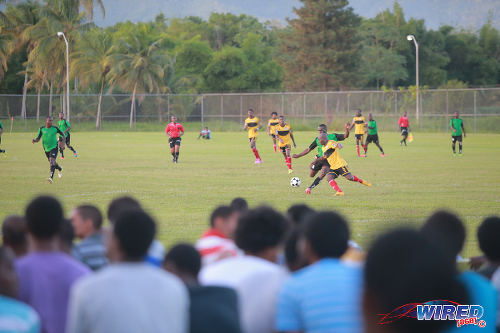 But it was nothing like the straightforward victory that the CNG National Super League (NSL) Championship Division leaders might have expected against a UTT team that spent much of the early part of the season at the foot of the table.
In the end, a 76th minute penalty from left back John Stewart decided the fixture as Prisons recovered from a one goal deficit to edge UTT 2-1 in Arima.
Prisons coach Gary Prescott said his players were still recovering from the sudden death of former player Brent Antoine, who is also an ex-Trinidad and Tobago international Futsal player and Joe Public attacker.
Antoine had represented Maloney in the EFA league this season but continued to train with Prisons and was due to officially rejoin them in mid-season.

"This was one of our lower performances for the season," Prescott told Wired868. "Yesterday, we went to (Antoine's) funeral. If we had the opportunity to put off the game, we would have because the guys were really affected by it.
"You can see they were not themselves in this game."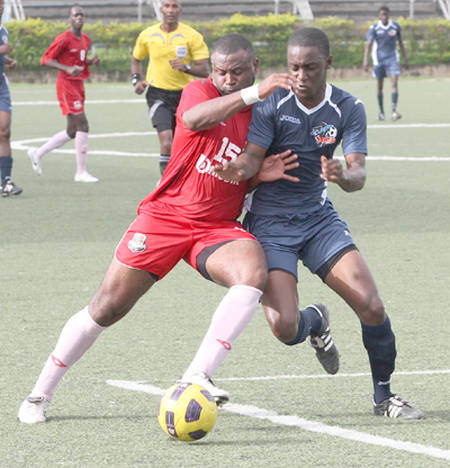 Not that UTT, positive and enthusiastic throughout, were not at least partially responsible for Prisons' problems in the first hour, though.
"The performance I saw today was very encouraging," said UTT coach and former "Strike Squad" captain Clayton "JB" Morris, after the final whistle.
The home team should have gone ahead within the first three minutes of the match as Theon James slipped away from Prisons right back Lance Haynes and delivered a perfect cross for UTT striker Jamal Creighton, only for the latter player to pop his head over the bar.
Creighton's next touch was memorable though. As Prisons lost possession deep into UTT territory, the ball found its way to the slender front man who, from inside the centre circle, saw opposing goalkeeper Jevon Bourne off his line and beat him with a ferocious, dipping effort from the half-line.
It was David Beckham-esque. The lone television cameraman at the ground was moving his camera at the time, due to a brief shower that had just started. So, Creighton's masterstroke would have to survive in memory alone.
Morris insisted that the lovely strike was not out of sync with the quality of the UTT forward.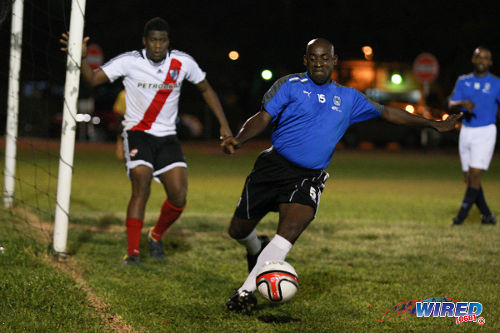 "It was a brilliant goal from Jamal Creighton," said Morris. "That is a guy I am looking to see on the national team in not too long. He is about 24 and this is only his second game.
"He has been injured since the start of the season."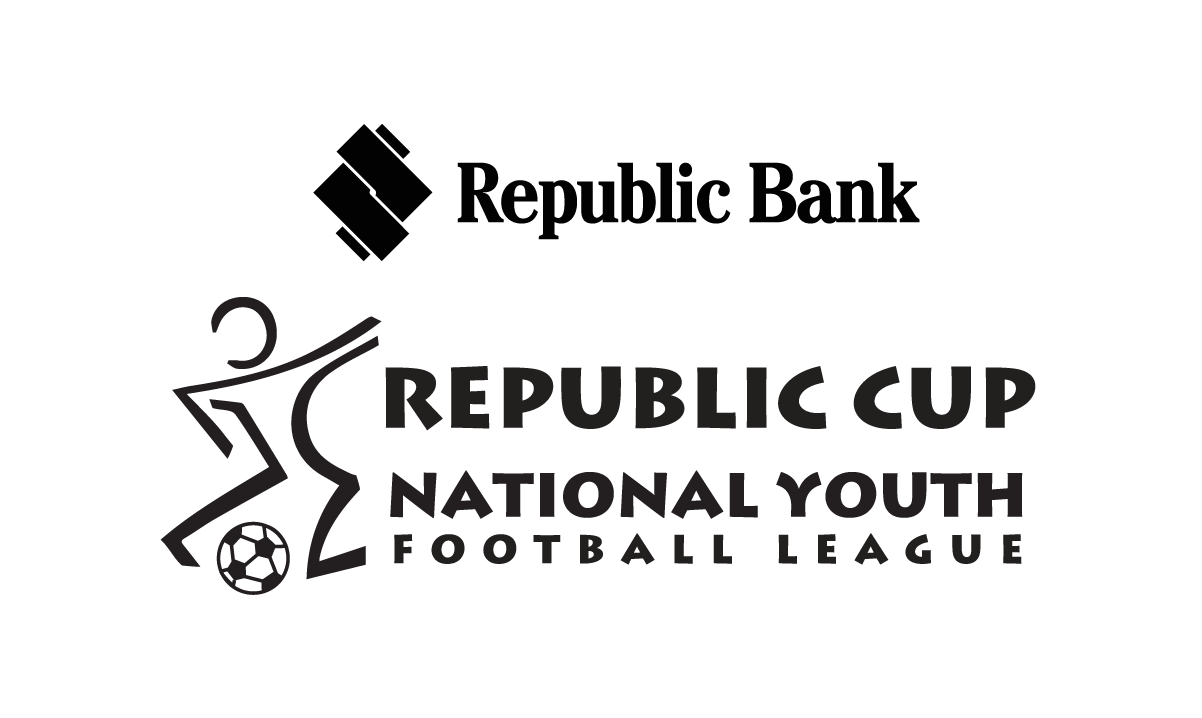 In the seventh minute, Creighton, who now has two goals from as many games, tried to turn provider with a low cross that Bourne failed to hold. But Prisons defender Kidell Lewis was alert to the danger and cleared Janeke Danzell's goal-bound effort.
Bizarrely, the opportunities kept coming for the UTT outfit that only won its first game of the season last week.
Dreadlocked playmaker Isaiah Mejias was doing as he pleased in the middle of the ground, his busy midfield partner Ricaldo Castellano was proving to be a handful, James was dancing around Haynes with ridiculous ease and Creighton kept giving his wardens the slip.
"Let we play strong and command this midfield," shouted one Prisons defender, "that is little boys yuh know!"
But, to put it bluntly, Prisons' two holding midfielders, Ancil Reyes and Stephen Julien, were both having awful performances.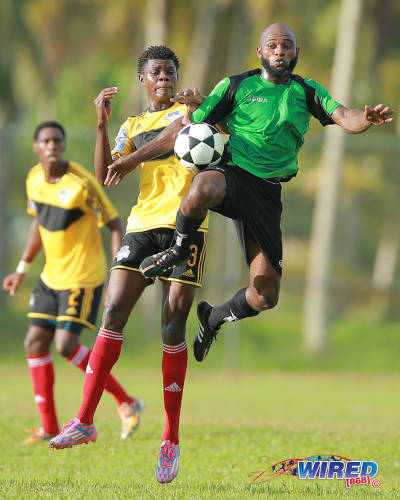 In the 23rd minute, Prescott sent on a new right back, Irwin Cayenne, to try to contain James while Haynes was pushed further upfield. But Prisons seemed to need replacements everywhere.
At the half-hour mark, UTT had another golden opportunity to double their advantage as Mejias released Creighton with a disguised pass and the striker's chipped finish comprehensively beat Bourne but drifted wide of the far corner.
Prescott responded by withdrawing Reyes, in the 36th minute, and sending on Gabriel Gour instead. But Prisons were very lucky to be only facing a one goal deficit by the interval.
"As I told the guys at the end of the first half, it was an excellent performance," said Morris. "In the first half alone, Jamal should have had three goals."
Prisons, with their pride stung, were having a quite different team talk.
"There were too many players who had a bad game tonight at the same time," said Prescott. "We had to remind them at half time that we are the league leaders and we are building a reputation for our service through this football.
"So we have to play in the second half to defend that reputation we are trying to build."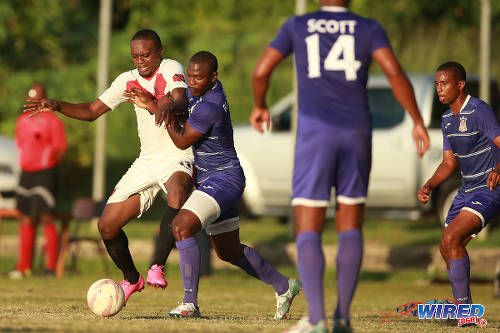 Creighton almost conjured up UTT's second item in the 48th minute as he skipped past Bourne but, from a tight angle on the left of the Prisons' 18-yard box, could not pick out a teammate.
Mejias and Castello had faded somewhat by then, though, and Prisons began to assert themselves.
Winger Ricardo Alleyne, who is the Division's joint leading scorer along with teammate Curtis Carrington, nearly fashioned a spectacular equaliser with a swerving volley in the 54th minute.
James was still running amok down the flank. But he was UTT's only attacking player who had maintained his first half performance.
Creighton suddenly had feet of lead and could not hold up the ball.
"You can see the brilliance in Jamal," said Morris, "but you can also see that he lacks fitness…
"If you realise, it is the only substitution I made (today). My bench is very thin."
Prisons took full advantage.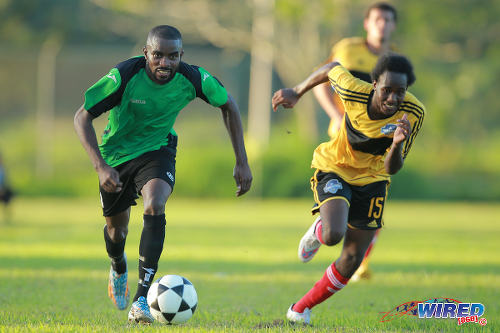 Carrington controlled a ball on his thigh and chased back towards his own midfield to retrieve it. In the first half, he would run into a pack of UTT players. But not anymore.
With time and space, he delivered a perceptive diagonal ball for Alleyne to run on to. And the winger produced a superb, dinked finish to beat UTT goalkeeper Kenny Dick in the 69th minute.
Seven minutes later, a rampaging Haynes was tripped in the opposing box by UTT right back Jameel Johnson and the home team's good work went up in smoke.
Stewart, a former Guaya United player and set piece specialist, made no mistake from the spot to put Prisons ahead.
"My team lacked experience," said the UTT coach. "You could see it in the penalty (we conceded)… (Our players) might be 24 or 25 but they are still young in the game with respect to playing at this level."
It took a brilliant Dick reflex save to deny Prisons a third, after Haynes diverted a Roland Walcott Jr flick on towards the opposing goal in the 80th minute. But surely another goal would have flattered the visitors.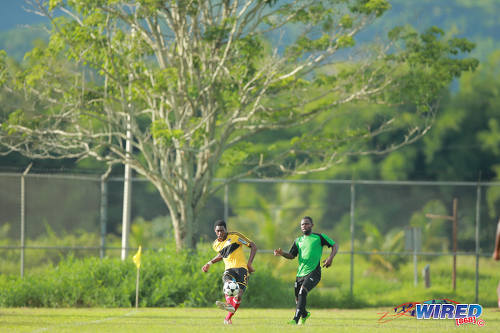 James never cooled down though. In the 88th minute, Prescott withdrew his second right back and sent on a third, Shaun Checkley, to try to keep the winger in check.
And Alleyne almost got himself sent off for using cruder methods to stop the opposing UTT player, as he lashed out with his boot and was booked by veteran referee Gregory Lewis.
"Allyuh feel is prisoners allyuh playing or wot?!" an irate UTT supporter shouted.
It was a tough outing for Prisons. But they showed character when it mattered most.
"They gave us a scare tonight," said Prescott. "We had to dig deep to win what probably should have been an easy game for us. But we thank God for the win nonetheless."
Morris hopes to build on tonight's showing and he pointed out that former Trinidad and Tobago international, Kevaughn Connell, is due to join the team when the registration period re-opens on October 17 along with ex-Petrotrin goalkeeper Perry Martin.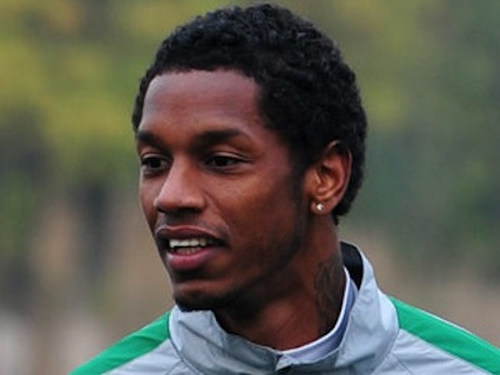 Prescott hoped to be re-introducing Antoine to Prisons' first team on October 17. Instead, his team will play in memory of the former attacker.
"The emotions were high today," said Prescott. "This one was for him and we want to dedicate the rest of our season to the memory of Brent Antoine."
Prisons now have six wins from their last six matches and are one of just two unbeaten teams in the Championship Division along with Queen's Park Cricket Club.
Surely, Antoine would have been satisfied with that.
(Teams)
Prisons FC (4-2-3-1): 1.Jevon Bourne (GK); 16.Lance Haynes, 21.Kidell Lewis, 4.Terrence Gene, 20.John Stewart; 23.Ancil Reyes (12.Gabriel Gour 36), 9.Stephen Julien; 8.Ricardo Alleyne, 7. Roland Walcott Jr, 18.Jamol Pierre (6.Irwin Cayenne 23 [24.Shaun Checkley 88]); 10.Curtis Carrington.
Unused substitutes: 2.Sheldon Clarke, 5.Sean Diaz, 11.Cleve Moore, 25.Ricardo Wade.
Coach: Gary Prescott
UTT (4-2-3-1): 22.Kenny Dick (GK); 19.Jameel Johnson, 3.Kevon Noriega, 17.Rickell Morris, 14.Kasi Jackman; 9.Stefon Pierre (captain), 10.Isaiah Mejias; 15.Janeke Danzell (12.Kaylon Hernandez 83), 11.Ricaldo Castellano, 7.Theon James; 8.Jamal Creighton.
Unused substitutes: 1.Semel Crichlow (GK), 18.Jean-Luc Worrell, 24.Nikhil Nagoo, 25.Aloysius Theodore, 27.Ellis Roberts.
Coach: Clayton Morris
Referee: Gregory Lewis
Man of the Match: Theon James (UTT)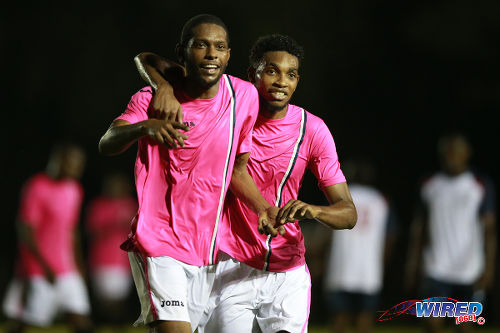 UTT Championship Division
(Tuesday October 6)
UTT 1 (Jamal Creighton 5), Prisons FC 2 (Ricardo Alleyne 69, John Stewart 76 pen) at UTT;
Edinburgh 500 FC 0, Cunupia FC 4 (Stevon Stoute 5, 19, 57, Eduardo Guedes 67) at Edinburgh 500 Recreation Ground;
Malabar FC 4 (Mikheil Peters 28, 72, 74, Che Edwards 81), Barrackpore United SC 2 (Tifon Browne 58, Atiba Harrison 61) at D'Abadie Recreation Ground;
Petit Valley Utd 0, Saddle Hill Hotspur 3 (Kevon Durham 9, Hector Sam 20, Sean Ramdoo 40) at Northern Recreation Ground, Diego Martin;
Xtra Foods Chaguanas FC 1 (Michael Julien 10), QPCC 2 (Mikhail Walters-Dindial 81, Chike Phillip 90) at Chaguanas.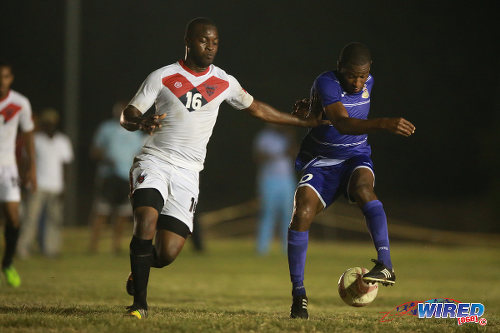 Upcoming NSL fixtures
Sunday October 11
(CNG NSL Knock Out)
Guaya United v Club Sando Moruga, 4 pm, Guaya Recreation Ground;
Marabella Family CC v Police FC, 4 pm, Mannie Ramjohn Stadium;
Siparia Spurs v Bethel United, 4 pm, Petrotrin Ground, Fyzabad;
NLCB La Horquetta SA v Cunupia FC, 4 pm, Larry Gomes Stadium;
Prisons FC v Stokely Vale, 4.15 pm, YTC, Arouca;
Tobago Phoenix v WASA FC, 5 pm, Canaan Recreation Ground;
Petrotrin Palo Seco v Matura ReUnited, 5 pm, Palo Seco Velodrome;
Defence Force v FC Santa Rosa, (Time and venue to be announced);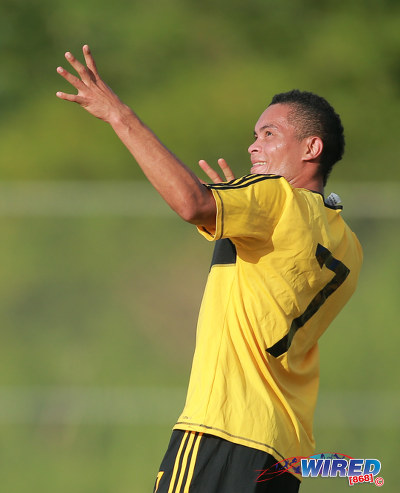 Wednesday October 14
(CNG NSL Championship Division)
Saddle Hill Hotspur v Edinburgh 500 FC, 4.15 pm, Hasely Crawford training ground;
Cunupia FC v Malabar FC, 7 pm, Edinburgh 500 Recreation Ground;
Petit Valley Utd v Xtra Foods Chaguanas, 7 pm, Northern Recreation Ground, Diego Martin;
QPCC v UTT, 7 pm, Dibe Recreation Ground, Long Circular.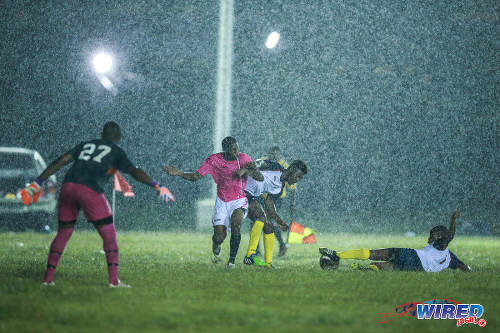 Championship Standings (Tabulated as Played-Won-Drew-Lost-Goals For-Goals Against-Points)
Prisons FC                7-6-1-0-21-6-19
QPCC FC                   7-5-2-0-14-6-17
Cunupia FC             7-4-2-1-14-8-14
Saddle Hill              7-3-2-2-15-14-11
Malabar FC             7-3-1-3-13-15-10
Chaguanas FC        7-2-2-3-9-10-8
Petit Valley Utd     7-2-2-3-10-13-8
UTT                             7-1-1-5-9-14-4
Barrackpore Utd  7-1-1-5-9-15-4
Edinburgh 500      7-1-0-6-2-15-3