Eighteen year old Naparima College student Shane Sandy, who has eight CXC passes and is currently pursuing his A' Level qualifications, hopes to eventually attain a degree in Sports Management.
But it is the Tobago-born footballer's management of the Naparima midfield that has caught the eye over the past two Secondary Schools Football League (SSFL) seasons.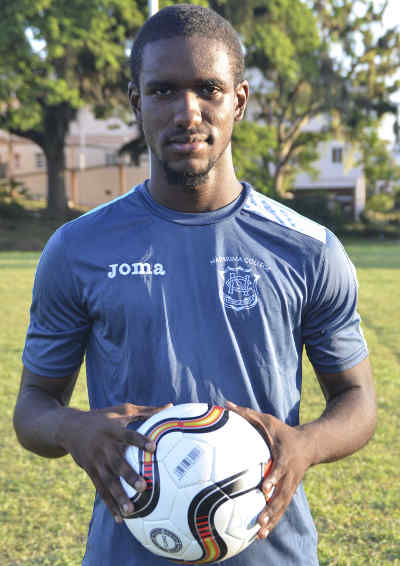 Sandy left the comfort of Tobago, his parents and his beloved Lambeau FC in one of the toughest decisions of his life so far to pursue new horizons in Trinidad. He was drafted to Naparima in 2015. Sandy lauds the institution's sporting and educational prowess and is determined to make it work for him.
Sandy sees the sport as an opportunity to improve the life of his family and expressed his appreciation for their unwavering support for his education and craft.
He suggests that opportunities for Tobago footballers are limited and feels more media exposure at the schoolboy level will help.
Sandy thinks the ultimate achievement as a footballer is to represent Trinidad and Tobago at a World Cup and he hopes to emulate the likes of Dwight Yorke, Russell Latapy and Shaka Hislop at international level.
Wired868 caught up with Sandy at the Naparima training ground for a one on one:
 Name:  Shane Sandy
Date of birth:  January 23, 1997
Home town: Plymouth, Tobago
Position:  Defensive or attacking midfield
Current team:  Naparima College  and Labeau United FC
Former School:  Signal Hill Secondary School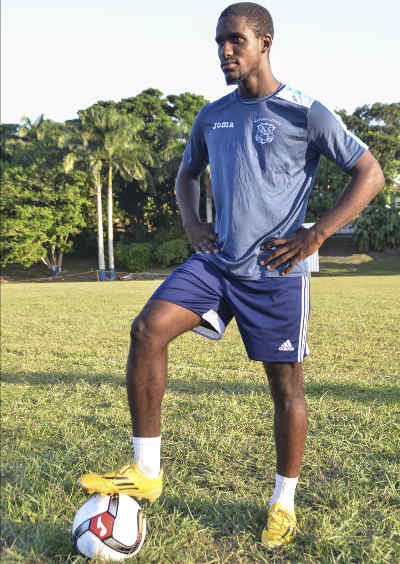 How would you describe yourself as a person?
I am more of a quiet person. Sometimes I will be laughing and rowdy but most times I am quiet and reserved. Now and again, I make jokes with the players, school teachers, everyone. But when it's time to be serious I am.
What's something most people don't know about you?
I am in love with Dumplings. Dumplings and Stewed Chicken and Mauby. (He grinned).
What do you enjoy doing in your free time?
Home relaxing, watching TV, liming. When I'm in Trinidad at my sister's: just talking. When I am in Tobago: just liming with my mother, talking all kind of things with my father and relaxing with my friends and cousins.
What is your favorite team?
FC Barcelona, the one and only.
Who is your favorite player?
Some people would say (Lionel) Messi, he is the greatest player in the world. (But) I am a midfielder so I look at the midfield. Xavi was my role model but since he is gone I am looking at (Andres) Iniesta.
What pushes you to succeed?
My parents really push me. My sister Crystal Forgenie also, but the type of motivation my mother (Bernadine Estrada-Sandy), put into me really pushes me to organize myself in football. My father (Theodore Sandy) also pushes me in academics and football.
Does your family come to your games?
Once mom is in Trinidad, she comes (and) my dad also… My sister and brother in law (Quinton Forgenie) come to every game whether it's San Fernando, Port of Spain, Arima or Central.
How did you start playing football?
I started in standard five. We had a school football league and from there that was it. They made a little club and we joined, me and my friends, and it was on. I ended up going to El Dorado East Secondary. There I met some real players that I really admire to this day still (including Daneil) "Danny" Cyrus, my cousin.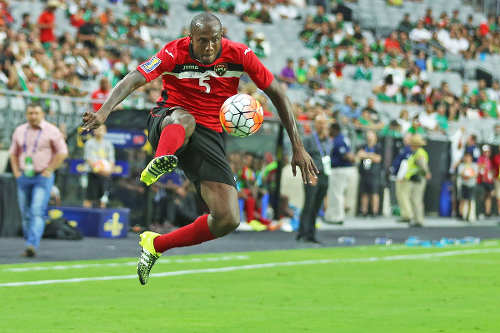 (Cyrus) was really inspirational to me. Shaquille Smith, Shaquille Bertrand and Marlon Mohammed were my role models in football. When I went to Signal Hill Secondary my role model was "Paco". (He can't remember Paco's formal name).
Earliest football memory?
My earliest memory was scoring a corner against my friend Nathan Fergus in the Primary School League.
What is your best moment in football?
My best memory was in Form one, playing for El Dorado East in a game against San Juan North Secondary and  I scored a (goal from) half line.
Who is your most influential coach and why?
Curtis Moses from Lambeau FC in Tobago.  He was the one that showed me my real talent. He showed me who I am, where I was and where I could go and all the improvement that I needed to make mentally and physically.
What makes you stand out as a player?
I believe my mindset towards the game as in how important it is for me to make a future for myself in the game. I don't play too much and laugh around too much (on the field). So my mind set sets me apart. (I'm) laughing from school down to training (but) as soon as I change my clothes and get ready to warm up, I switch.
What is your ambition in football?
I always say my dream is to play alongside Messi before he retires. So that is how far I am willing to push myself. That's really my goal, to play alongside Messi with FC Barcelona.
What is your personal target this season?
My personal target this season is to score more than ten goals.  Right now I am on one, sad to say, but I want to score at least ten.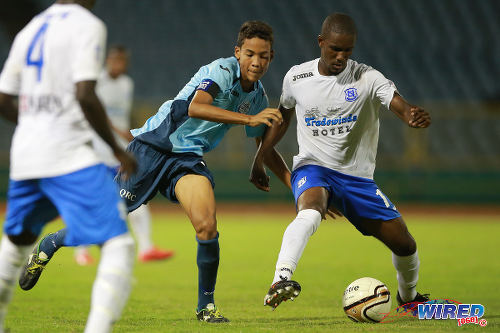 What direction do your parents want you to go?
My mother really pushes me in academics, but a few years back she got to understand that I can make it in football from Curtis Moses. It's only these (past) few years she started, "Shane! You have training. Shane go on the field, go with a ball and make laps!"
My father played football in his days in Tobago (with a team called Dazzlers) so he understands the passion and the love. So it's like my mom pushes me more in the academics and my dad pushes me more in the football, so I have it balanced.
How do you manage academics and football?
It's very hard because right now I am staying at Arima. After training at around five or six it takes me approximately about an hour and a half to two hours to get home. So after I am tired from training traveling is also tiring. I have to rest a little bit, so my sister wakes me up to study. That's why I say my sister pushes me…
I have to get up around five in the morning to reach school for half past eight. You have to push yourself, you have to do it. Aside from me pushing myself, like when I say not today, tomorrow or next week they say "nah you mad, if you have to do it, do it!"
Thank God for my  family and friends. I must say they give me an extra boost.
The reason I don't want to play with any Pro League team is when football finishes in November, from then to May/June, I will be studying. I won't be distracted by any Pro League training or games.
My mind will be books, school, books, and school. The time I'm losing out now, I will be losing again next year and then it's me to cry when exam time comes.
How are you doing academically?
I just came into lower six so I'm doing great. I am settled in and trying to balance it. Teachers are helping and working with me (to make up for) what I am losing out (during training), when other kids are home studying. I asked (teachers) to help me with extra classes.
How far are you willing to go academically?
I must get a degree really before I put down my academics… In life now, five passes not really saying anything. I have eight passes and still going on to do Cape. After I get my degree, then anything with football.
I want to do Sports Management, that's the degree everybody is doing now. Once you're a sports personality and you're into academics most likely they will push you in Sports Management. So I am on that and also a business degree.
Who do you think are Naparima College's biggest rivals?
Well I knew it was Presentation College, San Fernando. Every time we play them it's a big crowd. Every time, no matter what! There is also a rivalry between Naparima and St Benedict's (which gets a) big crowd. CIC pulls a big crowd and St Anthony's… as well.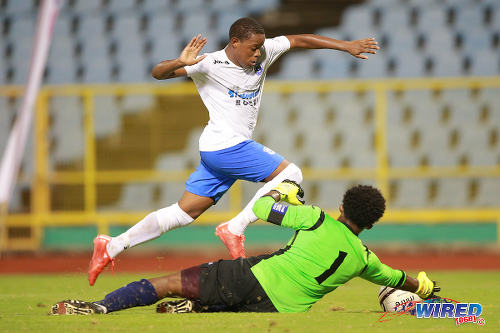 Do you see football as a solid career choice?
Yes and no. If you depend on football, God forbid, your foot breaks (like) for example (Luke) Shaw from Manchester United. So you need the academics. Jump high or jump low you need the academics. Each footballer should have a Plan B.
What is the next step for you in football? 
To get a scholarship. Hopefully I play well enough and do satisfactory, good, great or excellent in my academics, so I will be able to win a scholarship from Naparima College and move forward. Hopefully to the USA where I can get drafted to the MLS, show my talent in the MLS and from there move to England or Italy.
What do you think is needed to elevate Tobago football?
Wired868 came to Naparima College, talking to me, so who is going to Tobago? Speyside in the Premier League now, they're not doing that good but still, at least you can say there is good talent in Tobago… Speyside is one school, so what about Scarborough secondary, Signal Hill secondary, Goodwood, Roxborough, Pentecostal Light and Life. These other schools need recognition.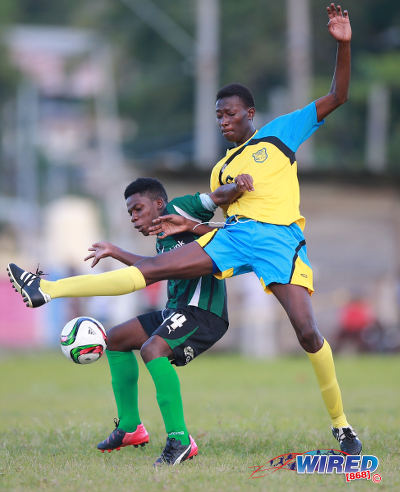 What would success mean for you in football?
Making a World Cup for Trinidad and Tobago. I must say seeing Dwight Yorke, Latapy, Stern John, Dennis Lawrence, my boss Shaka Hislop (play at the 2006 World Cup really inspired me). Making a World Cup for my country for me will be a great success.