Chapter seven: The Brothers have plenty
IMAGINE the three million tickets for the World Cup piled up in a mountain of cardboard. You love football?
You want a tiny part of that mountain?
You can try through FIFA's lotteries or buying through national associations.
All fans are equal in the competition for precious tickets. You lose . . . but FIFA says it was a fair contest. The mountain has vanished. Never mind, next time perhaps, in four years in another country, you might get lucky.

FIFA warns, don't buy from 'unauthorised' dealers. Herr Blatter's hitmen have the power to impose tough penalties on what he calls 'illegal' activities. Your tickets might be torn up at the stadium door because you didn't buy through his selected agents.
Sepp asks you to believe that when they are not selling you tickets with their markups and cover charges, they are out there, policing and suffocating what he calls 'the Black Market.'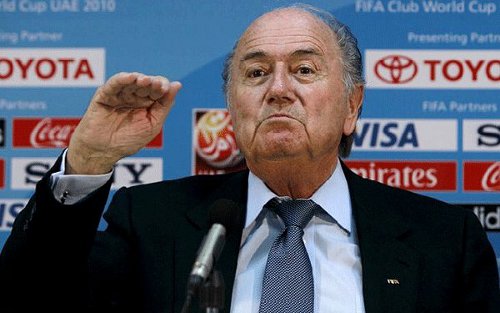 He will not permit a parallel, open, competitive market, as you find in any other kind of business. Football's World Cup tickets industry must remain an unregulated monopoly.
Look at that mountain again but this time, imagine it is an iceberg floating on the ocean. Suddenly the quantity of tickets available to fans has shrunk. Where have they gone?
Peer beneath the surface and you can glimpse another world where the tickets you dreamed of float tantalisingly out of reach.
There may be only three fishermen in the world who really know what is happening in those dark depths. Sepp — and Jaime and Enrique Byrom.
Sepp has known the Byrom brothers since 1986 when the World Cup was in Mexico, the land of their birth. In those days Sepp was FIFA's general Secretary, carrying out every wish of his boss, João Havelange.
Herr Blatter knew the Byroms were close to Mexican soccer boss and TV mogul Guillermo Canedo, a vice-president of FIFA. Canedo was close to João Havelange, the FIFA president. Sepp worked for Havelange.
Any friend of the President was to be looked after. The Byrom brothers, in their early thirties, were organising tours to the World Cup and, well-connected, had a great future doing business with FIFA.
They prospered, moved to England and now run a huge share of FIFA's World Cup operations from a modern two story building in a business park in the green, southern suburbs of Manchester, close to the international airport.
One of their companies is Byrom Holdings and it has its home in the Isle of Man where they don't have to publish accounts.
One of their bank accounts is in Sotogrande in Spain. The brothers have acquired pleasant homes in upscale villages in the Cheshire countryside, rubbing shoulders with the star footballers of Manchester's two great clubs.
Every ticket for every World Cup game goes through Jaime and Enrique's computers. Whatever Sepp tells you, some end up in the hands of the dealers.
Over the years tickets have passed through the varied hands of a Polish martial arts expert, Caribbean hustlers, a very fat man in Trump Tower, fixers in Eastern Europe, indeed all over the world, all doing secret business in the vast underside of the iceberg with the blessing of senior FIFA officials.
One ticket dealer told me that 'Up to 40% of tickets come out of FIFA's back door.'
That staggered me. I had thought maybe 10%.
A decade ago, in 2003, Sepp and his closest friends in Zurich awarded Jaime and Enrique — he's the one with the beard — the contract to sell tickets for the Brazil World Cup.
Later they awarded them another plum; 450,000 of the best tickets to sell in hospitality packages to the high-rollers you can spot in the luxury boxes necklacing each modern stadium.
Among them is a special plum; 12,000 of the best tickets for the Final on July 13, only for those boxes. It is appropriate that Taittinger champagne have the exclusive refreshment contract.
Renting these VIP skyboxes with their chefs and waitresses to entertain your business associates can cost more than $2 million.
Jaime and Enrique hope that every one of them ringing the Maracanãand every other stadium will be packed full. After the losses they made in South Africa, it's vital to the future of their business.
IT IS CHRISTMAS DAY 2005 in Trinidad. The national team has qualified for the next World Cup in Germany and fans dream of acquiring tickets.
The Express newspaper publishes every day through the holiday period from its offices in Port of Spain and reporter Lasana Liburd has an unexpected front page present for FIFA vice-president Jack Warner.
Spread over three days, an exclusive investigation features Jack's dealings with Jaime and Enrique.
Warner, as he always does for any football competition, is running his ticket rackets.
Liburd reveals that Warner's family-owned business, Simpaul Travel Services Limited, is acquiring tickets from the Brothers and reselling them in packages. This breaches FIFA's ticket rules.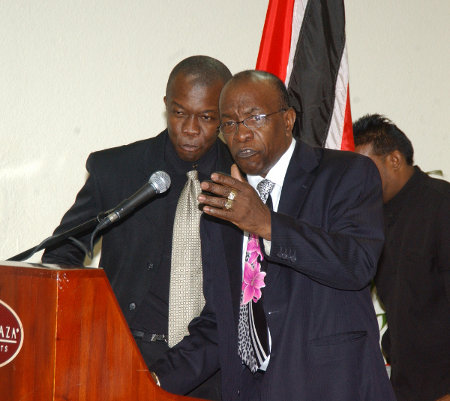 The story goes global; a FIFA boss profiteering from World Cup tickets angers fans everywhere.
Brother Enrique is dispatched to Trinidad to extinguish the fire. He produces a report for FIFA claiming that Trinidad has been supplied with 10,749 tickets.
Jack's story is that some are going to his local sponsors, and others are scattered through the island to caring people in local football.
Simpaul, Warner claims, are only getting a miserly 1,774 to sell onwards, packaged with rooms booked through the Brothers.
These, it will turn out, are only the visible tip of Warner's 2006 iceberg. Deep in the dark, subterranean world of FIFA, Blatter, Warner, the Brothers and tickets is another operation involving thousands more pieces of cardboard. It will take several more months to discover.
But the current fire cannot be doused swiftly so, to change the media's agenda, Jack announces, desperately, that he is out of his depth, ignorant and in need of advice on FIFA's ticket rules.
He reports himself to FIFA's rubbery Ethics Committee.
Advice?
Jack joined FIFA's ruling executive committee more than two decades earlier and would have sat through hundreds of meetings discussing ticketing rules. He knows more than most about them.
Blatter encourages this deceit. We are all insulted.
Jack and his wife Maureen hurriedly transfer their Simpaul directorships to two local stooges, a housewife and a woman veterinarian.
That is enough for FIFA and in their kindly way, they mildly reprimand Jack for his forgetfulness.
At one bound, Jack is free, cleared to steal again!
Three years pass and Jack and Maureen quietly resume their positions as directors of Simpaul. Their son Daryan has stayed at the helm of Simpaul, running the rackets.
There is more and bigger business to be done with the Byroms for the 2006 World Cup.
A MONTH LATER, in the Spring of 2006, two auditors from the Ernst & Young company knock at the Brothers' door in England. Dealers around the globe, the Americas, England and Japan, are tipped off that they are in trouble.
This triggers all-night sessions, hurriedly re-rewriting of invoices, ticket and room orders. It can get very busy underneath an iceberg showing cracks.
But it isn't enough. Jaime, Enrique, Jack and Daryan have problems. The auditors are peering into the dark water.
Soon they can discern that the previous year, in June 2005, the Warners had placed orders, huge orders, with the brothers for more than 5,000 tickets for the World Cup in Germany.
They have been ordered on behalf of travel trade businesses that will package them with rooms and flights and resell.
Again, the Warners are using their Simpaul company to camouflage the deal. It is a clear breach of FIFA's rules and should unleash draconian penalties. More importantly, for the Brothers, if authorised agents discover their legitimate business is being undermined by insider deals, they could be firing off massive compensation claims.
The auditors from Ernst & Young are hired by FIFA's General Secretary Urs Linsi to watch for ticket rackets. This is the first time Linsi has been in charge of a World Cup.
He's not spent a lifetime at FIFA and he is taking a risk, going after the Brothers and Jack; they've been around longer and Sepp needs them more than he does this accountant, hired from a Zurich bank. Eighteen months later, Linsi is gone, with a huge payoff to gag him.
The E&Y suits are digging in. Are they finding documents that compromise the Brothers?
Have dealers in the subterranean secondary market – the 'Black Market' – been favoured over authorised resellers?
If they find out, will they sue for breach of contract?
It could be devastating.
Angry letters and emails swirl around the planet. By early April there's a secret deal on the table. The Brothers draft what they call a 'Settlement letter' and the scandal stays submerged.
Some tickets reach fans. Others do not. Most importantly, the scandal is suppressed. The World Cup can proceed without any nasty smells. Italy beats France in the Final, Sepp stays in the shadows to avoid being booed by fans.
The scandal cannot be suppressed forever and it explodes in September 2006 when I disclose in a London newspaper two secret reports the E&Y suits had sent earlier in the year to FIFA's Urs Linsi.
I acquired them from a reliable source inside FIFA. Again, a journalist is exposing the rackets, not FIFA, not the Brothers. Sepp protects the people in his private world.
The first report is delivered to FIFA on April 11, 2006 and there is sufficient evidence to expel Jack Warner. He had ordered 5,400 tickets to resell, breaking FIFA's rules. But a public punishment will spotlight the Byroms who supplied them. The scandal is hidden.
Not so lucky, in the first week of the World Cup, is fellow FIFA executive committee member Ismail Bhamjee from Botswana, forced to resign for selling 12 tickets at three times face value to undercover reporters.
Unlike Warner, Mr Bhamjee doesn't have a sack full of votes to lend to Sepp at every Presidential election.
Disposing of him gets FIFA good headlines. It's another eight weeks before Warner's bubble bursts.
The Warner problem must be kept under control. Sepp selects a reliable Swiss lawyer, an old friend, to 'examine the circumstances surrounding Simpaul's sale of World Cup tickets.'
He is not pointed at the cause of the scandal, the Brothers' sales to Simpaul.
The reliable lawyer interviews Jack, Urs, the auditors and the Brothers. Jack is cleared, as you would expect of a man whose 35 votes from the Caribbean region keep Sepp in power.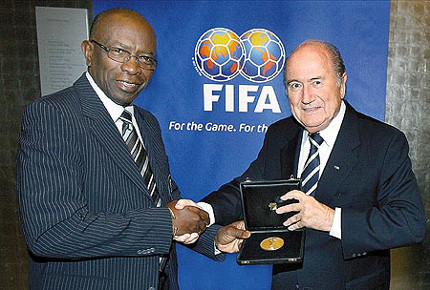 The reliable lawyer decides that Jack had no idea that his son Daryan, chief executive of the Simpaul company who shares the same roof and breakfast table, was bumping up the price of tickets as they were resold. The naughty boy did not tell his Daddy!
The Brothers had to be mentioned but they were too precious to Blatter's operation to be dumped.
The harsh verdict on Jaime and Enrique?
'Their conduct has not been error free,' says the reliable lawyer.
Wow. That's it. Game over. Back to business as usual.
Simpaul are denied tickets for future World Cups. Daryan is ordered to pay a 'fine' of 754,375 Euros to a charity 'to compensate for the profits he had made through the resale of World Cup tickets.'
Daryan pays a little – almost certainly plundering a FIFA grant to Trinidad – and then stops. The word among the traders in the parallel market is that Daryan's profits from his dealing with the Brothers are nearer $3 million.
This scandal surely means the end of Jack Warner's nearly two decades of illicit ticket rackets. The Brothers will never dream of dealing with him again . . . will they?
ANOTHER WORLD CUP, it's in South Africa and the gang's all here – with a new team player. Sepp's nephew Philippe has joined; his day job is chief executive at the Infront sports marketing company, based in Zug.
Infront is in the same suite of offices where Jean-Marie once organised the bribes from ISL to Sanud and Sicuretta, kickbacks for the boys from Brazil. Infront has been awarded tasty FIFA marketing and TV contracts by Uncle Sepp.
Now nephew Philippe's Infront has acquired five per cent of MATCH – the company predominantly owned by Jaime and Enrique Byrom that has the exclusive World Cup Hospitality contracts aimed at the big wallets of the corporate world. You can see them high up in every stadium, enjoying the best views, champagne and fine catering in those VIP boxes. Sepp has granted them 380,000 tickets to sell in their upmarket packages.
The Brothers have appointed agents around the world to sell their luxury packages and where they can, they've kept the business in the family of football.
In Nigeria the man with the wad of expensive tickets is Samson, son of ExCo member Amos Adamu. Some doubt Amos's integrity. When he presides over major sports events in Nigeria money can evaporate. It's against the law for civil servants to have foreign bank accounts but Amos has one, Swift number AEIBUS33, with the American Express Bank in New York.
He once tried to steer a grant from the IOC to it but was blocked by another official. Amos is a nasty piece of work. When a Nigerian journalist went digging into Adamu's rackets, siphoning off public funds, he was hit with a stupendous damages claim for £2.3 million. When I published this in international media Adamu dropped the action and crept back under his stone – but went on enjoying the fruits of being a member of Sepp's ExCo.
Delivering the PR patter is Andreas Herren who, after half a lifetime blocking the media for Sepp at FIFA House, up on the hill above Zurich, now speaks soothing words to reporters on behalf of the Brothers – and Philippe – from his new office in Zollikerstrasse, a few blocks back from the lakeside.
There's lots of juicy contracts for supplying services to the World Cup and the Brothers are doing well. Following Mexico in 1986 they operate tours for sponsors in Italy in 1990 and have a narrow escape when tickets are hard to come by for the final in Rome.
In the USA in 1994 the Brothers become 'Official' supplier of accommodation for fans and the FIFA Congress. They've kept that business and are doing that in Brazil and again in Russia in 2018.
In 2002 they obtain the World Cup ticketing business. On the way they pick up the Ryder Cup in golf, European rugby and French tennis.
In 2003 Sepp awards the Brothers the contract for handling the millions of World Cup tickets at the South African 2010 World Cup. There was more; Sepp also gave them the tickets business for the next World Cup, 11 years later in Brazil in 2014.
They operate under the business name of the FIFA Ticket Office – the FTO. FIFA assures us that the Brothers will police the parallel market, down in the dark, icy waters, preventing the seepage of tickets to the secondary market to be repackaged with rooms and flights. Criminals!
It is important because that illicit activity would undercut the Authorised Agents, travel firms who have paid a $30,000 premium for access to tickets and then had to buy a bundle with a face value of $80,000.
That's the theory. But it won't work this year. There's a glut of tickets. As the tournament nears, they are stacked up in inventory with few customers. Soon they will be dumped on the market.
FIFA talks tough about penalties and sanctions and says the Byroms will develop 'legal and operational strategies toaddress the harm caused to fans by the parallel market.'
This is puzzling. That's exactly what the Brothers were doing with the Warners in 2006. They would not dream of doing it again this year, would they?
THE BROTHERS have their FIFA Ticketing Office in Cresta, a suburb to the west of downtown Johannesburg.
Mid-afternoon on March 19, 2010 an Accounts Manager sends an email to two customers who are working together. One is a woman in the Caribbean, the personal assistant to a Very Important Member of FIFA's Executive Committee. The other is a man in Oslo, a well-known ticket dealer in the illicit, parallel market.
The message is devastating: 'If we have not received the Bank Payment Authorisation Slip of the outstanding payment by Tuesday 23rd March 2010, you have to consider that your ticket order will be cancelled.'
Are the Brothers still feeding the parallel market, breaking all the rules they are legally contracted to uphold?
It appears that they have agreed to supply tickets to a dodgy FIFA vice-president who is reselling them into the Black Market.
But these clients no longer want the tickets they had ordered months previously for the 2010 World Cup. It is the beginning of the South African ticketing disaster.
Fans are walking away in increasing numbers. The dealers already have tickets they can't sell. They don't want any more.
This alarming message from the Brothers' FTO in Cresta is confidential, but is circulated among their friends. It is copied to two women employees of Philippe Blatter's Infront company in Switzerland.
Will he tell Uncle what is going on?
Uncle will surely know already. Also on the copying list is a senior manager from FIFA and his assistant, also in Switzerland.
Finally, it is copied to a top man with Jaime and Enrique in Manchester. He is Ticketing Operations Manager with another of the brothers' companies, MATCH Event Services. Let's call him Mister Tix.  We will meet him again.
So the Brothers, the Nephew and Sepp's FIFA itself are complicit in this secret racket to trade in tickets beyond the reach of ordinary fans.
The saga began in December the previous year. The Caribbean woman emailed to the man in Oslo who wanted to buy tickets;
'It was definitely nice talking to you,' she wrote. 'Thanks for the list, I will see what can be done. Can you give me an idea of the financial remuneration? Also, would you be in a position to advance the funds required to pay to FIFA/LOC for the tickets being ordered? With regards to the numbers we will try our best.'
They do. From an office in Trinidad an order is filed with the Byroms' FTO for 310 tickets at a face value of €84,240. They are mostly Category 1 tickets, priced from €160 to €600.
The order was topped off with a demand for 38 Final tickets. Those should bring in a lot of profit from fans desperate to see the biggest match in the biggest tournament. The money had to be sent to a bank in Sotogrande in Southern Spain.
On January 20, 2010, the Caribbean woman emailed Oslo,
'Important.  Here's the first bunch of tickets, you have to pay by tomorrow! I got them 2 hours ago. There will be a 10 percent fee on top of the price.'
There were problems obtaining the full order but she assured the clients,
'We have other options for tickets purchases, and have already set about speaking to the relevant persons.'
BUT IT WASN'T TO BE. Within weeks the ticket traders knew that World Cup 2010 was a bust. Fans were not spending their savings on tickets; they were buying big screen televisions and staying home.
Sepp, and his consiglie JérômeValcke, were claiming big ticket sales.
This was not true. These were unsold inventory held by travel agents who were now dropping prices just to get some money, any money, back on their ill-advised investment. Blatter told Reuters that all tickets for the World Cup semi-finals and Final were sold out. It wasn't true and discounted Final tickets were available the day before the game.
On March 1 the woman personal assistant in the Caribbean emailed their partners in Oslo.
Where was the money promised for the tickets?
She added, 'I hope it was paid, as Mr Warner would be quite upset as he would look as if he ordered and could not pay.'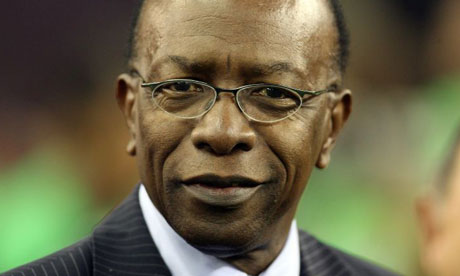 So it was Jack Warner, swimming in the underwater market again, feeding off the invisible part of the iceberg.
Eighteen days later, on March 19, when Warner and his Oslo associates still had not paid, the widely circulated 'pay-or-get-lost' ultimatum was sent from the Byrom-FIFA Ticket Office in Cresta to Trinidad and Oslo.
Who had placed this order?
It was not the Simpaul company. They were banned from dealing in World Cup tickets. It wasn't Warner personally, nor his assistant. It was an organisation based on the opposite side of Edwards Street in Port of Spain Trinidad, from Simpaul.
It was the Caribbean Football Union, President, Jack Warner.
Journalists at the daily Dagbladet in Oslo, Torgeir Krokfjord and Espen Sandi, who unearthed these documents proving that Warner was involved again in the tickets rackets and again with the Brothers, obtained another scoop.
One of the Oslo dealers feeding them information secretly aimed the video camera on his smartphone at two other FIFA ExCo members discussing ticket business with him; they were Nicolás Leoz and Ricardo Teixeira.
'I WAS STAGGERED when I saw the ticket prices for South Africa,' one fan told me. 'The cheapest seat for the Group stage in Germany was $49 – but had been jacked up to $88 for 2010.
This was unacceptable to most fans. Then we discovered that the cheapest Final ticket had risen from $168 to $440.
It got worse. In their hospitality packages the Byroms were charging $755 for internal flights between World Cup cities. Local no-frills airlines were only asking between $140 and $196.
From February 2010 Jaime and Enrique began dumping many of the 1.9 million bed nights they had reserved in hotels, splendid and modest. As ticket sales slowed public bodies like city councils and utility companies began buying tickets and distributing to employees.
School children were drafted to fill seats when the tournament began. South African politicians could not be embarrassed after all their speeches claiming that the country welcomed the event.
The TV networks that paid millions wouldn't be happy screening half-empty stadiums.
Two weeks before the tournament the press was reporting that more than 160,000 World Cup tickets were still unsold. On the eve of the football the ticket dealers in the Johannesburg hotel bars estimated that only 60% of tickets had been sold at full price. After the World Cup it was reported that 1.2 million tickets were never sold but on their web site the Byroms claimed 97.5% of the tickets — 2,967,349 of them — had been sold.
A year later, in June 2011, the Brothers conceded missing their hospitality sales target by a massive $50 million. Their spokesman denied vigorously this was any kind of disaster for the company because they had 'made a long term financial investment into its 2010 and 2014 project.'
So they start their Brazil business $50 million out of pocket. Those VIP boxes at the Maracanãhad better be full!
Jaime and Enrique's Brazil operations are getting some help from Sepp. On page 19 of the Byroms accounts for the year ending March 2012 they reveal a loan of £6,210,128 from FIFA 'to fund the obligation for MATCH Services AG to provide accommodation services for the 2014 FIFA World Cup Brazil.'
It's not just a £6 million legup; the loan is interest-free!
This apparently sweetheart deal is not reported in FIFA's accounts.
How did they get the Brazil Hospitality contract? There was a tender process and it was awarded to the Brothers in 2007 by FIFA's Executive Committee. Vice-President Jack Warner controlled three of the 23 votes. After his dealings with the Brothers in 2006 — and his secret plans to do business with them again in 2010 — they would surely have appeared the best candidates to him.
The icing on the Brothers' cake was that they also got the contract for 2018.
For the Brothers, FIFA is the gift that keeps on giving. In November 2011 the MATCH Hospitality deal was extended to 2023
'Following an industry evaluation conducted by FIFA.' This time they didn't bother to call for tenders.
The formal announcement may have surprised some. It continued,
'The agreement also further strengthens FIFA's fight against ticket touts. Thanks to their expertise and monitoring facilities, MATCH Hospitality will be in a position to assist FIFA in enforcing the provisions governing the sale of hospitality packages, effectively preventing unauthorised dealers from luring corporate clients and individuals into buying such packages from them.'
By this time Jack Warner had been forced out of FIFA. One less racketeer wanting dirty World Cup business.
THE ALVARO DIAS investigation report into how Ricardo Teixeira ran the CBF totals 951 pages. It's not all long-buried history.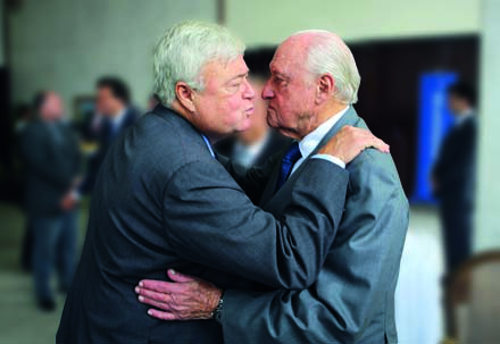 Many of Teixeira's decisions when in power are having massive impact on the World Cup and its many contracts.
Start reading at page 21 of Volume 2 and savour the relationship between Teixeira and the Stella Barros travel company. The headline is 'A True Partnership of Profits for a Company and Losses for CBF (Uma Fiel Parceria de Lucros para a Empresa e Prejuízos para a CBF) In the three years between 1998 and 2000 Teixeira's CBF spent a staggering $12 million with the company.
Senator Dias was unhappy about some of the information that his investigators discovered in the CBF archives. It seemed to him that the CBF was not getting all the benefits it should when so much money was going from Teixeira in the direction of Wagner Abrahão, principal shareholder in Stella Barros. Dias wanted to know why the company did not appear to give any discounts to the CBF, despite the huge volume of business. He believed that airlines offered average discounts of 15% and the CBF should have been saved $982,000.
Dias wondered if money was being pocketed by someone at Stella Barros – or perhaps somebody at the CBF.
All very puzzling but there was no proof. Unfortunately, the CBF accounts were a mess and Dias simply could not discover all he wanted to know about the Stella Barros-CBF relationship.
Another CBF business relationship worried Senator Dias. He noticed that one company boomed after it began doing business with Teixeira.
Again, Volume 2, from page 174, is an educative read. Dias reveals the lucrative deals where the CBF sold exclusive marketing and worldwide television rights to the Brazilian national team to the Traffic company, owned by José Hawilla.
Then Traffic acquired a slice of the famed Nike contract and made what Dias described as 'spectacular' profits. By 2000 Traffic was the fifth biggest sports marketing company in the world with revenues of $111 million.
THE WORLD CUP brings old friends together. In October 2011 the Byrom Brothers' MATCH company announced their partners for selling Hospitality packages in 2014.
Firstly, step forward Grupo Traffic. In what seemed like an attempt to send reporters to sleep, the press release from the Brothers claimed the deal 'represents by far the largest commitment in the hospitality industry in sports for a single territory and is a major milestone for the success of the 2014 FIFA World Cup™ Hospitality Programme.'
We won't know the truth of that statement until June 12, 2014 when the World Cup kicks off in Sao Paulo. Will the necklaces of salons really be full of high-rollers?
'The 2014 World Cup is the ultimate proof of the evolution and professionalization of Brazilian football,' says José Hawilla.
Some people think the performance on the pitch says more about Brazil. But he has excellent references; the former FIFA ExCo member from New York, Chuck Blazer, says he had two decades of working with José and 'he is a man of extraordinary character. I would say that his handshake was better than most written contracts.'
The second partner in the stadium necklace business is Top Service Turismo, part of the Grupo Águia, owned by the Abrahão family. It had absorbed Stella Barros in 2004.
Reporter Rodrigo Mattos revealed that Claudio, the brother of Wagner Abrahão, shared the family fondness for Ricardo Teixeira so much that he sold him a wonderful beach-front penthouse apartment in Barra da Tijuca, in Rio for $300,000. This was especially generous because, according to the transfer duty paid, the apartment was actually worth three times as much, valued at $843,000. Lucky Ricardo!
'MR TIX' the senior Byrom ticket manager who was copied in to the secret Jack Warner ticket deals of 2010 is busy managing the Brothers' ticketing operations in Brazil.
Is this good news for the Black Market, FIFA officials and anybody well-connected to the Brothers?
Editor's Note: Click HERE to read Chapter One of Omertà: Sepp Blatter's FIFA Organised Crime Family. 
Wired868 has been authorised to publish excerpts from Omertà for readers. We urge you to purchase an online version of the book for just £8 at http://www.transparencybooks.com/