"1990?" asks Bobby, a rueful look distorting his facial features, "What I remember best about that campaign is Philbert Jones incredible miss from the edge of the six-yard box.
"But I will also never forget Kerry Jamerson's run in the second half of the second half of the last game on November 19. The whole USA defence panicked when he picked up the ball and bore down on them."
"He didn't score," he ended, shaking his head, "but I was sure he was going to."
We have set out on our morning trek up Lillian Heights. All the evening before and well into the night, it has rained hard. It is a cold, bleak, dank, uninspiring morning.
Like 20 November 1989, the morning after the day before…

"This Ashford Jackman fellah who tief yuh idea," I had first greeted him, a broad smile on my face, "He writing about World Cup fuh Wired868 but not a word bout T&T!
"Whappen, Trinidad and Tobago never see a Finals?"
"What you want him to say?" he shot back, his face a mask. "People want colour in their lives. T&T World Cup history offers only black and white, at best, gray."
"Aye, doh knock the Red, White and Black," I teased. "We went to Germany in 2006. And we woulda gone Germany in 1974 and Italy in 1990 too if…"
The Jones/Jamerson reminder is his response.
"Well, not I! I was sure we were always going to lose on November 19. It wasn't the players—the officials made sure."
And lapsing into sullen silence, I begin to think my own thoughts…
Two images abide with me from 19 November. But neither involves players. Not Jones' inexplicable miss. Nor Jamerson's spectacular goals. Nor his run. Nor Paul Caligiuri's speculative shot sailing into the top of the net beyond goalkeeper Michael Maurice's despairing late dive.
I didn't see that. The sun was in my eye.
The first of the two indelible images in my mind is borrowed from Hollywood. I've "photoshopped" it using my own internal picture-making mechanism, which I have jealously protected against the atrophy that comes with overexposure to television.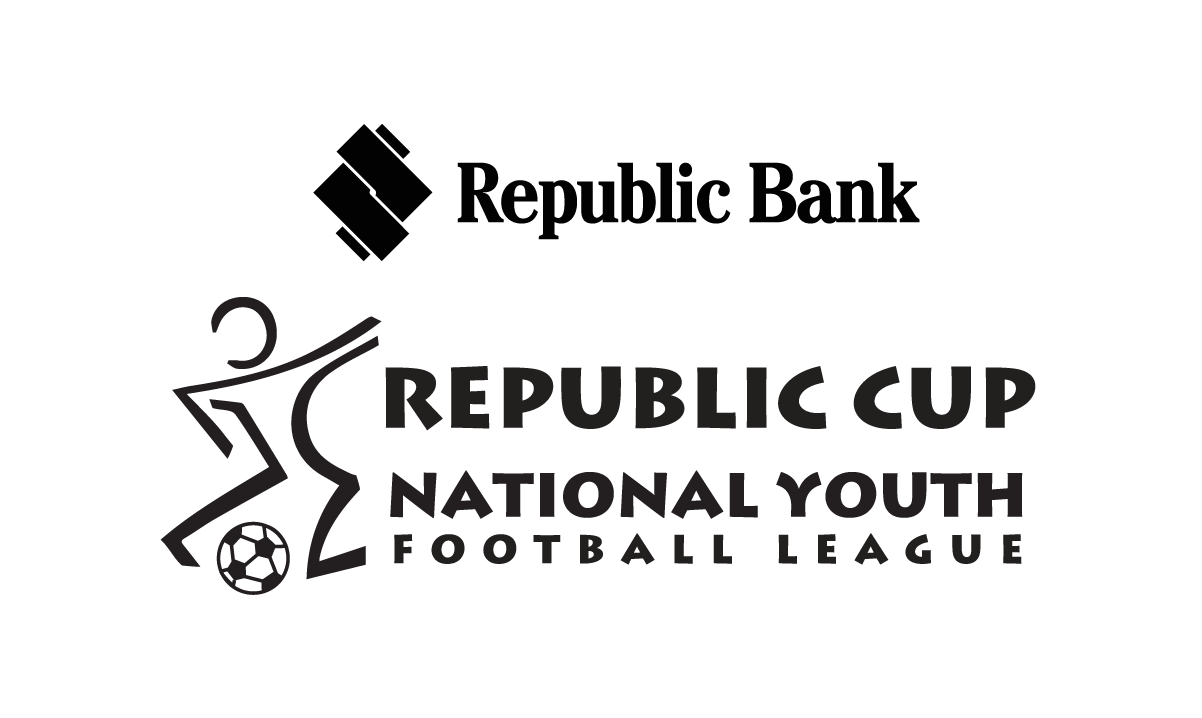 It features then TTFA general secretary Jack Warner. But I'm saving the beast for last.
Enduring image number two, captured by a peripatetic television camera, is of Trinidad and Tobago coach, Everald "Gally" Cummings. It impresses itself on me late in the game—long after Caligiuri's first-half winner.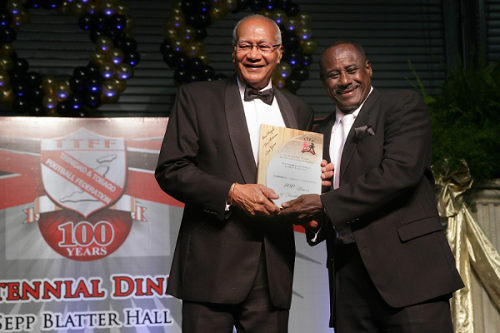 As the 90th minute approaches, goalkeeper Tony Meola hasn't really been tested. Gally's Strike Squad look increasingly incapable of getting the one goal we need to make history.
So there is this moment when the ball rolls out of play near the substitutes' bench for a T&T throw. The T&T coach collects it. He balances it in the palm of his hand. Almost frenetically, he proffers it to the nearest player.
The camera zooms in, framing Gally's face.
He has seen a ghost, the ghost of Christmas to come!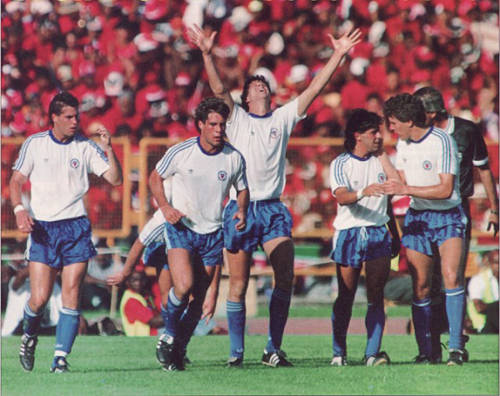 He now knows the truth: T&T will not be going to Rome.
The Roman poet Horace describes the prototypical stoic in seven words. The 17th Century playwright Joseph Addison uses 28 words to render Horace's Latin in English verse. I offer this prose translation: If the world were to shatter and fall in pieces at his feet, the chunks would strike him unmoved.
Gally's anything but stoic. He's a sorry sight. He looks like a man who sees the bulky threatening pieces of the collapsing universe streaking rapidly down upon him. And he is quite unable to move.
In Tapia in 1989, I compared the shattered coach to a 'desahuciado'—both a man evicted from his home and one definitively written off by his doctors. Alone, that Spanish word connotes the complex mix of emotion mirrored on Gally's eloquent face. It's bewilderment, certainty, doubt, emptiness, fear, frustration, hopelessness, impotence and panic rolled into one.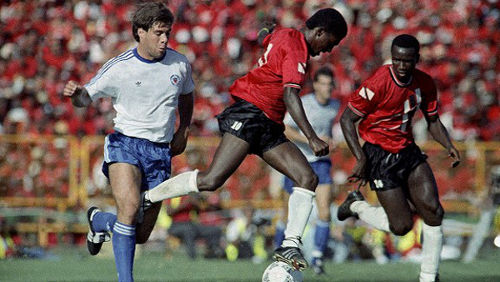 Impossible to forget…
In a 2014 piece headlined "The Fiction Jack Warner built," Wired868 Editor Lasana Liburd weighs in on Warner and 19 November:
Even before the kick-off, Trinidad and Tobago's World Cup dreams were in tatters after a series of shocking administrative bungles. The administrator in question was none other than the experienced and resourceful Warner.
While the United States team was booked into lodgings within 15 minutes of the Port-of-Spain stadium, the "Strike Squad" stayed in quarters more than an hour's drive away in [south] Trinidad. National Coach (…) Cummings was told that there were no available bookings closer to the venue.
"Administrative bungles." Nice touch.
Including selling over 35,000 tickets for a facility that, crammed to the rafters, hosts 25,000? No doubt.
JAW's hands, the world knows, have been pulling many strings. Not yet become, remember, the TTFA's Voice of One. He is already, however, indisputably the chief cook—four letters, not five!—and bottle-washer. So, although at the centre of every major decision leading up to D-day, on this dream-killing November day, he understandably opts for privacy. Far away from scrutiny.
And, as Caligiuri's slightly miscued left-footer heads into Maurice's net, out of the public eye, he giggles and rubs his hands together in glee.
Goal, I imagine him thinking, goal! Good! The deed is done. Tomorrow, I'll tell T&T that TTFA needed the money.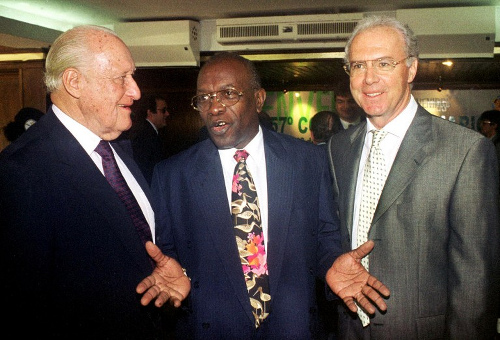 "Everything's," he sings, doing a little Jamaican jig, "gonna be alright."
Early on, before the final five-team playoff, everything had not been alright. Molasses on a rainy day. That's what the momentum had been like.
Then, in late May 1989, Hutson Charles' diving header to notch the equaliser against the US had lifted spirits high. But following a disappointing loss and a draw against Costa Rica, we came back to earth.
Two games against El Salvador then yielded four points. And wear something red truly became the popular cry.
When we stormed past Guatemala 1-0 away and then 2-1 at home in mid-September, it was not a fete here in Trinidad, it was madness!
One game to play and we are one point above the US. Gally himself goes to watch their drawn 5 November game against El Salvador. The Americans are no great shakes, he returns and reports to the press, easy ky!
Rampant insanity takes root. Red runs riot. Rome, here comes the Strike Squad. We go make mas in Italy!
Some 30,000 red-clad Trinis invade the National Stadium. Another 5,000, reports say, many holding tickets, not necessarily valid thanks to Warner, have to be turned away.
In advance of the 19 November match, the NAR Government declares 20 November a public holiday. Yes, no mistake! In advance!
But to Warner's great satisfaction and relief, Caligiuri torpedoes the T&T plans!
What, asks someone, playing the devil's advocate, would have happened if T&T had won?
The Devil's Advocate. At the very end of that film, the journalist Larry, who has just successfully bought Keanu Reeves' soul, morphs slowly into the film's star actor.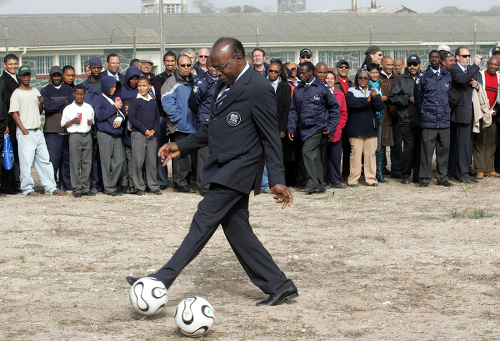 Not in my mind's eye!
I never see that smug, soulless, malevolent man standing there smirking, clearly congratulating himself on his awesome triumph as Al Pacino.
For me, the features of that frightening character will always be Austin Jack Warner's.