Just hours after Central FC booked its place in the 2015 CONCACAF Champions League qualifying phase, the Digicel Pro League club is set to reveal that its head coach, Terry Fenwick, will not take the "Couva Sharks" into the regional competition.
Instead, the 54-year-old Fenwick revealed today that he has agreed terms with Belgium lower division club, CS Visé, and should be unveiled by the European team next week.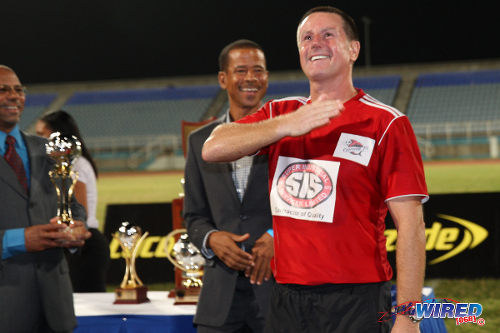 "It is a three year deal," Fenwick told Wired868. "The bones of it have been thrashed out basically but we put pen to paper by this weekend. Then, I go over there to meet the press first thing next week."
His sudden departure ends a whirlwind 16-month spell at Central where he took the Sharks from the bottom half of the table to second place and title contenders. During that time, Central lifted the 2013 First Citizens Cup and 2014 Lucozade Sport Goal Shield and was twice a beaten finalist in the TTFA FA Trophy competition.
Central managing director Brent Sancho confirmed that Fenwick will remain in charge for Friday's Digicel Pro Bowl semi-final against bitter Couva rival, DIRECTV W Connection, from 8 pm at the Ato Boldon Stadium. He has vowed to temporarily return from Belgium too if the Sharks advance to the Pro Bowl final.
Sancho, who once played under Fenwick at San Juan Jabloteh, said Central was sad to see him go but was thrilled with the work he did there.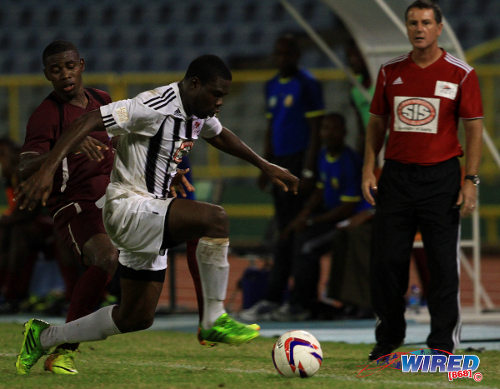 "Terry has done a terrific job for us," Sancho told Wired868. "He is definitely part of the Central FC family and we wish him all the best on his future endeavours… We had a long chat today and have already talked about how he can assist us in the future."
The two parties confirmed that they are open to moving players from Central to Visé while Fenwick insisted the door was open to talent from other local teams as well. At present, Trinidad and Tobago already has two internationals in the Belgium top flight, Khaleem Hyland and Sheldon Bateau, and both played under the Englishman at Jabloteh.
Fenwick suggested that his knowledge of Hyland and Bateau's characteristics allows him to gauge the quality necessary for success in Belgium.
"It is a possible shop window and I would want to forge as many relationships with Trinidad and Tobago teams as possible," said Fenwick. "I know the players too well here and sometimes their confidence and character can be brittle. Sometimes the change of climate and culture can seriously affect their ability to perform when they travel.
"But, with me there, now they know what to expect on the other end."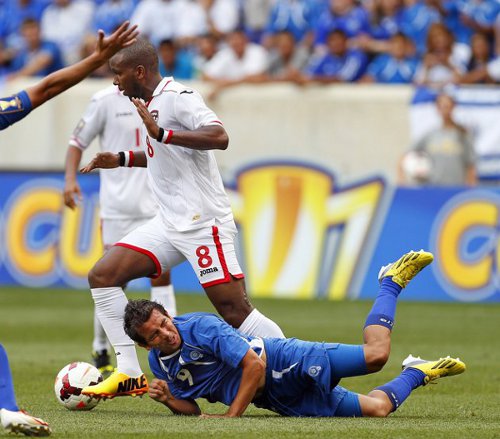 The Visé website has already revealed Fenwick's impending arrival while the club is also set to announce its new owners next week.
As a player, Fenwick represented England at the 1986 World Cup and captained Tottenham and Crystal Palace. His record as a manager in Europe is mixed, though.
He spent three seasons at then Division One club, Portsmouth, between 1995 and 1998 and, in his second full season, came within one place of a play-off spot for the Premier League. However, Fenwick was sacked the following season with "Pompey" at the bottom of Division One and the fans in revolt.
His second stint came at Northampton in 2003 and the club got a new owner, David Cardoza, within two weeks of Fenwick's arrival. The coach lasted just six weeks and seven winless games in total before he became the second of four sackings by the club in a tumultuous 10-month spell.
"I had a terrible period (at Northampton)," said Fenwick. "There was a transfer embargo when I got there and certain things were not made clear to me about the job beforehand. Then, within two weeks of me taking over, the club changed hands and the Cardozas took over."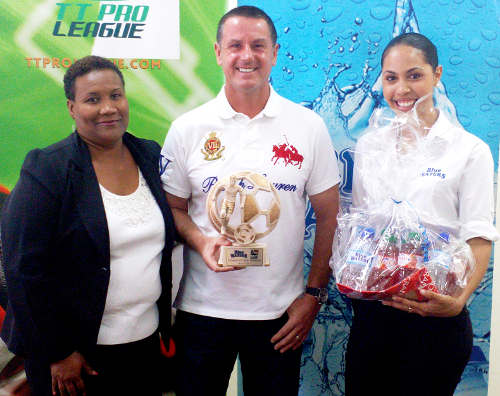 There is some uncertainty at Visé too. The club finished bottom of the First Division this season and is due to be relegated. But there is the possibility that the promoted teams would not meet the financial requirements necessary to take his new employer's place.
Regardless, Fenwick is happy with his job description and excited by the new challenge.
"It is a club with wonderful facilities and ambitious owners who want to be a development club that sends players on to the big leagues," he said. "And I have a good history of developing players in Trinidad…
"They have been bottom of the league and well adrift for quite some time; so I am looking to bring pride and passion back to their set-up."
Fenwick, who married CTV corporate lawyer and Trinidadian Reyna Fenwick née Kowlessar in January 2014, vowed to return to Trinidad to retire eventually. He credited his work at Jabloteh, where he won three league titles, for lifting the standard of professionalism in the local game and helping to develop dozens of players for international service.
Five of the "Soca Warriors" who played in Trinidad and Tobago's World Cup debut against Sweden in 2006—Aurtis Whitley, Cornell Glen, Cyd Gray, Brent Sancho and Collin Samuel—represented Jabloteh under Fenwick.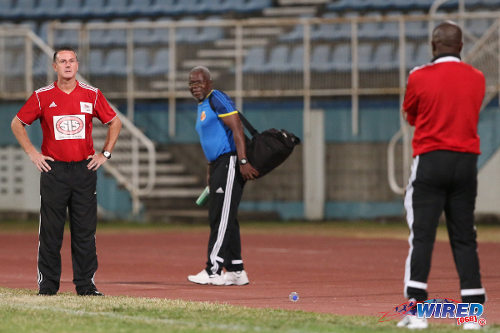 The combative Englishman often courted controversy in Trinidad too with his criticism of referees, local administrators and rival teams; as well as his infamous altercation with former Connection playmaker Gefferson Goulart. Fenwick was suspended for flattening the Brazilian with a forearm while Goulart was also sanctioned for celebrating in the former's technical area.
Fenwick admitted that his biggest regret was to have never coached the Trinidad and Tobago national team.
"I would have loved to have had a crack at the national job here," he said, "and whether it is politics or whatever that was never afforded to me. I'm really disappointed about that."
Sancho referred to Fenwick as "a true patriot" and suggested that his new posting might be a blessing in disguise for local football.
"He is a true patriot to our country and has gotten a terrific opportunity that will benefit our league," said Sancho. "We have some tremendous boots to fill but no one is bigger than the club and the club has to move on."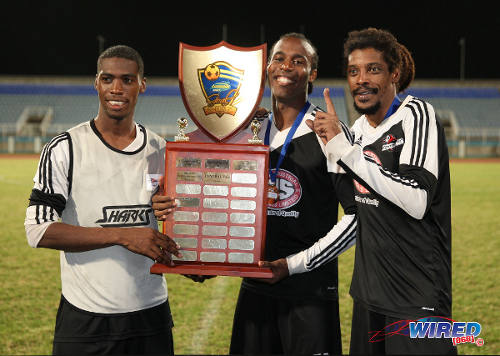 Central has started drawing up a shortlist for a new coach and hopes to get someone able to help the club grow as an organisation as well as on the field. He mentioned only one possible replacement.
"Stuart Charles," said Sancho, with a laugh.
The mischievous reference to the Connection coach suggests that the spiky rivalry between the two Couva clubs is unlikely to cool anytime soon.
Editor's Note:
Digicel Pro Bowl semi-final fixtures on Friday 16 May 2014: Defence Force vs Police, 6 pm, Ato Boldon Stadium; W Connection vs Central FC, 8 pm, Ato Boldon Stadium.
A list of the nine Pro League head coaches and their prior roles with the Trinidad and Tobago national football team:
W Connection: Stuart Charles-Fevrier is a former senior team head coach
Defence Force: Ross Russell is a national youth team coach
Point Fortin Civic: Reynold Carrington is a former national youth team coach
North East Stars: Angus Eve is a former national youth team head coach
Caledonia AIA: Jamaal Shabazz is a former national senior team head coach
St Ann's Rangers: Anthony Streete is a former national senior team coach
Police: Richard Hood is a former national women's youth team coach
San Juan Jabloteh: Kevin Jeffrey never coached a national team
Central FC: Terry Fenwick never coached a national team