Trinidad and Tobago Men's National Senior Team head coach Angus Eve is 90 minutes away from fulfilling his mandate, after a comprehensive 3-0 win over The Bahamas in Nassau.
Defender Kareem Moses put the Soca Warriors ahead after just five minutes with a thumping shot and further items by captain Joevin Jones and Ryan Telfer meant the visitors were virtually out of sight before the halftime whistle in the Concacaf Nations League B affair.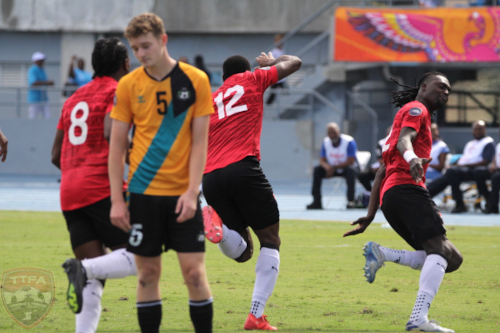 The result means Trinidad and Tobago's fate is in their hands. A win over Nicaragua on Monday 27 March at the Dwight Yorke Stadium in Bacolet would seal promotion to the Nations League A and also secure automatic qualification for the 2023 Concacaf Gold Cup.
The 2023 Gold Cup, mind you, carries the extra incentive of a spot in the 2024 Copa America tournament for the top six finishers.
Eve and his Warriors have everything to play for in Bacolet then.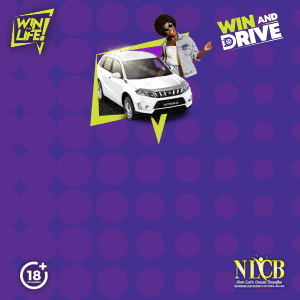 It would be premature to start popping open Champagne bottles after a win over the ninth-worst team in world football. Fifa ranks Bahamas 203rd from 211 football nations on the planet with some justification.,
Yet today's victory would feel like another marker on Eve's journey—if only because of what happened when the Warriors visited Nassau, two years ago.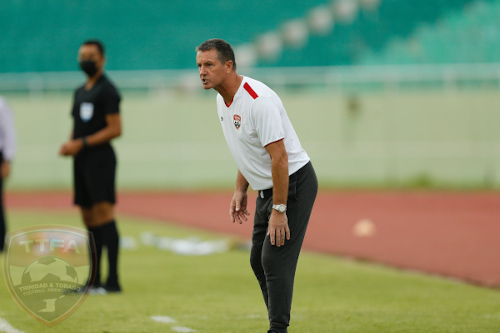 Eve owes his job to the mess that his predecessor, Terry Fenwick, made on that fateful trip. A catalogue of off-field errors—poor training conditions and missing equipment—coupled with the distraction of the Englishman's controversial Big Bad Wolf side-business with compatriot Peter Miller and then police commissioner Gary Griffith, blighted the team's preparation.
And, not least of all, there was that infamous verbal altercation between rookie teenaged player Gary Griffith III and assistant coach Kelvin Jack on the eve of their goalless tie with the Bahamas, which ended Trinidad and Tobago's Qatar 2022 World Cup campaign.
These days, the national football coach sticks to football and Trinidad and Tobago were a damn sight better at it than the Bahamas this afternoon.
"I heard the Bahamas players and the coach saying it's a rivalry [against Trinidad and Tobago] and years ago when I was playing it would not be a rivalry," Eve told the Bahamian press yesterday. "So we really have some work to do when, no disrespect, we are rivals now with Bahamas…"
On the TTFA's social media page, a pre-match video stated: "we want six".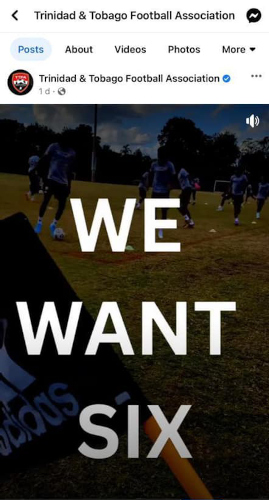 Generally, teams try to avoid potentially provocative messages to their opponents—especially as the away side. But if the Bahamas felt slighted, they lacked the tools to respond.

The game was barely five minutes old when Moses got his first senior international goal with a rasping drive from 20 yards, to separate the two teams.
Moses celebrated by sprinting to the sidelines to hug Eve, who gave the 33-year-old his first international cap at Under-23 level, over a decade ago, and then remembered him when he got the senior job too.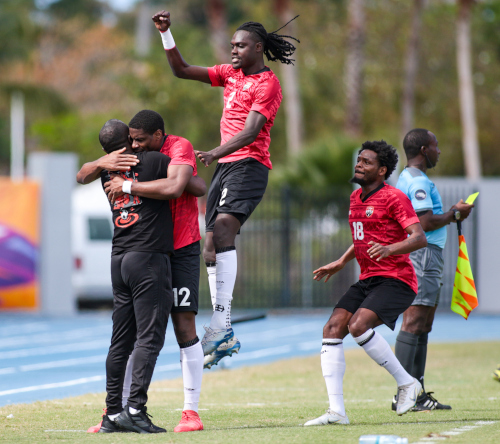 The Bahamas almost fashioned an immediate equaliser, as a raking right side cross by Quinton Carey picked out Christopher Rahming in the opposing six-yard box, only for the midfielder to head wide.
It was a rare moment of concern for Trinidad and Tobago goalkeeper Nicklas Frenderup.
The Bahamas coach Nesly Jean started with a five-man midfield, with William Bayles slightly advanced, that tried to defend man to man. Instead, the visitors pulled them out of position with quick passing exchanges, which often featured full backs Alvin Jones and Triston Hodge in advanced positions.
There was a high degree of naivety in the Bahamas' defending too, as players too often charged in to win possession rather than attempting to slow the Trinidad and Tobago attack and regroup.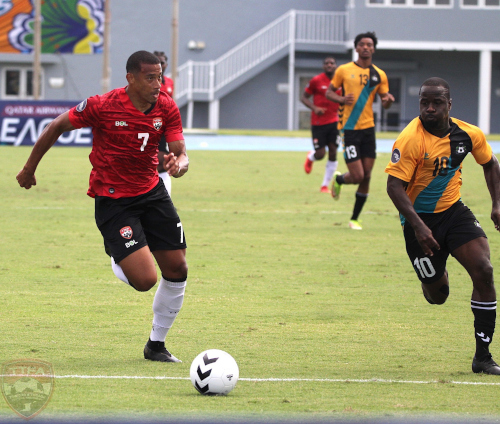 For winger Ryan Telfer, it might have felt like Christmas came early.
In the 26th minute, Telfer easily spun his marker and cruised down the right flank before crossing for Jones to score his 10th international goal on the occasion of his 86th cap.
Telfer then got one himself—his eighth goal from 19 international appearances—after an incisive low diagonal pass from Jones (A) found him with time and space in the opposing penalty area to take two touches before picking his corner of the net.
It was a minor miracle that more goals did not follow.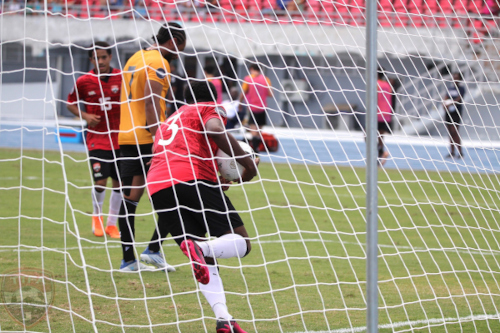 Moses thought he had Trinidad and Tobago's fourth in the 69th minute, after he followed up to nod home the rebound when winger Kailé Auvray's dangerous free kick was tipped on to the bar by the Bahamas goalkeeper Ian Lowe.
Inexplicably, Jamaican assistant referee Nicholas Anderson waved his flag for what looked like a phantom offside call.
Telfer hit the foot of the post with a curling effort from the edge of the area in the 72nd minute while Jones (J) missed two straightforward chances in the final five minutes.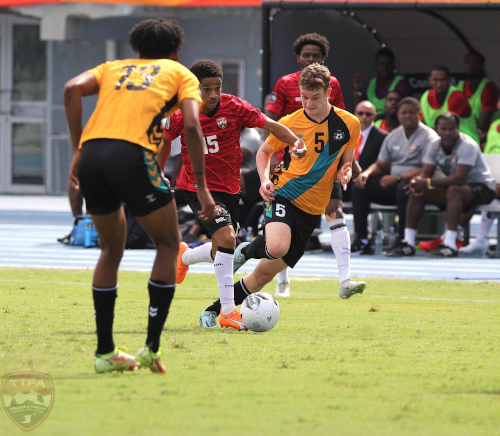 Rundell Winchester, who started at centre forward, had a forgettable outing. But then the gangly forward's strength is largely running into open space behind opposing defences, while his teammates set out to pick off the Bahamas team through passing combinations and clever movement.
Auvray and Telfer terrorised on the ball throughout, although the former did not always convince defensively.
In central midfield, the lanky Andre Rampersad could not have hoped for a gentler introduction to international football as he glided about rotating possession of the ball.
"I thought they (Auvray and Rampersad) did very good today," Eve told the TTFA Media, "the whole team actually."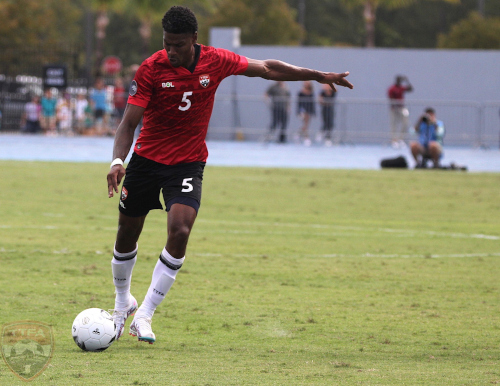 Perhaps Eve would have lamented the fact that his players dropped their tempo after the interval
If Eve was in the commentary booth, rather than the touchline, he might have wondered too whether the likes of goalkeeper Marvin Phillip, defender Justin Garcia, midfielder Michel Poon-Angeron and attacker Reon Moore deserved to be looking on from the sidelines this afternoon—considering their stellar performances so far this year, albeit outside of the Fifa international match window.
But, ultimately, the score summary trumps all else in competitive football. And there could be no disputing that this was a comprehensive result.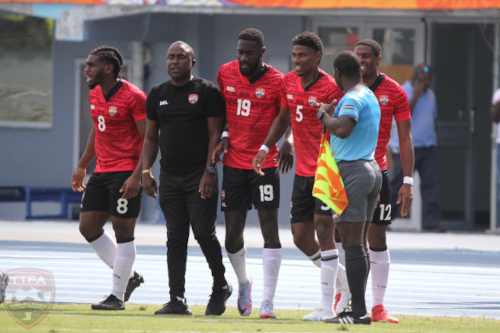 "We will take that [result] for today," said Eve.
Trinidad and Tobago, who trail Nicaragua by a solitary point, are one win away from a more tangible reward in Bacolet.
(Teams)
Trinidad and Tobago (4-2-3-1): 21.Nicklas Frenderup (GK); 16.Alvin Jones, 12.Kareem Moses, 2.Aubrey David (4.Leland Archer 46), 18.Triston Hodge; 5.Andre Rampersad, 8.Daniel Phillips (9.Michel Poon-Angeron 61); 7.Ryan Telfer (23.Jomal Williams 74), 3.Joevin Jones (captain), 15.Kaile Auvray (6.Noah Powder 74), 19.Rundell Winchester (10.Marcus Joseph 61).
Unused substitutes: 1.Marvin Phillip (GK), 22.Denzil Smith (GK), 11.John-Paul Rochford, 13.Reon Moore, 14.Shannon Gomez, 17.Justin Garcia, 20.Molik Khan.
Coach: Angus Eve
The Bahamas (3-4-1-2): 1.Ian Lowe (GK); 8.Roen Davis, 10.Lesly St Fleur, 3.Phieron Wilson; 7.Quinton Carey, 13.Christopher Rahming, 9.Wood Julmis (20.Jaxon Bethel 80), 2.Elijah Mitchell; 5.William Bayles (6.Michael Massey 55); 11.Marcel Joseph (captain) (15.Nicolas Lopez 67), 12.Omari Bain (17.Jordin Wilson 67).
Unused substitutes: 16.Michael Thomas (GK), 18.Michael Butler (GK), 23.Vance Wheaton (GK), 4.Troy Pinder, 14.Deron Ferguson, 19.Ian Harris, 21.Nahum Johnson, 22.Reuben Edgecombe.
Coach: Nesly Jean
Referee: Oshane Nation (Jamaica)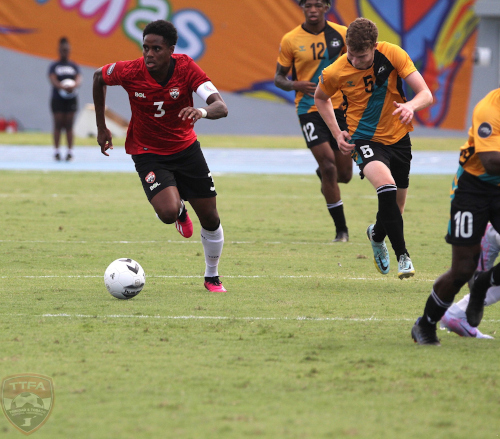 Concacaf Nations League B
Group C
(Fri 24 March)
The Bahamas 0, Trinidad and Tobago 3 (Kareem Moses 5, Joevin Jones 26, Ryan Telfer 34) at Nassau;
Nicaragua 4 (Ariagner Smith 3, Juan Barrera 42, Matias Moldskred 60, Francisco Flores 90+2), St Vincent and the Grenadines 1 (Kyle Edwards 18 pen) in Managua.