There were over 2,000 patrons, an electric atmosphere and a gripping, quality match for neutrals and partisans alike as DIRECTV W Connection and Central FC locked horns in the Lucozade Sport Goal Shield final at the Ato Boldon Stadium in Couva.
That is the good face of the derby fixture that Wired868 coined "El Clásico Couva." But there is a bitter undercurrent too that lingers, even after the final whistle.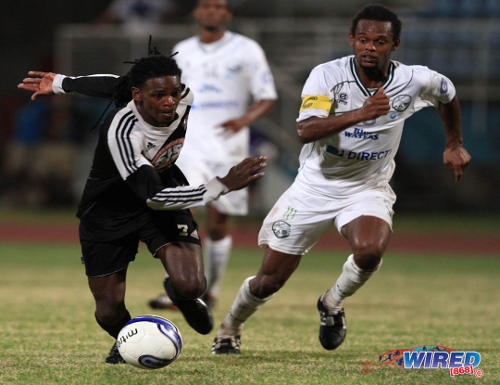 Connection coach Stuart Charles-Fevrier, who was the target of a Pro League complaint by Central for his supposed interaction with referees, said the acrimony has gone too far.
"I want to congratulate Central on winning the Lucozade Sport Goal Shield," Fevrier told Wired868. "I thought we started well but we conceded a very soft first goal and it put us on the back foot; other than that it was a keenly contested final…
"I have no problem with Fenwick's team or any other team defeating mine. I am a football person; I know what it is to win, lose and draw—both as a player and a coach.
"That is life; that is sport. I have always showed respect to my opponents."
But Central FC coach Terry Fenwick wishes to bury Connection not praise it.
"We have put them in their place as to who is the top team," he said.
Twenty-year-old Central forward Rundell Winchester, who was last night's MVP, followed his coach's lead.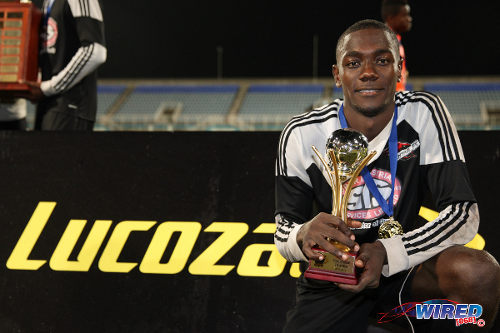 "We just came out to work hard, motivated by (…) the best coach in the league, Terry Fenwick," Winchester told the TT Pro League. "In a big game like this, it's about stepping up… and I'm now so happy we came and beat W Connection in a big final.
"It's a pleasure that we have put our rivals to shame. I feel so happy. We love it."
Fevrier was aghast at Winchester's comments about shaming Connecion as well as the suggestion that he seeks an advantage from match officials. He accused Fenwick of trying to poison the mood around his club.
"Fenwick has never said anything good about Connection at any time," said Fevrier, a former Trintoc standout defender and Trinidad and Tobago national coach. "When they beat us, I congratulate them but, when we beat them, they blame the referee. I don't use football to make enemies with people.
"I feel the (Pro League) complaint was really low…  I compliment (young referees) if I see they have a good game, I never talk to referees to do me favours or try and help my team.
"I have more integrity than that. They took it with malice because they think everyone is thinking like them; and they twisted it to try to tarnish me."
Fenwick suggested that Connection is too used to having things its own way. And he made no apologises for shaking things up.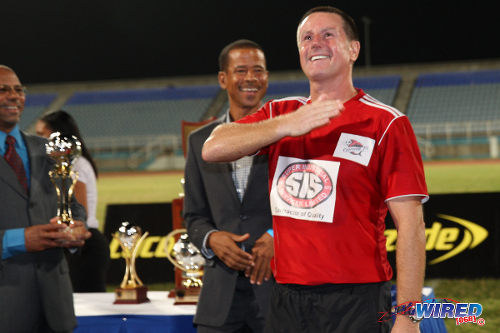 "We want bigger crowds and more excitement (in the Pro League) and now that they got it they don't want it," said Fenwick, an ex-England World Cup defender and Tottenham captain. "… I want my players to be stoked up and feel the rivalry and want to win. The background I come from is all about the big occasion and how you handle it and rise to it.
"Connection just wants to get on with it and not have too much fuss."
For now, Pro League CEO Dexter Skeene is taking the middle-ground.
"I understand they are competing and the rivalry helps build the excitement," said Skeene, "as long as the clubs follow the rules of the league, which is to strive for excellence, integrity and best practices."
But the differences between Fenwick and the Connection camp run deeper than the 2013/14 Pro League title race.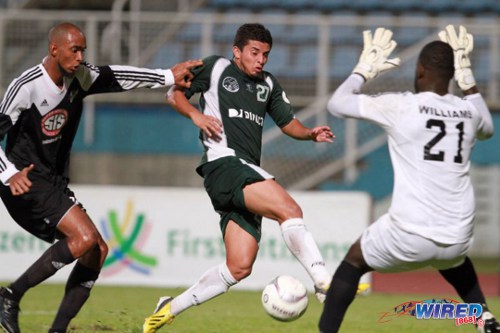 "I absolutely disagree with the business plan of Connection with all the foreigners coming in but I have always said that," said Fenwick. "I am not going to apologise for it. It opens up room for a debate when Connection and Caledonia bring in players specifically for the Champions League and then dumps them as soon as they are out of the competition.
"It is ethically wrong to use kids from South America who come to do a job but are gone in a few months. And it hinders the development of our players who don't get the chance to play at that level.
"I think the Pro League should look at it."
Fevrier retorted that the discussion about foreign players was a red herring being used to vilify his club.
"In the last decade, I don't think any local club has developed as many national players for Trinidad and Tobago as W Connection," said Fevrier. "And that is from the national under-17 team go right up. Yet still Fenwick makes it look like all we are about is foreigners and tries to give a negative impression about us to the public. The facts mean nothing to them…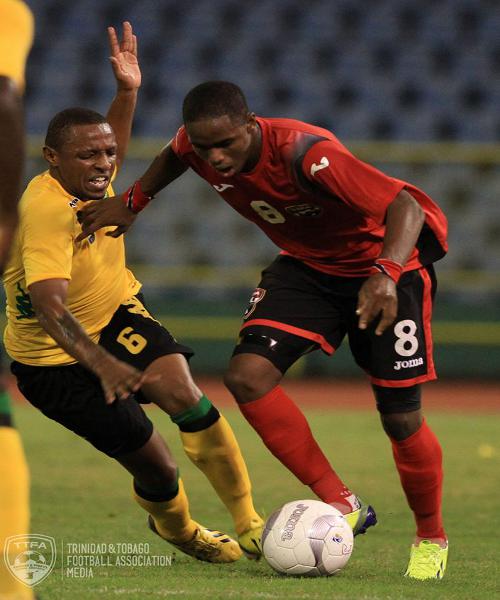 "I have nothing against Fenwick; but Fenwick is obsessed with tarnishing W Connection. I don't know why because we never interfered with him or spoke about him in a negative way."
But Fenwick shot back that it was Connection who disrespected the local league and was now feeling threatened by him.
"Connection has only won two titles in the last eight seasons so I don't understand why, at the start of the season, (Connection owner David John-Williams) said they are not threatened by anyone locally and are looking at rivals in CONCACAF," said Fenwick. "What nonsense. The Army team is all local and look at the great job they are doing.
"John-Williams is okay with rivalry so long as he is rolling over teams who can't keep up with him financially. He talks about me being obsessed with him but my teams are the ones that knock him off his perch; first, Jabloteh and now Central.
"Maybe it is he who has the hang-up. I will not apologise. I think he could do a lot more for local football."
Fevrier countered that Connection has had many great rivalries over the years. It was only when Fenwick is involved that they become nasty.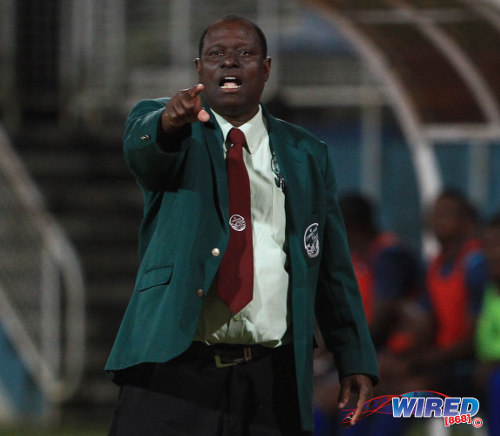 "Long time, we had rivalries with Jabloteh and Army and Caledonia but it never reached to anyone trying to degrade anybody," said Fevrier, "and it is only Connection that Fenwick does that with. I don't have a problem with rivalry but let us show mutual respect.
"For a man who played at the highest level, instead of adding professional values he is taking it into the gutter… I see a man who is trying to tarnish our image and character; a man that is only disrespecting us. Football is not a game to make enemies with people.
"I know on the field of play we have to battle because all of us want to be successful. But why can we not be rivals without trying to degrade each other?"
The Couva rivals have met six times already this season. Central won two in regulation time and one on penalties and Connection won one in regulation time and another on penalties while the other match ended in a thrilling 2-2 draw.
There is an increase in spectators when the Couva derby kicks off now and media interest is increasing too. But so is the temperature between the respective camps.
Long-time England Premiership fans would not be disaccustomed to feuding managers.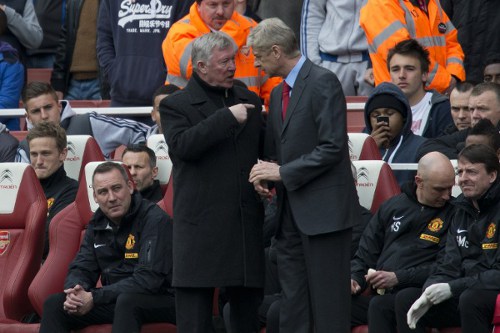 Former Manchester United boss Sir Alex Ferguson once responded to Arsenal manager Arsene Wenger's criticism of the fixture list with: "Wenger doesn't know anything about English football. He's at a big club—well, Arsenal used to be big. He should keep his mouth shut, firmly shut. He's a novice and should keep his opinions to Japanese football."
While, after Ferguson claimed that Manchester United plays the best football in England, Wenger retorted that: "Everyone thinks they have the prettiest wife at home." Ferguson took the remark as a slight on his wife, Cathy.
Eventually, after a tunnel scuffle that ended in an Arsenal player hitting Ferguson with a pizza, the FA summoned both iconic managers to a meeting in an effort to defuse tensions.
Fevrier and Fenwick are not there yet. Hopefully, they never will be.