Wired868 looks back at the thrilling million dollar Digicel Pro League finale when DIRECTV W Connection and playmaker Joevin Jones crowned themselves as champions.
DIRECTV W Connection attacker Hashim Arcia played a measured pass into the path of teammate and playmaker Joevin Jones as the latter figure darted in off the right flank. Any coaching handbook would instruct him to let the ball run across his body and whack it with his right boot.
Instead, Jones hit it early with his left. For an untrained player, that motion would be as awkward as trying to walk while putting left foot and left arm forward at the same time.
But Jones' effort looked so graceful as to put the ball in a trance. The sphere soared high over the helpless Defence Force goalkeeper Kevin Graham; and, is if it received new instructions in mid-flight, suddenly dropped sharply to bounce over the goalline. No strings attached.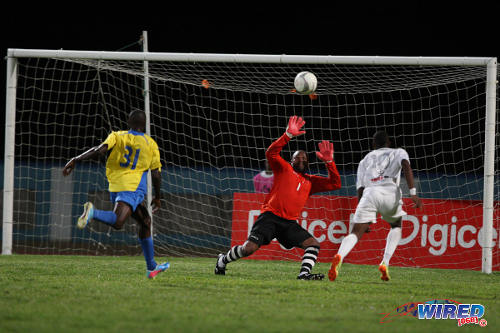 "Nobody taught me how to (dink the ball)," Jones told Wired868. "I just learned it… It is just technique and composure. I mark a spot on the ball and hit underneath it."

The score was 4-1 to Connection in the decisive match on Tuesday May 6, in which the "Savonetta Boys" only needed a draw to secure the Digicel Pro League trophy and the $1 million first prize. The destination of the domestic title was effectively decided when Arcia put Connection 3-1 up in the 38th minute.
But Jones had made another statement. And it was that Connection had its swagger back.
On a personal level, Jones needed that moment too. His birth paper suggests that he will be 23 on 8 August 2014; but he might have aged an additional four years this season.
First, he was fined and stripped of the captain's armband by Connection after being caught playing minor league football and rebuked and dropped by national team coach Stephen Hart for the same infraction—he was eventually re-instated. Then, within the space of four months, a dream trial with Italy Serie A club, Udinese, went so bad that he was sent home early.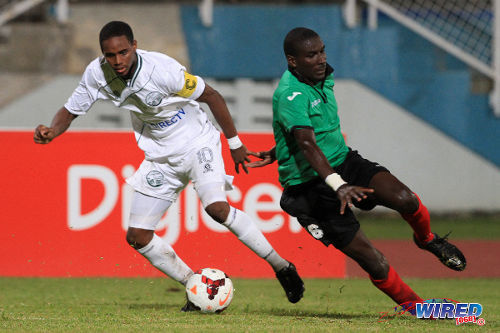 As the Pro League's marquee player and a national team regular, Jones' screw-ups were national news and provoked lengthy discussions on online forums.
"It was tough but I just tried to keep my head down and keep working," said Jones. "It was extra motivation."
But what happened at Udinese?
One minute, Jones was sharing facilities with Italian football icon and club captain Antonio Di Natale; a few hours later, he was on a plane back to Trinidad. It was not a slight on the slender utility player alone; it seemed to be a reality check for the Pro League.
Jones hinted at a simple reason for his botched Italian job.
"I think I was a bit too shy," he said. "That is how I am, until I really settle into some place… Next time, I will try to be more like myself and show who I really am and what I can do."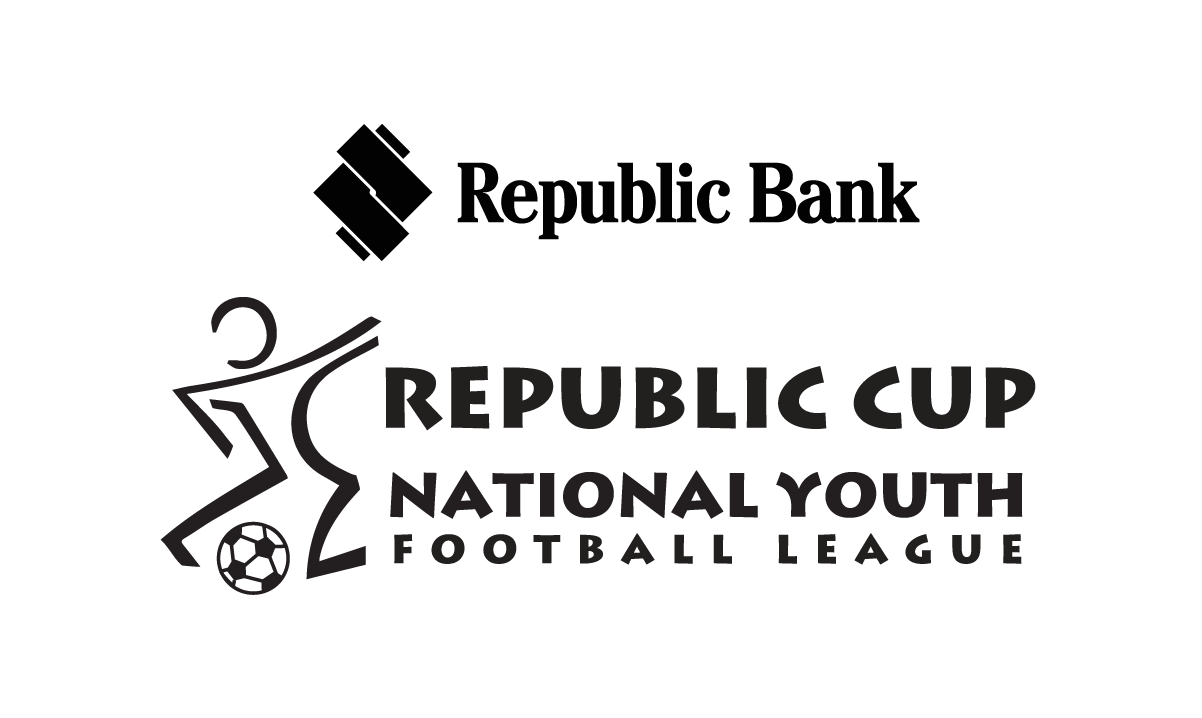 If his unsuccessful trial provoked doubts about the temperament of the talented utility player, soon there were questions being asked about his employer, W Connection, as well. When Connection faced Defence Force last week, the club had failed to defeat a top four Pro League team in five months and there were two defeats and a draw—in all competitions—against bitter Couva rival, Central FC.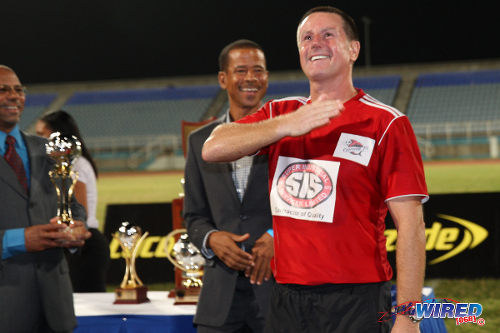 The "Savonetta Boys" were limping towards the finish line although favourable results elsewhere meant two points from their two-legged tie against Defence Force on Friday May 2 and Tuesday May 6 would secure the title. The squad spent an entire week in camp for the fixtures.
"We approached the two games as one; as a block," W Connection coach Stuart Charles-Fevrier told Wired868. "We kept the players in camp from the Wednesday straight until the Tuesday game. We didn't take the games in isolation.
"We saw it as a two-game final, so to speak."
Fevrier suggested that the turning point came in the first of Connection's two May fixtures on the Friday night. A second booking to Colombian utility player Christian Ocoro Viveros meant Connection had just 10 men on the field when Defence Force's talismanic striker Devorn Jorsling came off the bench to fire his team into a 2-1 lead.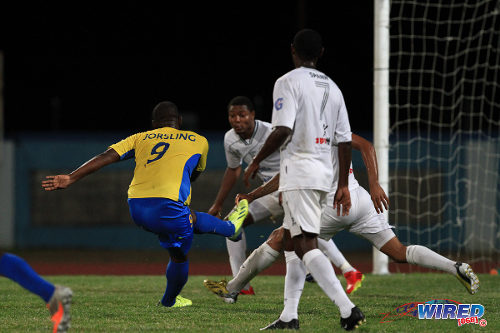 The advantage lasted just two minutes before 19-year-old right back Alvin Jones, Jones' younger brother, slammed home an equaliser after Defence Force failed to cover its right flank.
"The momentum shifted to us at that moment," said Fevrier. "I know Army was psychologically affected. They would have told themselves they messed up and some of them would have been a bit down whereas we got motivation and confidence from that situation.
"Our mental attitude was much more positive than Army for the second game. It was clear in our minds that we could win the second game and it was based on what took place in the first game."
The Connection players privately planned their own psychological battle; a game within a game. For Defence Force's first goal on Friday, the defending champions celebrated by sprinting towards the sidelines where they took a "selfie" with a waiting cell phone.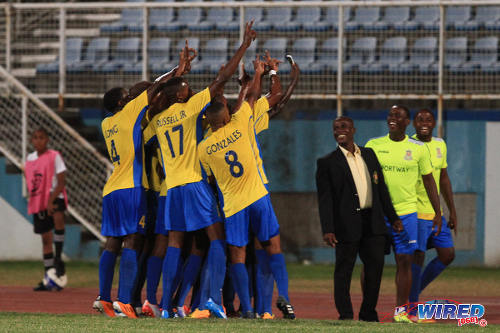 It was outstanding showmanship. In that dashing moment, the Army/Coast Guard unit showed it was ready for the big occasion.
Over the weekend, Jones and teammate Jerrel Britto plotted their revenge.
"Our side is full of (jokers) too," said Jones. "Jerrel Britto and I talked about what we would do and we decided, since we were playing the army, we would march for our next goal."
Just four minutes into the second leg, Surinamese winger Stefano Rijssel drifted inside from the right flank and surprised Graham with a superb left footed effort into the far corner. And the Connection players produced a neat march past routine, which they ended with a salute.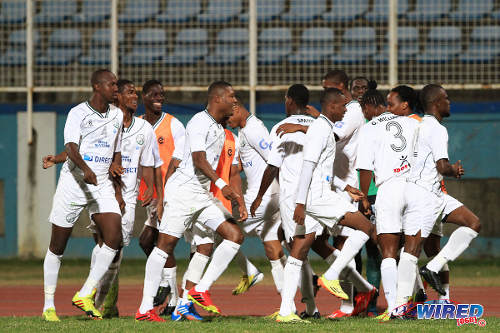 It felt like two blows were struck at once.
In the 32nd minute, Connection doubled its lead and this item must have hurt too, albeit for a different reason.
Defence Force's impressive storm up the standings from seventh to second place owed more to collective will than individual talent. But, if there was a stand-out, it would was midfield hardman Curtis "Boyo" Gonzales.
He is the Pro League's answer to ex-Manchester United legend Roy Keane; a clever but uncompromising box-to-box player with a remarkable appetite for the battle. Inexplicably, Gonzales got caught loitering with the ball, midway in his own half, and Jones stole possession and quickly exchanged passes with Rijssel before firing past Graham.
"He is a tough, aggressive player," Jones said of his national teammate. "You cannot make any mistake because he would clean you up. You have to be very smart."
A minute later, Gonzales took a retribution of sorts with a flying challenge on Jones, near the touchline, that somehow did not earn a booking from referee Michael London. But it could not reverse the damage.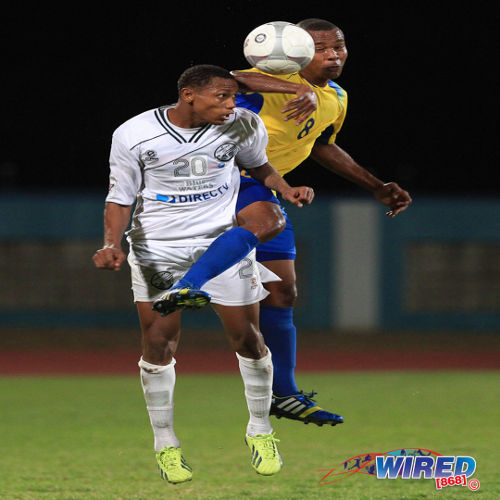 A tackle from Jones' own brother was more costly; his other brother, 28-year-old Marvin Jones, who was promoted to the starting team for Defence Force's vital game.
Former "Strike Squad" defender Kelvin Jones has four sons and only one, Kevin Jones, did not pursue football as a career. Whichever way the match went, a Jones boy would be a Pro League champion.
"We always support each other," said Jones. "I go to see my brother play for Army. And my dad watches most of our games. My mom (Merlin) usually goes to our big games too."
Buoyed by his opening goal, four minutes earlier, Jones tried to drive into space to tee up his trademark long distance strike. But brother Marvin was waiting with a crunching tackle.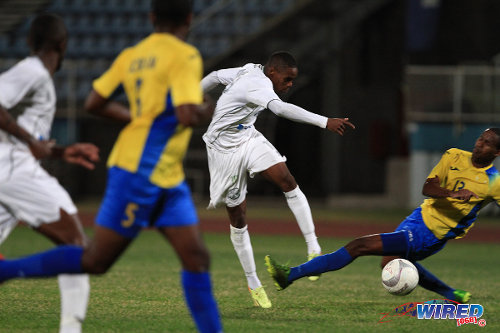 Defence Force took immediate advantage with a rapid counter-attack and Kerry Joseph's typically precise wide delivery was met with a flawless finish by Josimar Belgrave, who has been another stand-out for the "Teteron Boys" of late.
The defending champions had a lifeline. Cruelly, it lasted roughly 120 seconds.
A straightforward ball over the top was missed by stand-in left back Ross Russell Jr, the coach's son, and central defender Rodell Elcock. And Rijssell pulled the ball backward of square for Hashim Arcia, who showed good technique to steer his effort home at the near post.
Rijssel also endured an unsuccessful trial this year as United States Major League Soccer (MLS) outfit, Seattle Sounders, was not suitably impressed with what it saw of him. He gave a million dollar performance for Connection when it mattered though.
The Savonetta Boys were about to secure their fifth Pro League title, which is a domestic record and one win more than San Juan Jabloteh, who scooped up three titles under rival coach Terry Fenwick and one with his fellow Englishman Ricky Hill.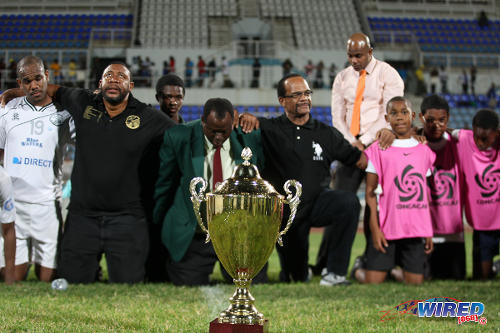 "This title means a whole lot for the organisation," said Connection owner David John Williams. "It is our fifth title in our 15th anniversary and the second time we have won the League and FA (in the same season). No other team has done that twice."
Fevrier suggested that he was happy that everyone else was happy.
"It is more about the club than me," said the Connection coach. "For me, I am just happy I was able to help the club achieve its objective… I demand a lot from my players and some of them, especially (Daneil) Cyrus have never won a championship. I like my players to achieve success because football is about players.
"Other coaches might dwell on themselves but not me… I am more interested in helping the players to progress and enjoy what football has to offer and help the club to achieve success.
"David invests a lot of his hard-earned money into the football and this is the first time we are playing for a million dollars; so naturally it helps him recover some money."
For Jones, it meant a rewarding end to a demanding season.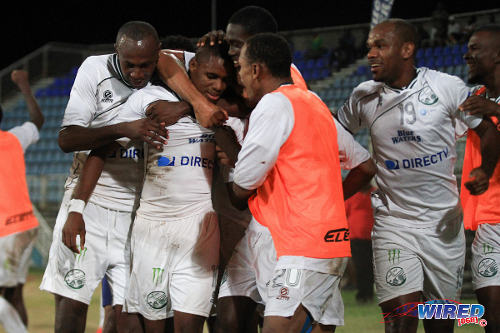 "It means a lot to me and my family and the club," said Jones. "It was a tough season and we had to make sacrifices. We couldn't see our family for so long; and there was so much hard training sessions and tactical work and so on.
"The trophy means a lot to us."
Of course, Jones was not finished yet. In the 86th minute, he teamed up with Arcia to produce a classy finish to local football's first million dollar match. Next stop is Buenos Aires where Jones is expected to feature at left back or left wing for the "Soca Warriors" against Argentina.
In either position, the ex-Mucurapo Secondary student is likely to run into a certain global superstar and Barcelona icon, Lionel Messi. He better not let on that he is a fan of Messi's rival and Real Madrid star Cristiano Ronaldo.
Wisely, Jones said he would rather play in midfield although he explained that he is thinking about his own strengths rather than Argentina's.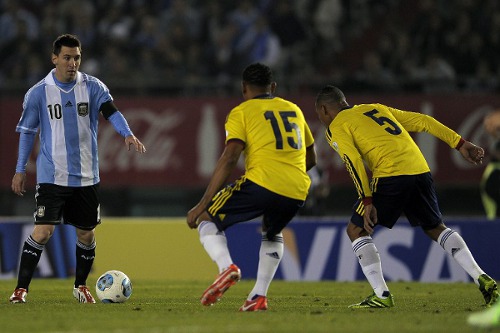 "I can play any position but I would like to play in the attack," said Jones. "I want to start scoring for my country. I haven't scored yet for Trinidad and Tobago so I am hoping to score soon."
Forget Udinese, Jones wants to show that he can handle the big occasion.
"I am looking forward to play against the biggest players in the world," said Jones, "and knowing that Messi will be there is extra motivation for me.
"I want to reach to the highest level as a player."
If Jones does leave soon, he could not have given Connection a better send-off.
Editor's Note: Click HERE to watch a video compilation of goals from DIRECTV W Connection midfield ace Joevin Jones.