Chaguanas West MP Jack Warner has claimed the alias of "Action Man" although it is uncertain whether he pinched the title as a farewell present from CONCACAF or had it purchased for him by friendly local contractors.
But what do we call bilingual Sport Minister Anil Roberts, who juggles more portfolios than a circus act?
Apart from his ministerial job, Roberts is also the D'Abadie/O'Meara MP, a COP member, the Prime Minister's deputy cheerleader-in-chief (he trails the inimitable Suruj Rambachan in that regard) and bosom buddy to Warner.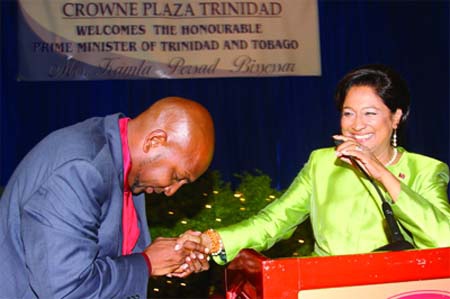 And let's not forget his part-time coaching duties for four-time Olympian George Bovell III.
Bovell captured bronze today in the 50-metre freestyle at the 2013 FINA World Aquatics Championship in Barcelona, Spain. Roberts was at his side to see the feat.
As opposed to when a tropical storm stranded the Trinidad and Tobago football team was stranded in St Kitts during the 2012 Caribbean Cup qualifiers without money to pay for accommodation and Roberts dismissively said that TTFF general secretary Richard Groden should find the money to see about the "Soca Warriors."
Roberts might be Sport Minister to all athletes; but he is only the coach of one.
It is interesting that while Dr Fuad Khan was forced to choose between his role as Minister of Health and his private practice, which could be a case of life or death for patients, Roberts continues to traipse across the globe behind his Bovell.
On Friday, when Parliament re-opened and Warner made his return as MP, Roberts was watching Bovell participate at the heats in Barcelona.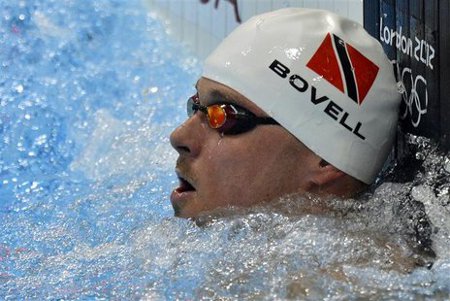 But exactly when did Roberts leave Trinidad for Spain?
His staff was uncertain as he often communicates with them via text and phone calls so they are never sure whether he is in Trinidad and Tobago or abroad. Wired868 spoke to a few persons at the Sport Ministry and nobody could account for the Minister's whereabouts this week while Trinidad and Tobago's first 2013 FINA participant got into the pool on Sunday 28 July.
On Monday night, for instance, rumour placed Roberts at the celebration party for Warner's ILP group. But Roberts disputed that in a telephone interview with the Trinidad Express, in which he told the reporter he was "home hugging up his baby" when the Chaguanas West results came in.
Was that home in Trinidad or poolside in Spain?
Mr Live Wire believes that Roberts is having enough difficulties looking after his sport portfolio without the extra duty of attending international swim meets.
And Live Wire also believes that "baby" is a highly inappropriate nickname for the 30-year-old Bovell.