'This is the way the world ends,' wrote TS Eliot, in his immortal poem The Hollow Men. 'Not with a bang but a whimper…'
In the fading sunlight of Nassau this evening, a generation of Trinidad and Tobago footballers passed noiselessly towards their doom at the Thomas Robinson Stadium. The Soca Warriors were eliminated from the Qatar 2022 World Cup qualifying series, following a goalless draw against The Bahamas—a team ranked 201st in the world and one which conceded 15 times in their previous three qualifiers.
At the final whistle, six minutes into four minutes of stoppage time, assistant coach Kelvin Jack covered his face in his hands and presumably let off a silent scream. Team captain Khaleem Hyland and forward Daniel Carr farcically pleaded with Panamanian referee Oliver Vergara for more time, as though the official's watch was what went wrong with their campaign.
And head coach Terry Fenwick paced nervously, as though he had not heard the whistle at all.
'Shape without form,' wrote Eliot, 'shade without colour, paralysed force, gesture without motion…'

Marooned on the twin island republic for the better part of 20 years, the former England World Cup defender has become adept at re-writing his own narrative, and much besides. The Trinidad and Tobago Football Association's Board of Directors, on the recommendation of its technical committee, offered him a salary of US$17,500 (TT$118,000) per month to lead the national team.
Fenwick had his lawyer, Ravi Rajcoomar, rewrite the contract and persuaded then local football president William Wallace to sign it in private, with fresh terms and an improved wage of US$20,000 (TT$134,600) per month.
Those were the shady circumstances with which Trinidad and Tobago's journey to Qatar began, as the incumbent administration headed unknowingly towards conflict with Fifa and 'normalisation'.
'[…] We are the hollow men, we are the stuffed men leaning together, headpiece filled with straw…'
Rajcoomar was not in Nassau today. Neither was Commissioner of Police Gary Griffith, Fifa-appointed normalisation committee chairman Robert Hadad, nor controversial marketing director Peter Miller—all men who helped get Fenwick this far, in one way or the other.
Today, it was all about his tactical guidance of 22 young men eager to accomplish their childhood dreams. Four (Sheldon Bateau, Aubrey David, Khaleem Hyland, and Robert Primus) were former Fifa World Youth Cup players. Another five (Neveal Hackshaw, Shannon Gomez, Duane Muckette, Andre Fortune II, and Levi Garcia) were once Caribbean Under-20 champions.
In fact, only two players in Fenwick's squad, unused substitutes Justin Garcia and Jesse Williams, had not played elite football at some stage in their careers—be it in Concacaf or Europe.
The Bahamas had just two players in their entire squad who played higher than Caribbean level: central defender Evelt Julmis and left back Lesly St Fleur. And they did so in beach football, rather than the 11-a-side competition.
Yet, somehow, Trinidad and Tobago could not navigate a way past them; and it might not be far-fetched to say that the only interesting things about today's contest happened off the field of play.
Yesterday, Fenwick's decision to omit 18-year-old attacker Gary Griffith III from his match day squad—coupled with some yet unknown questions by Trinidad Express investigative journalist Denyse Renne regarding the alleged financial relationship between the police commissioner and the national football team head coach—led to an extraordinary online outburst by Griffith senior, while his son supposedly refused to attend a team bonding exercise.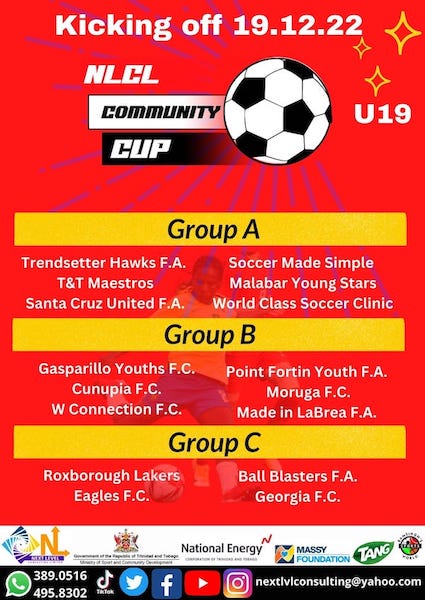 Griffith III has played barely a handful of competitive adult football matches, and even those came more than two years ago for then second-from-bottom Pro League team, North East Stars. By the pandemonium, one might have thought the dropped player was Russell Latapy in his prime.
But then Fenwick, never content to just be a football coach, always seemed to be hunting for a rod for his own back, in his attempt to juggle a half dozen various interests at once. And when it mattered, he could not manage the one job that a virtually insolvent organisation is paying him TT$1.6 million a year to do.
'[…] This is the dead land, this is cactus land…'
The Warriors were, arguably, fortunate to hear the opening whistle at all. The normalisation committee's pricy new BOL match day kit appeared to violate article 8.3 and 11.2 of the Fifa Equipment Regulations due to its decorative element.
BOL did not send any goalkeepers pants for the team in Nassau either, but the match commissioner allowed custodian Adrian Foncette to mix uniforms.
Trinidad and Tobago started the fixture with their most offensive line-up under the Fenwick so far, with three central defenders, no defensive midfielder, and the talented pair of Levi Garcia and Joevin Jones seemingly free to search for space wherever they could find it in the attacking third.
In their three previous outings, the Bahamas conceded the opening goal in the 25th, eighth and third minute of the game respectively. Fenwick clearly wanted to continue the trend by putting his opponents under early pressure.
Bateau almost got on the scorecard after just 14 minutes, with a spliced effort that 18-year-old Bahamian goalkeeper Ian Lowe did well to keep out. Lowe made fine saves too off Warriors forward Ryan Telfer and Muckette.
Yet, by halftime, the Bahamas could claim one of the best chances of the game, as St Fleur tore forward from his unaccustomed role at left back and held off Gomez, Bateau and Hackshaw before burying an effort into the side netting.
The Warriors were moving the ball about too slowly, while there was not that zip noticeable in players who know exactly where they need to be at exactly what time. Perhaps they did not know at all. 
From the slipshod health protocols sent to the Ministry of Health—in an effort to host World Cup qualifying matches—to the national flag flown upside down in Puerto Rico, Trinidad and Tobago football officials have been 'winging it' for some time now.
Fenwick introduced stocky Watford FC youth team midfielder Daniel Phillips to add some bustle to his team, at the expense of Fortune. In retrospect, it was a fitting harbinger of the side's luckless evening.
'[…] Remember us—if at all—not as lost violent souls, but only as the hollow men, the stuffed men…'
Daniel Carr joined him, in the 61st minute, as he replaced Telfer upfront. In the past two years, the England-born forward managed a solitary competitive goal; and that came in the hotbed of football that is the India third division.
Hang on, what's going on here?
Fenwick sent in Hyland next, in the 72nd minute. Hyland flew for roughly 24 hours to join the team from Saudi Arabia on Friday morning and surely could not have expected to feature in the encounter. Incidentally, Hyland lives one hour away from Qatar by plane. He will only ever visit that country as a tourist now.
In the 79th minute, a deep Jones free kick found Hackshaw whose header struck the upright before being bundled behind by Lowe for a corner kick. Finally, the Warriors appeared to have caught a whiff of blood.
Carr tested Lowe's nerve soon after as he barged into the young custodian and left him flat on his back, while chasing a deep ball behind the backs of the Bahamas defence. Just how badly did the Bahamas want this draw?
Lowe responded eight minutes later with a punched clearance off a deep, swerving Jones free kick. They wanted it quite badly indeed.
By then, Trinidad and Tobago's most dangerous player, Garcia (L), was on the bench, replaced by his younger brother Judah Garcia, who is currently 'between clubs'.
In truth, Garcia (L) did not seem to have the answers today while his brother's effort could not be faulted. But again, the picture of Fenwick pleading for a goal from the sidelines with his most dynamic player sat behind him, seemed to fit the unfolding script.
'[…] Between the idea and the reality, between the motion and the act, falls the shadow…'
In the 95th minute, Phillips steamed past opposing midfielder Nicolás López only for López to recover with a desperate lunging tackle that chopped down the Trinidad and Tobago player just inches outside the Bahamas' penalty box.
Phillips is built like a truck, the 18-year-old López looked about as solid as a balloon. The imagery of the Warriors' fate was unmistakable by now.
The match was in added-on time of added-on time.
Jones' free kick in the box sparked panic for a few seconds. But somehow, again, the Bahamas defied their comparatively star-studded guests and managed a clearance. And then it really was over. Trinidad and Tobago's white shirts had surrendered.
Jack, a hero of the 2006 World Cup campaign, tried to block out the vision of his surroundings, a few players debated in vain with the referee, and the others strode briskly towards the dressing room. 
And Fenwick paced back and forth, as though by rote—a chicken that did not realise he had lost his head.
Somehow, the glib-talking Englishman managed to make a World Cup qualifying draw in which the most 'illustrious' opponent, St Kitts and Nevis, were ranked 131st in the world, look like a group of death.
'[…] This is the way the world ends, this is the way the world ends, this is the way the world ends, not with a bang but a whimper.'
(Teams)
Trinidad and Tobago (3-4-3): 22.Adrian Foncette (GK); 4.Sheldon Bateau (captain), 15.Neveal Hackshaw, 2.Aubrey David; 16.Shannon Gomez, 10.Duane Muckette (8.Khaleem Hyland 70), 14.Andre Fortune II (19.Daniel Phillips 46), 13.Keston Julien (20.Noah Powder 62); 11.Levi Garcia (5.Judah Garcia 71), 3.Joevin Jones, 7.Ryan Telfer (9.Daniel Carr 62).
Unused substitutes: 1.Denzil Smith (GK), 6.Radanfah Abu Bakr, 12.Robert Primus, 17.Justin Garcia, 18.Michel Poon-Angeron, 22.Jesse Williams.
Head coach: Terry Fenwick
The Bahamas (4-5-1): 1.Ian Lowe (GK); 4.Troy Pinder, 5.Dylan Pritchard (captain), 8.Evelt Julmis, 10.Lesly St Fleur; 13.Logan Russell (20.Wood Julmis 95); 21.Nicolás López, 7.Terry Delancy, 19.Roen Davis (16.Ethan Willie 68), 9.Carey Quinton; 11.Marcel Joseph.
Unused substitutes: 18.Michael Butler (GK), 2.Evens Julmis, 3.Alexander Thompson, 6.Marc Ville, 14.Kenaz Swain, 15.Nathan Wells, 17.Valentino Hanna, 22.Jean Francois.
Head coach: Nesley Jean
Wired868 has provided readers with solid, independent journalism since 2012.  If you appreciate our work, please contribute to our efforts. 
Support Independent Journalism