Trinidad and Tobago Men's National Senior Team head coach Terry Fenwick blamed poor finishing for his team's elimination from the Qatar 2022 World Cup qualifying campaign yesterday evening, after a goalless draw away to The Bahamas at the Thomas Robinson Stadium in Nassau.
The draw left the Soca Warriors with five points from three games—four points shy of St Kitts and Nevis, who they play in the Dominican Republic on Tuesday.
The Bahamas have never qualified for a Caribbean Cup, let alone a senior Concacaf tournament, and they conceded 15 goals in their previous three matches without scoring once.
It was the first time that the Bahamas avoided defeat in a World Cup qualifier since 30 March 2008, when they drew 2-2 with the British Virgin Islands at the same venue. 
In the 13 years since, 'The Baha Boyz' were booted out of three consecutive Fifa qualifying campaigns in two-legged affairs: 13-0 aggregate to Jamaica (2010), 10-0 to Turks and Caicos (2014), and 8-0 to Bermuda (2018). They ended that barren run yesterday in their first ever meeting against the Soca Warriors.

Fenwick credited the tenacity of the Bahamian players, who are more renowned for beach soccer than the 11-a-side version—although even in that arena, they routinely finish behind the twin island republic.
"First and foremost, I've got to hand it to the Bahamas," said Fenwick. "They had a game plan, they dug in deep. They wore their hearts on their sleeves, they fought for every ball, and they grinded [sic] out a result."
The English coach, a former England World Cup defender, said the 'disappointing result' was simply down to his players 'squandering multiple chances'.
"[We] didn't give any chances away ourselves, created possibly six, seven, eight chances and didn't convert," said Fenwick. "And if you don't score at this level teams can come back and bite you, and I thought that's what they did. Bahamas showed a lot of pride and passion, played for their country. The chances that we missed I think were glaring."
Trinidad and Tobago have played three competitive games under Fenwick, with a 3-0 win over Guyana followed by a 1-1 draw with Puerto Rico and a goalless tie against the Bahamas. The trio are ranked 165, 178 and 201 in the world respectively by Fifa.
The Englishman suggested the Warriors will use a similar tactical approach against St Kitts and Nevis on Tuesday, although he is likely to add some fresh faces to the squad.
"We will go into that [match against St Kitts and Nevis] with the same game plan," said Fenwick. "We obviously thought we would have had a better result today than we've had. But we've got top class players, we have some good youngsters coming through—it's time to see them. We will give some kids a good run for their money."
Fenwick's hint about using 'youngsters' would probably raise speculation of a debut senior run-out for 18-year-old Gary Griffith III, who is the son of Commissioner of Police Gary Griffith but an unknown quantity in the local game—having failed to stand out at school or club level. Griffith III is the only player nurtured by Fenwick's Football Factory academy to ever get a senior national team pick.
Otherwise, rookie defender Jesse Williams is 19 and left-sided attacker Nickel Orr is 20, along with midfielders Michel Poon-Angeron and Judah Garcia who have already featured in the competition.
Fenwick gave no indication that he is ready to walk away from his US$20,000 (TT$134,600) a month contract. And, remarkably, he can get a two-year extension with a pay raise to US$25,000 (TT$168,00) a month if he leads Trinidad and Tobago to wins over Montserrat and either Cuba or French Guiana in Concacaf Gold Cup qualifying games on 2 and 6 July respectively—based on a controversial contract that was not agreed by the Trinidad and Tobago Football Association (TTFA) board but signed off in secret by former president William Wallace and general secretary Ramesh Ramdhan.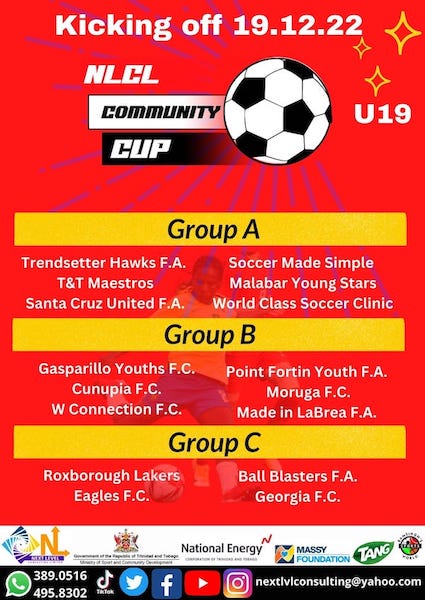 Trinidad and Tobago's Qatar 2022 World Cup dreams are over, but the Fenwick era could continue for some time yet.
Wired868 has provided readers with solid, independent journalism since 2012.  If you appreciate our work, please contribute to our efforts. 
Support Independent Journalism