Trinidad and Tobago Men's National Senior Team head coach Dennis 'Tallest' Lawrence finally paid the price for an abysmal record in charge of the Soca Warriors yesterday, as the new Board of the Trinidad and Tobago Football Association (TTFA) sacked him in its first official meeting under president William Wallace.
Wired868 understands that the Board intends to replace Lawrence as early as next weekend with the new coach expected to navigate Trinidad and Tobago through a two-legged 2021 Concacaf Gold Cup Play Off against either Guyana or Barbados next June.
The first available international match window for the new Warriors coach is March 2020 and the cash-strapped TTFA will hope to have a timetable drawn up by the New Year.
Lawrence's contract with the local football body has another two years to go and it appears unlikely that former president David John-Williams included any usable performance-related clauses. Still, the new board ruled that the Warriors' performances have been untenable under the current coach.
Wallace, according to a release by the TTFA Media, informed Lawrence of the Board's decision immediately after it was made and promised to meet with the coach's representatives soon to discuss a suitable payoff.

After nearly three years on the job, Lawrence's record stands at six wins, eight draws and 21 losses with a win-draw-loss ratio of 17 per cent, 23 per cent and 60 per cent respectively.
In the competitive arena, Lawrence led Trinidad and Tobago into action on 15 occasions with 10 losses, three draws and just two wins in three years—against Panama in his opening game and then, spectacularly, against the United States on 10 October 2017. His win-draw-loss ratio there is 13 percent, 20 percent and 67 percent respectively.
The head coach won just one match with the Warriors this year against Fifa's lowest ranked football nation, Anguilla, and managed four draws with 10 losses. The 2019 ratio of: six percent (won), 27 per cent (drawn) and 67 per cent (lost) is the worst ever performance by the Trinidad and Tobago Men's National Senior Team in a calendar year.
His exit was the biggest decision made by the new board yesterday with another notable call being the hiring of former Referees Department head Ramesh Ramdhan as general secretary and Trinidad and Tobago Super League (TTSL) president Keith Look Loy's appointment as Technical Committee chairman.
It was Wallace rather than Look Loy who posed the question of Lawrence's job tenure to the board. 'Does the board believe we need change?' Wired868 understands that 11 of the 12 board members present answered 'yes'. There was one abstention.
The board members who were party to the decision yesterday were: Wallace (president), Clynt Taylor, Susan Joseph-Warrick, Sam Phillip (vice-presidents), Rayshawn Mars (Northern FA), Richard Quan Chan (Southern FA), Joseph Taylor (Trinidad and Tobago Football Referees Association), Jamiyla Muhammad (Women's League Football), Brent Sancho (TT Pro League), Dwayne Thomas (Central FA), Keith Look Loy (TTSL) and Keon Edwards (Eastern FA).
Secondary Schools Football League (SSFL) representative Phillip Fraser was absent and said to be out of the country. The Tobago Football Association (TFA) is yet to submit a representative for the board while the general secretariat found issues with proposals from the Eastern Counties Football Union (ECFU) and Veteran Footballers Foundation of Trinidad and Tobago (VFFOTT)—the ECFU and VFFOTT must redo the process to have their proposed board members accepted.
Although Lawrence had John-Williams' unstinting support, he would not have expected a warm relationship with the incoming administration. Five months ago, the Warriors head coach raised eyebrows by issuing Look Loy with a pre-action protocol letter for criticising his work.
"Your comments have brought my client to disrepute and odium," stated Lawrence's attorney, "and have held up my client to ridicule among the people of Trinidad and Tobago and among his peers in the football community, both locally and internationally. I, therefore, call upon you to publicly apologise to my client forthwith to avoid further legal action…"
Look Loy was just an out-of-favour board member then. Today, he is one of the most influential persons in the new dispensation, after helping Wallace to defeat John-Williams by 26 votes to 20 at last month's AGM.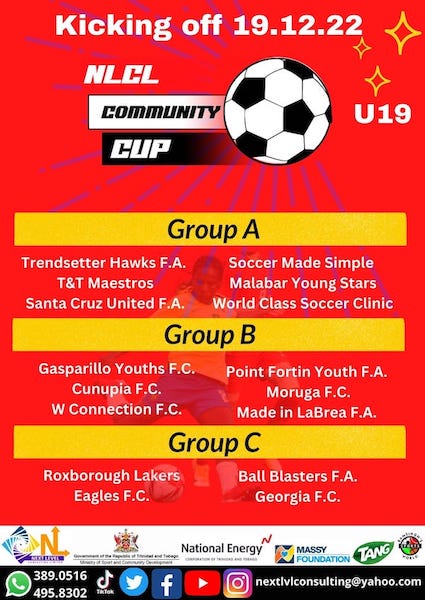 Still, the outgoing Warriors coach would have a hard time passing off his dismissal as an act of recrimination. Arguably, he lost the faith of most on the twin island republic long before Look Loy's stinging critiques.
Between Lawrence's appointment and his unveiling, then technical committee chairman Dexter Skeene, vice-chairman Dr Alvin Henderson and ordinary member Errol Lovell all quit their posts—after bristling that the board ignored their selections to hire the rookie coach.
Skeene had recommended Englishman Terry Fenwick for the job while the majority of the committee opted for St Lucian Stuart Charles-Fevrier, who was subsequently hired as assistant to Lawrence.
The players, in an email submitted by goalkeeper Jan-Michael Williams, incidentally made it known that their own wish-list for the post were: recently fired head coach Stephen Hart, Fenwick and Charles-Fevrier with Club Sando and Naparima College coach Angus Eve suggested as an assistant.
Lawrence failed to prove that they had all misjudged his value after three years on the job. At the time of writing, it has been 795 days since Lawrence won a competitive game as head coach. And, notably, there were signs that the Warriors were actually heading in the opposite direction.
In his first year on the job, Lawrence's troops edged Panama and the United States in World Cup qualifying contests. Yet, they lost their next two contests against Panama, 3-0 and 2-0 respectively, and failed to register a single shot on goal against the Central American outfit at the June 2019 Concacaf Gold Cup.
And their rematch against USA was a 6-0 humiliation and Trinidad and Tobago biggest ever defeat in a Gold Cup affair.
Incidentally, in one of his final acts as technical committee chairman, Skeene inserted a performance-related clause in the contract of the incoming coach that would have allowed the TTFA to dismiss him with just cause if he failed to deliver a 40 percent success rate on an annual basis or his team suffered more than a six point drop in the FIFA rankings.
Lawrence, guided by his English agent Mike Berry, refused to sign and the TTFA board removed the clause.
Had Skeene's clause been inserted, the TTFA would have terminated Lawrence in January 2018.
At present, the Warriors are 20 places worse off than when they hired Lawrence—they dropped from 84th to 104th in the Fifa rankings—while it has been 795 days since the lanky head coach last won a competitive game.
The Warriors were ranked 54th in the world when John-Williams was elected president while they were 65th when they fired Stephen Hart in October 2016.
During his tenure, Lawrence set five unprecedented marks for the 114-year old local football body. Just months into the job, the six foot seven tactician suffered seven straight losses to break a 60 year record.
Opponents: United States (A) 0-2, Costa Rica (A) 1-2, Ecuador (A) 1-3, Jamaica (H) 1-2, Honduras (H) 1-2, Panama (A) 0-3, Mexico (A) 1-3.
Lawrence broke that losing run in some style against the United States. But the 'new era' he promised never materialised.
Instead by 2019, the Warriors set another unwelcome mark of seven straight matches without a goal. Included in that spell was a Gold Cup record 6-0 loss to USA.
Opponents: Thailand (A) 0-1, Iran (A) 0-1, Wales (A) 0-1, Japan (A) 0-0, Canada (N) 0-2, Panama (N) 0-2, USA (A) 0-6.
And then, infamously, a record stretch of 14 consecutive games without a win, which included defeats to the Mexico Under-23 Team and St Vincent and the Grenadines as well as draws against Guyana and Martinique.
Opponents: Thailand (A) 0-1, Iran (A) 0-1, Wales (A) 0-1, Japan (A) 0-0, Canada (N) 0-2, Panama (N) 0-2, USA (A) 0-6, Guyana (N) 1-1, St Vincent and the Grenadines (A) 0-1, Martinique (A) 1-1, Martinique (H) 2-2, Mexico (A) 0-2, Honduras (H) 0-2, Venezuela (A) 0-2.
Once more, Lawrence broke the dreary run with a bang. Only, this time, the Warriors' record 15-0 win against Anguilla—ranked by Fifa at 205th from its 205 member associations—brought largely scorn from supporters and giggles around the region.
Predictably, Trinidad and Tobago followed up on that romp with impotent defeats away to Ecuador (0-3) and Honduras (0-4), which saw the Warriors demoted from the top tier of the Concacaf Nations League.
Barely 1,200 supporters turned out to see Lawrence's last competitive home match against Honduras on 10 October 2019, which was barely a quarter of the fans who watched Naparima College and Presentation College (San Fernando) contest the South Zone Intercol schoolboy trophy.
And, by his final outing, even his two most gifted players, Kevin Molino and Joevin Jones, had deserted him.
"He's always [talking] with players about me for them to bring back the message for me," Jones told Wired868. "His communication with me is not good… I know I love to represent my country but not at the expense of my happiness. I want to play but I'm not playing for people who don't appreciate me."
Lawrence, who often reiterated that he had '100 percent confidence' in his own methods, was never one for public introspection.
"Dennis Lawrence is the head coach and of course I stand here and take all responsibility for 13 games without a victory," said Lawrence, after their 2-0 home defeat to Honduras on 10 October 2019. "But we must always remember it's Trinidad and Tobago that went 13 games without a victory—not Dennis Lawrence. Players need to start taking responsibility for their own performance at times…"
However, in an unguarded moment on 10 July 2019, he did publicly set himself a target as he prepared for Concacaf Nations League assignments against Martinique and Honduras.
"Every game is like a final now to get into the Hex," Lawrence told the TTFA Media. "If we want to improve on our rankings, we have to get results…"
Lawrence subsequently failed to win a single one of those four 'finals'. And, once John-Williams was removed as president, the head coach's dismissal always seemed likely to be a case of when rather than if.
'When' turned out to be at the very first opportunity presented to the new board.
Lawrence's closing competitive record of 13 per cent (wins), 20 per cent (draws) and 67 per cent (losses) is the worst win-loss ratio of any coach in this millennium. (Belgian Tom Saintfiet had two competitive games as coach and lost both in extra time; but, incidentally, the Fifa rankings only recognise defeats in regulation time.)
It will be the job of a new coach to improve the Soca Warriors in 2020. It is likely that football fans will know the identity of Lawrence's replacement before Christmas.
Editor's Note Click HERE for a review of Dennis Lawrence's tenure as Soca Warriors head coach in quotes.