Eh… well that was awkward. Two hundred and forty minutes of football for three scrappy goals and a load of penalties.
If ever there was proof that God has an offbeat sense of humour, it may lie in the fact that today's stodgy fare was played on the only Sunday of the knockout round before the 15 July Russia 2018 World Cup final.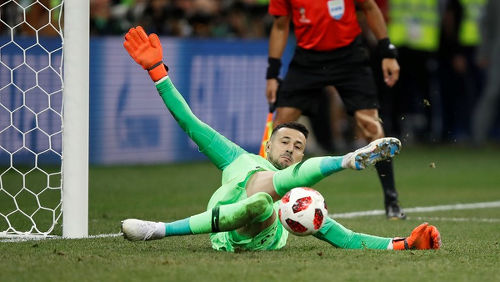 In the end, hosts Russia and Croatia booked a quarterfinal date against each other on Saturday 7 July, Spain and Denmark were both eliminated via kicks from the penalty mark, and, presumably, thousands of impressionable children considered abandoning the beautiful game for cricket.
The fact that the heroes at the end of the day were an unheralded 33 year old Croat custodian and a Russian coach whose sole previous managerial accolade was in the Polish league, speaks to the uninspiring nature of today's two Round of 16 outings.
"I had to persuade them this was the only way as they don't like this system," said Russia coach Stanislav Cherchesov.
You mean children don't dream of getting to a World Cup for the sole purpose of harassing technically superior players over 120 minutes? Who would have thought…
To be fair to Cherchesov, being thrashed is no fun either; and, after losing 3-0 to Uruguay in their final group match, the circus ringmaster lookalike decided that discretion is the better part of valour. And so, Russia turned a knockout affair into a bus parking exhibition.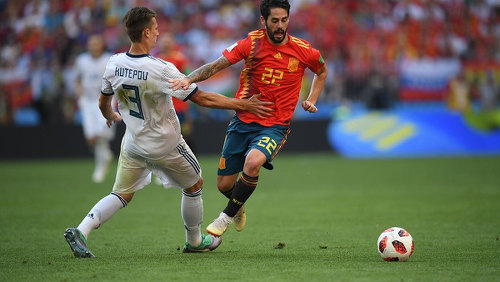 Spain did enjoy an early breakthrough in the 12th minute, as Russia defender Sergei Ingashevich redirected a Marco Asensio freekick past his own goalkeeper, Igor Akinfeev, during a tussle with infamous Spanish wrestler, Sergio Ramos.
Ramos, according to some amateur lip readers, then shouted: "Sue me, Mo!" into the television camera. It would be beyond bizarre if the Real Madrid defender really was so energised by playing the anti-hero that he still wanted to rub salt into the wounds of Egypt and Liverpool forward Mo Salah, who he memorably injured during the 2017/18 European Champions League final.
If Ramos was Spain's unrepentant 'bad cop', his central defensive partner, Gerald Pique, was the officer who would make potential assailants a cup of coffee and ensure they had a comfortable chair.
And, not for the first time, Pique undid his partner's good work with some ridiculous defending, as he jumped to contest a header at the other end with one arm straight up in the air as though hailing a taxi. Or maybe it was a plane home to Barcelona.
Netherlands referee Bjorn Kuipers pointed to the spot and Russia forward Artem Dzyuba blasted home to level scores. It was the host team's first and last shot on target for 120 minutes.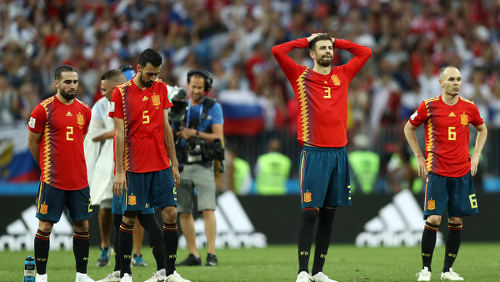 Spain had 73 percent of possession, 14 shots on target and 25 attempts altogether but they rarely got close enough to see the whites of Akinfeev's eyes.
Stand-in Spanish coach Fernando Hierro—who was promoted after Spanish Football Federation chief Luis Rubiales took immense umbrage at coach Julen Lopetegu's decision to sign for Real Madrid on the eve of the tournament—was hardly a risk taker himself, as he retained the holding midfield pair of Sergio Busquets and Koke for the entire match, although Russia essentially played a 5-5-0 formation.
Russian supporters screamed with delight and players punched the air when Kuipers signalled for the end of extra time and kicks from the penalty mark. And Akinfeev justified their faith, as he saved from Koke and substitute Iago Aspas to put Russia into the quarterfinal round.
Russia president Vladimir Putin was not present to smirk at another foreign leader. Or maybe he did not want to risk being on the scene of a humiliation.
"Before the match, around noon, the president called the coach and wished him well," said Kremlin spokesman Dmitry Peskov. "Putin said that under Cherchesov's leadership, our guys have already accomplished the impossible—made it out of the group."
Mr Live Wire cannot confirm that Putin watched the match from inside a trendy FIFA sports bar called "Var".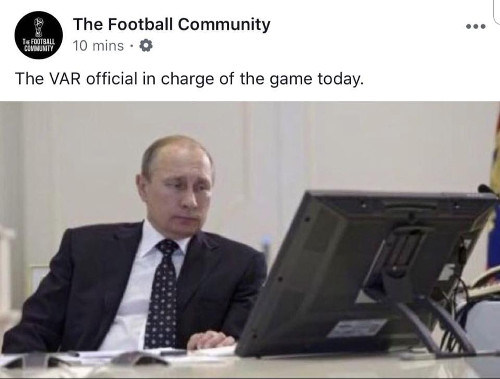 The second outing got off to a blistering start, as Denmark defender Mathias Jorgensen scrambled home from close range, after a long throw by lower league defender Jonas Knudsen.
That's right; in the era of smartphones, drone warfare and self-driving cars, a team of millionaire professionals who receive tactical instructions by powerpoint can still be undone by such an uncomplicated routine from the black and white television era.
The Croatian players must have felt as disoriented as a modern-day teenager being introduced to a scrubbing board.
Denmark did not get far though. Within two minutes, there was another bit of comedic farce as Danish left back Henrik Dalsgaard whacked an attempted clearance into the grill of teammate Andreas Christensen. Croatia forward Mario Mandzukic gleefully swept in the rebound to tie scores at 1-1.
Rather than motivate the two teams to press forward for more glory, the early goals appeared to have the opposite effect as Croatia and Denmark both adapted conservative outlooks thereafter.
Wary of counter-attacks, both sides were tentative in possession and quicker to get numbers behind the ball than ahead of it.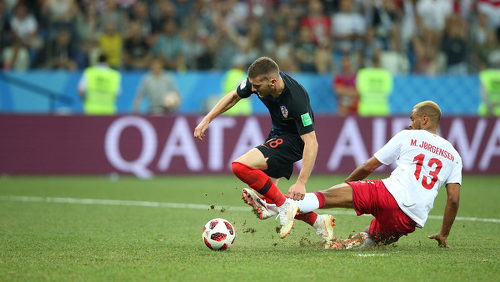 Ironically, the game was nearly decided by a fast break anyway in the 24th minute of extra time, as maestro Luka Modric slipped a brilliant pass for teammate Ante Rebic, who rounded the opposing goalkeeper before being tripped up by Jorgensen.
It was the 27th penalty of the World Cup—a record for the prestigious competition—but Modric could not make the most of it as Denmark goalkeeper Kasper Schmeichel wrapped up his effort.
It meant the Real Madrid star joined an unfortunate list of penalty flops in 2018, which includes Argentina captain Lionel Messi and Portugal skipper Cristiano Ronaldo.
Unlike Messi and Ronaldo, Modric will stick around in Russia a bit longer as Croatia goalkeeper Danijel Subasic thwarted three attempts to inspire his nation to a 3-2 shootout win.
Penalties aside, today's games were a treat for anyone who missed them.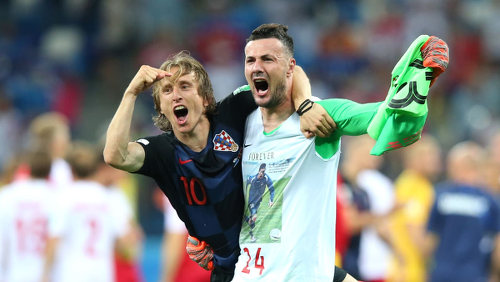 World Cup 2018
Round of 16
(Saturday 30 June)
France 4 (Antoine Griezmann 13 pen, Benjamin Pavard 57, Kylian Mbappe 64, 67), Argentina 3 (Angel Di Maria 41, Gabriel Mercado 47, Sergio Aguero 90+3), Kazan;
Uruguay 2 (Edinson Cavani 7, 62), Portugal 1 (Pepe 55), Sochi;
(Sunday 1 July)
Spain 1 (Sergei Ingashevich OG 12), Russia 1 (Artem Dzyuba 41 pen), Moscow;
*—Russia win 4-3 on kicks from the penalty mark
Croatia 1 (Mario Mandzukic 4), Denmark 1 (Mathias Jorgensen 1), Nizhny Novgorod;
*—Croatia win 3-2 on penalties;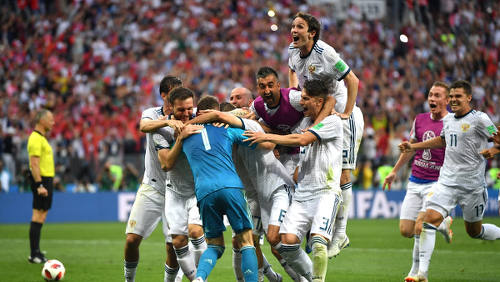 (Monday 2 July)
Brazil (E1) v Mexico (F2), 10am, Samara;
Belgium (G1) v Japan (H2), 2pm, Rostov-On-Don;
(Tuesday 3 July)
Sweden (F1) v Switzerland (E2), 10am, St Petersburg;
Colombia (H1) v England (G2), 2pm, Moscow.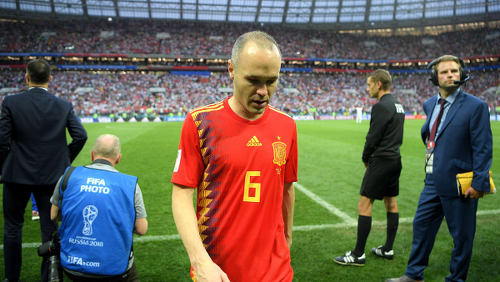 Quarterfinal match-ups
(Friday 6 July)
France v Uruguay, Nizhny Novgorod;
Brazil/Mexico v Belgium/Japan, Kazam;
(Saturday 7 July)
Russia v Croatia, Sochi;
Sweden/Switzerland v Colombia/England, Moscow, Samara.