Eh… It's coming home?
Barely two months ago, Russia president Vladimir Putin expelled nearly five dozen British diplomats, as the two countries bickered over the poisoning of former Russian double agent Sergei Skripal in London. Who would have thought that the England football team would be more difficult to dislodge?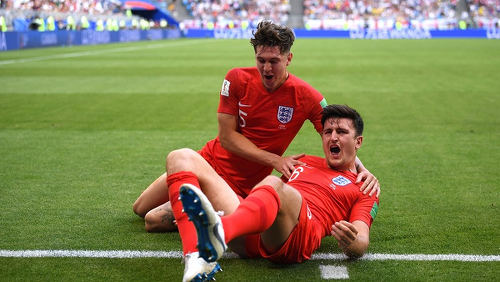 For the first time in 28 years, the "Three Lions" are into the semifinal round of a World Cup, after goals from Harry Maguire and Dele Alli saw them cruise to a 2-0 win over Sweden in Samara today.
Next stop for England is, gasp, Moscow. Putin must be popping Xanax.
Russia might well have been their opponents in Wednesday's semifinal too, but the hosts came up short in a penalty shootout against Croatia today, which finished 4-3 in favour of the visitors.

Thank God for small mercies. An England/Russia semifinal might have been the first World Cup match officiated by UN Peacekeeping Forces.
The Russia squad certainly did all they could to stay alive, as silky Spain-based midfielder Denis Cheryshev opened the scoring with a brilliant solo effort in the 31st minute. And, after conceding to headers from Andrej Kamaric and Shrek look alike, Domagoj Vida, the "Bear" refused to concede as right back Mário Fernandes scored in extra time to send the match to penalties.
Cheryshev and Fernandes are, to varying degrees, products of a foreign football culture.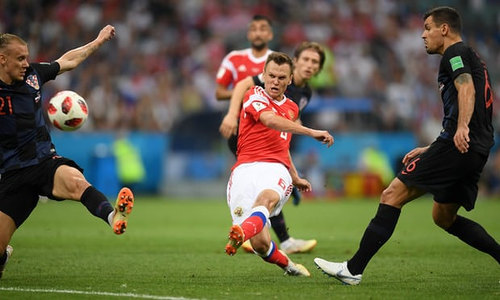 Cheryshev moved to Spain at the age of nine—his father, Dmitri, was a Sporting Gijón player—where he went straight into the Real Madrid academy. He remained a Real Madrid player for seven years, although he made only two caps with their first team and spent most of his time on loan, before moving to Villarreal in 2016.
Fernandes, on the other hand, is about Russian as the fellah from in school who would always try to cut in front of the line. Born in São Paolo, Fernandes was capped in a friendly for Brazil in 2014 but rejected the chance to continue playing for the Seleção and, two years later, switched nationality instead—he was granted Russian citizenship by a presidential decree from Putin.
After five years in Moscow, Fernandes can only speak two words in Russian: spasiba (thank you) and pozhalusta (you're welcome).
"Mário is like a dog," Russia coach Stanislav Cherchesov told reporters in March. "He understands everything [we ask him to do] but can't answer back…"
Like a dog?! Well, you just cannot beat Russian hospitality to foreigners can you…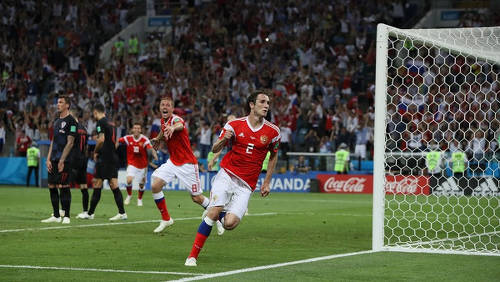 And, in retrospect, maybe it is just as well that Fernandes could not understand what his teammates and Russian supporters had to say after his missed penalty in the shootout.
For Croatia, it was another desperately close shave, as playmaker Luka Modric and company again made life difficult for themselves. It was their second win on penalties at this tournament. But then they can't play Argentina every week, can they?
In contrast, England coach Gareth Southgate enjoyed a relatively serene affair against a Sweden team as flat as an already opened bottle of soft drink.
Sweden, of course, opted to compete at the Russia World Cup without the greatest player in their history, Zlatan Ibrahimovic, who at a ripe age of 36 would probably still be head and shoulders above anything in their current squad—literally and figuratively.
But let Sweden back-up goalkeeper Karl-Johan Johnsson explain why it was "risky" to carry The Zlatan.
"We managed to qualify and go through to the World Cup without him, and I think we can manage to play well at the World Cup without him," said Johnsson, in an April interview. "[…] With Zlatan, as a person, as a player he's an individualist, and the play goes around him. Instead, now, we play more with the team all together.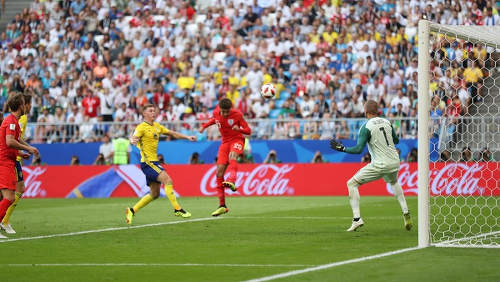 "It's a different style of play when you have a player like Zlatan, Cristiano [Ronaldo] or [Lionel] Messi in your team, because they're world-class players, and you have to use those players to win the game and play in a special way.
"I don't know if the coach wants such a big change, because he'll have to change the whole system of how he wants to play."
And why would any collection of average players want the trouble of tailoring their game around a potential match winner? It was like Kleberson explaining why he'd rather not have Ronaldo as a teammate in Brazil's 2002 World Cup winning team.
Okay, to be fair, Sweden have now done better without Zlatan than they did with the maverick striker. But Mr Live Wire would rather watch The Zlatan caress a football than Marcus Berg chasing after his crappy first touch any day.
And The Zlatan's post-game comments are as entertaining as anything The Donald ever dished out, only without the threat of race riots, nuclear war or Middle Eastern 'cofveve'.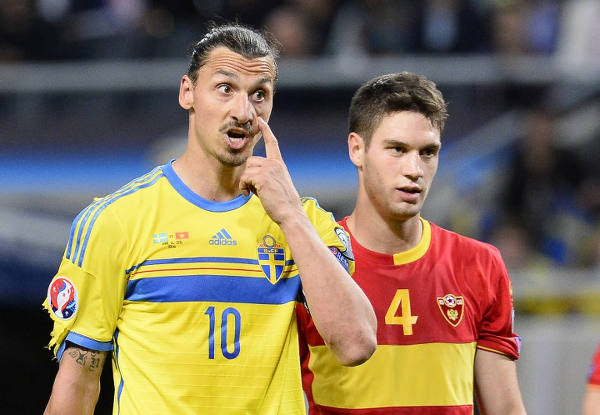 In any case, England were as good as home and dry after just half hour, as Maguire headed home from an Ashley Young corner kick. It was their eighth set piece item from 11 goals at the tournament—and, this time, England did not even possess a height advantage.
England coach Gareth Southgate must have a rabbit foot in his waistcoat pocket.
Following a pair of trademark misses from attacker Raheem Sterling—after six years and 42 caps, the Manchester City flanker's only two goals have come against Lithuania and Estonia (both in 2015)—attacking midfielder Dele Alli got England's insurance item in the 50th minute with a header off a Jesse Lingered cross.
There were some fine late saves from goalkeeper Jordan Pickford to secure his team's first clear sheet of the Russia World Cup—no easy feat when two members of your back three are named John Stones and Kyle Walker. But nothing to unduly worry England fans, who were already serenading themselves with their splendidly nerdy road march, "It's coming home."
Can the Three Lions really lift football's most coveted trophy?
It is like watching Pinky and the Brain chance across an idea for global domination that actually makes sense.
World Cup 2018
Quarterfinals 
(Friday 6 July)
France 2 (Raphael Varane 40, Antoine Griezmann 61), Uruguay 0, Nizhny Novgorod;
Brazil 1 (Renato Augusto 76), Belgium 2 (Fernandinho OG 13, Kevin De Bruyne 31), Kazan;
(Saturday 7 July)
Sweden 0, England 2 (Harry Maguire 30, Delli Alli 59), Samara;
Russia 2 (Denis Cheryshev 31, Mario Fernandes 115), Croatia 2 (Andrej Kamaric 39, Domagoj Vida 101), Sochi.
*—Croatia win 4-3 on kicks from the penalty spot.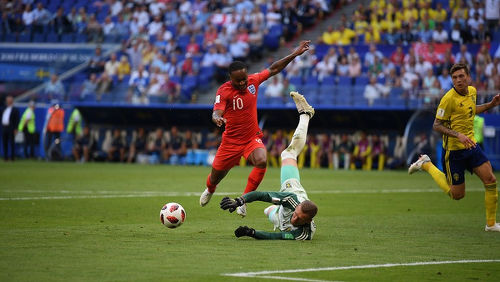 Semifinals
(Tuesday 10 July)
France v Belgium, 2pm, Saint Petersburg;
(Wednesday 11 July)
England v Croatia, 2pm, Moscow.