England football fans started the day singing "It's coming home"; but they will end it crooning "Closing Time."
A predatory finish by Croatian forward Mario Mandzukic in extra time separated the two nations in today's semifinal and set up a World Cup final date with France on Sunday. The only other time Croatia ever made it to the final four, they were edged 2-1 by France, after a controversial Lilian Thuram winner in the 1998 World Cup.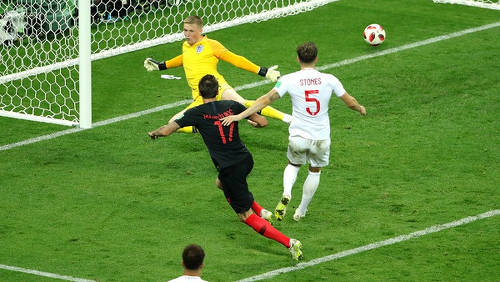 Now, 20 years later, the crop of 2018 have a chance to avenge their childhood heroes. It is a remarkable story for a country of four million—a population that is a fraction short of Trinidad and Tobago and Jamaica's populace combined.
The final score in today's semifinal read Croatia 2, England 1. On paper, it was close. But, in reality, only one team played by like potential world beaters; and it was not the fellahs with "Three Lions" on their chests.
Thrilled by their surprisingly straightforward progress through the knockout rounds, England got off to a dream start, as right wing back Kieran Trippier curled a brilliant free kick into top corner, after just five minutes.

But then, like young men promoted beyond their level of competence, England did not quite seem to know what to do next.
The Croatia trio of Mandzukic, Ivan Rakitic and Luka Modric are all former European Champions League winners—Modric lifted that illustrious trophy four times in the last five years.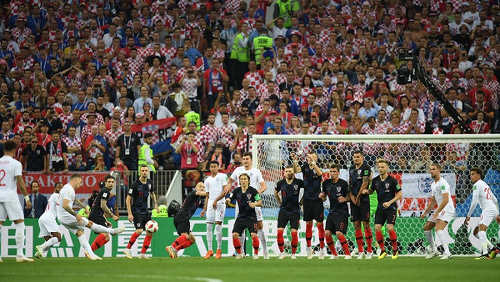 In contrast, Jesse Lingard's 14 minute run out n Manchester United's success in the second tier Europa League competition was the closest anyone in coach Gareth Southgate's starting team had come to glory outside of their domestic competition.
Shell-shocked, Croatia looked to be there for the taking in the first half hour, as England fizzed and beat them to every 50/50 ball. But, like the bashful boy at his school's May fiesta, the Three Lions just would not ask the pretty, blushing girl for a dance.
Croatia were anything but shy. And Ivan Perisic's equaliser was a case in point, as he nipped ahead of England defender Kyle Walker, in the 68th minute, to finish with a strike that was part-volley, part-roundhouse kick.
A schoolboy coach would tell you that you should always meet the ball at its highest point. But Walker's wandering concentration had looked a liability since the interval.
Twice, he put his goalkeeper Jordan Pickford under pressure with questionable back passes while he somehow got himself booked for refusing to give the ball back for a Croatia throw. It was like watching a car accident in slow motion.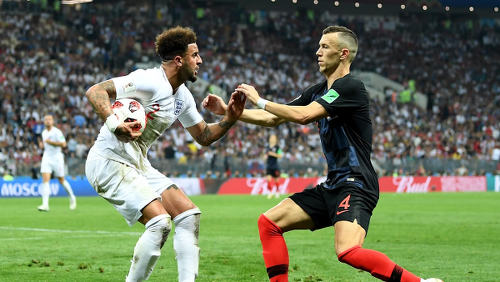 And what about England captain and forward Harry Kane? The strapping number nine already seems destined to become the World Cup's first ever Golden Boot winner without a single goal from open play—or not an intentional one anyway.
His six items so far comprise of: two penalties against Panama, one penalty against Colombia, two headers from set pieces against Tunisia and a freakish item against Panama—when a shot by teammate Ruben Loftus-Cheek hit his heel before beating the opposing goalkeeper.
Today, Kane's luck ran out.
In the 30th minute, Lingard played Kane behind enemy lines with only opposing goalkeeper Danijel Subasic for company. But the Tottenham striker offered no more than catching practice for the Croatian custodian.
It turned out to be the only save that Subasic had to make in 120 minutes of football.
Stones threatened once with a firm header from a corner kick, which was cleared by opposing right back Sime Vrsaljko. But the final game statistics showed that Croatia had 22 shots to 11 and, goals apart, seven attempts on target to one from England—along with 57 percent ball possession.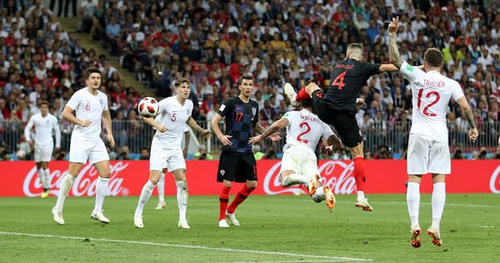 And as Modric glided across the field like a busy engineer, building intricate patterns with his passes, England players seemed to be taking the "Neymar challenge" as they flopped to the ground at every opportunity, pleading for free kicks.
Somewhere in Manchester, former England 1966 World Cup winner Bobby Charlton must have bowed his head in shame.
While Modric did the blueprints, spritely winger, Perisic, was Croatia's foreman.
In the 71st minute, the Inter Milan winger hit the upright, after pouncing on a Stones error and breezing past Walker. He threatened again in the 84th minute but failed to hit the target, following a weak punched clearance by Pickford. And, in the 106th minute, Perisic conjured up a wonderful chance for Mandzukic, who was denied by an equally glorious save by the England goalkeeper.
It was as though Perisic were wearing roller skates; or had borrowed France midfielder N'Golo Kante's teleport machine.
And Kane? The England captain might as well have been wearing pyjamas to match his languid shift on top.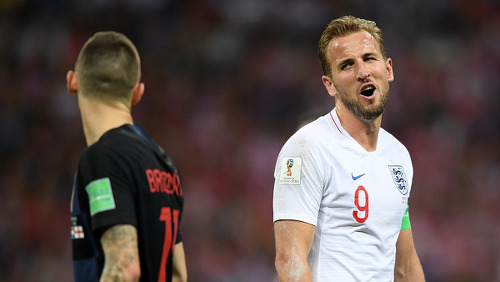 If anyone could patch a phone call through to Southgate at that point, it would have been Anton Chigurh—that unforgettable villain from No Country for Old Men.
"You know how this is going to turn out, don't you?" he would have asked, rhetorically.
In the 108th minute, England's resistance finally cracked. Walker started a game of impromptu head tennis with Perisic and the latter player craftily placed the ball behind the opposing backline.
England sweeper John Stones, as dozy as his skipper, took a fraction of a second to react. He might as well have taken a year.
Mandzukic was on it like a flash and stuck the knife in with the nervelessness of a serial assassin.
In Croatia's exuberant celebrations, the players almost turned a photographer into a rug, after inadvertently piling on top of the lensman.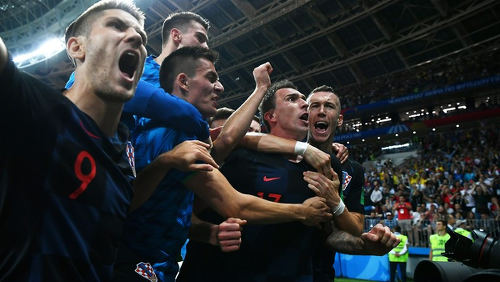 Presumably, he came off better than Belizean Fernando Oliva, who discovered the hard way that playing the role of bouncy castle for soca diva Destra Garcia is not as much fun as it sounds.
The photographer survived. But England's World Cup run did not.
"Closing time. You don't have to go home; but you can't… stay… here…"
2018 World Cup
Semifinals
(Tuesday 10 July)
France 1 (Samuel Umtiti 50), Belgium 0, Saint Petersburg;
(Wednesday 11 July)
England 1 (Kieran Trippier 5), Croatia 2 (Ivan Perisic 68, Mario Mandzukic 109), Moscow.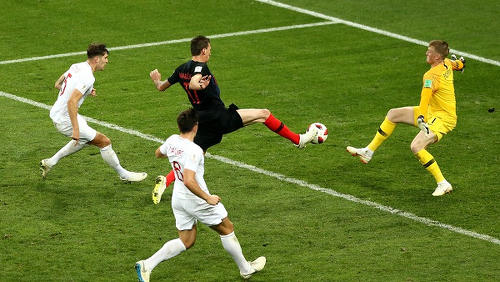 Third-place 
(Saturday 14 July)
Belgium vs England, 10am, Saint Petersburg;
Final
(Sunday 15 July)
France vs Croatia, 11am, Moscow.