Panama's Canal was left in all sorts of disarray this morning, as England racked up their highest ever goal tally in a 6-1 mauling of the Concacaf minnows at Nizhny Nivgorod in Group G action.
Panama coach Hernán Dario Gómez admitted that he was scared at halftime with his team already trailing 5-0.
"Conceding five goals in the first half is too much and I said to my assistants at the break: 'I'm starting to feel scared'," said Gomez, who is the only coach to qualify three different countries to the World Cup, after Colombia in 1998 and Ecuador in 2002.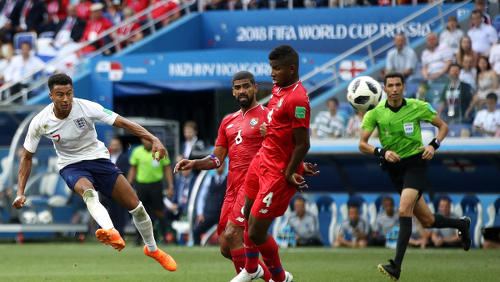 England captain Harry Kane was Panama's main protagonist with a hattrick, which took him to the top of the 2018 scoring charts with five goals. Coach Gareth Southgate promptly declared that he would not swap Kane for Cristiano Ronaldo or Lionel Messi—arguably making it easy to identify when the Brits lost touch with reality.
Today, Kane scored two penalties and was credited with a third, after Ruben Loftus-Cheek's effort came off his heel while he was looking in the other direction. And last Monday, the Tottenham striker got a close range double from set pieces against a Tunisian outfit that went on to concede five from Belgium.
It was like sending a challenge out to Floyd Mayweather Jr after thrashing a punching bag. Feet on the ground, lads—the teams awaiting you in the next round can punch back!
Senegal got their own wake up call today, as the "Lions of Teranga" twice squandered leads before settling for a 2-2 draw with Japan.
Japan coach Akira Nishino rolled on Keisuke Honda for the decisive item, which was the 32 year old's fourth World Cup goal from nine appearances and made him Japan's only player to score in three different World Cup tournaments.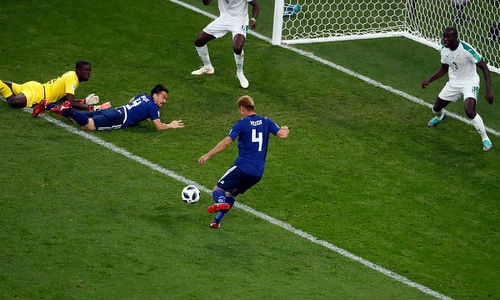 But Senegal, who are led by the youngest coach at the World Cup—and the only black one—Aliou Cissé, lacked the self-discipline and level-headedness they displayed in their opening 2-1 win over Poland.
The 42 year old Cissé has apparently become a media sensation for a range of superficial reasons that have precious little to do with the fact that he is quite competent at his day job.
Cissé must hope that his "smouldering good looks" are overshadowed by the performance of his supposedly less handsome star striker Sadio Mane, when Senegal play Colombia on Thursday with a knockout place on the line.
Senegal and Japan are joint leaders of Group H with four points each but a resurgent Colombia, who whipped Poland 3-0 today, are breathing down their necks with three points.
If Colombia win on Thursday and Japan get even a point from the already eliminated Poland, it would be the South American and Asian outfits that advance. And, to be sure, the Colombians are buzzing now.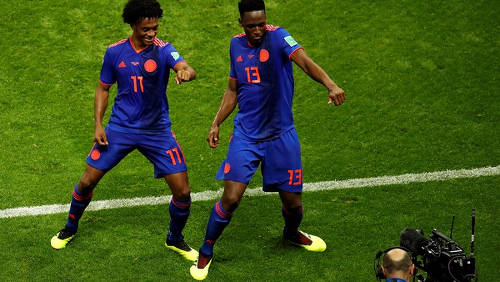 Playmaker James Rodriguez had two assists—for defender Yerry Mina and electric winger Juan Cuadrado—while Juan Quintero created Colombia's other item for iconic captain and forward Radamel Falcao, as "Los Cafeteros" burst to live against the luckless Poles.
Incidentally, it meant the first win of the tournament for an Argentine coach, despite the fact that the 'Land of Maradona and Messi' has more coaches at the Russia World Cup than any other country.
Colombia's Juan Pekerman aside, the other 'Argies' at the helm of their respective technical areas are Hector Cuper (Egypt), Juan Pizzi (Saudi Arabia), Ricardo Gareca (Peru) and, of course, Jorge Sampaoli who leads Argentina.
Whether Sampaoli will still be in charge on Tuesday is anyone's guess after the tattooed terrier—who looks more like a nightclub bouncer than a coach—was the target of an attempted coup, following their 3-0 loss to Croatia. The players, according to press reports, want captain Lionel Messi and his deputy, Javier Mascherano, to select the squad and tactics for their do-or-die affair with Nigeria in 48 hours.
Can Messi pick Xavi?
Coups can be risky affairs on Russian soil though; and there is the suggestion that, if Sampaoli survives, forward Sergio Aguero could pay for it with his starting position, despite being Argentina's only goal scorer in Russia so far.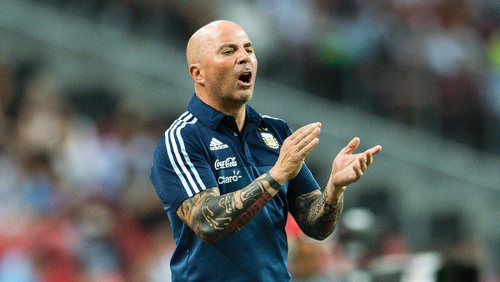 Sampaoli's woes pale in comparison with what Serbia coach Mladen Krstajic recommended for Germany referee Felix Brych though, after Brych failed to award a penalty for a tag team wrestling move on Serbia striker Aleksandar Mitrovic during their 2-1 loss to Switzerland.
"I wouldn't give the referee either a yellow or red card, I would send him to The Hague," said Krstajic. "Then they could put him on trial, like they did to us… Unfortunately, it seems that only Serbs are condemned to selective justice, once it was The Hague and today in football it is VAR."
Well, there goes a man who probably can't fit any more emotional baggage—or skeletons!—in his closet.
FIFA, who have opened investigations into the politically provocative goal celebration of Swiss players Granit Xhaka and Xherdan Shaqiri—both of Kosovan heritage—from that same affair, will almost certainly have to rule on the Serbian coach as well.
Serbia, incidentally, must defeat Brazil on Wednesday to progress, which would also mean elimination for the "Samba Boys" if Switzerland draw or defeat Costa Rica.
Russia, Uruguay, France, Croatia, England and Belgium are already through but 10 other knockout berths are up for grabs.
Buckle up, people… This might get Messi!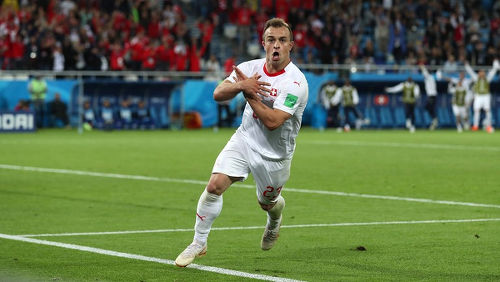 2018 World Cup
Group Stage
Today's results
(Sunday 24 June)
England 6 (John Stones 8, 40, Harry Kane 22 pen, 45 pen, 62, Jesse Lingard 36), Panama 1 (Felipe Baloy 78), Group G, Nizhny Nivgorod;
Japan 2 (Takashi Inui 34, Keisuke Honda 77), Senegal 2 (Sadio Mane 11, Moussa Wague 70), Group H, Ekaterinburg;
Poland 0, Colombia 3 (Yerry Mina 40, Radamel Falcao 69, Juan Cuadrado 74), Group H, Kazan.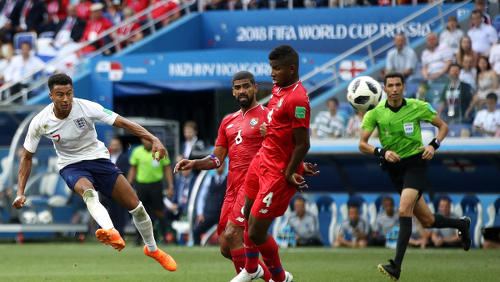 Tomorrow's fixtures
(Monday 25 June)
Uruguay v Russia, 10am, Group A, Samara;
Saudia Arabia v Uruguay, 10am, Group A, Volgograd;
Spain v Morocco, 2pm, Group B, Kaliningrad;
Portugal v Iran, 2pm, Group B, Saransk.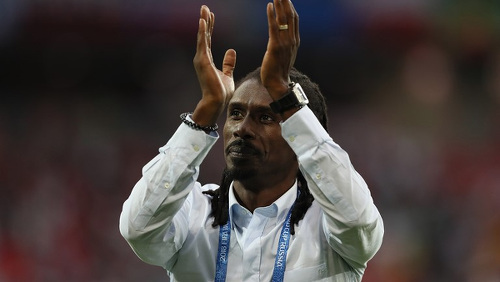 (What the Round of 16 looks like tonight)
(Bracket One)
France (C1)/Nigeria (D2) vs Russia (A1)/Spain (B2);
(Versus)
Brazil (E1)/Sweden (F2) vs Belgium (G1)/Japan (H2).
(Bracket Two)
Portugal (B1)/Uruguay (A2) vs Croatia (D1)/Denmark (C2);
(Versus)
Mexico (F1)/Switzerland (E2) vs Senegal (H1)/England (G2).