Trinidad and Tobago Men's National Senior Team head coach Dennis Lawrence has blamed their opening 2-0 Gold Cup loss to Panama last night on two errors in transition and a bit of rust in the attacking third of the field.
The Soca Warriors only troubled Panama custodian Luis Mejia once over the 90 minutes plus stoppage time at the Allianz Field in Minnesota; and even that was not from a direct shot, as Mejia had to charge off his line to punch clear before ace Trinidad and Tobago midfielder Kevin Molino could pull the trigger.
However, the teams were level on possession—T&T completed 420 passes to 421 from 'Los Canaleros'—and Lawrence suggested that the Warriors were not far from a result.
"I didn't feel there was much in the game," said Lawrence, at the post-game press conference. "The two critical moments in the game [were in transition and they were] two soft goals to give away. We've dug ourselves in a bit of a hole now which means we have to start to think about getting two wins from the next two games.
"That's international football. If you don't take your chances and you give away sloppy possession, you can get hurt."

Lawrence suggested that the Warriors built their attack around Molino, who is the most prolific scorer in the team with 19 goals from 45 senior international appearances—substitute Joevin Jones has the next best goal return with a relatively paltry seven goals from 73 caps.
[dfp-ad]
Molino is employed by MLS outfit Minnesota United, which uses the Allianz Field as its home ground. Lawrence admitted that he tried to take advantage of that last night, as he sacrificed a combative midfielder to use Molino in his preferred role, just behind the centre forward.
It meant that captain Khaleem Hyland played in a deeper position than usual, alongside midfield anchor Kevan George, while deep-lying playmaker Leston Paul was sacrificed altogether.
But Molino, who only recently returned from a long term injury, played just once for Trinidad and Tobago in over a year and there was little to show for the experiment last night.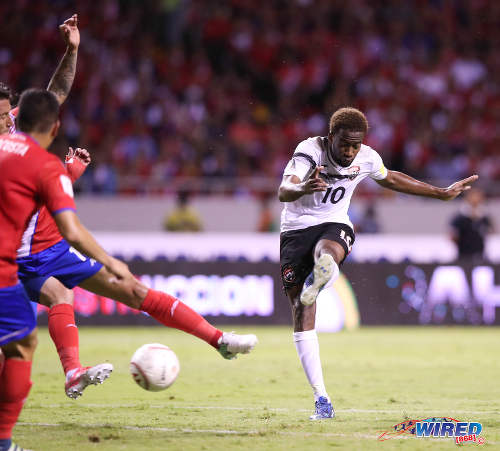 "We changed our shape today a bit, tried to be a bit more offensive [and] put in a 'number 10' to try and see if we could create more chances," said Lawrence. "We got in some good situations, never put the ball in the back of the net and then we made two errors which we got punished [for] and we lost the game and came away with nothing.
"[But] we just need to understand there's two moments in the game [that went against us]. One is [when we conceded a goal] in transition from defence to attack; and then [conceded again from] attack to defence. We didn't do quite well in those two moments."
Lawrence backed Molino to improve as the tournament goes on.
"Kevin [Molino] has been out for a while but when we come to his home stadium, I think it would have been foolish not to try to take advantage of that situation," said the Warriors head coach. "[…] He got in a good goal scoring position, where if he had been a bit sharper he would have taken it a bit quicker. So Kevin did alright and he will build as the tournament goes on."
Lawrence also credited winger Nathan Lewis, who plays in the third tier of the US domestic game, for getting into good attacking positions last night, despite not taking advantage with his final delivery. And he criticised his defence for being slow to support Marvin Phillip, as the Trinidad and Tobago goalkeeper made two superb reflex saves, only for Panamanian midfielder Edgar Barcenas to squeeze home the second rebound.
"The difference [last night] was Panama scoring two goals and us scoring zero," Lawrence insisted.
On 10 October 2017, Trinidad and Tobago were on the worst sequence in their footballing history, after seven straight defeats under the lanky rookie coach. But the Warriors went on to record a seismic 2-1 win over United States at the Ato Boldon Stadium in Couva.
Lawrence was subsequently rewarded with a contract extension that should keep him at the helm until mid-2021. But in the 11 matches since that famous triumph, Trinidad and Tobago recorded two wins (Guadeloupe and United Arab Emirates), four draws (Grenada, Guyana, Martinique and Japan) and six losses (Thailand, Iran, Wales, Canada and Panama twice).
At present, the Warriors are on a scoreless run of six games, which equates to just over nine hours of football without a goal
So was the win over the 'Yanks' a fair reflection of the ability of the current Trinidad and Tobago team? Or a fluke result?
Lawrence believes they can stun the United States again and Hyland, Molino and attacker Levi Garcia concurred in the aftermath of last night's defeat.
Hyland: "Sure [we can beat USA]. I believe in all the guys and the staff. We just have to work hard and leave everything up to God."
Molino: "I think we have what it takes in the locker room to win the game [against USA]. We want to repeat that [result on 10 October 2017]."
Garcia: "I totally believe in the team… I am 100 percent sure [we can get a result against the USA on Saturday]. It is a great challenge but football is played on the day. Hopefully we can come and give it our best game."
At present, USA are on top of Group D after they downed Guyana 4-0. The win snapped a run of three games without a win for the hosts, which included defeats to Jamaica and Venezuela.
Not to be outdone, Panama had played 14 games without success before last night's triumph over the Warriors.
Trinidad and Tobago will hope to bring their own miserable run to an end with another unforgettable result against the United States on Saturday evening.