Argentina's Diego Maradona put his stamp on the 1986 World Cup, the Brazil duo of Romario and Ronaldo had 1994 and 2002 respectively while France's Zinedine Zidane cast a long shadow over 2006.
But 2018? So far, it has been the tournament of VAR; and Morocco wing back Nordin Ambarat is not the only one who is unimpressed.
In the last minute of a Group B clash between Spain and Morocco, substitute Iago Aspas scored a clever backheel to equalise for the Europeans. Uzbekistan referee Ravshan Irmatov initially disallowed the item for offside, based on a signal from assistant Jakhongir Saidov. However, after an intervention from German VAR official Felix Zwayer, Irmatov changed his mind and allowed the effort to stand.
Aspas' item—correctly awarded—was the difference between Spain or Iran qualifying as Group B runners up. That was an example of the good side of VAR and what it was initially introduced for.
But then there is the bad. In today's Group A clash between Egypt and Saudi Arabia, attacker Fahad Almuwallad dropped dramatically to the ground and Colombian referee Wilmar Roldan pointed to the spot. Portuguese VAR official Artur Dias was not convinced though and suggested to Roldan that he come have a second look.

So Roldan checked; and then stuck by his initial decision, which was almost certainly incorrect.
In cricket, once an incident is referred to the fourth official, then it is there that the decision is made. FIFA opted to pass the buck by kicking the final call back down to the man in the middle.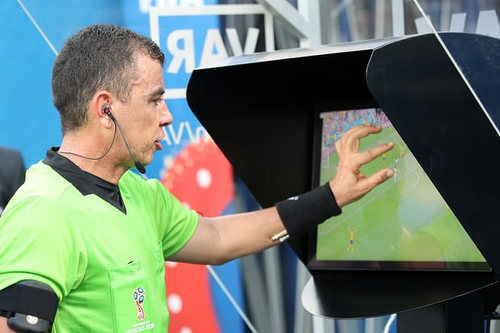 And Roldan, with a maxi-full of anxious players and coaches breathing down his neck, thousands on edge in the stadium and millions more looking on through television and streaming devices, has to decide whether to publicly overrule himself. He chose not to.
Perhaps the VAR officials, safely hidden away in their air conditioned studio, are in a better position to decide such contentious moments. Unlike Roldon, they are not battling to master their own adrenaline or being jostled and harassed by players and coaches while they make their minds up. Presumably then, they are less vulnerable to human error.
Is the whole point of VAR not to lessen the chance of human error?
Then came the ugly, as Portugal and Iran went hammer and tongs in a high energy affair.
In the 81st minute, Iran defender Morteza Pouraliganji went over clutching his face as Portugal star Cristiano Ronaldo tried to run past him. There was no obvious sign of foul play and normally Pouraliganji, once ignored, would have gotten up and moved on with his life.
But Pouraliganji stayed on the ground. Players now know when VAR is obliged to check an incident, and a potential red card is one of those times.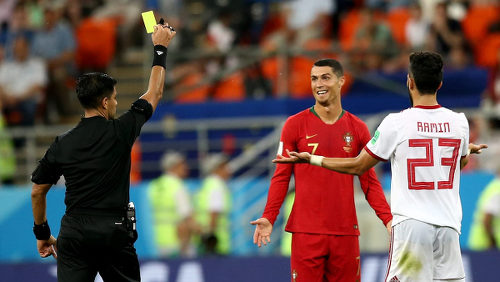 Italian VAR official Massimiliano Irrati told Paraguayan referee Enrique Caceres that he should have a look. And, sure enough, replays suggested that Ronaldo thrust his forearm into Pouraliganji's cheek as he tried to burst clear of him.
Caceres, curiously, showed Ronaldo a yellow card. If Ronaldo intentionally tried to deck an opponent, it is a textbook red card offence and surely—if the situation was reversed—the referee would not have hesitated to eject an Iranian player who committed the same offence on the Real Madrid prince.
At the same time, Pouraliganji did not have a scratch on him and, if he were not aware of the potential advantage to be gained from the technology, would have surely carried on without any fuss.
So is VAR creating more issues than it clears up?
Like the anti-gang legislation or stop and frisk, is this a law that works better in theory than practice? And now that players are clearly wising up to how it can be exploited, will the World Cup knockout round have more stoppages than a cricket match?
In the build-up to the tournament, former Trinidad and Tobago World Cup standout and current ESPN analyst Shaka Hislop said he would have preferred more testing for VAR before it was used at such an important stage.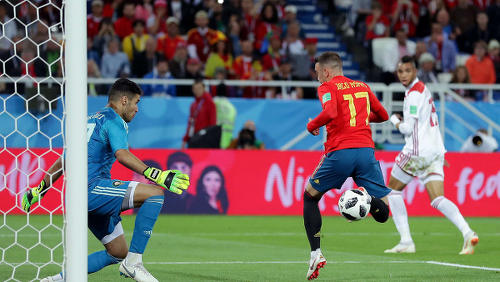 Hislop, mind you, sits on a FIFA advisory panel for the International Football Association Board (IFAB), which discusses and decides upon proposed alterations to the laws of the game. He is well placed to offer an opinion in that regard.
Hislop since said he has been pleasantly surprised by the impact of VAR, which led to less grappling inside the penalty area and, as a result, more goals from set pieces.
But today's round of matches suggests that VAR itself might need a quick review. Who wants a heavyweight clash when every other collision leads to a two or three minute break, as video technicians pore over replays?
Is this the World Cup or Sliver II?
And yet, with all that said, the tournament has been thoroughly entertaining so far, with VAR playing an unmistakable part in the intrigue.
Uruguay didn't need any help to dismantle Russia, as strikes from star strikers Luis Suarez and Edinson Cavani paced the South Americans to a 3-0 dismantling of the host nation.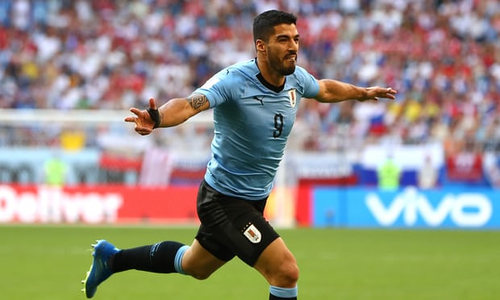 Have Russia's limitations been found out? Have they run out of legs after their emphatic opening wins over Saudi Arabia and Egypt?
Or is there wonderfully moustachioed coach, Stanislav Cherchesov, playing possum? After all, he did not use their best attacking player, Aleksandr Golovin, in the contest and withdrew their top scorer, Denis Cheryshev, after just 30 minutes.
We will find out on Sunday when Russia tackle Portugal from 10am in Moscow.
Saudi Arabia missed one penalty today but converted the second—controversially awarded by VAR—as they rebounded from an early Mohamed Salah goal to edge Egypt 2-1 in Volgograd.
But Group A's two qualifiers were decided beforehand and there was more at stake in Group B. Fans got their money's worth there and the VAR officials earned their pay too.
Ronaldo won a controversial penalty in the 56th minute, as he dived over a phantom challenge from Iran midfielder Omid Ebrahimi, only to collide with opposing defender Saeid Ezatolahi on his way down.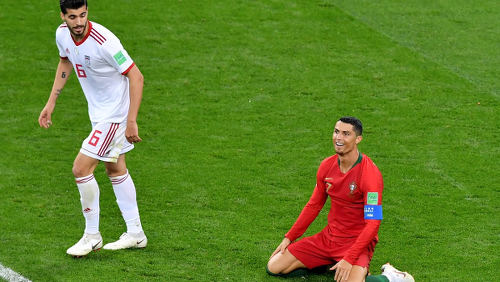 Caceres turned to Irrati for guidance from the studio and then pointed to the spot. Arguably, justice prevailed as Iran goalkeeper Ali Beiranvand saved Ronaldo's effort. It was the fifth missed penalty of the tournament so far, although it would not ultimately haunt Portugal.
An outrageous outside of right boot attempt from Ricardo Quaresma—who was starting his first World Cup game at the ripe age of  34—put Portugal ahead in the first half. But Iran never gave up and got another fortuitous VAR decision in the third minute of second half stoppage time.
Portugal right back Cedric did not intentionally hit the ball with his hand nor did he move his arm towards the sphere. But, once your arm is raised, those are given now; and Karim Ansarifard converted from the spot. At that point, Morocco led Spain 2-1 and Iran looked set to join Portugal in the Round of 16.
Then, VAR intervened, correctly, to rescue Aspas and Spain. Sadly, though, its pre-imminence over the 90 minutes is nearing farcical levels with players and coaches constantly drawing imaginary shapes in the air, like patrons signalling for a beer during happy hour.
If the technology was supposed to lessen the game's controversial talking points, it isn't really working out that way. And just wait until notable thespians like Brazil's Neymar, Spain's Sergio Ramos, Mexico's Javier Hernandez, Argentina's Angel Di Maria and Germany's Timo Werner get the hang of it.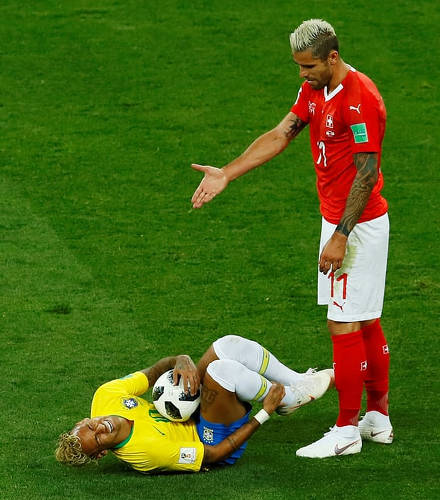 World Cup 2018
Today's results
(Monday 25 June)
Uruguay 3 (Luis Suarez 10 FK, Denis Cheryshev OG 23, Edinson Cavani 89), Russia 0, Group A, Samara;
Saudia Arabia 2 (Salman Alfaraj 45+6 pen, Salem Aldawsari 90+5), Egypt 1 (Mohamed Salah 22), Group A, Volgograd;
*—Fahad Almuwallad penalty saved.
Spain 2 (Isco 19, Iago Aspas 90+1), Morocco 2 (Khalid Boutaib 13, Youssef El-Nesyri 81), Group B, Kaliningrad;
Portugal 1 (Ricardo Quaresma 44), Iran 1 (Karim Ansarifard 90+3 pen), Group B, Saransk;
*—Cristiano Ronaldo penalty saved.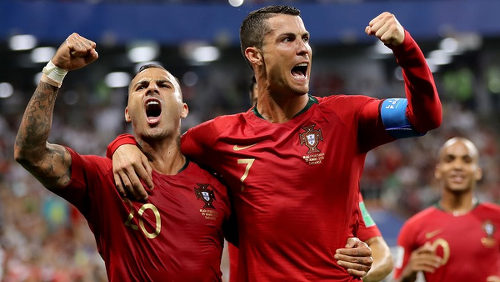 Tomorrow's fixtures
(Tuesday 26 June)
Australia v Peru, 10am, Group C, Sochi;
France v Denmark, 10am, Group C, Moscow;
Nigeria v Argentina, 2pm, Group D, St Petersburg;
Iceland v Croatia, 2pm, Group D, Rostov-On-Don.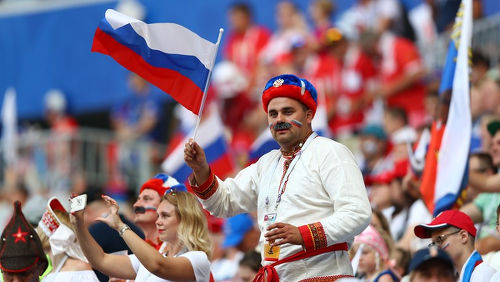 Round of 16 match-ups at present
(Bracket One)
France (C1)/Nigeria (D2) vs Uruguay (A1)/Portugal (B2);
(Versus)
Brazil (E1)/Sweden (F2) vs Belgium (G1)/Japan (H2);
(Bracket Two)
Spain (B1)/Russia (A2) vs Croatia (D1)/Denmark (C2);
(Versus)
Mexico (F1)/Switzerland (E2) vs Senegal (H1)/England (G2).