Trinidad and Tobago's lingering 2017 CONCACAF Gold Cup dreams looked to be in ruins tonight as the Soca Warriors fell 2-1 to Suriname after 30 minutes of extra time in playoff action at the Ato Boldon Stadium in Couva.
Coach Tom Saintfiet made an immediate impression on local football fans with his keenness to name, shame and axe wayward players, since his appointment on 7 December 2016. But his first game on home soil was largely an underwhelming affair.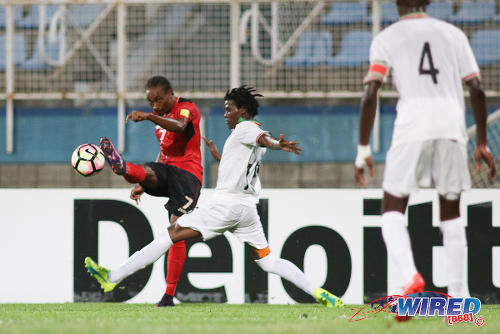 San Juan Jabloteh winger Tyrone Charles opened his goal scoring account for Trinidad and Tobago with a stunning free kick in the 81st minute. But, otherwise, the Warriors rarely stretched opposing goalkeeper Claidel Kohinor and were reactive for long periods of the game.
And the irony was inescapable when, for the final 11 minutes, Saintfiet sent tall central defenders Carlyle Mitchell and Radanfah Abu Bakr upfront and had his players launch the ball into the Suriname penalty box.
So much for the Belgian coach being unable to fit towering centre forward Kenwyne Jones into his tactical plans then.

Much has been made of the senior players that Saintfiet denied entry into his squad, which now includes: Kenwyne Jones, Joevin Jones, Kevin Molino, Cordell Cato, Mekeil Williams and Jan-Michael Williams. In truth, the home team was not short of experience yesterday, despite a few fresh faces.
Suriname coach Roberto Godeken's starting team had a combined 65 international caps and three goals between them. Only one Suriname player earns a living off outside of their nation's borders and that is W Connection attacker Dimitrie Apai who is useful but rarely a game winner at Pro League level.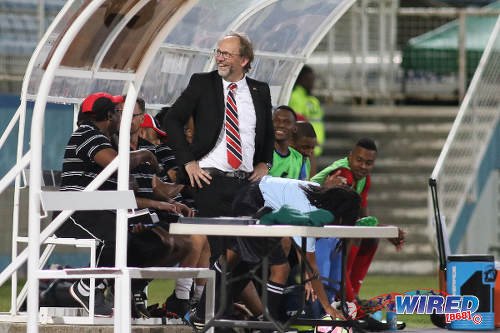 In contrast, Saintfiet's XI managed 275 international appearances altogether before kick off and his back four alone—Carlos Edwards, Aubrey David, Abu Bakr and Mitchell—has a combined nine international goals.
Yet, it was Trinidad and Tobago who started the game on the back foot, as they conceded territory to their guests and sat in their own half of the field with a clear intention to play on the counter.
Charles was the stand-out player of the opening 45 minutes, as he certainly enjoyed having space to run into and created a few scares to the opposition. But, tellingly, Suriname created the best chance of the half as Trinidad and Tobago goalkeeper Adrian Foncette needed to be alert to push a Sorencio Juliaans effort around his post in the 43rd minute.
The Warriors changed gears in the second half, as they pressed higher up the pitch and finally tried to wrestle control of the game. Yet, agonisingly for Saintfiet, his team now looked surprisingly vulnerable in defensive transition.
In the 54th minute, Apai slipped behind Edwards to receive a clever Juliaans pass but hit the heel of the far upright.
Saintfiet's men stayed positive though and Kohinor was quick to spot the danger as he saved from Charles' feet in the 56th minute while Hughtun Hector blasted a chance over in the 64th minute.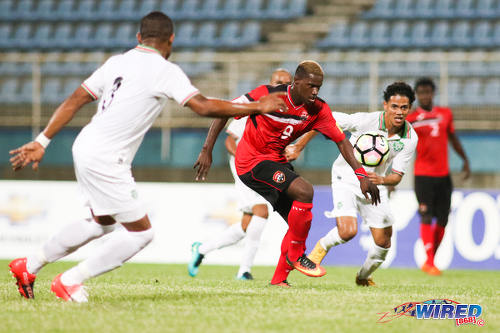 Trinidad and Tobago might have taken the lead in the 75th minute as Charles won space down the left flank and teed up substitute Shahdon Winchester, only for defender Gillermo Faerber to block the goal bound effort.
But Suriname then went straight up the other end to score, as left back Guno Kwasie's angled shot deflected past Foncette for the opener. Kwasie, with 13 caps, was Suriname's most experienced player tonight.
"Put on Kenwyne Jones!" shouted one fan, with typical gallows humour.
Saintfiet had already introduced Winchester and Aikim Andrews by then and he sent on Andre Boucaud as well for tiring striker Akeem Roach.
Roach, incidentally, was cut from the team last weekend and only recalled due to Jomal Williams' tardiness on New Year's Day. While he was suddenly thrust into the starting team, just before kick off, after veteran striker Cornell Glen injured himself during the pre-match warm up.
Charles gave the "Saint" a lifeline in the 81st minute, though, with a stunning free kick—after a foul on Winchester—which swerved, dipped and crashed in off the underside of the bar.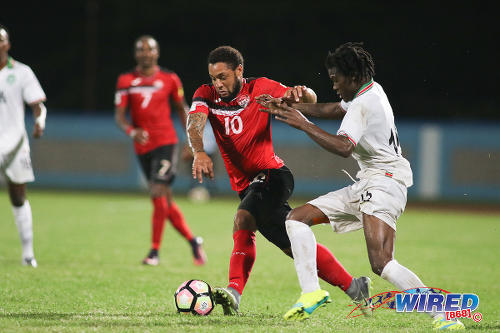 Pro League fans know all about Charles' expertise from set pieces. The secret is out now.
Trinidad and Tobago never really built on the winger's stunning strike, though. Suriname substitute Galgyto Talea gave the hosts a scare in the 92nd minute as he sprinted past Abu Bakr, only to be denied by Foncette.
While a knock to Mitchell, midway through the first half of extra time, further disjointed the team, as Saintfiet reshuffled his pack by sending the versatile central defender further upfield and employing Edwards at left back, David alongside Abu Bakr and Gonzales at right back.
Mitchell, clearly limping, was sent further up the field until he had run off his knock.
Trinidad and Tobago Football Association (TTFA) president and W Connection co-founder David John-Williams, who is unlikely to have been pleased by the new coach's frequent clashes with Connection players, might be itching to read the medical report from the pair of Dr Terence Babwah and Dave Isaac on Mitchell's reintroduction then.
In the soap opera that is Trinidad and Tobago football, who can rule out another bizarre twist.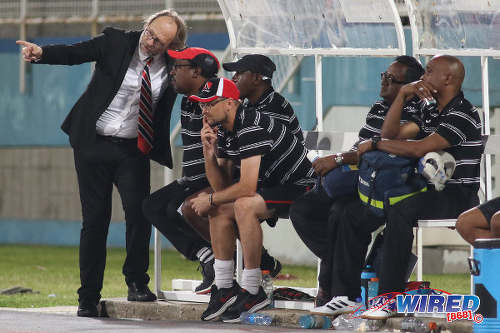 Tonight, it was an error from the normally unflappable midfield hard-man Kevan George that undid Saintfiet in the 109th minute, though.
George conceded possession with a weak lofted pass near the halfway line and then was outfoxed by Ivanildo Rozenblad, who cut across him to take aim from 22 yards. George decided against committing a foul and the 20-year-old Surinamese attacker responded with a cracking strike to the right of Foncette.
It was Rozenblad's second goal in as many international appearances and maybe a Connection trial might be in the offing.
Things were getting desperate in the dug out, though, as Saintfiet withdrew his lone striker on the pitch, Winchester, to an advanced midfield role and sent his two central defenders on top.
God knows what Kenwyne Jones might have thought if he was watching somewhere.
But it was not enough to affect the result. And, as the fourth official signalled two minutes of stoppage time, Saintfiet and his trainer Riedoh Berdien exploded in rage. Assistant coach Jamaal Shabazz rushed off the bench to restrain the Belgian and found himself on the receiving end of some sharp words too.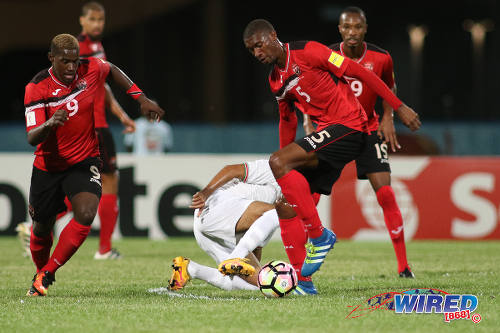 Saintfiet can be cutting with his verbal delivery. But he is still a long way from proving that he is an upgrade to his predecessor Stephen Hart as a football coach.
On Friday, Suriname face Haiti at the same venue and Trinidad and Tobago football fans will hope for a Haitian triumph, which will keep the Warriors' Gold Cup dreams alive.
Even then, though, the host nation must find a way past Haiti, who are considerably stronger opponents than Nicaragua and Suriname.
Trinidad and Tobago have won their last five successive games against Suriname—at home and away—and you have to go as far back as 1985 for the last time that the Dutch speaking South American nation managed a triumph over the two island republic.
More than half of the Warriors' starting team was not even born yet.
Saintfiet was promised until March to prove himself as head coach. But the former  Bangladesh coach's authority is already being questioned after a series of run-ins with player, bizarre omissions and uninspiring tactical adjustments.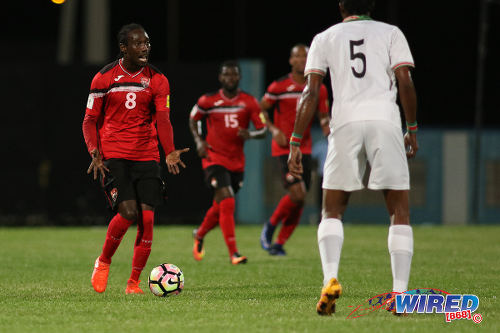 He could do with a win on Sunday.
(Teams)
Trinidad and Tobago (4-2-3-1): 1.Adrian Foncette (GK); 11.Carlos Edwards (captain), 6.Radanfah Abu Bakr, 12.Carlyle Mitchell, 2.Aubrey David; 19.Kevan George, 15.Hughtun Hector; 8.Nathan Lewis (18.Aikim Andrews 68), 5.Hashim Arcia (10.Shahdon Winchester 60), 7.Tyrone Charles (4.Curtis Gonzales 91); 9.Akeem Roach (14.Andre Boucaud 78).
Unused substitutes: 21.Glenroy Samuel (GK), 16.Alvin Jones, 20.Trevin Caesar.
Injured: 13.Cornell Glen, 17.Maurice Ford.
Coach: Tom Saintfiet
Suriname (4-3-1-2): 1.Claidel Kohinor (GK); 15.Miquel Darson, 4.Gilberto Eind (captain), 3.Gillermo Faerber, 5.Guno Kwasie; 7.Mitchell Kisoor (9.Gillian Maatrijk 55), 14.Sergino Eduard, 8.Bruce Diporedjo (19.Silvion Sedney 107); 12.Sorencio Juliaans (16.Ivanildo Rozenblad 71); 10.Roxey Fer (18.Galgyto Talea 83), 11.Dimitrie Apai.
Unused substitutes: 22.Sersinio Profijt (GK), 2.Saverio Adenie, 6.Andwele Baja.
Coach: Robert Godeken
Referee: Kimbel Ward (St Kitts and Nevis)