Defending National Super League (NSL) Premiership champions Defence Force will meet current Premiership frontrunners Sports and Games FC Santa Rosa in a top-of-the-table clash at the Defence Force Headquarters in Chaguaramas this coming Sunday, and the stakes could not be any higher.
After a sloppy start to the NSL season, the Army/Coast Guard combination are now firing on all cylinders. And they closed Rosa's lead atop the standings to three points yesterday, as they came from behind to defeat 1976 FC Phoenix 2-1 in Tobago.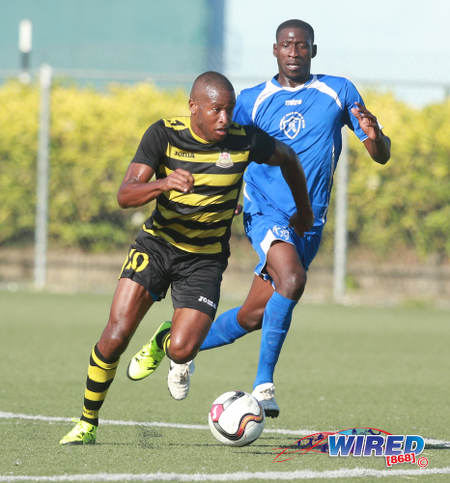 Again, veteran striker Josimar Belgrave was in the thick of the action for the defending champions, as he initiated his team's come-from-behind win with a 50th minute item. And the comeback job was finished off in the 79th minute by Ronald St Louis, another former Pro League player, as the Army left Canaan with a crucial three points.
Earlier in the season, Santa Rosa, who head the Premiership table with 41 points, thumped Defence Force by a 4-1 margin at the Marvin Lee Stadium. However, things have not been as rosy in "Rosa Nation" lately, as the Keith Look Loy-coached team have not managed a win in their last two home games.
The "Big Cannons" were also ousted from the NSL Knockout competition by eventual winners Bethel United at the semifinal stage. But, according to Look Loy, his team is being unfairly treated by the match officials.

Yesterday, at the Marvin Lee Stadium, Rosa were at level pegging with third place Police FC only for the game to be decided by an 83rd minute penalty from Police attacker Kareem Perry, which gave the "Lawmen" a 2-1 win. And Look Loy was sent to the stands for his reaction to the penalty call, while a mini fracas also erupted between the two sets of teams near the sideline.
The on-field scrimmage is believed to have warranted intervention by police officers in the stands, as things got really heated in Macoya.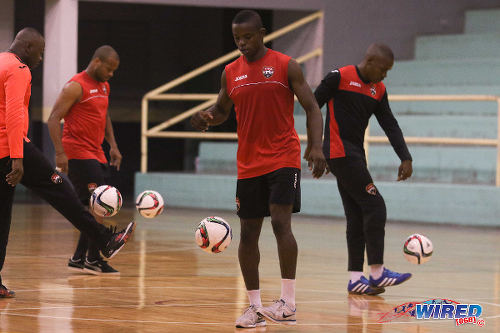 In his post game chat with Santa Rosa TV, Look Loy addressed a supposed "mission" by the NSL referees.
"This is a hard loss to take. This was one of our best performances for the season. We needed to win this match to retain the six point advantage on Defence Force. And we knew that this would have been a tough game but we never expected to lose this game like we did.

"It is clear—after a loss to a penalty in Tobago in the Cup semifinal, a free kick goal by Marabella here in the last match, and a loss today to a penalty in the dregs of the match—that the referees that are coming to our matches have discovered a formula to ensure that Santa Rosa does not get to the title because they are deciding our matches with free kicks and penalties.

"Two penalties [have been given against us in two of our recent matches] and a free kick in between [against Marabella Family Crisis Centre]."
And with the critical clash against the defending champions looming, Look Loy touched on his biggest worry for the match. And it wasn't the goal scoring threat of Belgrave, who has notched 23 goals in NSL action so far this season.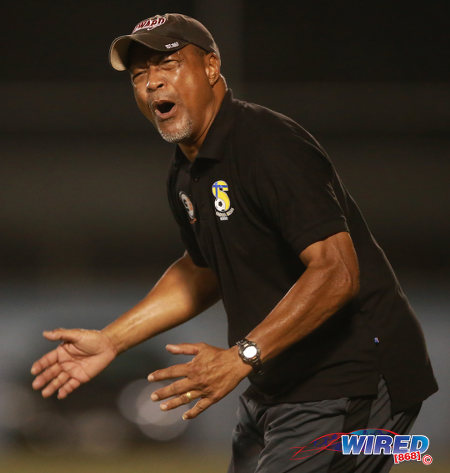 "It is always going to be a tough match home or away. It is the Defence Force and they are defending champions […] We give them respect but we are not afraid to play them. I am more afraid of the referees.

"I am very much concerned that the people who are making the referee appointments are sending referees from the zones that all of our recent opponents belong to. And these referees are coming with a mission. I'll say it bluntly. We are concerned going into this game.

"[We fear] that the referees will again intervene because our boys are putting out all the effort and playing well. And the results are being determined by referees."
Apart from the Police and Defence Force victories yesterday, cellar-placed club Marabella Family Crisis Centre were the only ones with something to cheer, as the remaining four games all ended in stalemates.
Marabella, who only had three victories before their clash with Siparia Spurs yesterday, did the unthinkable as they thumped their southern counterparts 4-2 on their visit to Irwin Park, Siparia.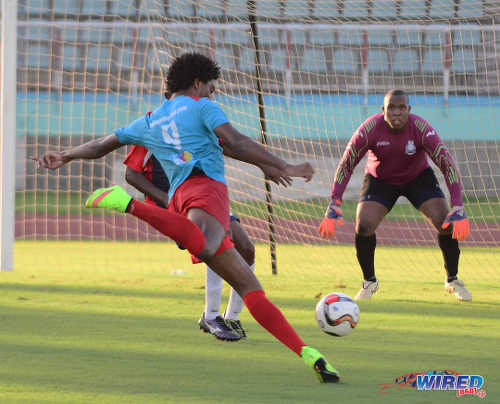 Spurs, who were in third spot before yesterday's action, would have expected to extend their seven game unbeaten streak. However, Juma Clarence and the Marabella posse had different plans.
The lanky former Trinidad and Tobago 2009 World Youth Cup striker got on the score sheet in the first half, as the struggling visitors stormed into a 3-nil lead inside the opening 35 minutes. Marvin Seuradge and Marcus Kelly also scored for Spurs. And Clarence's second item, in the 64th minute, effectively killed the contest.
Meanwhile at the Palo Seco Velodrome, a clash between Petrotrin and Real Maracas had spectators on the edge of their seats, as they played out an eight-goal thriller.
Petrotrin's Tigana Sparks and Maracas' Kheelon Mitchell both bagged braces but neither of them could perform late heroics to alter the 4-4 scoreline.
Hopefully, there will be no late, game-changing penalty decision to report in Palo Seco.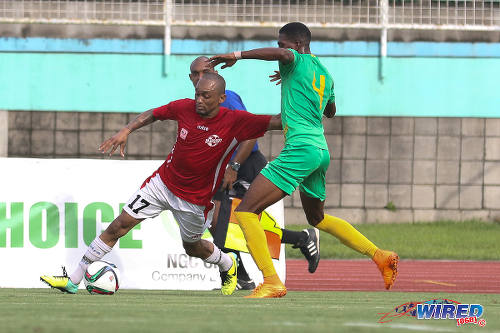 NSL Championship Division Results 
(Saturday 5 November)
UTT 1 (Kevaughn Connell 19), Barrackpore United SC 1 (Akil Charles 53) at UTT, O'Meara;
Prisons FC 0, Saddle Hill Hotspur 4 (Kevon Durham 23, 90, Andre Rampersad 28, Cyrano Glen 41) at YTC, Arouca;
Cunupia FC 1 (Taurean Sobers 60), Petit Valley/Diego Martin United FC 2 (Eric Charles 39, Anthony Joseph 56) at Ato Boldon Stadium;
Central 500 Spartans 4, Youth Stars 1 at New Settlement Grd;
Carenage United were on a Bye.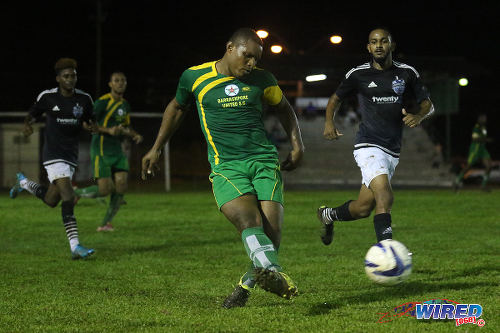 NSL Premiership Division Results
(Sunday 6 November)
1976 FC Phoenix 1 (Dominique Kerr 43), Defence Force 2 (Josimar Belgrave 50, Ronald St Louis 79) at Canaan Recreation Ground;
Sports and Games FC Santa Rosa 1 (Own Goal 66), Police FC 2 (Keron Clarke 34, Kareem Perry 83) at Marvin Lee Stadium;
Bethel United 2 (Dwayne Marcelle 49, Kevon Woodley 70), QPCC 2 (Kevaughn John 53, 81) at Montgomery Recreation Ground;
Siparia Spurs 2 (Marvin Seuradge 37, Marcus Kelly 80), Marabella Family Crisis Centre 4 (Kerville Jeremiah 15, Juma Clarence 25, 64, Kurlan Khan 31) at Irwin Park, Siparia;
Petrotrin Palo Seco 4 (Tigana Sparks 19, 32, Xavier Seales 63, Bevon Bass 86), Real Maracas 4 (Marvin Manswell 21, Kheelon Mitchell 54, 80, Ricardo Bennett 82) at Palo Seco Velodrome;
Guaya United 1 (Jody Allsop 67), Club Sando Moruga 1 (Nigel John 5) at New Lands Ground, Guaya;
Matura ReUnited 0, WASA FC 0 at Matura Recreation Ground;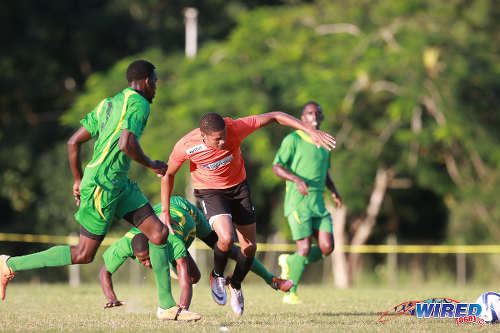 Upcoming NSL Championship Division fixtures
(Saturday 12 November)
UTT vs Central 500 Spartans, 6pm, UTT, O'Meara;
Youth Stars vs Petit Valley/Diego Martin United FC, 5pm, Speyside;
Barrackpore United SC vs Prisons FC, 3:30pm, Barrackpore United Recreation Ground;
Saddle Hill Hotspur vs Carenage United, 5pm, Pascal Recreation Ground, Maraval;
Cunupia FC are on a Bye.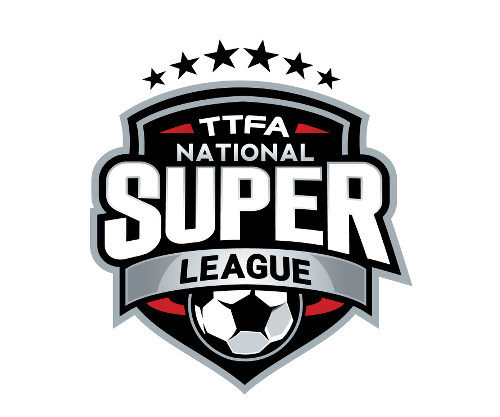 Upcoming NSL Premiership Division fixtures 
(Sunday 13 November)
Defence Force vs Sports and Games FC Santa Rosa, 3:30pm, Defence Force Headquarters, Chaguaramas;
1976 FC Phoenix vs Bethel United, 5pm, Canaan Recreation Ground;
Police FC vs Siparia Spurs, 3:30pm, St James Barracks;
QPCC vs Petrotrin Palo Seco, 3:30pm, St Mary's Grounds, St Clair;
Marabella Family Crisis Centre vs Guaya United, 3:30pm, Guaracara Park;
Real Maracas vs WASA FC, 4pm, Maracas Valley Recreation Ground;
Club Sando Moruga vs Matura ReUnited, 3:30pm, Grand Chemin Recreation Ground.