Guess who's back? Carapichaima East Secondary, Trinity College East and Speyside Secondary each claimed a promotion spot in the SSFL Championship Big 5 Play Off yesterday to return to the Premier Division for the 2017 season.
All three schools were relegated at the end of the 2015 season with Carapichaima East and Speyside both falling on the the last day while Trinity East suffered a record 13 losses. But what goes down must come back up.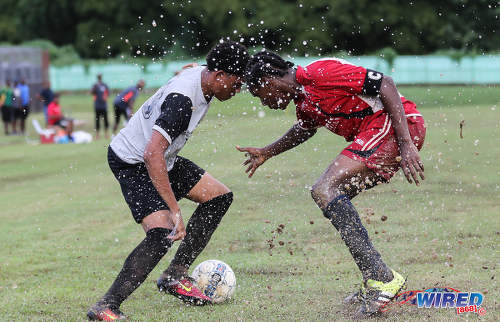 Yesterday in Trincity, new Trinity East coach Michael Grayson could scarcely contain his joy.
"It's a great, great feeling [to win promotion]," Grayson told Wired868. "It was a challenge. They got demoted last year and it's not easy losing 14, 15 games. That's a lot of losing. To change that was our first objective, and we did it."
Grayson and his "Blue Hawks" conjured up a 2-1 win over a plucky Malick Secondary team on a swamp-like surface in Trincity while Speyside and Carapichaima played to a goalless stalemate.

Carapichaima already secured promotion by sauntering to three victories in their opening three Play Off matches. However Malick's final day defeat was the missing ingredient in Trinity and Speyside's promotion chase.
The identity of the three teams they will replace seems considerably less straightforward due to a recent ruling involving East Mucurapo Secondary, with Fatima College, Pleasantville Secondary, Queen's Royal College, San Juan North and East Mucurapo all in danger of falling through the trap door.
There were fewer twists but no shortage of tackles on a muddy, waterlogged field in Trincity, which added extra spice to a do or die fixture.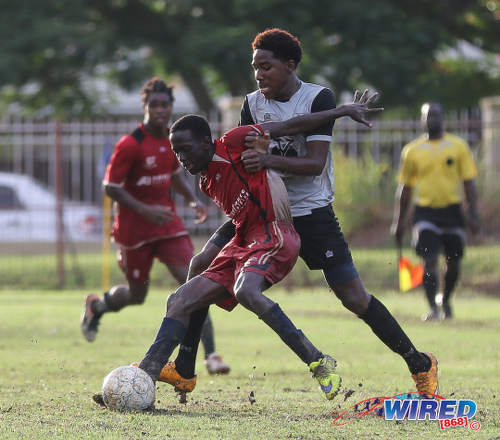 Malick, led by coach Anthony Bartholomew, initially tried to have his tidy, nimble team play quick balls through the middle while Trinity opted for long diagonals to the flanks followed by crosses for the Trinidad and Tobago National Under-17 duo of Nickel Orr and Kishon Hackshaw to attack.
Grayson's tactics were always more likely to reap dividends in the heavy conditions. And Trinity drew first blood in the 15th minute.
Liam Burns collected a cross field pass on the left flank and picked out Hackshaw, who curled a precise shot into the far corner from the top of the box to send the Hawks soaring.
Hackshaw was striding around the pitch with authority by then and should have put Trinity two goals up, after another cross by the enterprising Burns, only to volley straight into the abdomen of visiting goalkeeper Christopher Hernandez.
It was a let off for Malick that they took advantage of within moments.
Striker Antonio Graham turned his marker and charged at the Trinity goal. But, as he prepared to seize his moment, a comical splatter followed as the ball fell into a puddle.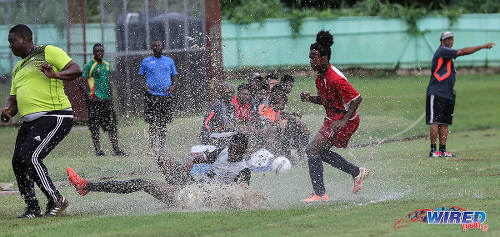 Graham, opposing custodian Emmanuel John—also a National Under-17 player—and the recovering Trinity defenders swiped frantically at the ball like rival penguins flailing their flippers in a war of passion. Muddy water splashed in every direction and legs and arms moved erratically. Yet, all the while, the ball appeared to hardly move an inch.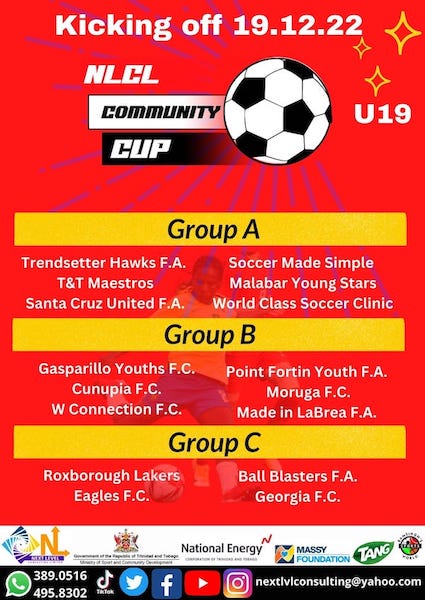 After what seemed like an eternity of chaos, Akeem Sealy stole in to fire the loose ball into the back of the net and the Malick supporters and bench erupted in celebration at the equaliser.
Despite the tough conditions and robust tackling, the match was not without its moments of magic.
Orr, who switched places with Hackshaw midway through the first half, seemed capable of walking on muddy water and regularly tested the balance of his markers with some fancy footwork. Twice, he struck the frame of the goal before the interval and Trinity might have been kicking themselves to be still level at the interval.
Grayson sent on Dwight Yorke and Javed Elcock at the resumption to try to turn the tide. Yorke came off the bench to score twice against Princess Town West on his debut, just two days earlier, but he took some time get going yesterday. And Malick were on the ascendancy.
The host team employed two tall, athletic enforcers in the middle of the park in the shape of Rakim Cabie and Christian Ramsome. On the opposing side, Malick had a short, slim deep-lying playmaker, Kwasi Williams. And the winner in the battle wasn't from Trinity.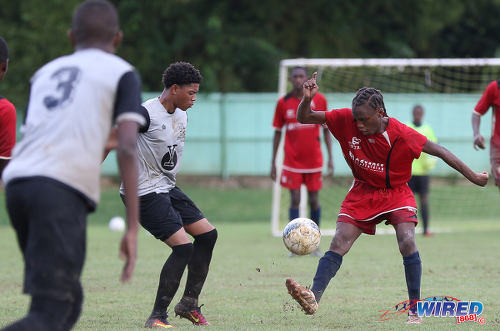 Williams was the fulcrum of his team and brushed off challenges with consummate ease while his assured touch and perceptive positioning kept Malick ticking offensively. Had it not been for the handful of last ditch clearances from Trinity defender Jalani Augustus, Williams and his teammates would have had a lot more to celebrate.
But, at the other end, Orr was wreaking havoc as he searched for the decisive goal. He rounded the opposing goalkeeper to roll the ball into an empty net, early in the second half, only to be denied by the assistant referee's flag for a foul in the scrambled build up.
Moments later, Orr was pounding the ground in frustration after fluffing a one on one chance from a few yards out. But, when at first you don't succeed, try and try again.
In the 64th minute, Hackshaw left Malick right back Jamal Hernandez for dead down the flank and squared to Orr, who hammered a low shot under the opposing custodian.
Cue ecstatic scenes, as his teammates joined Orr in a wild celebration at the corner flag—save for Hackshaw who preferred to offer gentle applause.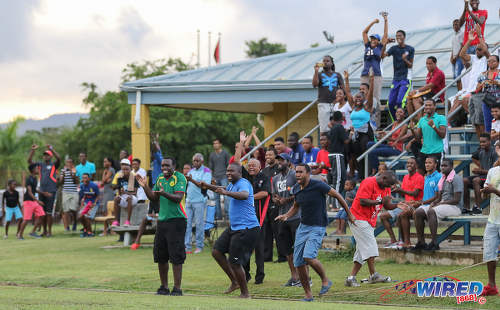 "In my mind, the match wasn't over [when Orr scored]," Hackshaw told Wired868, after the contest. "We needed to keep on fighting and fighting until the last whistle [blew]. Then we could celebrate and continue moving forward as a family."
Hackshaw used his level headed perspective to keep his squad in check as they inched towards promotion. But Orr didn't get the memo.
After another effort on goal, Orr reacted aggressively after he appeared to be struck off the ball by opposing defender Brandon Charles. Orr was booked for his response while Hackshaw strained to keep his teammate from getting into further trouble. And Grayson replaced Orr with Winston Guiseppe to ensure Trinity didn't end up a player short.
It was the last bit of drama, as Trinity held on for promotion.
Grayson, who was controversially replaced as St Augustine Secondary coach earlier this year, suggested Trinity's promotion was even sweeter than leading the "Green Machine" to the 2015 East Zone Intercol title.
And St Augustine should look out, because he wants the Intercol crown back.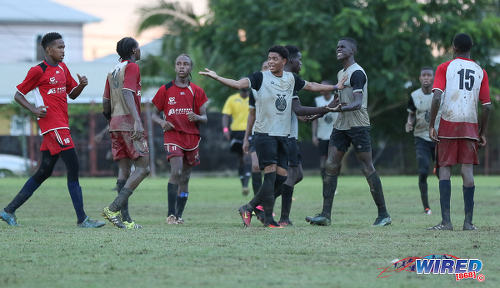 "[Getting promoted with Trinity East] is sweeter and it will even be sweeter when we win the East Zone Intercol Title because the coaching staff and I are defending champs. We won last year with St Augustine and that doesn't take away from the fact that we are defending champs.

"We will just be defending the Intercol with Trinity East this time. [For the] first few games, we didn't have the National Under-17 players [John, Orr and Hackshaw] and we played without them and we won.

"When they returned, they raised the standard. But the whole team has been great, especially our captain Randy [Jackson]."
Hackshaw also lauded his teammates.
"We fought it today and we played to the best of our ability," said Hackshaw. "Everyone played as a team. We played as a unit. I thank God everyday for the opportunity to represent my school and allowing us to go up."
One the Malick bench, Bartholomew looked crestfallen after their battling display went unrewarded. There will always be next season.
(Teams)
Trinity College East (4-2-3-1): 1.Emmanuel John (GK); 6.Jalani Augustus, 2.Curvonne Dookie (24.Javed Elcock), 4.Randy Jackson, 15.Romario Williams; 17.Christian Ramsome, 3.Rakim Cabie; 8.Marli Greaves (19.Dwight Yorke), 7. Nickel Orr (5.Winston Guiseppe), 18.Liam Burns; 29. Kishon Hackshaw.
Unused Substitutes: 22.Shamall Joseph (GK), 10.Ryan Myles, 13.Daniel Ahmad, 25.Sergio Bustamante.
Coach: Michael Grayson
Malick Secondary (4-5-1): 1.Christopher Hernandez (GK); 8.Jamal Hernandez (4.Isaiah Sealy), 19.Brandon Charles, 15.Kwasi Edwards, 6.Tyrique Reid; 12.Nathaniel Barbour, 11.Kwasi Williams, 5.Shaquiem Bowens, 7.Akeem Sealy, 10.Nyron Simmons (14.Kassie Karim); 9.Antonio Graham (16.Christian Charles).
Unused Substitutes: 17.Jahime Granderson, 13.Montel Black, 2.Terrel Miller, 27.Reshawn Murphy.
Coach: Anthony Bartholomew
Man of the Match: Kishon Hackshaw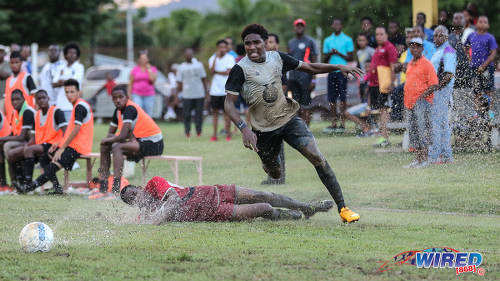 Championship Big 5 results
(Sunday 6 November)
Trinity College East 2 (Kishon Hackshaw 15, Nichel Orr 64), Malick Secondary 1 (Akeem Sealy 32) at Trincity;
Carapichaima East 0, Speyside High 0 at Carapichaima;
Princes Town West are on a Bye.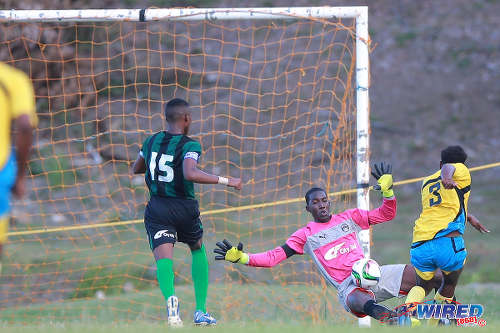 Standings (Tabulated as Won-Drawn-Lost-Goals For-Goals Against-Points)
Carapichaima E   4-3-1-0-5-0-10
Trinity East            4-2-1-1-6-3-7
Speyside High      4-1-2-1-3-3-5
Malick Sec             4-1-0-3-3-7-3
Princes Town W 4-1-0-3-5-9-3