"Whoday Whoday oy!"
As it turns out, the first major event of the 2016 Rio Olympic Games was synchronised oogling, as the Tonga man—the nation's flag bearer and taekwondo fighter Pita Nikolas Taufatofua—became the first hit of the most popular sporting event on the planet by whipping up an oil down that had the ladies standing up and the Mighty Sparrow stretching to shake he hand and muttering: "Ah wish it was me…"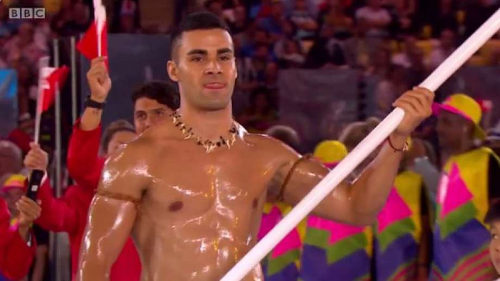 Simultaneously, husbands and boyfriends around the world remembered why they hate watching sport with their significant others.
"Ahmm. No darling, we will not be watching the taekwondo event… But you can watch T&T's Christopher George in the judo."
Ah hah, so you jes find out that Trinidad Tobago has its own fighter in Rio! And one who is too much of a gentleman to walk around bareback in the people's place like it's Villa Capri or waste a bucket of oil on his chest in the midst of an economic crisis.

Well don't fear, Mr Live Wire is here!
And while Keshorn Walcott, Machel Cedenio, Jehue Gordon, Njisane Phillip, Cleopatra Borel and the rest run, hop, skip and pedal, Wired868 is ready to competitively click and recline with the best of them to keep readers up to speed on our Olympians.
Team Trinidad and Tobago made its own classy appearance last night in smart red jumpers and khaki pants. Although, if Tonga wants to play fresh, maybe we should take the stage in beads and bikinis at Tokyo 2020!
(Now if only we can find a way to have Fay-Ann Lyons-Alvarez carry the flag!)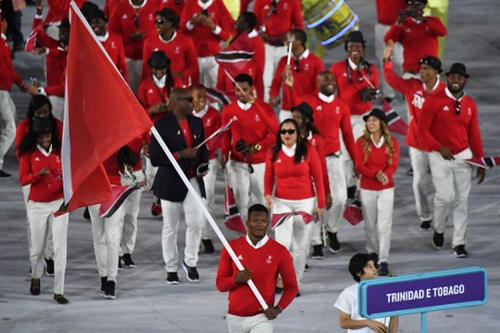 Felice Chow was Trinidad and Tobago's first participant at the Rio Olympics and, in so doing, the United States-based athlete became the two island republic's first Olympic rower. Ever!
Okay, so Chow was bit overshadowed international today by 18-year-old Syrian swimmer Yusra Mardini, who helped save a boat full of fellow refugees from drowning in open water between Turkey and Greece.
Nice one, Yusra. But then Chow is 39 and, judging from the way that Trinidad and Tobago treats its senior citizens these days, she might have her own problems soon.
For one, she only has about 10 years left to use GATE!
Chow came fifth in her heat today and did not get an automatic berth in the Women's Single Sculls quarterfinal. But she has another shot at that from 8am tomorrow—on 7 August—in the Repechage heats, which will see 14 rowers compete for two quarterfinal spots.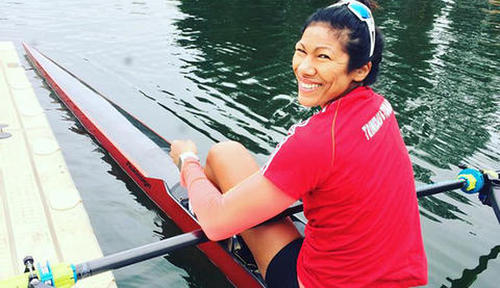 Not that Chow is likely to be the Trinidad and Tobago competitor who creates the biggest buzz tomorrow.
Enter pint sized gymnast, Marisa Dick, who, despite being as sweet, friendly and well-mannered as your average airline stewardess, is generally considered to be as likeable as wet, sweaty socks, after her perceived role in the controversial deselection of fellow gymnast, Thema Williams.
Dick, who hopes to thrill the world with her "Dick mount", earned her pick in Rio after excelling in the tumbling morals obstacle course, competitive cross-Canada airplane chase and knife-in-the-back freestyle event. Or so the critics—Live Wire included—would have you believe.
In any case, the Olympics are here! Bring it home T&T!
Whoday! Whoday oy!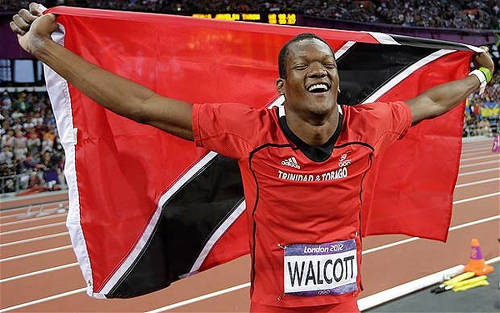 Editor's Note: Click HERE to view Trinidad and Tobago's entire Rio 2016 Olympic Games contingent.