"It just felt natural to me and I loved the challenge," said Trinidad and Tobago javelin thrower Keshorn Walcott, as he discussed the sport that propelled him to international fame. "I would push myself each and every day and say I want to throw further than the day before. And then I want to throw even further tomorrow.
"I knew that it may not happen tomorrow so I would have to train even harder than I did today. For me, it was the challenge."
At just 23, Walcott's CV already includes the rarest of sporting footnotes: Olympic champion.
Four years ago, the Toco teenager was a bolt out of the blue in London. There were exactly three and a half years between the first time Walcott threw a javelin and when he beat the world at the 2012 Olympic Games.
Predictably, there have been lows since as he has struggled with injuries and form. But, for the Rio Games, Walcott will carry the flag for Trinidad and Tobago, as the Land of the Hummingbird again prepares to punch above its weight.

Walcott took time before his assault on the world's most popular sporting event to chat one on one with Wired868: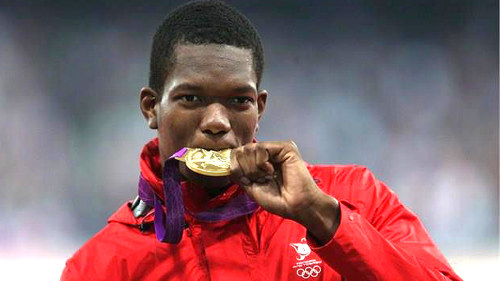 Wired868: What's different about this Olympic Games for you?
Keshorn Walcott: The biggest difference for me is experience. The last three years have been a really good experience for me in terms of failure and success. So I'm going in with a little more experience which would be a major factor for me…
In 2012, I was a junior, so I went straight from the World [Youth Championships] into the London Olympics [just a month later]… As a junior, I was throwing from January straight to the Olympics [in August]. I'm getting older now and I've got to [pace] myself (…) so we can peak at the right moment.
Wired868: What's it like when you compete since London 2012? Do people turn around when they hear your name?
Walcott: I think when people hear my name they have a certain expectation [from me] in the competition. Most of my meets are in Europe because javelin is not done much on this side of the world.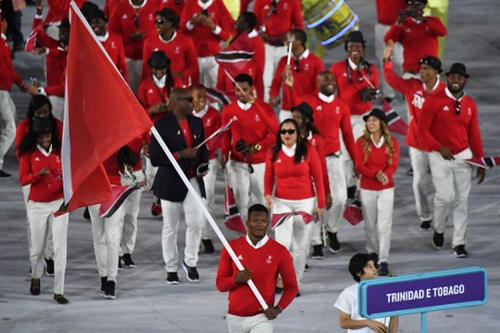 Wired868: How did you get started in javelin?
Walcott: I started javelin when I was 16. I used to played cricket and football in school. And I just picked up the javelin one day and that was it. I never put it down after.
Honestly when I started I was just throwing to see if I could do it and how far I could throw it. And then I wanted to see if I could throw it a little further. I didn't know anything about the javelin. I didn't know the world record, I didn't know who the best in the world was, I didn't know about coaching. It is just something that I loved to do.
I loved football and cricket but I stopped playing to throw the javelin not knowing where it would lead to or even what I was doing.
Wired868: How good were you at cricket and football?
Walcott: Ahmm. I [was] pretty lazy with the training with football but I was pretty good. (Laughs). I played striker. But I was pretty lazy and I didn't like to run. I loved bowling in cricket. But then I found javelin which is something I loved even more. So I just stopped.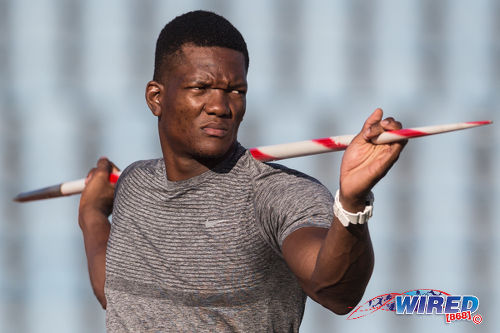 Wired868: How were you were actually introduced to javelin?
Walcott: I was in school at Toco Secondary and one evening I was training at cricket. My cousin, Jamel Paul, did javelin before and he made the Carifta team and he was there with some other guys throwing the javelin that evening.
I was the youngest of the lot and I just picked it up and said: 'Hey, I can throw this further than allyuh you know.' And I did with my first throw and everybody was just shocked. And then I continued to throw it and I hurt my elbow because I didn't know the proper technique. (Smiles).
And they ran to the [athletics] coach, Mr [John] Andalcio, and they said: 'Carry him to Carifta trials, carry him to Carifta trials.' And I went [to the trials] and I made the [Carifta] team… I started throwing in February and the trials was in March, so I was throwing for only a month and a half!
Wired868: What was going through your head at the time?
Walcott: I was just so excited! That was going to be my first trip outside of the country. I had never had a passport or gone on a plane before. My brother, Elton, [who is one year older] and my cousin went [to Carifta] before and they explained to me what would happen next. They said this is a free trip to different countries and a chance to see different parts of the world. So I became even more excited. That was what motivated me. I said: 'Okay, I need to stick with this.'
So I went to St Lucia for Carifta and I came first and I almost broke the Carifta junior record. That was shocking to everyone including myself. So after that I was even more excited. Now I wanted to see: 'Hey, what are my limits?'
So I just kept working. [It just seemed crazy] knowing that I was doing javelin for just a few months and I was having so much success. And then I made the team to go to Italy [for the 2009 World Youth Championships] and I was like: 'My first year doing javelin and I'm getting to go to Italy?!' I never dreamed about going to Italy in my entire life. I thought I was in a dream.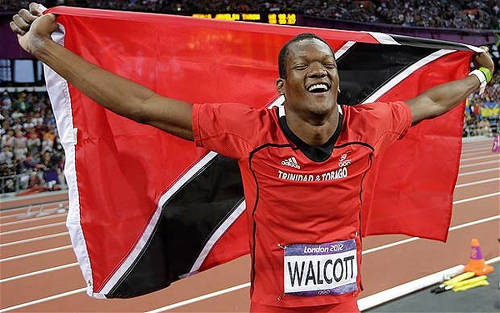 Wired868: What do you remember about Italy?
Walcott: That trip was an eye opening experience for me. Not just about the world but my sport as well. That is when I started to do research and checked to see where the other throwers in the world were and how far they were throwing. And that's when I realised there were under-17 guys were throwing 80 metres…
Wired868: How much were you throwing then?
Walcott: I was throwing 60-something! And I was barely throwing 60-something. I was like: 'Whaaaat'! How long have these guys been throwing to reach this far at this age?!
Then I started studying online about the world records and the best throwers. That was just eye opening to me. When I competed [at the 2009 World Youth Championships], I placed 13th. And I was like: '13th'?! After I was winning everything on this side of the world and to go over there to place 13th?! I didn't even make the final.
That told me I had to work harder. Because I don't like to lose. Coming 13th… And my brother made that trip with me and he came fourth in the triple jump. I said myself: 'My brother come fourth and I come 13th?! Nah!' (Laughs)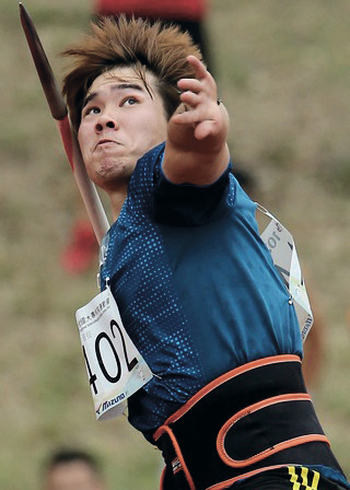 Wired868: What was the difference between you and the top world throwers then?
Walcott: A lot of the throwers there start at 11 or 12 and I didn't even know about the sport at that age. So they achieved things faster than me and grasped the technique faster than I did. I didn't even know about lifting in the gym and things like that until I met my coach [Cuban Ismael Lopez Mastrapa]. He kept telling me [in Italy] that all this is going to be about the experience because you are not at their level yet. You need to work. And I could see for myself that I needed to work harder because all those guys were ahead of me. So I would have to play catch up.
(Taiwanese athlete Huang Shih-Feng won the 2009 World Youth Championship with a throw of 74 metres while Walcott was 13th with 66.72. Since then, Walcott set a personal best of 90.16 while he won the London 2012 Olympics with a throw of 84.58—the world record is 98.48 from Jan Železný (Czech) while USA thrower Breaux Greer's 91.29 is the top mark from the North, Central America and Caribbean region. Shih-Feng's current personal best is 82.11).
Wired868: How did you close the gap?
Walcott: My coach was [based] in Port of Spain and I was in Toco but that didn't stop us. He started to come to Toco twice a week [to train me] but then that fell through. So he just started sending me programmes and that is how he coached me throughout that programme [up until the London 2012 Olympics].
I did training in Toco generally by myself for three years… He sent me programmes and I had the frame of mind to do it by myself. If you want to achieve something, you have to set your mind to achieve it.
I would train on average for three hours if it was once a day or when it was twice a day.
Wired868: As a young man training alone, were you tempted to duck training from time to time?
Walcott: Never! I think that is the difference with me and a lot of athletes. I love to train. I used to go to school and [would be] anxiously waiting to go training in the evening…
I loved what I do (…) and I was getting to do it everyday… I didn't look at it as training. For me, it was fun each and every evening. And my brother would come sometimes and do it with me.
Wired868: What do you love about it?
Walcott: I love the challenge. When I started [javelin], it was something different and nobody else was doing it. And everybody was looking at me and saying why are you doing this? I didn't know why. It just felt natural to me and I loved the challenge.
I would push myself each and every day and say I want to throw further than the day before. And then I want to throw even further tomorrow. I knew that it may not happen tomorrow, so I would have to train even harder than I did today. For me, it was the challenge.
Wired868: What goes into a great throw?
Walcott: I don't know if you ever held a javelin but it is not heavy. You cannot throw it with brute force. You need everything from your legs to your torso to your arms to come together and work as one, like a chain… You don't throw the javelin from a standstill [position]. You have to build momentum and get to the optimum speed at the end for the release. So you need to understand that getting that speed at the right moment is key. (Smacks hands together).
For a lot of throwers that is a problem because they tend to miss and get that optimum speed before or too late. If you see me throw, you would see that it is a build up and you have to go to a different stage of the crossover [of my legs] and the last phase, the power position, is the most technical part of the throw… It might not look that difficult but it is, because you have to build momentum, run and then stop.
Wired868: Is rhythm your strength?
Walcott: Yeah. It varies now but, when I started, I think that is something I had naturally over other people: my rhythm [and] my coordination. I grasped the javelin pretty easy, my rhythm was pretty good and I would run fast and throw.
I wasn't the strongest so that is what I worked with as a junior. But now I am getting stronger and my body has changed. (He breaks to cough).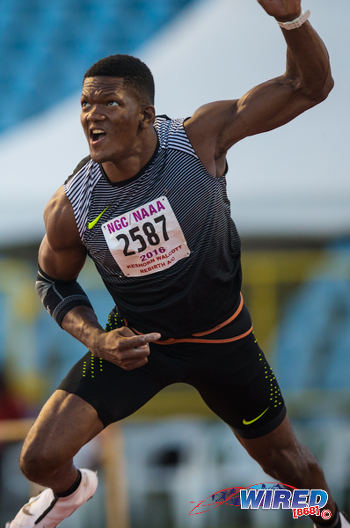 Wired868: Is that from the wear and tear of travelling?
Walcott: Travelling is not the best part [of my job]. Landing in the country is the best part. But flying? Ugh. Tiring. These flights are pretty long because Trinidad is far from everything. That is why I try to stay in Europe [when I'm competing there] because the back and forth [can] crash you…
I normally stay about six weeks [at any given time in Europe]. I normally find a base [that is] two or three hours away from all the countries I will be competing in and I travel from there. Earlier this year, I stayed in Portugal. This time I went with coach and physio and Cleopatra [Borel] and another training guy.
It is good to have company sometimes because it can get lonely.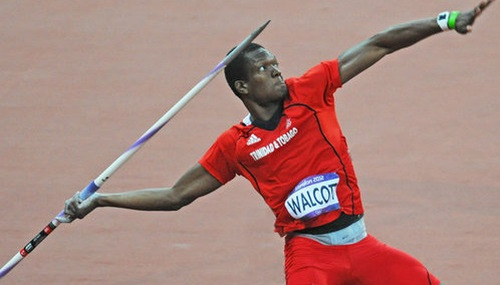 Wired868: What's the toughest bit about travelling for you and what exotic places have you seen?
Walcott: The weather change is one of the biggest problems for me because most of my meets are in the Scandinavian countries which are pretty cold. But I guess that's what clothes are for. (Smiles). Food that's also something. I don't think I have a favourite European dish. Not yet.
My favourite places are Norway and Finland. Finland because of the javelin. It's their national sport along with skiing, so I love being in Finland. The people look at you differently [and] they acknowledge you differently [as a javelin star]. Being an Olympic champion in Finland is like being a king. So I love being there. And Norway is a really nice country. It's a beautiful country. It's good on the eyes. (Laughs). It is a really rich country too. It is a big difference from where I came from. The base salary there is some crazy figure. And their lifestyle is just lots of shopping and things like strawberry and champagne parties which is normal over there.
I've been to Monaco which is also really nice on the eyes. [It is a] very beautiful country with great beaches and wonderful cars. It's a great place for vacation.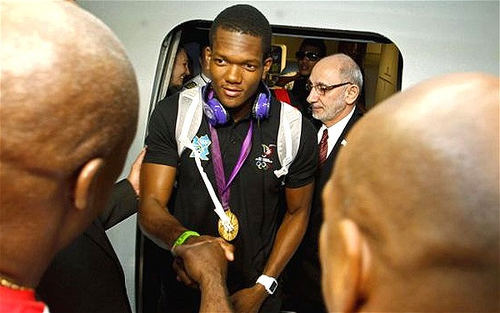 Wired868: Do you miss anything about Trinidad when you travel?
Walcott: The food! The food, the food, the food, the food. (Laughs). And the weather and the beach. (Laughs again). Home is where the comfort is but I love to travel and see different places. I would encourage everyone to travel because it opens up your mind to different cultures… You tend to learn a lot and look at things differently. That is one of the perks of being an athlete. Being able to experience these things.
Wired868: How do you feel you were treated in Trinidad before and after the Olympics? Was your talent recognised before?
Walcott: In the inner circle of the sport, people knew me. But otherwise in Trinidad nobody knew me. So that was one difference.
When I won Carifta, I got recognition. I was never about the recognition and being plastered all over the place. That just isn't me. At the end of the day, you congratulate me and I am thankful. I wasn't doing it to be recognised. But it is nice to know that people recognise not just me but the sport. By recognising any athlete, you make the kids aware of the sport. And maybe you will find more javelin throwers.
Wired868: Is it important for you to encourage more javelin throwers? What legacy would you like to leave in the sport?
Walcott: Oh, as the greatest. (Laughs). That is part of my goal, to leave a legacy and try and achieve stuff that no one has done before. So when someone mentions your name, it just clicks one time to what you've done in the past and what you're doing now. For example, if you talk about [retired West Indies cricket great] Brian Lara…
Wired868: How did your life change after the Olympics?
Walcott: It changed for the [better]. I have gotten help from a lot of people including bMobile. So I'm thankful for that. I've met some incredible people before and after the Olympics like my manager [Sean Roach]. Before the Olympics, I never really got in to meets in Europe. But now everyone knows my name, so it is easier to get into competitions.
Although everyone knowing me at home has been a little hard too…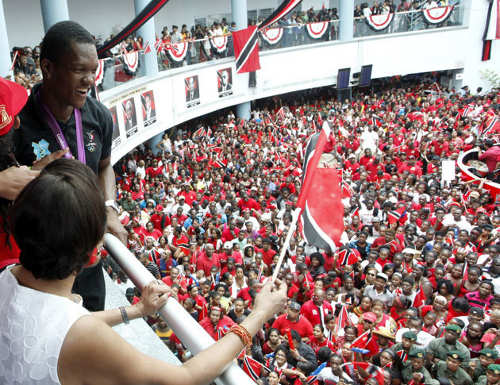 Wired868: How's that? Can you give me an example?
Walcott: The biggest challenge is having my personal space and that is something I treasure. I am not the most outgoing type or the most social person. So not having that much personal space when I go out is something that bothered me a little bit.
I like to go parties or to the beach with friends just chill, talk in a circle… Sometimes [when I go out with my friends] they might be angry with me because I am keeping them back. And I have to tell them to just go ahead, because I am not going to tell anybody 'no' [when they approach me] because they are just appreciative of what I have done.
Wired868: What do people usually ask you for?
Walcott: Pictures, autographs, a house! (Laughs). I had some crazy requests in that short period in my life.
Wired868: How are you looking forward to this Olympics as the reigning champion?
Walcott: I know what I'm capable of doing. For the past four years, it has been an up and down road for me. So I'm seeing that this year, things can turn around and I know I can do pretty well in this Olympics.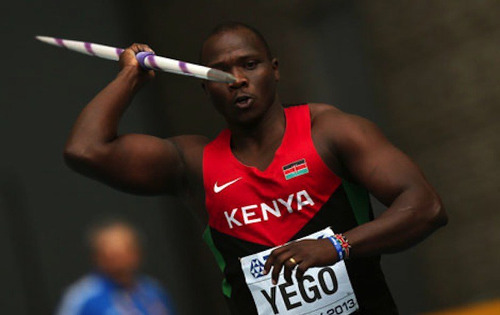 Wired868: What were the downs?
Walcott: I have had a lot of injuries because my body was changing as I was still young. So that has been a problem for the past four years. For much of 2013, I was injured. [For] 2014 I was injured but a little bit better. [For] 2015 [I was] injured. But this year, I've been injury free and hopefully that will make the difference.
Wired868: Who do you see as your major challenger?
Walcott: Just like how I came from nowhere in 2012 (…) it is an open field. [Last month] the European Championships in Amsterdam didn't go how anyone saw it. A guy threw 91 metres [a week before the competition but] threw 80 metres in the Championships. Look at the difference.
Today you could be here. (Holds his hand above his head). [And] tomorrow you could be here. (Lowers his hand). So you need to understand that you [have] to get things right on the day and you have to look out for everyone…
In my sport, one of the things my coach told me is no one is better than you on the ground in the sky and in between. So you need to understand, every day I go to training or go to compete, I try to remember this.
We are all the same at the end of the day, we just need to work hard and strive for what you want to achieve. I think that is one of the things that stuck with me.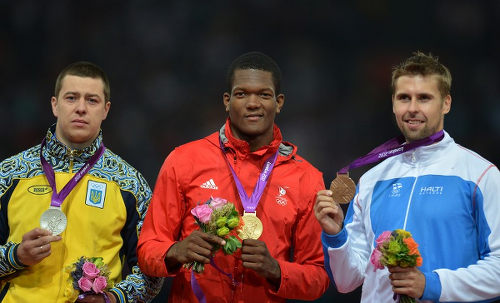 Wired868: What is your motivation in Rio?
Walcott: I want to win again. My major goal was always Rio. My brother and I did track and field together and our plan was always Rio, not London. Honestly going into London, it was sketchy even making the Olympic team.
If I remember correctly, I only made [the Olympic standard] on the first of July in the CAC Championships. That was when I qualified, which was 11 days away from the [deadline]. My major goal was the World juniors and me and my coach set out everything for the World Juniors. So 2012 Olympics was a huge bonus…
We always had plans of making the [Rio] 2016 Olympics and going on to win.
Editor's Note: For more of our Olympic Games specials, click HERE to read on 400 metre hurdler Jehue Gordon, HERE to read on cyclist Njisane Phillip and HERE for our interview with shot put queen Cleopatra Borel.