Referee Gregory Lewis faced an inquisition from WASA players, technical staff members and supporters at the final whistle this evening, as Guaya United benefited from a late free kick to clinch a 3-1 win over the "Water Boys" in an eventful CNG National Super League (NSL) Premiership Division affair in St Joseph.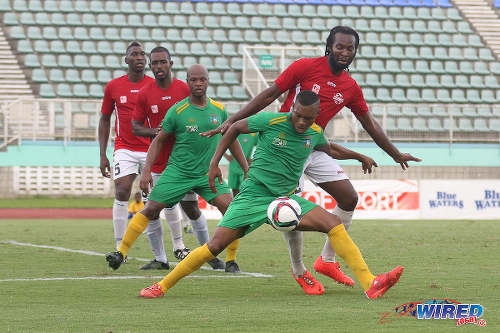 "If allyuh don't protest that win," a supporter lectured the WASA coaching staff, "then allyuh crazy!"
WASA coach Shurland David, a former Trinidad and Tobago international defender, was slightly more diplomatic.
"The referee at times made some mistakes," David told Wired868, "but he is a human."
To err is indeed human. And there have been many legitimate complaints about refereeing decisions in the local leagues. But this evening's was not one of them.

In the 90th minute, diminutive WASA custodian Anthony Alleyne handled outside of his penalty area, as he tried to beat Guaya striker Carlon Hughes to the ball. And Guaya captain Ryan Stewart took full advantage with an expertly dispatched free kick into the far corner, which deflated the host team that seemed to be a whisker away from an equaliser at the time.
Cue uproar from the WASA squad, who took it upon themselves to lecture Lewis on the laws of the game after the final whistle.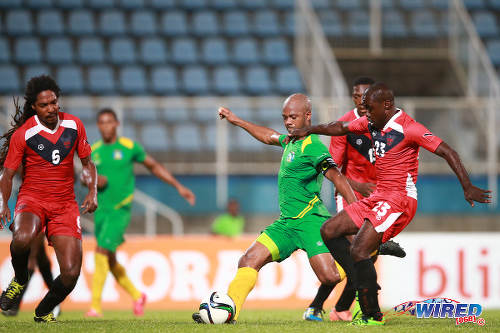 FIFA's law is unambiguous, though.
"Outside his own penalty area, the goalkeeper has the same restrictions on handling the ball as any other player," states the FIFA rule book.
And a handled ball outside of the penalty area is punishable by a "direct free kick from the position where the offence occurred."
Guaya coach Akeno Morgan was unconcerned by his aggrieved hosts as his "Green Army" recorded their third successive triumph and, in the process, skipped two points clear of Defence Force at the top of the table.
The "Teteron Boys" lost 3-2 to Police FC at St James Barracks this evening thanks to a second half double from policeman Jason Boodram.
Guaya could have easily suffered a similar fate.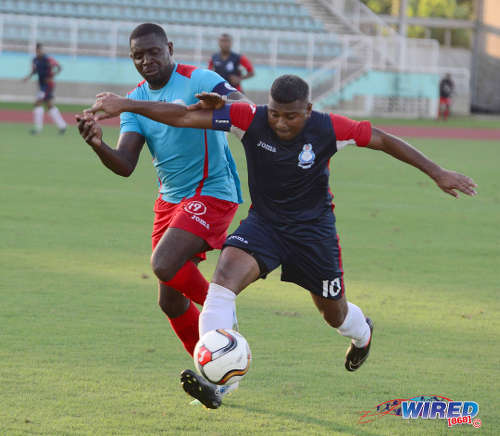 "We deserved to win the game, I feel, because of the chances we had," said David.
This time, the WASA coach was spot on in his assessment.
WASA wingers Nathan Julien and Anslem Jackson, in particular, would wonder how they ended up on the losing side.
Guaya right back Leroy Jones might need to see the chiropractor tomorrow, after facing more than a few twisting runs from Julien. While Jackson faced two left backs over the course of the 90 minutes, Kheelon Ferrier and Kernel Hagley, and had both grasping at thin air as he repeatedly ghosted down the sidelines.
Yet, at the interval, it was Guaya that led 2-0.
Stewart whipped an inswinging free kick off the left flank in the 27th minute and Hughes flicked his header off the upright and then beat the dozing WASA defence to slot home the rebound.
And, in the 42nd minute, Hughes headed in from a free kick taken on the other flank, as Jody Allsop picked up his near post run with a precise cross.
"We spend a lot of time on our free kicks," Morgan told Wired868.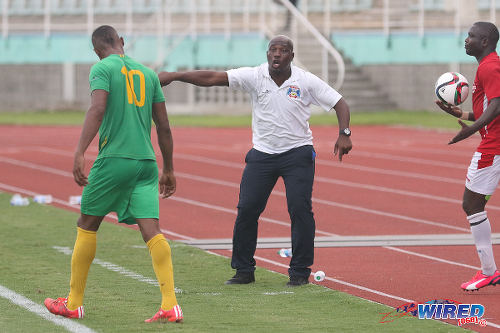 It is on such tiny details that results often hinge.
WASA, to their credit, doubled their efforts in the second half, as their south-east coast visitors struggled to get any momentum. And, five minutes after the interval, David's men halved the deficit, after some more winged wizardry and a low cross from Jackson forced an own goal.
But, for all WASA's huffing and puffing, Guaya were resolute and goalkeeper Erskine Johnson was in fine form.
In the 60th minute, Johnson made a fine one-handed save to his left to deny a Keron Clarke blast from the edge of the area. Eight minutes later, Johnson dived low to his right to palm away a Jackson effort. And, in between, WASA defender Justin Garcia was inches too high with a header from a Jackson free kick.
As the final whistle neared, Morgan replaced Allsop with defender Akeel Paul as Guaya dug in to withstand a barrage of pressure.
WASA supporters were willing their players on when Hughes snuck free on a break and Alleyne handled the ball. Lewis gave a yellow card and a free kick and Stewart did the rest to give Guaya an insurance item.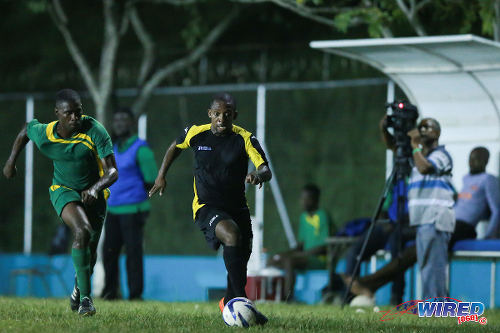 Guaya's late strike was probably undeserved. But not for the reason that the WASA supporters thought.
"I will find the FIFA law and send it for that referee to study it!" thundered one WASA assistant coach.
He might feel a bit silly when he hits "Google" tonight.
"We are a team that is building," said David. "We changed a lot of players because some of the guys were not committed. WASA is a company team, so it is not really a normal side and some of the players were not really into it…
"So we had to bring in some players who were hungrier for something. We will get it together in the long run."
There was plenty from tonight's performance to suggest that WASA is on an upward curve and David can afford to be optimistic about the near future.
But, yet again, it was Guaya who took the points.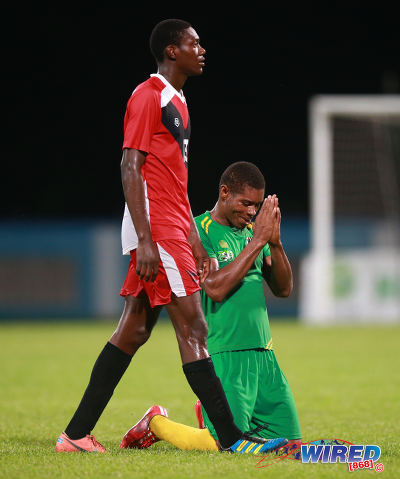 (Teams)
Guaya United (4-2-3-1): 1.Erskine Johnson (GK); 11.Leroy Jones, 14.Sherlon Campbell, 2.Kelvin Smith, 4.Kheelon Ferrier (20.Kerneal Hagley 38); 25.Keston Jordan, 7.Jody Allsop (3.Akeel Paul 85); 18.Keylon Thomas (9.Earlon Thomas 72), 17.Ryan Stewart (captain), 27.Kheelon Mitchell; 10.Carlon Hughes.
Unused substitutes: 22.Daniel Hagley (GK), 8.Kerdell Alfred, 16.Ian Edwards, 19.Beville Joseph.
Coach: Akeno Morgan
WASA FC (4-2-3-1): 34.Anthony Alleyne (GK); 20.Dillon Peterson (24.Sheldon Nesbitt 59), 5.Akil Harley (captain), 22.Justin Garcia, 15.Cleveland Cambridge; 8.Kevon Henry (18.Dorian Daniel 78), 28.Ethan Robinson; 29.Anslem Jackson, 11.Keron Clarke, 7.Nathan Julien; 111.Michael-Lee Celestine (26.Glen Walker 63).
Unused substitutes: 14.Christopher Mitchell, 21.Christian Young, 30.Mario Kissoon.
Coach: Shurland David
Referee: Gregory Lewis
Man of the match: Erskine Johnson (Guaya United)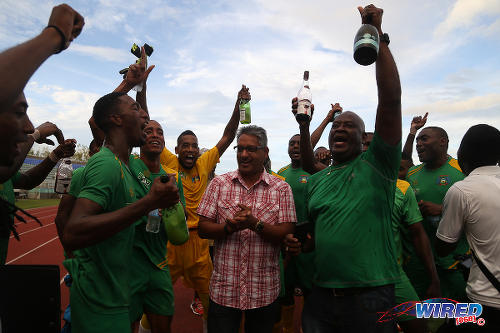 CNG NSL Championship Division results
(Thursday November 12)
Marabella Family CC 3 (Renefor Martin 4, Kevin Moodie 9, OG 24), Matura ReUnited 4 (Dorian Robinson 45, Zavion Navarro 62, Joel Hoyte 66, Shervin Charles 89) at Mannie Ramjohn Stadium;
Police FC 3 (Colin Williams 32, Jason Boodram 56, 77), Defence Force 2 (Josimar Belgrave 19, Michael Edwards 59) at St James Barracks;
Siparia Spurs 5 (Andy London 12, 51, Shavon Frederick 27, Chris Collins 33, 68), FC Santa Rosa 3 (Jean-Paul Aqui-Blanc 65, Jovan Rochford 77, 83) at Petrotrin Ground, Fyzabad;
Stokely Vale FC 1 (OG 41), Club Sando Moruga 0 at Plymouth Recreation Ground;
WASA FC 1 (OG 50), Guaya United 3 (Carlon Hughes 27, 42, Ryan Stewart 90) at WASA, St Joseph;
Bethel United 1 (Densyl James 64), Tobago FC Phoenix 1976 2 (Shelton Williams 17, 23) at Montgomery Recreation Ground;
Petrotrin Palo Seco v NLCB La Horquetta SA, 6 pm, Palo Seco Velodrome;
*—DNP due to lighting problem.
Standings (Played-Won-Drawn-Lost-Goals For-Goals Against-Points)
Guaya United  16-12-1-3-42-24-37 
Defence Force 17-11-2-4-35-20-35 
T'go Phoenix    17-9-3-5-31-24-30
Siparia Spurs  17-7-6-4-41-43-27 
Police FC           17-7-4-6-43-33-25 
Santa Rosa       17-7-4-6-31-28-25 
Matura ReUtd 17-7-4-6-29-35-25 
Marabella          16-6-5-5-37-32-23
Petrotrin P/S    16-6-5-5-31-30-23 
WASA FC            17-6-3-8-20-18-21
Sando/Moruga 16-5-5-6-25-27-20
La Horquetta     15-4-4-7-31-37-16
Bethel United    17-5-1-11-23-32-16
Real Maracas    16-3-3-10-19-30-12
Stokely Vale      17-2-4-11-13-38-10