Columnist Earl Best shares a suggestion which, he feels, might bring the T&T men's 4x400m relay team closer to gold in Rio next year:
I run my mouth often and I sometimes jump to conclusions. And although, under a PP government, that might well be deemed qualification enough for a high-level post in the Ministry of Sport or the Sport Company of Trinidad and Tobago, the remaining time is, I venture to say, too short for me to test my theory.
The truth is that I have no more expertise in athletics than one can accumulate as a conscientious sports editor and an avid reader. But with all due respect to Edwin Skinner, Dexter Voisin, Ato Boldon, Dr Hypolite and whoever else is responsible for the country's relay teams at the 2016 Olympics, I would be thinking about shuffling the order of the legs.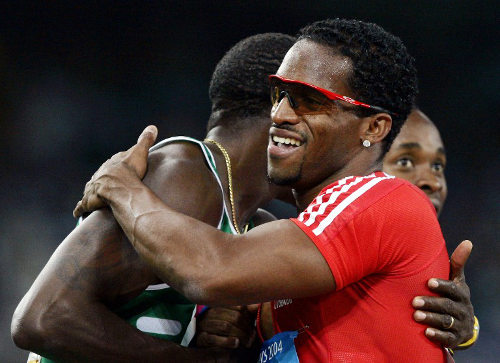 Wonderful as young Machel Cedenio has been in recent times, I'm not at all sure that we're making the best use of him in the anchor leg. A year is a long time in athletics and an athlete can grow immeasurably in twelve months. But all things being equal in Brazil next August, I'd use Machel's undisputed finishing speed to give my anchorman a better chance to hold off Merritt or whoever happens to get the baton behind him.
Here's why: Trinidad Express reporter Kwame Laurence tells us, in Lalonde Gordon's words, that the relay team had a plan in Beijing. And here is Laurence's description of how things went after the determined 26-year-old Tobago-born 400m specialist accomplished his mission "to put Deon (Lendore) ahead," his "sizzling one-lap run maintaining pole position for T&T":

Lendore then kept, he tells us, "the challengers at bay in the penultimate lap (…), Cedenio receiving the baton ahead of 400m silver medallist LaShawn Merritt. The US anchor moved alongside his T&T counterpart, and shortly after (Jamaica's Javon) Francis blew past them both, Merritt chased Francis and passed him on the home stretch. Cedenio had a strong response as well, the 19-year-old quarter-miler snapping up silver for T&T with his trademark finishing power."
A total tally of two medals, then, a silver to add to the 4x100m women's bronze. Commenting in today's Express, Fazeer Mohammed castigates those who have implicitly or explicitly expressed dissatisfaction with the country's "Steups!-Only-two-relay-medal?" haul at the recently concluded Beijing Games. On the world stage, you don't wash your feet and jump up on the podium; in the battle for tangible rewards, we are reminded, there are a zillion things that have to happen behind the scenes.
"In the duel over four laps," he writes, "there's pace, yes, but also tactics and knowing when to put in that extra burst of energy to turn a promising start into a celebratory finish."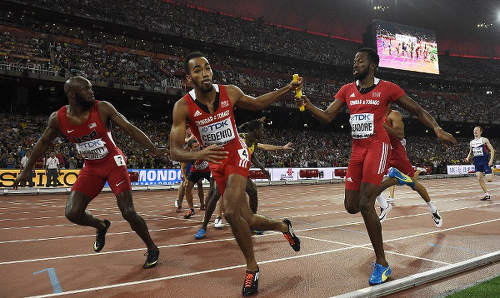 And before we stop, let us listen in on Cedenio speaking to Laurence: "I felt confident about my past with Javon Francis," he says. "but I think I let LaShawn Merritt get too far. He's a 43-point guy, I'm a 44 guy so while it's not impossible, it would be hard for me to catch him."
And that's it right there! The teenaged PanAm gold medal winner may well have been the most successful member of the quarter-mile quintet in Beijing and may well prove to be the biggest talent of the five. However, despite his truly eye-opening last-leg run in the PanAm Games in Toronto and his impressive performance in Beijing, his seemingly inflexible save-the-best-for-last race strategy may well be more liability than asset in the anchor leg of a relay at any level where the world's best are in the fray.
Now Laurence will tell you that I have always been wary of his ready use of superlatives which, let me point out to the sceptical, comes from a good place. But every serious sportswriter must agree with what every serious sportsman, sportswoman, particularly athlete knows, which is that the time to be in front is at the end. So I hesitate to concur that the "front-running performance from T&T" that earned them only (sorry, Faz) silver was "superb;" that superlative is not justified in this case because Team T&T ended up on the second rung of the podium. To qualify his team's performance for "superb," this Machel too, Merritt's 43-point advantage notwithstanding, would have had to do it like a boss. Instead, he proved to be too young to soca.
And that is why he might not be the best choice to bring the baton home in Rio a year from now.
Bear with me for a moment while I take you back to the Games of the XVIII Olympiad in Tokyo in 1964. It is the final of the individual 400 metres and T&T's Wendell Mottley has been impressive in the rounds, winning his first two heats in 45.9 and 45.8 seconds and coasting into the final with an effortless second place (45.9) finish in the semifinal.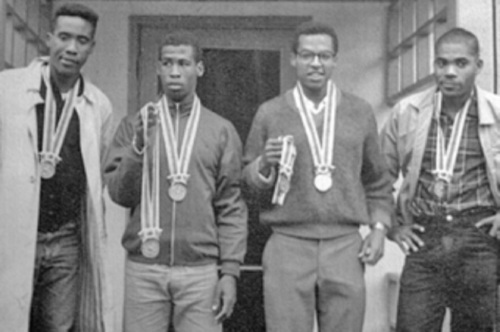 Times were different back then and my schoolmates and I at QRC weren't able to watch the event live and die a thousand deaths as Mottley, whose three brothers were still at the College at the time, led the field into the straight and was still ahead after 396 metres.
He finished in 45.2, just behind the US's Mike Larrabee who pipped him on the line in 45.1.
Kent Bernard (47.1) was seventh in the semi-final and eliminated while current relays coach Skinner finished in 8th place in 46.8.
So why do I bring all of that up here? Well, as I remember it, among only a half-dozen QRC boys I knew who did not seem to feel strongly that T&T would have won gold had Edwin Roberts been ahead at 396 metres. And they were John, Keith and David Mottley and their close friends Ian Jeffers and Terrence Thornhill.
Roberts had only been able to manage a bronze medal in the 200m in 20.6 seconds. Nevertheless, everyone else in my wide circle agreed that, if Wendell had had "bad mind" like Roberts, Larrabee would have had to kill him to get past him with the tape within reach.
The day after Mottley's silver, T&T fielded the following relay line-up in the 4x400m relay and clocked 3.05 in winning Heat Two: Skinner, Bernard, Roberts and Mottley. In the final a day later, all of the top three teams finished under the old world record time. Winners the USA (3.00.7) and France shuffled their line-ups but an unchanged T&T crossed the line in 3.01.7 to claim bronze behind Great Britain (3.01.6).
I guess the coaches knew rather more about athletics than we know-it-all QRC boys did then, than I clearly still do now.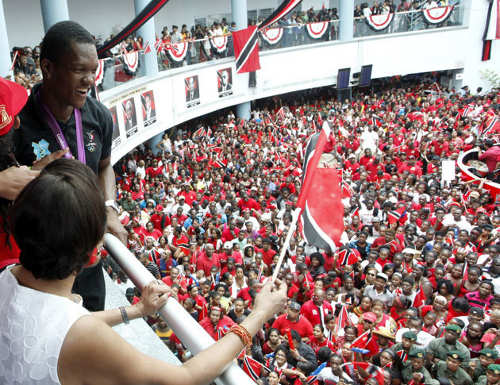 Anyway, to get back to the World's, let us focus for a minute on Laurence's race description. Renny Quow, who, "in Saturday's qualifying round, (had) looked leg-weary on leadoff, was fast enough to hand T&T the lead at the first changeover."
"Halfway through his second leg run," Laurence adds, "Gordon was second, but the 2012 Olympic 400m bronze medallist charged down the home straight to regain the lead for his country."
Lendore did enough to keep "the challengers at bay" so that Cedenio "received the baton ahead of Merritt."
At that point, T&T's fate was in the teenager's hands…and in his feet; "superb" demanded that it be in his heart. It required "bad mind." Instead, Merritt was, it seems, in the youngster's head…
If this story is to have the happy ending it deserves in Rio, we can't count on the frontrunners in the home straight to be back-pedalling. The Olympics feature the best in the world, not the best in the hemisphere; without your A-game, your medal chances aren't all that rosy and gold is out of the question. In fact, as America's Justin Gatlin discovered to his cost last week, sometimes even your A-game and a little help from your CDAPP friends, Stan and Testo, is not enough.
So if you add "tactics" and "strategy" to Fazeer's list, his warning is right on point.
"The challenge," he notes, "is to refine that combination of speed, efficiency and teamwork even further before those relay finals in Rio next August."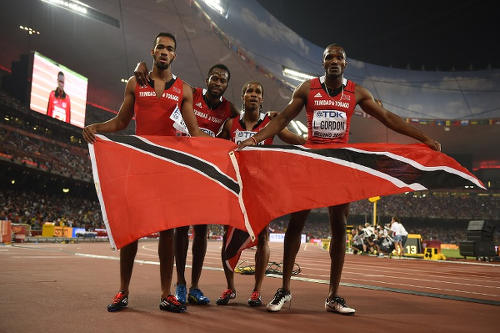 By which time, with Merritt in his sights and revenge in his heart, young Machel will have the teen years behind and got up to 20.
And may well have got down too to 43-point.