Trinidad and Tobago Football Association (TTFA) general secretary Sheldon Phillips confirmed that the local football body is monitoring a request, sent by then Central FC operations director Kevin Harrison's email address, which asked for a "personal payment" for Harrison and then club chairman Brent Sancho related to a club transfer.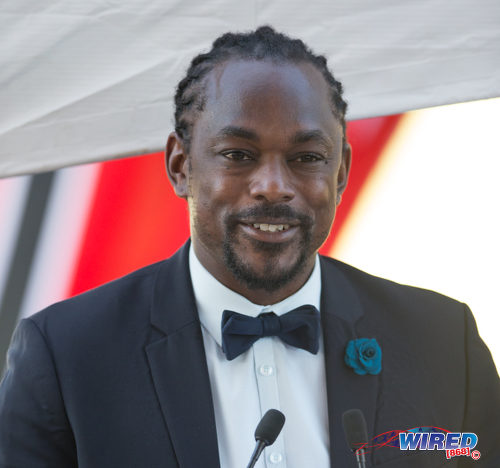 At the time, Belgium lower division club, CS Visé, was negotiating the transfer of Central attacker Rundell Winchester as well as three other current Central players, Willis Plaza, Elton John and Kevon Villaroel, who were believed to have been free agents at the time.
The email, which was sent on 27 August 2014 and published exclusively by Wired868, asked Visé representative Steve Davies to "slip in (a) personal payment" to Sancho and Harrison that was to be sent through Western Union rather than to Central's bank account and split evenly between the two men.
At present, Sancho is the Minister of Sport and UNC's candidate for Toco/Sangre Grande while Harrison is employed as Advisor to the Minister of Sport.
Phillips said the TTFA, which Sancho often accused of a lack of transparency, is "very, very concerned" and suggested that a formal investigation was a distinct possibility.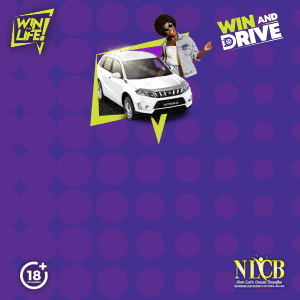 "We are certainly paying attentions to the allegations in the (Wired868) story," Phillips told Wired868. "We are looking at the information and we are very, very concerned about the allegation.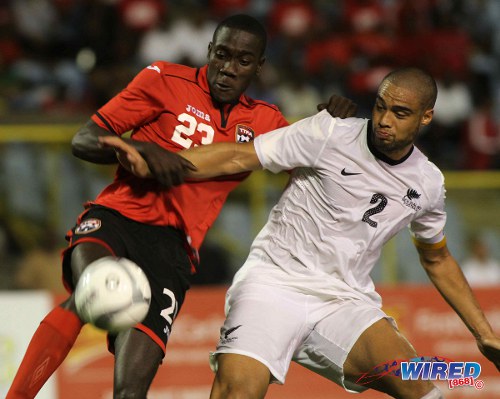 "The (FIFA) player transfer regulations will come into play here. And, if there is a situation with an improper transfer, as it falls under FIFA, it also falls under the jurisdiction of the relevant member association, which is the TTFA."
Davies, a British agent who represented Sancho during his professional career in Britain, was a Visé official at the time and confirmed the email from Harrison. However, Davies said he considered the request to be illegal and quickly blanked it.
The football agent said Visé had agreed to fly Sancho and Harrison to Belgium to discuss a possible collaboration between the two clubs. But he claimed the issue of a personal payment was never raised during formal discussions with Sancho and he promptly rebuffed the email from Harrison's account.
"Kevin, I don't know what (you're) on about regarding any personal payments," stated Davies' email, which was sent within hours of the request, "as the deal was that the club will make three payments to your club…"
Davies said Harrison never responded to his email and the matter appeared closed.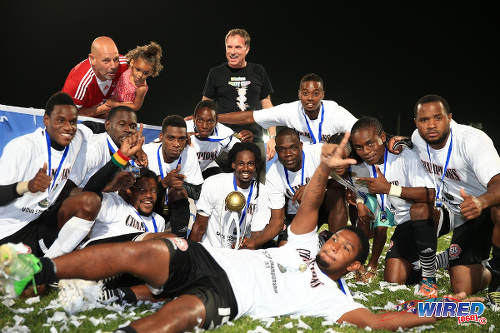 However, financial problems at Visé brought its collaboration with Central to a swift end and Winchester and Plaza returned to Trinidad within three months, followed by John, Villaroel and English coach Terry Fenwick.
Phillips said, even though it appears that the "personal payment" was never made, the TTFA may still be able to take action against Sancho and Harrison for intent.

"You still have a question of intent," Phillips told Wired868, "so just because the transaction wasn't completed doesn't mean the intention wasn't there.
"At this point in time, we are looking around and observing to see what else transpires. But we are extremely concerned about what we have heard so far."
Sancho and Harrison have both ignored requests for comment on the email to Davies.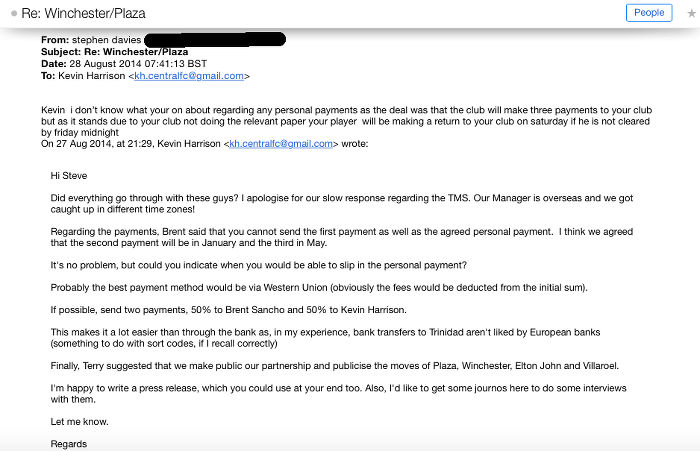 Editor's Note: Wired868 apologises for erroneously publishing the personal email address of then CS Visé representative, Steve Davies. The error has been corrected.